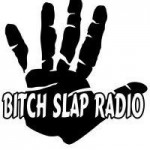 Whats up Bitch Slapers! Its that time of the week again, for the one day that well we just dont give a fuck! Bitch Slap Radios: Dont Give a Fuck Thursday!
First off on the show tonight Cinco De Myao was yesterday, Some of the Bitch Slap Team went out got shit faced and hung out with very large women,  im sure the stories will be flowing, as well as the boycott some of the team did, I'll drink for aWednesday  becouse its Wednesday  who needs to put a lable on it!
Then we bring back fill in the blank for a round two of insanity, hung over style
And to keep in the drinking theme of the night, we talk about the worst hang overs, as well as some of the biggest drunk whoops (fucking ur friends sister, hooking up with your buddys ex, or taking home a fatty), we know everyone has at least one and tonight we wanna hear all about it. Make sure to to call in, and tell us your craziest adventures, and we might just have a special prize for the best hang over story!
All this and so much more tonight on Bitch Slap Radio's Dont Give a FUck Thursdays!
We go live at  a special time tonight  10:15 Pm Est make sure to tune in, live on  BitchSlapRadio.net or  idobiRadio.com
AIM:  Bslapradio
Skype:  LoonaticTV
Twitter:  @BitchSlapRadio
Call In Line:  888-99-IDOBI  (43624)
Email:  [email protected]