So after a week off Bitch SLap Radio has returned! WOOT!
So after a labor day off, and the jewish holidays we had last week off, it was weird we know not having Bitch Slap Radio to fill up your mondays but were back!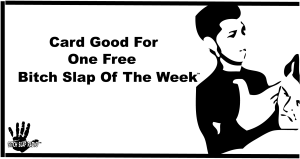 On the show tonight, we talk about why cars need to have red shells, sure its the weekly rant but we need to talk about this on the show
Then on the show we talk about best revenge ideas, taking a dump on someones hood, pissing on their door handles, or the personal favorite dropping the double decker.
Its the start of the NFL, so expect a tiny little small bit of football talk, as we come up with the best ways to piss off another teams fans!
So get ready! We go live at 10:30 Pm Est time make sure to tune in, live on  BitchSlapRadio.netor  idobiRadio.com
AIM:  Bslapradio
Skype:  LoonaticTV
Twitter:  @BitchSlapRadio
Call In Line:  888-99-IDOBI  (43624)