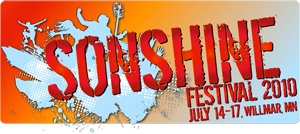 The Sonshine Music Festival is the annual Christian Music event held in Willmar, Minnesota and sports a bevy of incredible acts for 2010.   The festival includes over 50 confirmed acts performing across six stages, mirroring a schedule of other multi-day festivals across the United States. Artists will be performing throughout the day, into the night for four days.   The festival is not only a concert event, as there has been the addition of an area specifically for the kids, showcasing events all day on Thursday, Friday and Saturday.
Some of the bands on this year's bill include: August Burns Red, The Devil Wears Prada, Family Force 5, Skillet, Thousand Foot Krutch as well as mainstays Newsboys.   Past acts to grace the Sonshine stages include: Jars of Clay, MxPx, Norma Jean, Relient K, Stryper, Switchfoot and Third Day, to name a few.
The festival has been a staple of the Christian community since 1993 and attendance and band lineups have grown over the past two decades to over 50 acts and upwards of 50,000 people setting up camp in Tent City – located in the 50 acres surrounding the Willmar Civic Center.
idobi will be covering the event, so be sure to come back for photos and reviews!
Details for the event can be found here.
Ticket information and rates can be found here.
Tags:
August Burns Red
,
Family Force 5
,
Jars of Clay
,
MxPx
,
Newsboys
,
Norma Jean
,
Relient K
,
Skillet
,
Stryper
,
Switchfoot
,
The Devil Wears Prada
,
Third Day
,
Thousand Foot Krutch