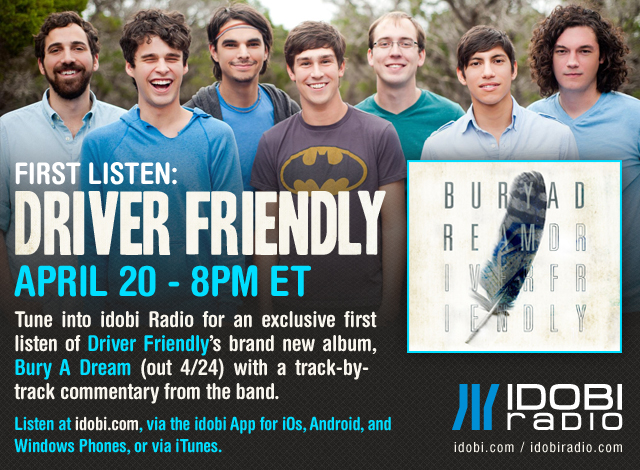 We are very excited to announce the exclusive premiere of Driver Friendly's highly anticipated new album, Bury A Ghost, will be aired on idobi Radio on April 20, at 8PM ET (5PM PT, 7PM CT). The band has joined forces with idobi Radio to bring you a track-by-track commentary from the entire band alongside the exclusive first listen of the album, which officially comes out on April 24th.
The first listen special will encore on Saturday (4/21) at 9AM and 4PM, and Sunday at 7AM and 3PM – all Eastern time.
Bury A Dream is Driver Friendly's long-awaited follow up to 2008's Chase The White Whale. Known for their unique sound floating somewhere between rock and elsewhere – utilizing horns, synth, and the energy of 7 members, the band's music proves itself to be the crossroads between raw emotion and catchy pop. The Texas band returned from a long absence, and wrote Bury A Dream in a cabin, nestled in the backwoods of North Carolina. They quickly put together a Kickstarter campaign to cover the costs of recording, and were met with a lively response from fans; quickly raising an amount far beyond their goal of $5,500. Now, Driver Friendly is back, armed with a brand new album, plans of touring throughout the US all summer long. Bury A Dream will launch Driver Friendly to the next level and beyond – who knows where they will land.
Check out the band's first single from Bury A Dream, "Ghosts."

Tags:
Driver Friendly