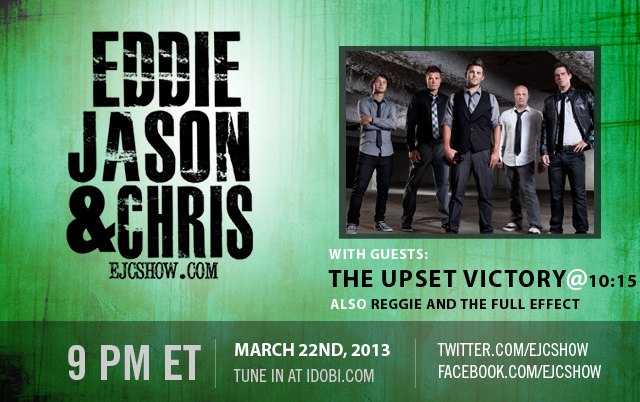 Stay tuned in after JFA with Josh Madden, because  Eddie Jason & Chris are LIVE tonight (3/22) with an all new show. Eddie Jason & Chris are well rested, and have a lot of pent up smart ass to get out, so get ready!
Tonight, you'll meet the EJC ReverbNation Artist of the Month, The Upset Victory. This  Cincinnati  band is tearing it up, and are on the verge of breaking big. Here's what former  Yellowcard bass player Warren Cooke has to say about the band, "It's like Thrice and Iron Maiden had a bastard child with Motley Crue".
Also, will Reggie and The Full Effect make a highly anticipated comeback with new material? We'll find out with front man James Dewees who recently launched a Kickstarter Campaign to revive the band.
Tune in tonight at 9p ET (6p PT), only on idobi Radio.
Call in:  1-888-99-IDOBI  (1-888-994-3624)
Skype:  EJCshow
Listen:  web player  /  app
Podcast:  www.EJCshow.com
The Upset Victory, "Sellin' My Soul"

Reggie and the Full Effect, "Take Me Home: