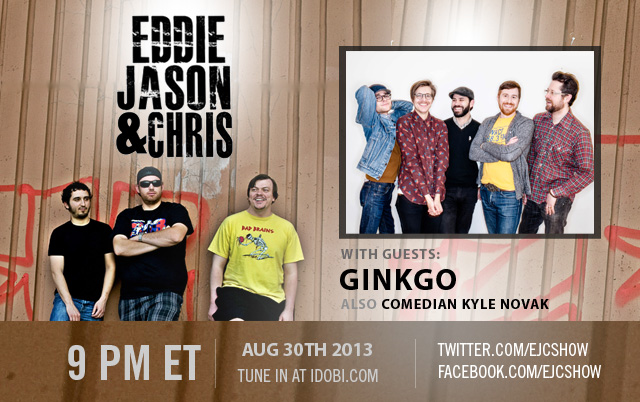 Stick around after Mike Herrera tonight (8/30), because Eddie Jason & Chris are live with another all new episode at 9p ET.
He was one of our most popular guests when he first appeared three years ago, and now he makes his triumphant return! Comedian Kyle Novak!  We've dug up a couple of his old stand up sets he performed live on our show.  Listen to one here.
And, here at EJC we love to find and support really cool bands that are just getting started. You're going to love tonight's musical guest: indie rockers,  Ginkgo! Stream their song, "Faded Glory" here.
It's an  ALL NEW EJC! Tune in tonight at 9p ET / 6p PT – only on idobi Radio!
Call in:  1-888-99-IDOBI  (1-888-994-3624)
Skype:  EJCshow
Listen:  web player  /  app
Podcast:  www.EJCshow.com
Podcast: Play in new window | Download
Subscribe: RSS