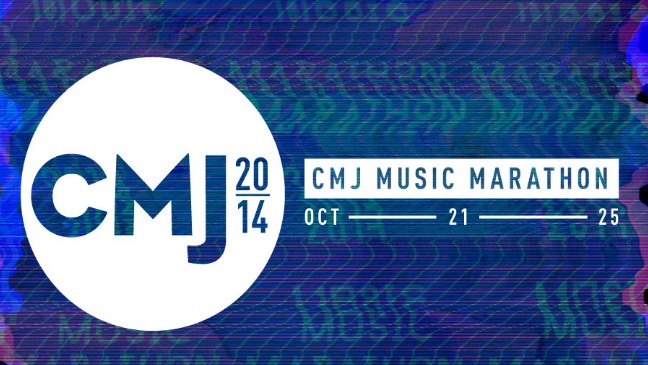 Why are Gerard Way, Bombay Bicycle Club, and Foster The People all in NYC this week? For the CMJ Music Marathon of course, and you should be here too! There's nothing like the thrill of discovering a new favorite band, and with over 1,400 artists playing more than 300 showcases at 80+ venues throughout the city, CMJ surely has one for you. The music marathon welcomes veterans like Cold War Kids, newcomers like Zella Day, International acts including the famous Japanese all girl punk band Shonen Knife and countless up and coming artists all hoping to be discovered. These acts are brought together for five days of music and featured speakers from the industry. For each day, idobi Radio will be bring you the CMJ "Four Play": four can't miss events for each day of CMJ.
The CMJ Music Marathon |  10/21 through 10/25 New York City
TUESDAY CMJ FOURPLAY – 10/21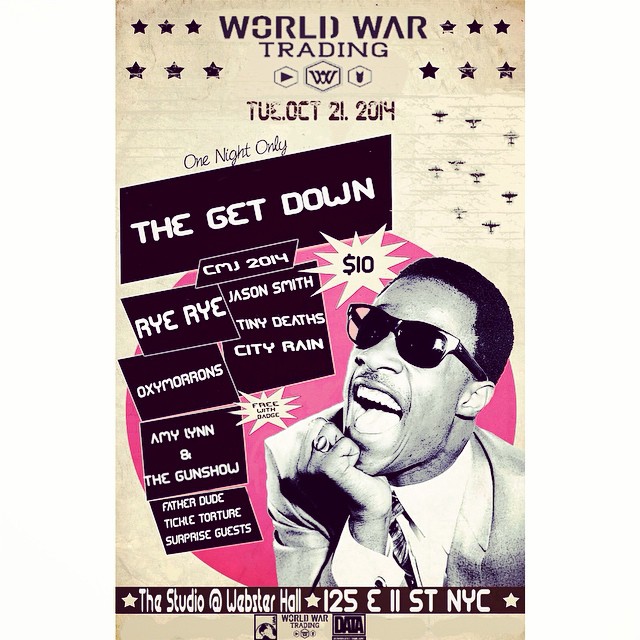 World War Trading – Showcase
Be sure to catch tonight's World War Trading's CMJ showcase at The Studio at Webster Hall. Tonight's show features Rye Rye, The Get Down, Father Dude and more, including some "surprise guests". You may have heard Father Dude on idobi Anthm, we're playing "Cheers" the new song by The Dance, one of his many projects. The show starts at 10PM and is $10 at the door, or free with a CMJ badge. For the full CMJ Music Marathon schedule check out www.cmj.com/schedule/  (Cindy Tenicela)
Tonight: The Studio at Webster Hall – 10PM
Influencing Trends and Igniting Debate: The Role of the Music Critic Today
CMJ operates around the clock and it's virtually impossible to experience all of the excitement, showcases and conferences, but if you're interested in the speakers at all, this is certainly a topic of interest. With the power of the internet in today's society, there's no doubt its many music critics have an impact on current trends. But who has the final say? Find out from top music journalists and authors like Andre Torres (Wax Poetics), Christopher R. Weingarten (Rolling Stone, SPIN, Village Voice, The Source, Revolver, Nylon, The Guardian), Laina Dawes (MTV Iggy, Flavorwire, Noisey), Michael Azzerad (Talkhouse, Rolling Stone, eMusic, New Yorker, New York Times) and Zachary Lipez (Noisey, Hazlitt, Talkhouse). (Alyson Stokes)
NYU Kimmel CTR. 10th FL – Rosenthal Pavilion | 2 p.m.
Horse Thief
An alternative rock band that kicked off the WFUV Radio showcase over at the Rockwood Music Hall stage 2 today, bringing their panoramic sound to keep fans more chilled than the weather. They might have been in the middle of busy NYC, but they used the sounds of the Midwest to take your mind on a vacation. (Alex Bear)
Earlier Today: Rockwood Stage 2 – 5PM
(Horse Thief is also playing the Delancey stage on Friday at 2:30pm)
PINS
Hailing from across the pond, PINS are here to take the Oh My Rockness CMJ showcase at Cameo Gallery by storm with their blend of post punk and fuzzy rock and roll. Four kickass women, a ton of noise, and just great, no nonsense songs. What more could you want?  (Alex Bear)
Tonight: Cameo Gallery – 12AM
Tags:
CMJ. CMJ Music Marathon