This week: Countdown: Inspiration4 Mission to Space, The Circle, Wu-Tang: An American Saga, Lucifer, LuLaRich, Metal Shop Masters
Countdown: Inspiration4 Mission to Space
Series debut
Now streaming
On Netflix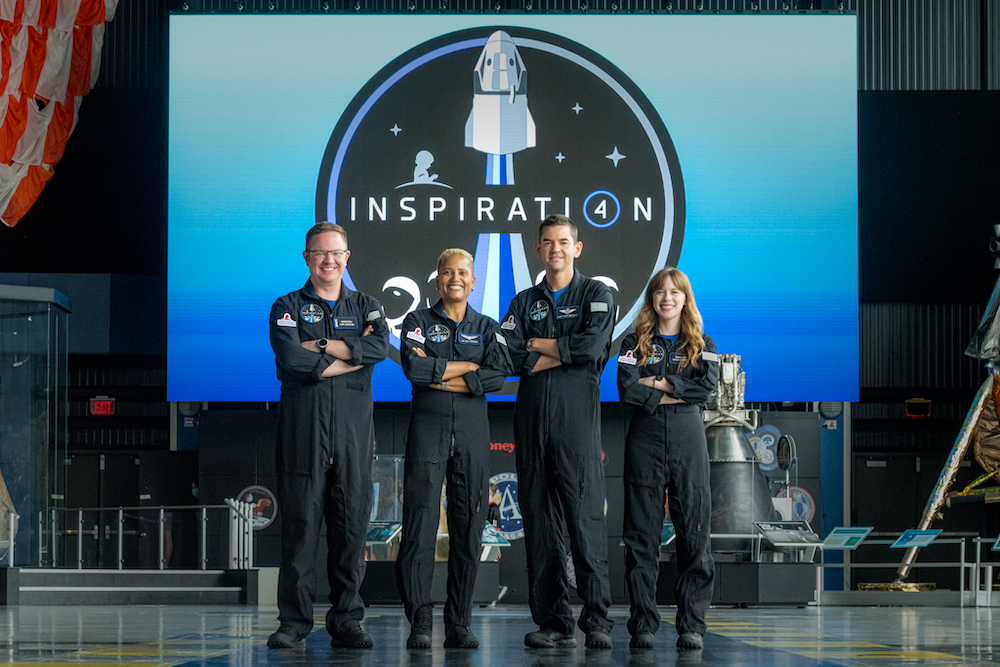 Photo: John Kraus / courtesy of Netflix
In a year of watching billionaires compete to burn money & reach not-even-space, while a large portion of the population face increasingly dire socio-economic crises, it's been difficult to get hyped about the incredible technology that has enabled 2021's space race. But Countdown: Inspiration4 Mission to Space is aiming to change your mind and enthral you with the wonder of space once again. This month, four civilians will launch into space for a three-day orbit of Earth.
Selected from a charity sweepstakes to raise money for St. Jude Children's Research Hospital, each crew member will represent four of humanity's greatest attributes: hope, generosity, prosperity, and leadership. As they share their stories, you'll soon understand why they were chosen—they embody those pillars with everything they do. Follow along on their journey as they prepare mentally and physically in the leadup to the historic launch. You'll find yourself rooting for them with the same kind of dream-fueled hope you had as a kid—and you'll hope they, too, inspire a new generation to dream of flying among the stars.
New episodes of Countdown: Inspiration4 Mission to Space
premiere every Monday on Netflix.
From Netflix:
This September, four civilians will launch into space for a three-day trip orbiting Earth and reaching an altitude higher than that of the International Space Station (ISS). The SpaceX Dragon mission, dubbed Inspiration4, is the most ambitious step to date in the rapidly-developing age of civilian space exploration, making history as the first all-civilian mission to orbit.
—
The Circle
Season 3
Wed Sept 8
On Netflix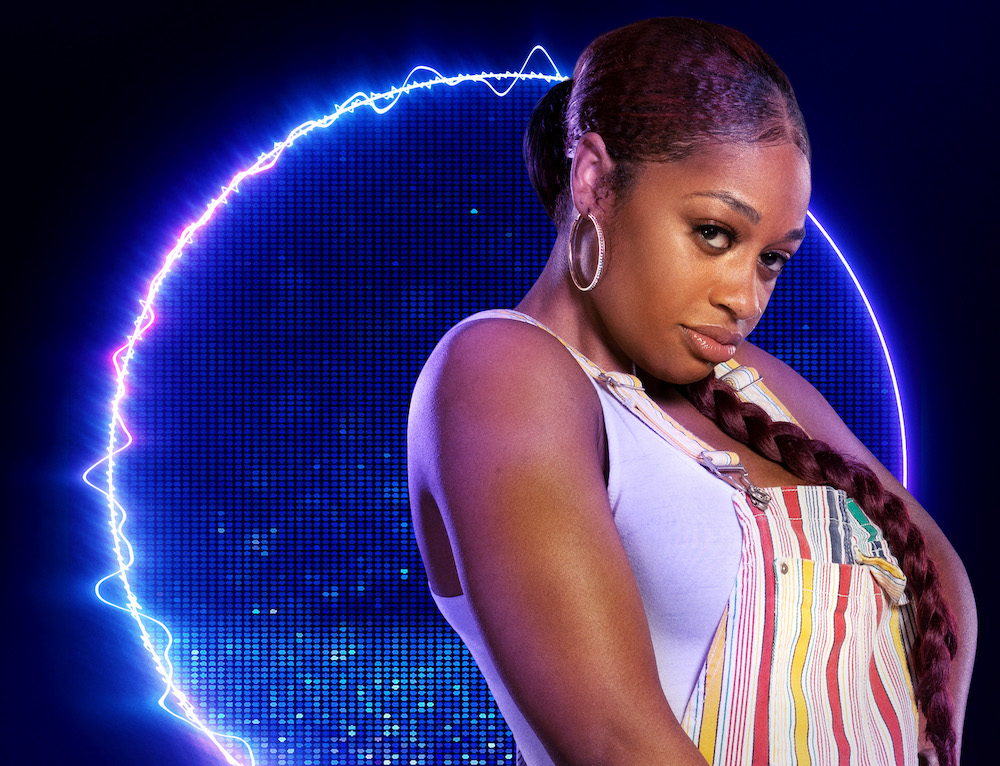 Photo courtesy of Netflix © 2021
The Circle is back for another round and the drama is turned up to eleven. Between catfishes and snakes, there's plenty of wildness packed in and you won't be able to resist hitting "next episode" to see each big reveal. With new challenges and curve balls thrown at the contestants, alliances are soon formed and anonymous attacks get dirty. Damn! And, of course, the queen Michelle Buteau hosts & narrates with plenty of snap. Stock up on the popcorn and prepare to get sucked right in—The Circle is waiting for you…
The Circle returns to Netflix tomorrow.
From Netflix:
Season 3 of The Circle returns with bigger twists and more turns in all 13 episodes! A cast of eight new contestants, quarantined in an apartment building, chat, flirt, befriend, piss off, and compete in challenges against each other to earn the ultimate cash prize as top influencer.
—
Wu-Tang: An American Saga
Season 2
Wed Sept 8
On Hulu
Wu-Tang: An American Saga is back on Hulu tomorrow.
From Hulu:
The Clan is disillusioned with life in the projects, and Bobby knows that success in the music industry could be their ticket to better lives. But getting the Clan members to drop everything for music isn't easy. The resentment between Dennis, Sha, Power and Divine still runs deep, while the other Clan members struggle dealing with intercity life. This time around, Bobby is dedicated to authenticity and though he knows he can lead his crew through the challenges of the music business, the Clan's fractures may prove too much to overcome.
—
Lucifer
Season 6
Fri Sept 10
On Netflix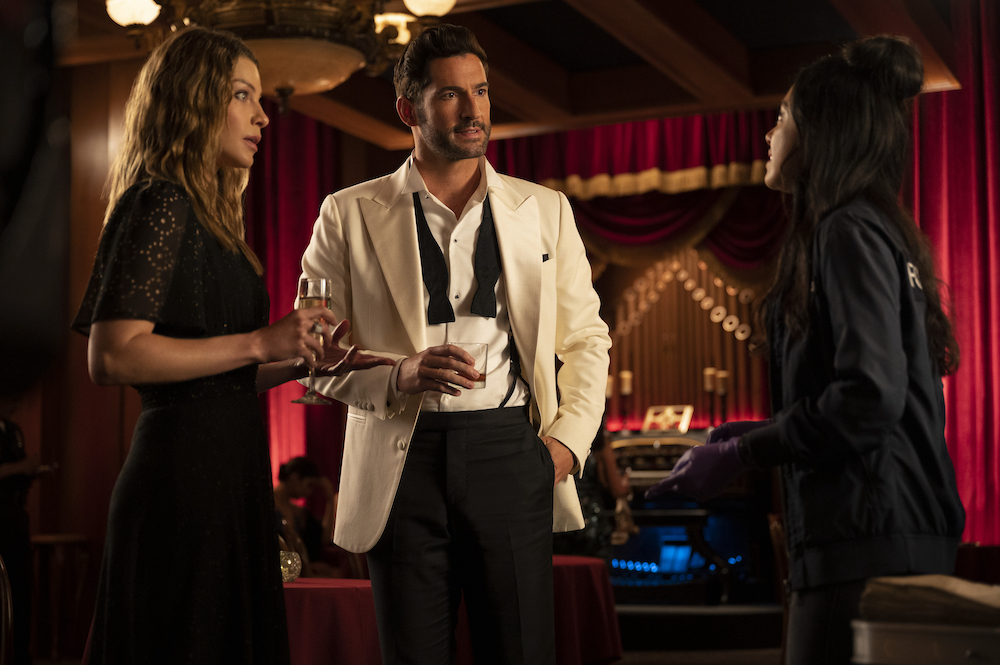 Photo: John P. Fleenor/Netflix © 2021
Lucifer (Tom Ellis) is unsure about starting his new job…y'know…upstairs. And Chloe (Lauren German) is also hesitating about giving up her life as a detective. In fact, the whole gang are having second thoughts about their future paths. What does this mean for Heaven? Things start to spiral tremendously out of sync, which forces Lucifer to face his past and reckon with his future. How he manages his own demons (and we're not just talking Maz & co.) brings in those around him in new and surprising ways. We won't reveal any major plot points for fear of the Devil himself but we will say that the season has a lot of fun saying goodbye. Settle in for plenty of procedural shenanigans, musical interludes, and heart (of the twisted devilish kind).
Watch the final season of Lucifer on Netflix on Friday.
From Netflix:
This is it, the final season of Lucifer. For real this time. The devil himself has become God… almost. Why is he hesitating? And as the world starts to unravel without a God, what will he do in response? Join us as we say a bittersweet goodbye to Lucifer, Chloe, Amenadiel, Maze, Linda, Ella and Dan. Bring tissues.
—
LuLaRich
Season 1
Fri Sept 10
On Amazon Prime Video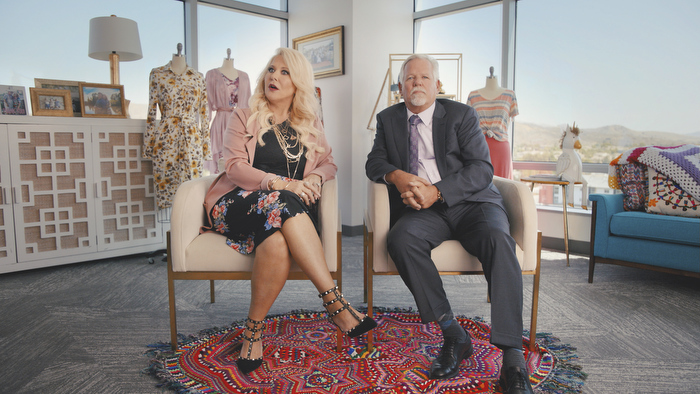 Photo courtesy of Amazon Studios
MLM schemes are often joked about in memes…but they're real and can be a very slippery slope for many. LuLaRoe built their empire on these kinds of pyramid schemes, often pulling in young mothers who needed a quick and easy way to make money from home. At first, LuLaRoe's leggings looked vibrant and pretty and the deals the company offered its sellers were alluring. But as with the majority of MLM schemes, the seams started to show and things soon began to fall apart. Now, LuLaRoe is known as a cautionary tale—but LuLaRich is taking us back to where it all began to find out where things went wrong. Featuring interviews with the founders as well as the independent retailers they employed, the series shows how deeply they each believed in the power of LuLaRoe. It's unsettling to watch, especially when LuLaRoe founders take to the screen with a delusions-of-grandeur type approach, but the docuseries will hold your attention by dissecting the hype and the smoke-and-mirrors style that took the company far.
LuLaRich debuts on Amazon on Friday.
From Amazon:
LuLaRich is a four-part docuseries that chronicles the unraveling of LuLaRoe. Known for their buttery soft leggings, the infamous multi-level marketing company went viral promising young mothers a work-from-home salvation. Capitalizing on the growing power of social media, LuLaRoe's eccentric founders recruited an astonishing army of independent retailers to peddle its increasingly bizarre and defective clothing products. Through exclusive interviews, this series unveils how it all went wrong in a spectacularly weird and comedic fashion.
—
Metal Shop Masters
Season 1
Fri Sept 10
On Netflix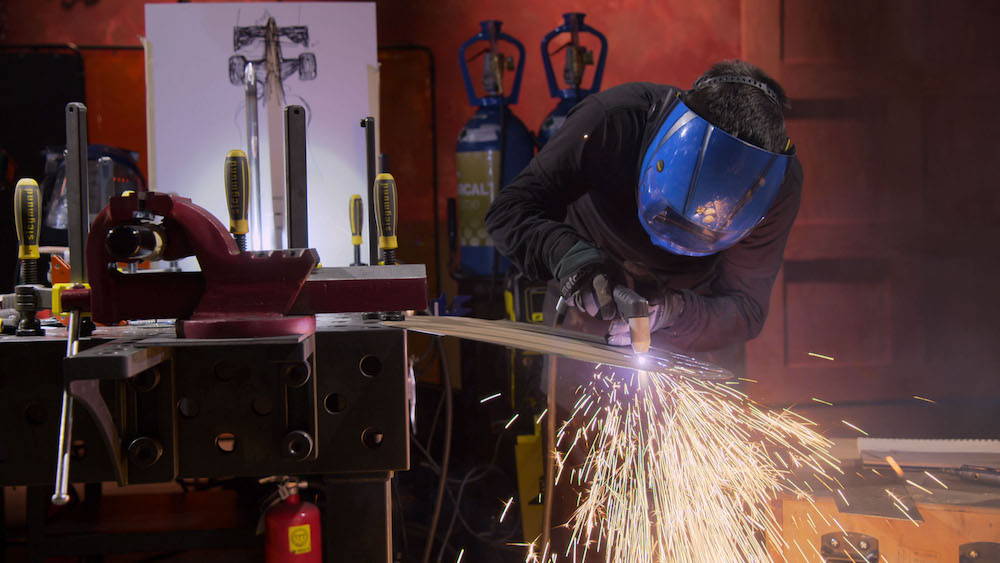 Photo courtesy of Netflix © 2021
If you loved Blown Away, Netflix is about to feed your niche creative spirit. Metal Shop Masters is a fired up competition between some of America's best welders. They're challenged to build some of the most metal (in every sense of the word) creations, from self representations to rocked out BBQ grills, and the end results are insane. The pressure under all the heat is intense but these welders are total pros and their clashes only produce new surprises ready to inspire and melt your brain.
Metal Shop Masters hits Netflix on Friday.
From Netflix:
Sparks fly and tensions flare in Metal Shop Masters, a fierce, fiery competition between 7 of America's top welding legends. Hosted by Jo Koy, over the course of six episodes, these iron men and women race against the clock in challenging builds ranging from epic, one-of-a-kind grills to futuristic vehicles, all judged on both form and function. Pressure, heat and hustle makes for grinding work, and in the end, only one will forge a path to victory and the title of Metal Shop Master.