This week: Patriot Act, Stargirl, The Big Flower Fight, Patton Oswalt: I Love Everything, Motherland: Fort Salem, Blood & Water, The Red Nose Day Special, The Lovebirds, Selling Sunset, Homecoming, Snowpiercer, Killing Eve
Patriot Act
"What Happens if You Can't Pay Rent?" – Volume 6 premiere
New episodes Sunday
On Netflix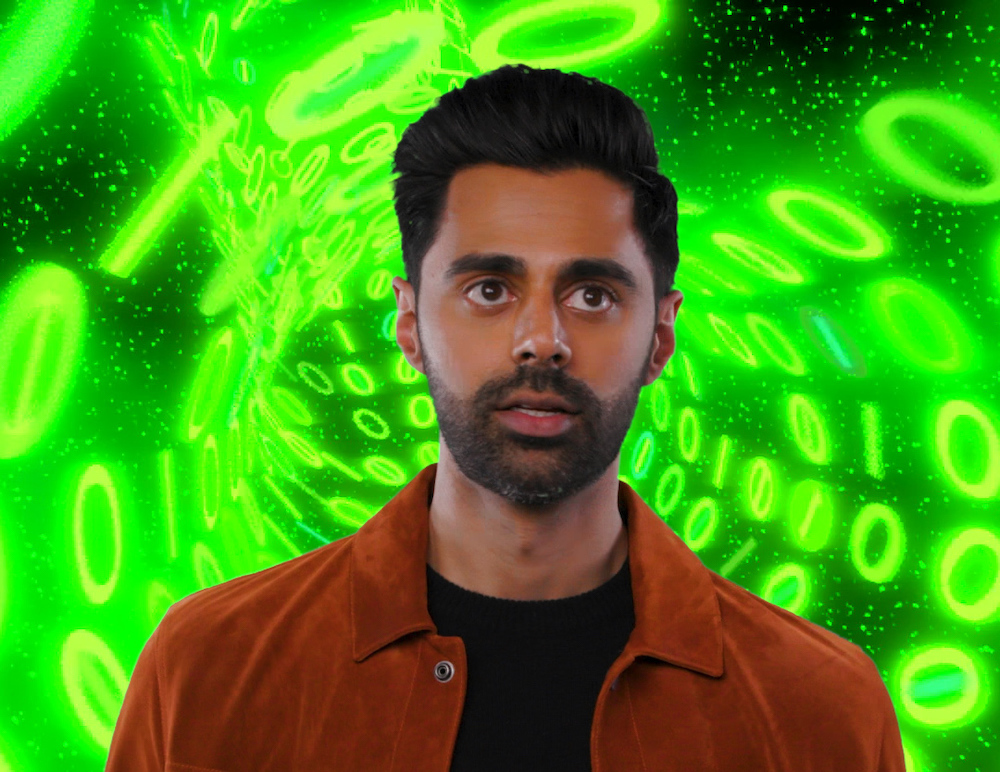 If you are a tenant, you need to watch this episode of Patriot Act. Hasan Minhaj returns to Netflix (safely quarantined in front of a green screen) to break down what to do if you are unable to pay your rent due to the COVID-19 crisis. Minhaj looks back at the history of the rental market and compares it to the current ways landlords are illegally trying to evict their tenants even during a pandemic. It'll make you sick to think that some landlords would rather see their tenants homeless than allow them basic human rights during an awful time like this.
Hasan also breaks down the next steps you can take if you are facing eviction, including what the government is doing (and has failed to do) to help. The Stimulus Bill was recently passed to halt evictions for four months…but it only applies to the 28% of rental properties that are federally backed. Go to dontgetkickedout.com to see if your building qualifies for the federal moratorium—which means it is illegal for your landlord to evict you for the next four months. You can also look up the eviction protections in your state and there's a link to help you find a lawyer if your landlord takes you to housing court. This episode of Patriot Act is so incredibly important and we're glad Hasan Minhaj is here to guide us through this
housing crisis.
New episodes of Patriot Act with Hasan Minhaj
air every Sunday on Netflix.
From Netflix:
As millions of Americans struggle to pay rent during the COVID-19 pandemic, Hasan looks at how this could lead to a widespread eviction crisis.
—
Stargirl
Series premiere
Mon May 18
On DC Universe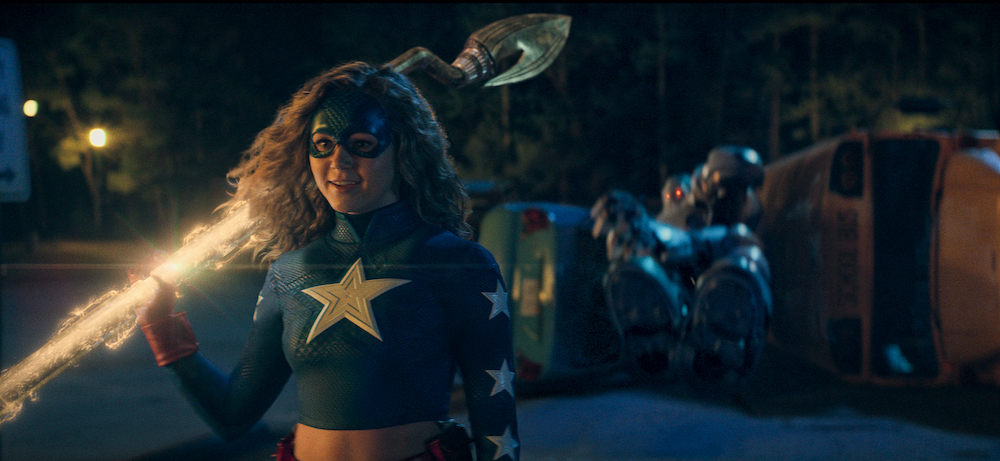 Based on the '90s DC comics series by Geoff Johns (who's an executive producer and writer for this show), Stargirl is clearly a labor of love. It's also fun, which sets it apart from its siblings like Flash and Supergirl this season. Bassinger is an appealing young heroine, willing to risk it all to do the right thing, while Wilson is a solid steadying presence as her unlikely mentor. Wilson also plays well against his cinematic persona of a likeable goofball, taking a more serious approach to being Pat Dugan. The villains—supervillains living normal lives in Blue Valley—are likewise interesting and engaging, with frictions and rivalries threatening their unity just as a new heroine arises. (read our full review)
Stream Stargirl on DC Universe.
From DC Universe:
DC's STARGIRL follows high school sophomore Courtney Whitmore as she inspires an unlikely group of young heroes to stop the villains of the past. This new drama reimagines Stargirl and the very first superhero team, the Justice Society of America, in an unpredictable series. The project focuses on the character that started executive producer Geoff Johns' career as a comic book writer when he created her in 1999, lovingly inspired by his late sister, who was killed in a 1996 plane explosion.
—
The Big Flower Fight
Season 1
Mon May 18
On Netflix
Watch The Big Flower Fight on Netflix now.
From Netflix:
Ten teams of florists, sculptors and garden designers push their talents to the limit to create extravagant floral installations in this competition show hosted by Vic Reeves and Natasia Demetriou. Facing elimination with every task set, these international teams of plant-obsessed artisans will be judged by florist to the stars, Kristen Griffith-VanderYacht and a slew of guest judges for a chance to display their own sculpture at London's Royal Botanic Gardens, Kew.
—
Patton Oswalt: I Love Everything
Tues May 19
On Netflix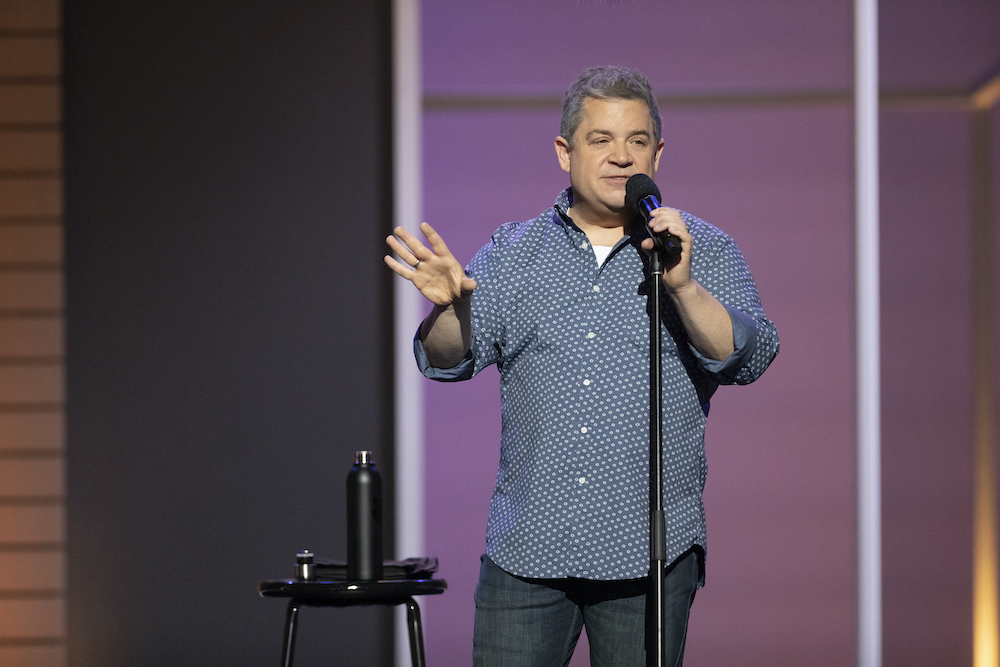 Patton Oswalt returns to Netflix for another standup special and he has a few important things on his mind. The first thing is that he recently turned 50 and he would really love to skip a few decades until he's 90. Looking after his health by eating whole grain cereal and going cycling? Nah, it's not for him. But, because time travel doesn't exist yet, he's resigned to listening to podcasts and going hiking with the other middle-aged guys. Fortunately he does these activities in between delighting us all with his honest but gentle humor. I Love Everything is a fun time with laugh-out-loud moments that'll allow you to forget about the bigger problems in life for a few moments (so you can imagine you're in the time-warp that is Denny's). 
P.S. Stay tuned for a bonus standup special Bob Rubin: Oddities & Rarities presented by Patton himself!
Patton Oswalt: I Love Everything debuts on Netflix tomorrow.
From Netflix:
Like the ancient grains of Babylon, Patton provides a healthy dose of witticism in his newest Netflix comedy special, Patton Oswalt: I Love Everything. Enjoy yourself as the Emmy and Grammy winning comedian reflects on hilarious existential anecdotes after recently embracing his fifties, which includes attending his daughter's second-grade art show that cost him the chance to board a full-scale Millennium Falcon or how buying a house is like hiring a suicide squad of superhuman subcontractors. Patton Oswalt: I Love Everything premieres globally on Netflix on May 19, 2020. And stick around post-credits for Bob Rubin: Oddities & Rarities, a bonus one-hour comedy special presented by Patton himself!
—
Motherland: Fort Salem
"Witchbomb" – Season 1 finale
Wed May 20 – 9PM
On Freeform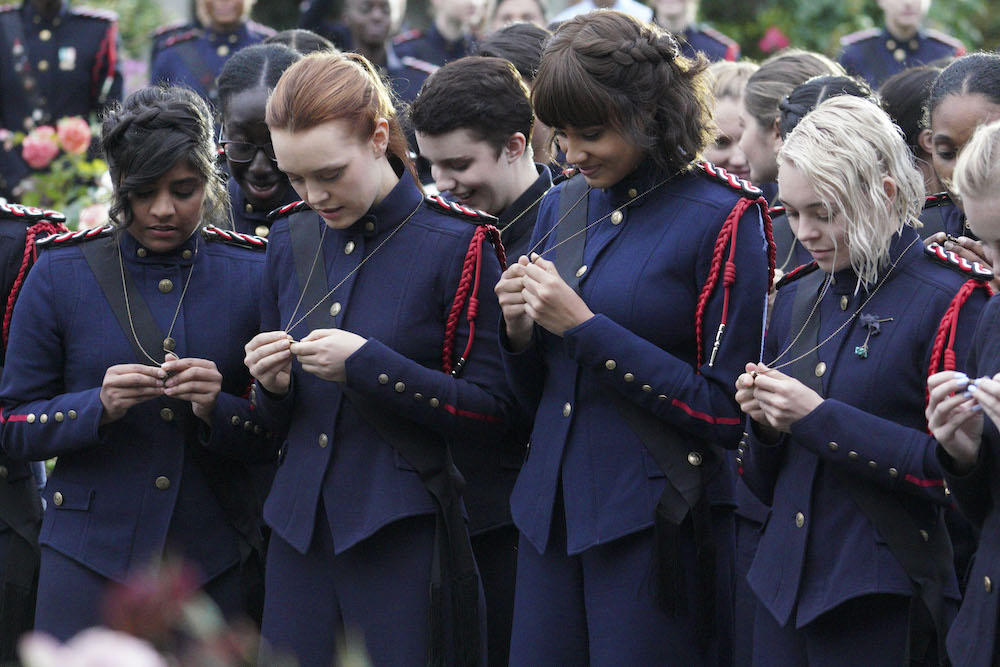 This. Episode. Is. Explosive. Damn! Graduation is here and your girls don't get the sendoff they were expecting. Ooh, this betrayal stinks of General Alder (Lyne Renee). She's clearly not happy that they've uncovered her dangerous web of lies so she's trying to get rid of them. It's heartbreaking to watch the Bellweather Unit say goodbye to their friends and families as they prepare for their treacherous next chapter. But if that didn't make this episode gut-wrenching enough, Motherland: Fort Salem has more tricks up its sleeve. An emergency mission sends them scrambling and allegiances mean they have hard decisions to make. Can anything break our Bellweather Unit up? We're about to find out. And when everything seems dark, the show pulls out its biggest reveal yet to keep you screaming at your screen. Motherland: Fort Salem's season finale is going to leave you chanting: More,
more, more!
P.S. Dear Freeform: Y'all had better renew this show or else we're going to be the witches pounding on your door.
In case you missed it: Catch our interviews with Motherland: Fort Salem's stars Taylor Hickson, Demetria McKinney, Jessica Sutton,
and Ashley Nicole Williams!
Catch the season finale of Motherland: Fort Salem
on Freeform on Wednesday.
From Freeform:
Raelle, Abigail, and Tally graduate from Basic Training making Abigail more desperate than ever to prove her unit belongs in War College. Alder eyes the unit for a rescue mission while Anacostia and Scylla find common ground.
—
Blood & Water
Season 1
Wed May 20
On Netflix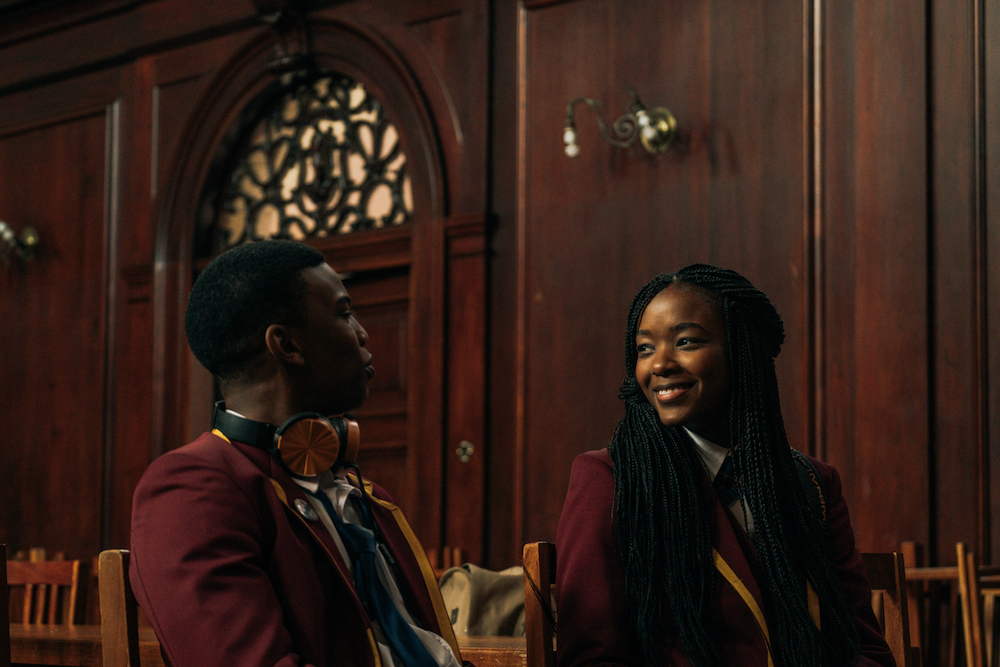 The premise of Blood & Water is intriguing: The Khumalo family was left broken after their eldest daughter Phume was abducted as a baby. 17 years later, her younger sister Puleng (Ama Qamata) is now 16 and resents her family for still mourning. That is, until Puleng runs into her missing sister at a party. She's now named Fiks (Khosi Ngema) and lives a charmed life. Fiks has rich parents and goes to the best school in Cape Town where she's training to be an Olympic swimmer. Puleng feels a magnetic pull towards Fiks and even transfers to the same school to get to know her sister…but she doesn't know what a dangerous web of lies she's about to uncover.
Yup, we told you it's intriguing. With that being said, the writing at times doesn't support the weight of the story. There are so many inconsistencies in actions and dialogue that are at odds with the characters and the plot. For example, Puleng spends all day stressing out over a disciplinary hearing—even though she's going through major life upheaval—and then…she just…doesn't show up to it? Why? No idea. Or the fact that no one can seem to tell the difference between school uniforms. How? Again, no idea. Oh, AND Puleng tells her mom she's going out to a party…but then she "sneaks out"? Why not just walk out the front door, girl? Okay, we just had to get that out. The actions of the characters feel so stiff and at odds that it often takes you out of the story, which is a shame because the mystery is strong…we just wish it was executed better.
Blood & Water comes to Netflix on Wednesday.
From Netflix:
Set in the surroundings of Parkhurst College, the prestigious inner-city school for elite scholars and academic overachievers. Blood & Water follows the exploits of 16-year-old Puleng Khumalo, as she engineers her transfer to the school to investigate the 17-year-old cold case of the abducted-at-birth older sister she's never met.
—
The Red Nose Day Special
Thurs May 21 – 9PM
On NBC
Catch The Red Nose Day Special on NBC on Thursday.
From NBC:
The sixth annual "Red Nose Day" special will showcase a night of music, comedy and Hollywood's biggest names. Kicking off the night at 8 p.m. ET/PT, Ben Stiller is bringing the phenomenon of escape rooms to television in spectacularly over-the-top style with "Celebrity Escape Room." Stiller and Jack Black serve as executive producers and participants in the one-hour show featuring a cast of A-listers including Courteney Cox, Lisa Kudrow and Adam Scott, immersed in the hilariously high-energy, no-holds-barred escape. Following "Celebrity Escape Room," the two-hour "Red Nose Day Special" will feature the biggest names across entertainment with a packed lineup of music, comedy and short documentary films that will educate and engage viewers. The films will share stories of children and young people who have been affected by poverty and how Red Nose Day funds have helped change their story for good.
—
The Lovebirds
Fri May 22
On Netflix
Stay tuned for our review!
The Lovebirds hits Netflix on Friday.
From Netflix:
A couple (Issa Rae & Kumail Nanjiani) experiences a defining moment in their relationship when they are unintentionally embroiled in a murder mystery. As their journey to clear their names takes them from one extreme – and hilarious – circumstance to the next, they must figure out how they, and their relationship, can survive the night.
—
Selling Sunset
Season 2
Fri May 22
On Netflix
Stream Selling Sunset on Netflix on Friday.
From Netflix:
Luxe real estate. Major drama. The top real estate brokers at The Oppenheim Group are back! Selling Sunset, a Netflix reality series set in the world of LA's high-end real estate, follows seven of the city's most successful female realtors who all work under the same roof at the #1 agency in the Hollywood Hills and the Sunset Strip. They work hard and play harder, as they compete with the cutthroat LA market and each other. These ladies will do what it takes to make it to the top of their game, all while trying to keep their personal lives intact. This season, the ladies deal with even more mind-blowing mansions, shocking new romances, and explosive truths that will change their lives, relationships and careers forever. Welcome to Selling Sunset.
—
Homecoming
Season 2
Fri May 22
On Amazon Prime
Homecoming returns to Amazon Prime on Friday.
From Amazon Prime:
Experience a new mystery when Jackie (Janelle Monae) finds herself floating in a boat in the middle of a lake with no memory of how she got there – or even who she is. Her search for identity will lead her into the heart of the Geist Group, an unconventional wellness company behind the controversial Homecoming Initiative.
—
Snowpiercer
"Prepare to Brace" – Series premiere
Sun May 24 – 8PM
On TNT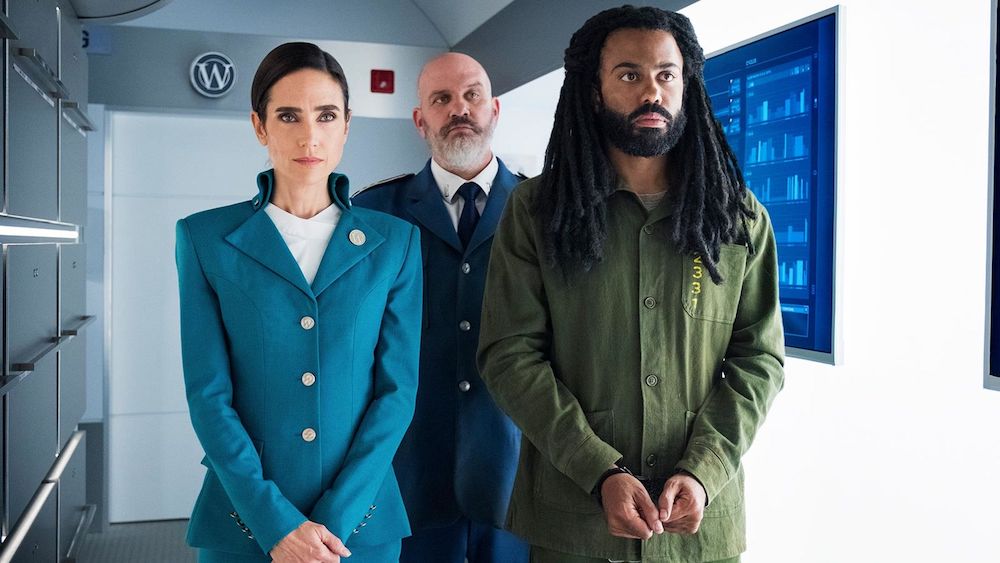 The TNT Snowpiercer series starts very similarly to the film but takes us back to events before boarding the train. First [humans] boiled the world and then we chilled her to her core. The result is an unending frozen apocalypse with temperatures at below 100ºC. The whole thing forges ahead frostily—if you don't have the misfortune of being in The Tail (the class for stoways)—before the unthinkable happens. MUUURDER. Perhaps serial murder and very grisly. Appendages are missing…sexy appendages…you know what I mean… At first the series seems grim with none of the whimsy that kept you from screaming in desolation at the film. It is also not quite as desolate, so that works. The addition of a Noir-style detective element is reminiscent of The ExpanseS1 and is a useful tactic in genre storytelling. The science-fiction becomes a backdrop for a rebellion based on the quest for equality, and the murder mystery gives us a framework to discover the rot eating away at the train. Although it never screams with intrigue the series does chug along nicely. (read our full review)
Snowpiercer airs on TNT on Sunday.
From TNT:
Layton investigates the murder while gathering intel for his revolution. Melanie faces a resource crisis that could impact everyone.
—
Killing Eve
"Beautiful Monster" – Season 3, Episode 7
Sun May 24 – 9PM
On BBC America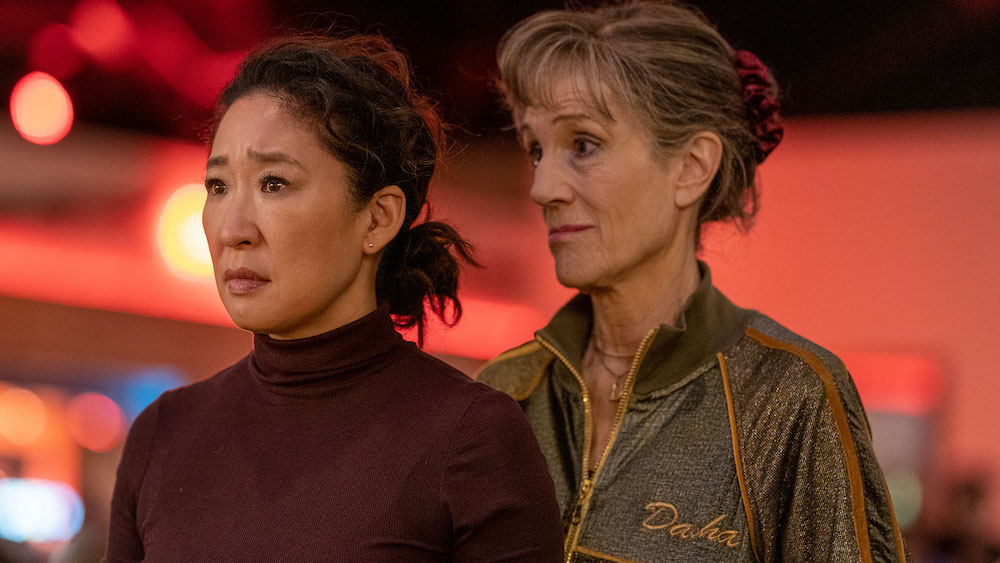 Konstantin (Kim Bodnia) is at the end of his rope. His daughter Irina (Yuli Lagodinsky) is in a detention center and she is living for the drama. For once she has her dad's attention. Sound familiar? Konstantin is caught between Irina and Villanelle and it's putting him under a lot of pressure. Villanelle (Jodie Comer) is growing tired of Dasha (Harriet Walter) and you know what that means…things are about to get bloody (and you won't be able to stop watching). And Eve (Sandra Oh) is headed straight for them both which is going to add to the high thrills of this episode. Remember when we told Eve to run away? Ooh, you won't believe what she's about to run into. Meanwhile Carolyn (Fiona Shaw) is getting impatient for answers about Kenny's (Sean Delaney) death. We've never seen her so determined and that is a terrifying thought—good luck to anyone who stands in her way. This series of near-misses between our two leading ladies will get your heart racing every time and by the end of the episode your mouth will drop all the way open. Damn, Killing Eve knows how to keep you hooked.
Killing Eve hits BBC America on Sunday.
From BBC America:
Carolyn is frustrated with the lack of progress in the investigation and is taking it out on those around her. Meanwhile, Eve is focused on Villanelle and finds a clue to her whereabouts in the most unlikely of places. Villanelle and Dasha work together on a kill. The pressure is getting to Konstantin.