This week: This Is Us, Chicago Med, To All the Boys: P.S. I Still Love You, Grown-ish, The Bold Type, Narcos: Mexico, High Fidelity, The Thing About Harry, Doctor Who, Outlander, Zoey's Extraordinary Playlist
This Is Us
"A Hell of a Week – Part 3" – Season 4, Episode 13
Tues Feb 11 – 9PM
On NBC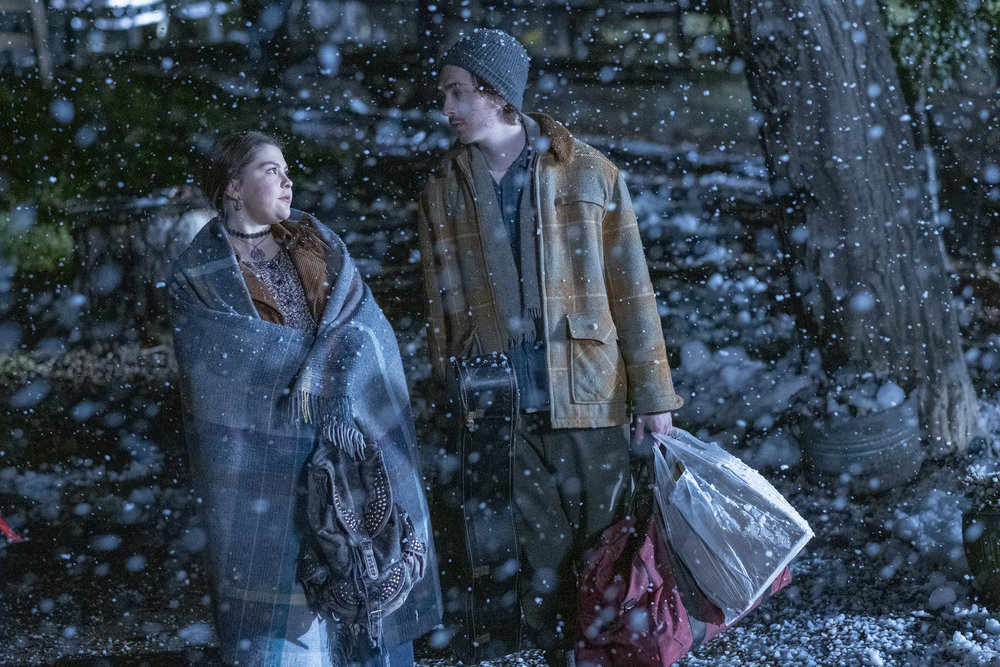 The final installment of season 4's Big Three chapter is the one we've all been waiting for. We finally get to see what happened between Kate (Chrissy Metz) and Marc (Austin Abrams) and you know it ain't gonna be good. This episode will shed new light on her relationships since then, especially the struggles she's going through with Toby (Chris Sullivan). Returning to the Pearson family cabin seems like a GREAT [sarcasm] idea for The Big Three as it's bound to bring up some painful memories primed to make us all tear up. And here we sit, dying to hear them—we've come this far and This Is Us has had us waiting all season so you can bet good money it'll be devastating.
This Is Us airs tomorrow on NBC.
From NBC:
Kate finds strength in unexpected places.
—
Chicago Med
"It May Not Be Forever" – Season 5, Episode 14
Wed Feb 12 – 8PM
On NBC
Chicago Med airs every Wednesday, only on NBC.
From NBC:
Dr. Manning and Dr. Marcel disagree over an abusive husband. Dr. Halstead struggles with ethics and his decision to work at the safe injection site. Dr. Charles and Elsa reveal a misdiagnosis that may change a family's life.
—
To All the Boys: P.S. I Still Love You
Wed Feb 12
On Netflix
To All the Boys: P.S. I Still Love You comes to Netflix on Wednesday.
From Netflix:
It's a new year and Lara Jean (Lana Condor) and Peter (Noah Centineo) are no longer pretending to be a couple. They ARE a couple. And, as Lara Jean navigates a trove of official firsts with Peter — her first real kiss, her first real date, her first Valentine's Day — she finds herself leaning more on Kitty and Margot (Anna Cathcart and Janel Parrish), Chris (Madeleine Arthur), and an unexpected new confidant, Stormy (Holland Taylor), to help her manage the complex emotions that come with this new chapter of balancing a relationship and figuring out her authentic self. But when John Ambrose (Jordan Fisher), another recipient of one of Lara Jean's old love letters, enters her life again she must rely on herself more than ever as she's confronted with her first real dilemma: Can she love two boys at the same time?
—
Grown-ish
"Gut Feeling" – Season 3, Episode 5
Thurs Feb 13 – 8PM
On Freeform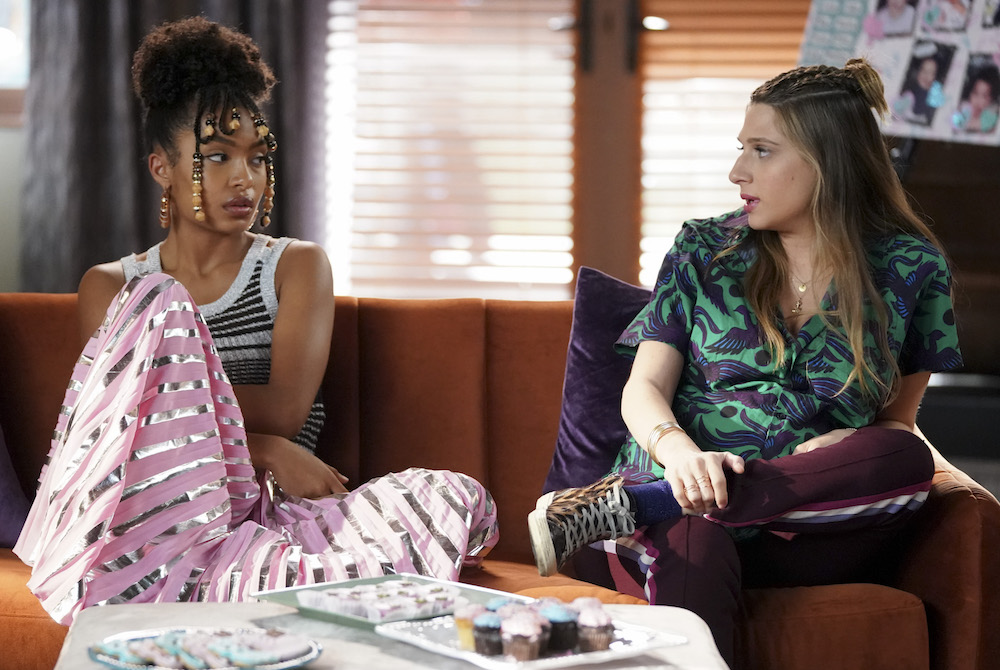 Nomi (Emily Arlook) is struggling to decide whether to keep her baby or go with an adoption. And what could be more awkward than to throw her a baby shower! Complete with baby food and a pregnant belly cake! (Seriously, we admire the creativity but we're still weirded out by that cake and the fondant belly button…we'd still eat it though.) Her friends have a thought-provoking and honest discussion about the pros and cons of adopting, parenting, and Nomi's decision. Even Zoey (Yara Shahidi) takes a break from obsessing about Luca (Luka Sabbat) to put the momma-to-be first (and you'll enjoy every moment). This is what friendship is all about: The group are able to share their thoughts and feelings without judgement—no matter what they are—because they all care deeply about one another. On the lighter side of the episode, Sky (Halle Bailey) is dating a…maaaaybe white dude? The group isn't sure about whether he's white or not and so they try to find out (and they are NOT subtle about it). It's a fun giggle-worthy reprieve from the difficult decision facing our girl Nomi. This episode of Grown-ish is full of heart and it's going to pull at yours—but hey, it's Valentine's week, right?
Grown-ish airs on Freeform every Thursday.
From Freeform:
When Zoey and the girls throw a surprise baby shower for Nomi, they're surprised when she reveals some shocking news about the circumstances of her pregnancy. Meanwhile, Sky learns something about her new dude, Rodney, which puts a new perspective on their burgeoning relationship.
—
The Bold Type
"Babes in Toyland" – Season 4, Episode 4
Thurs Feb 13 – 9PM
On Freeform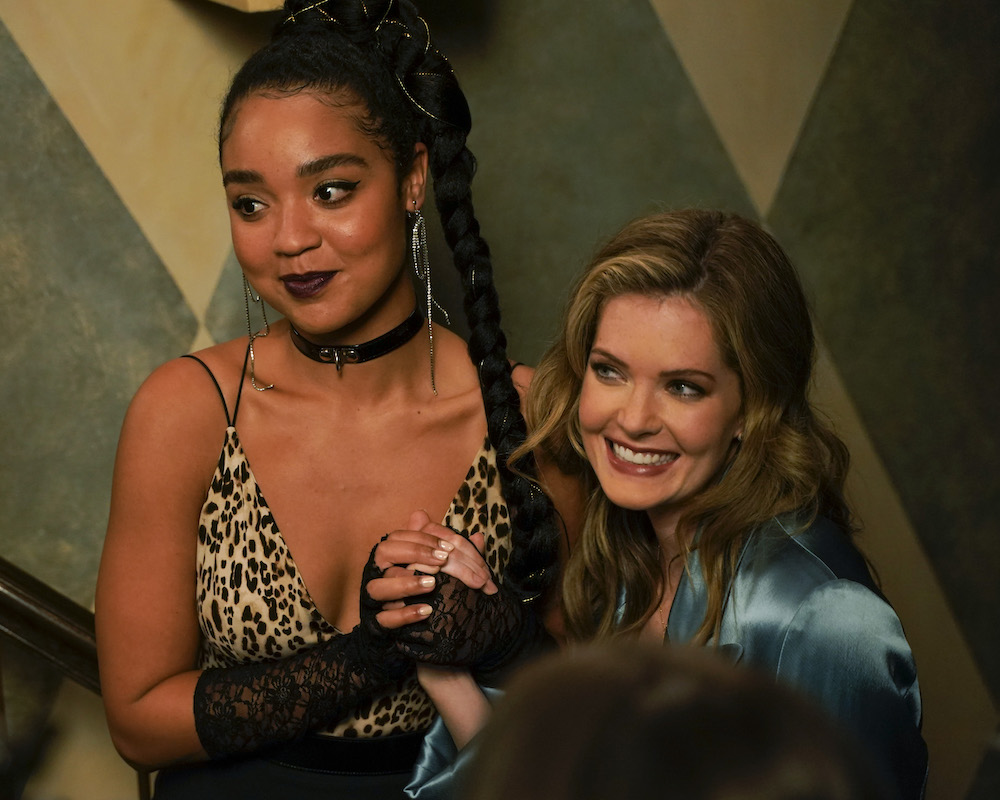 Pour yourself a glass of red and put your phone on vibrate because The Bold Type is taking on sex toys this week. Our trio get some toys to test-drive and they take on the challenge in different ways. Sutton (Meghann Fahy) uses hers to spark some long-distance romance with Richard (Sam Page). Kat (Aisha Dee) is trying to get the conversation started by taking on the sexist double standards about marketing male vs. female desires. And Jane (Katie Stevens) is avoiding sex altogether…until she gets invited to her first sex party. Funny how sex play can spark a difficult conversation with her and Ryan (Dan Jeannotte) and Jane decides to do something about it rather than moping around. Ooh, girl!
The Bold Type is on Freeform every Thursday.
From Freeform:
Jane volunteers to write a story about a sex club in hopes of proving she is ready for the next step in her career. Kat's latest crusade to save a female-oriented sex toy company could lead her to begin dating again, while Sutton has doubts about how to kick off her plan to get promoted. Meanwhile, Alex struggles with his new platform at Scarlet.
—
Narcos: Mexico
Season 2
Thurs Feb 13
On Netflix
Narcos: Mexico returns to Netflix on Thursday.
From Netflix:
Narcos: Mexico season 2 continues the story of Miguel Ángel Félix Gallardo, now
the Godfather of the first Mexican cartel – the Guadalajara cartel – as he struggles to maintain control, grow his empire, and reconcile the betrayals and sacrifices he had to make on his way to becoming El Padrino. As friction between the different "plazas" of his cartel rises, Félix's control over the situation slips. Meanwhile, the death of DEA agent Kiki Camarena at the hands of the cartel and corrupt
politicians brings a hailstorm of retribution to Mexico. "Operation Leyenda" led by the dogged DEA agent Walt Breslin, whose methods aren't always by-the-book, targets Félix Gallardo and his chief lieutenants, adding to the instability and volatility of the cartel.
—
High Fidelity
Season 1
Fri Feb 14
On Hulu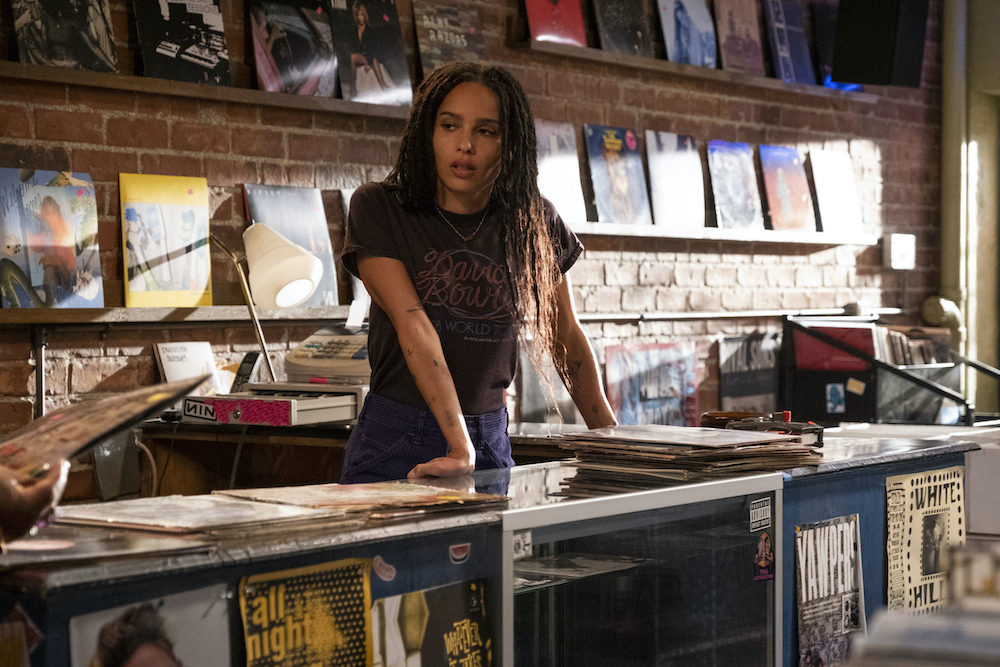 It's 2020, a whole twenty years [after the novel], and Hulu has taken this story, flipped it, and made it into a series. Rob is now played by Zoë Kravitz and, much like in the other versions, she owns a record store. Rob has two music nerd employees and they have music nerd conversations all day. This time the store is in Brooklyn, New York instead of Chicago or London.
I liked High Fidelity and it's perfect for this Valentine's Day weekend. You'll feel like you can choose to stretch out the viewing but you'll also want to finish it. It grabs you and brings you along and gets you so invested in this whole world. The showrunners clearly believe in this series because the story doesn't wrap up with a bow at the end and leaves so many things open to be explored later. I like what Hulu is doing with their rom-coms and I hope they continue. This one is my favorite Hulu series so far. (read our full [p]review)
Stream High Fidelity on Hulu on Friday.
From Hulu:
A reimagining of Nick Hornby's 1995 novel, "High Fidelity" centers on Rob (Zoë Kravitz, who also serves as an executive producer), a female record store owner who revisits past relationships through music and pop culture.
—
The Thing About Harry
Sat Feb 15 – 8PM
On Freeform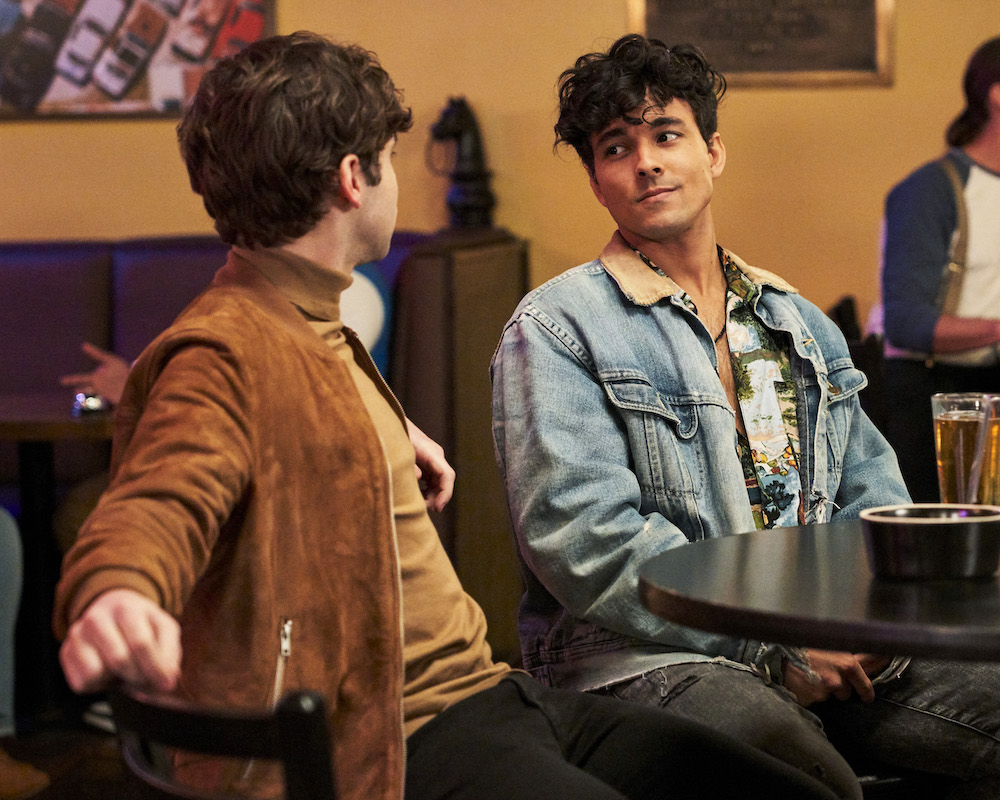 Sometimes you meet someone who has your number. No matter how hard you try or how many miles or years you put between you, they know the real you and can make you crazy like no one else. The Thing About Harry is that story, told as a romance where two guys—who are total opposites (of course)—can't admit they have feelings for each other. You know the story…except this time, it's between two boys and we haven't had enough of that representation onscreen (so yay to this movie!).
The Thing About Harry skips through the years to show the characters at different chapters in their lives, which is a refreshing setup but the execution isn't quite there. Instead it feels a little jarring, like the movie is trying to hit fast-forward on their romance without showing us why they love each other in the first place. We only see why they can't be together at that particular time. With that being said, The Thing About Harry is a super cute movie that shows two male romantic leads who are unapologetically themselves, even if who they are can be messy at times (because isn't that true to being human and being in love?). (stay tuned for our review)
Watch The Thing About Harry on Freeform on Saturday.
From Freeform:
High school enemies, Harry and Sam, are forced to share a ride to their hometown for a party. Things take a turn when Sam learns Harry has come out. Stuck spending the night together, Harry and Sam wonder if they could be more than friends.
—
Doctor Who
"The Haunting of Villa Diodati" – Season 12, Episode 8
Sun Feb 16 – 8PM
On BBC America
Doctor Who hits BBC America on Sunday.
From BBC America:
Lake Geneva. 1816. Lord Byron and the Shelleys plot a night telling ghost stories
but as the Doctor and friends arrive, the Villa proves to have ghostly presences all
its own.
—
Outlander
"The Fiery Cross" – Season 5 premiere
Sun Feb 16 – 8pm
On STARZ
Outlander returns to STARZ on Sunday.
From STARZ:
The Frasers will fight time, space, and history to protect their family.
—
Zoey's Extraordinary Playlist
"Zoey's Extraordinary Best Friend" – Season 1, Episode 2
Sun Feb 16 – 9PM
On NBC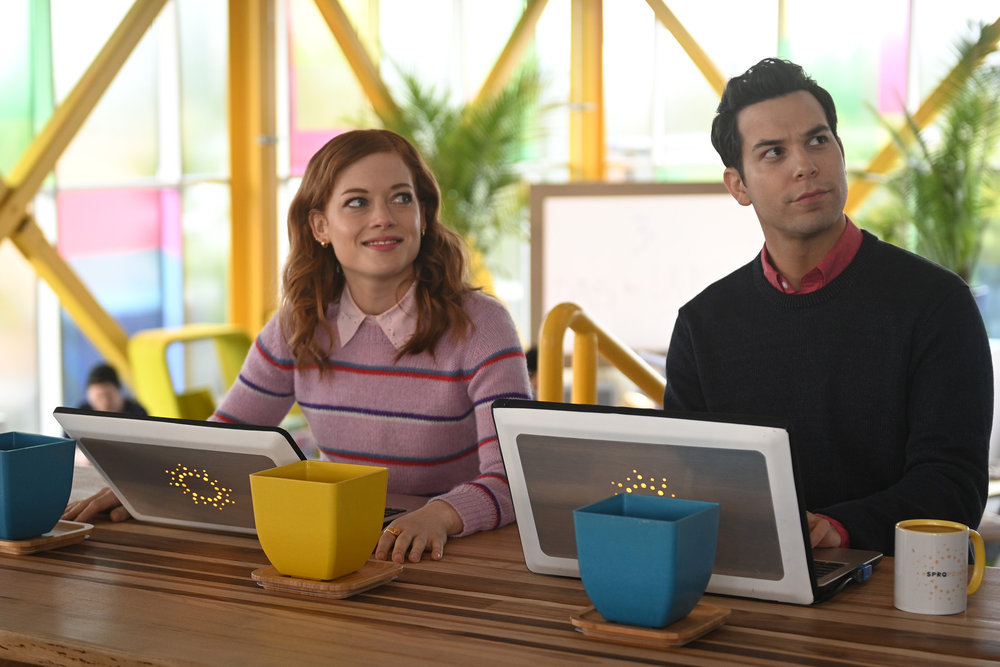 After an accident involving an MRI scanner (you'll have to watch to understand), Zoey (Jane Levy) can hear the innermost desires of everyone around her, told through song (accompanied by some weird & wonderful choreographed dance). This is a fast-forward way of cutting to the core of each character—kind of like a musical number on Broadway—which range from slightly cheesy reprieves to deeper heartbreaking confessions. You'll catch yourself singing along to some classics, performed with flair by the cast (even if Zoey is completely clueless about music. Like, girl, did you ever listen to the radio growing up?).
The pilot is a bit wobbly because it's a pilot and, well, they're not always good at takeoff but the series starts to find its rhythm (no pun intended) in the following episodes but it still has a way to go. Yet the show does have its jukebox musical AKA karaoke charm and might just work for you on a Sunday night when you want to sink into relatable feelings of loss and unrequited love and isolation, but you'd rather sing about it than cry. (read our [p]review)
Zoey's Extraordinary Playlist airs on NBC on Sunday.
From NBC:
Zoey tries to figure out how to control her new abilities while navigating her best friends' romantic feelings for her. A new medical victory for Mitch gives the
family hope.