This week: Waffles + Mochi's Restaurant, Somebody Feed Phil, Unsolved Mysteries, The School for Good and Evil, Love is Blind, Alaska Daily, One of Us Is Lying, Central Park, From Scratch, The Hair Tales
Waffles + Mochi's Restaurant
Season 2
Mon Oct 17
On Netflix
Watch Waffles + Mochi's Restaurant on Netflix.
From Netflix:
Get bready for Waffles and Mochi to blast off on their tastiest adventure yet as they open their very own restaurant. As chefs, the two traveling taste-buddies serve up sweet, salty and spicy dishes inspired by the ingredients from their incr-edible explorations. The new season features familiar faces like Mrs. Obama and world-renowned chefs, home cooks, kids and celebrities from all over the globe who all share the same passion for food and fun!
–
Somebody Feed Phil
The Sixth Course
Tues Oct 18
On Netflix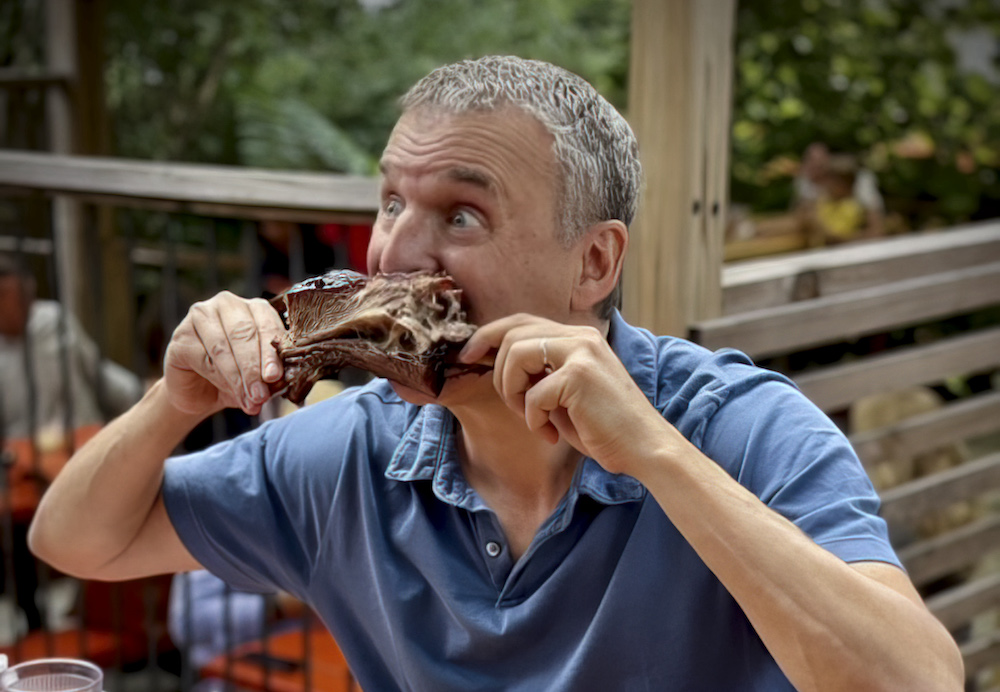 Wuh-oh, Phil is hungry again—and so are we, 'cause our fave show is back. The second that the Somebody Feed Phil theme tune comes on, you know you're in for a whole lotta smiles and laugh-out-loud moments. Featuring some of the most gorgeous cuisines the world has to offer—from Philly cheesesteaks to Nashville red-eye gravy, Croatia gelato to Santiago sánguche—Phil Rosenthal makes you feel like you're sitting right at the table with him and his friends. Oh, and you'll definitely recognize some of his pals (hey, Patton Oswalt!). Wherever he goes, Phil makes everyone feel at ease because of his natural sunny charm. You might even shed a tear or two towards the end, though, as he pays tribute to his parents who we all grew to love over the seasons—a testament to the heart that fuels this show.
Somebody Feed Phil returns to Netflix tomorrow.
From Netflix:
"Everybody Loves Raymond" creator Phil Rosenthal travels the globe to take in the local cuisine and culture. This season will feature Phil traveling to all new destinations, including Philadelphia, Croatia, Austin, Santiago and Nashville, and includes a special tribute episode to Phil's parents, Helen and Max.
–
Unsolved Mysteries
Season 3
Tues Oct 18
On Netflix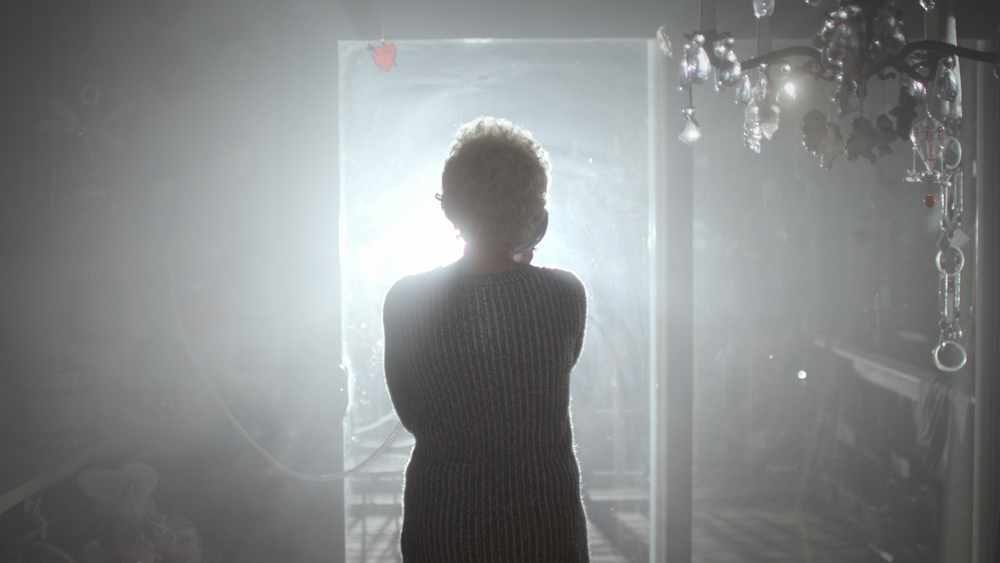 Unsolved Mysteries is back with a three-week event to bring you chills this spooky season. Beginning with a shocking death ruled as suicide through some terrible failings of investigators, the docuseries shows how whole families can be torn apart in one night. It also shows how one choice can change everything and the difficulty of moving on when you have more questions than answers. Each episode pieces together the events of a fateful mystery, talking to the loved ones of the victims, as well as the police and officials involved in the investigations. Paired with dramatic reconstructions and real footage, the show creates compelling mysteries that will send you down the true crime rabbit hole. You'll feel the pain and trauma of everyone involved—so please take care when watching as this will open up a lot of hard conversations and emotional wounds. Because this series is powerful in its unflinching investigation, even when it's tough to watch.
Unsolved Mysteries is back on Netflix tomorrow.
From Netflix:
The iconic and gripping series returns with a three-week event featuring more unexplained deaths, baffling disappearances, and bizarre paranormal activity. Unsolved Mysteries Vol 3 is from the creators of the original docuseries, Cosgrove/Meurer Productions, and 21 Laps Entertainment, the producers of Stranger Things.
–
The School for Good and Evil
Wed Oct 19
On Netflix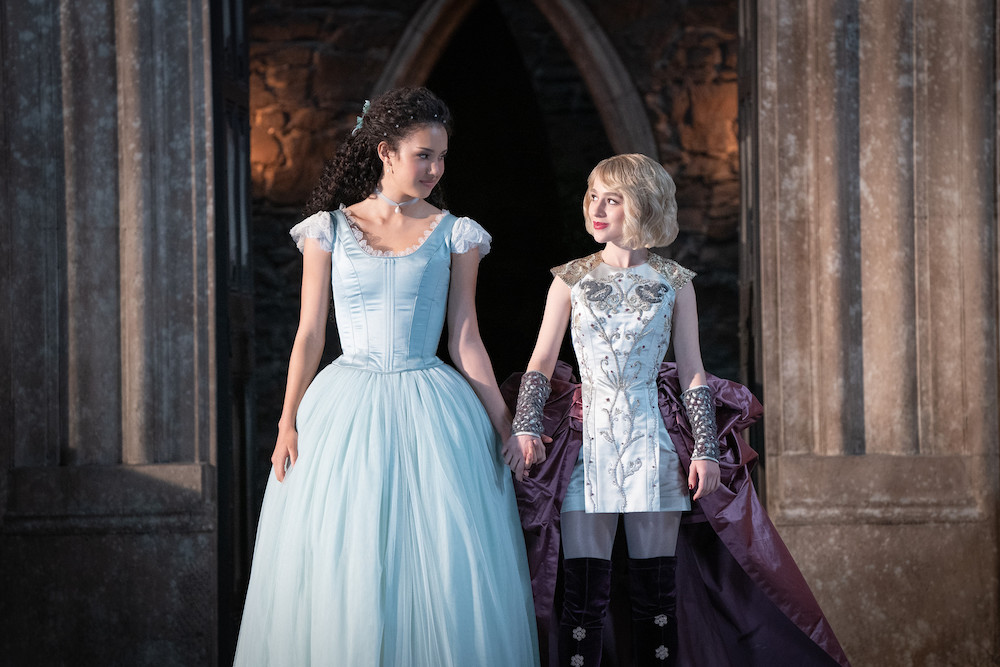 Fairy tales and fantastical magic and high school drama collide in an explosion of chaotic energy for The School for Good and Evil. Just like any good fantasy, there's a wicked plot afoot: Every four years, tweens from the town of Gavaldon are kidnapped and taken to a magical school of "good" and "evil" students, where they're trained to become heroes or villains. So when best friends Sophie (Sophia Anne Caruso) and Agatha (Sofia Wylie) are taken, the surprise isn't that they disappeared, it's that they get placed in the wrong schools. Sophie dreams of one day becoming a princess, while Agatha is headed straight for her emo phase. Much to their shock, Sophie becomes a "Never" in the School for Evil, while Agatha becomes an "Ever" in the School for Good. As they both try to prove they're in the wrong place, fairy tale challenges get stacked against them and they're swept up on an adventure—where they find they might just have the skills to be good (or evil) after all.
What ensues is messy, magical madness—you won't always know what's going on as the film bursts at the seams with plotlines and themes. But at its core is a tale of friendship and growing up in ways that don't always fit the norm. It's also filled with whimsical characters that could give the mad hatter a run for his money, including delightful performances from the likes of Kerry Washington, Charlize Theron, Laurence Fishburne, and Michelle Yeoh. And it's a smorgasbord of every enchanted story you know, complete with visually lush and over-the-top effects. It's a lot to take in so just let the mania and mischief sweep you up, it's a lot more fun that way.
The School for Good and Evil hits Netflix on Wednesday.
From Netflix:
Best friends Sophie and Agatha find themselves on opposing sides of a modern fairy tale when they're swept away into an enchanted school where young heroes and villains are trained to protect the balance of good and evil.
–
Love is Blind
Season 3
Wed Oct 19
On Netflix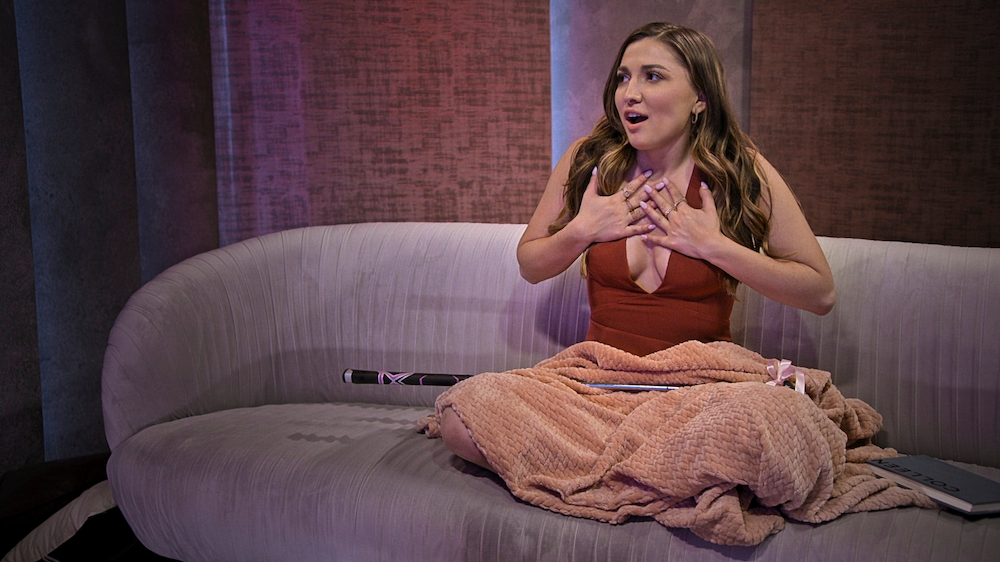 Love is Blind is back to bring a little romance…or a little horror to your screen this week. The show once again asks if conventionally attractive people can fall in love without seeing each other first. The chances for romance are pretty high (this would be a terrible show if it wasn't) but there's going to be a ton of drama along the way—which is what we all really watch it for. There are plenty of sweet moments, some definitely mushy moments, and it might make you remember that there is someone for everyone. And the challenges that face the new couples will get you rooting for them—for better or for worse.
Love is Blind returns to Netflix on Wednesday.
From Netflix:
Singles who want to be loved for who they are have signed up for a less conventional approach to modern dating in Dallas, and will choose someone to marry without ever meeting them. Over several weeks, the newly engaged couples will move in together, plan their wedding and find out if their physical connection matches their strong emotional bond developed in the Pods. When their wedding day arrives, will real-world realities and external factors push them apart, or will they marry the person they fell blindly in love with? Hosted by Nick and Vanessa Lachey, this addictive twelve-episode series will uncover whether looks, race or age do matter, or if love really is blind.
–
Alaska Daily
Season 1, Episodes 1–3
New this week: "It's Not Personal"
Thurs Oct 20 – 10PM
On ABC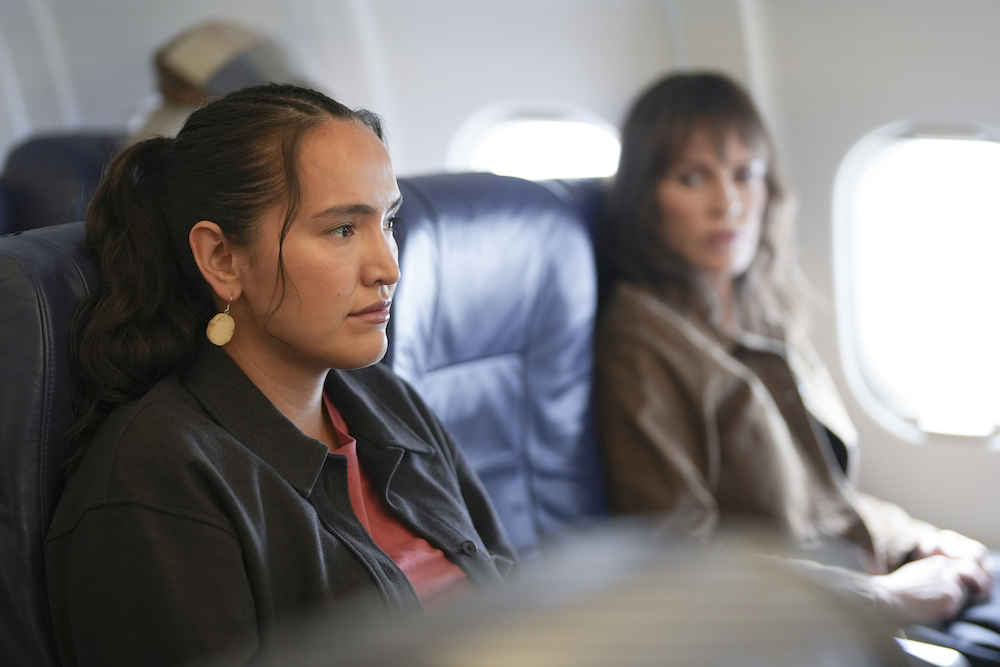 We have a new crime and investigation show to follow, but this time it's in the world of journalism. Alaska Daily is giving Shondaland (and if you know us at all, you know we're giving the ABC series applause). Hillary Swank is Eileen Fitzgerald, a former star journalist who gets toppled by a bad tip and lands in Anchorage at a tiny newspaper. No one told her The Alaska Daily is in a strip mall—but she wouldn't have listened anyway. Eileen still sees herself as a "baddie" but she's as good at annoying people as she is at the job. But wait a minute, this isn't a Dangerous Minds situation where she'll become the "cape" the locals need to change their lives. Eileen gets paired with Grace Dove (Rosalind 'Roz' Friendly), an Indigenous reporter who doesn't care about awards or book deals, she's in it for the culture and its people. That's when things start to get reckless—Indigenous women are going missing and the cases never get solved or closed. What's really going on in Anchorage? We are so ready to find out. (by Sherin Nicole)
Alaska Daily airs on ABC every Thursday.
From ABC:
Eileen, Roz and Sylvie travel to Meade to learn more about a suspect in Gloria's case and connect with the local police chief, which proves to be more challenging than expected. When Austin learns about a political candidate's murky financial ties, Stanley must decide if they can publish with the newspaper's owner having endorsed the candidate.
—
One of Us Is Lying
Season 2
Thurs Oct 20
On Peacock
Watch One of Us Is Lying on Peacock on Thursday.
From Peacock:
Based on Karen M. McManus's #1 New York Times best-selling novel, ONE OF US IS LYING is the story of what happens when five high schoolers walk into detention and only four make it out alive. Everyone is a suspect, and everyone has something to hide.
–
Central Park
"A Killer Deadline" – Season 3, Episode 9
Fri Oct 21
On Apple TV+
Stream Central Park on Apple TV+ on Friday.
From Apple:
Paige checks into a hotel to focus on two writing deadlines. Owen volunteers for a school kickball tournament that Molly is trying to avoid.
–
From Scratch
Season 1
Fri Oct 21
On Netflix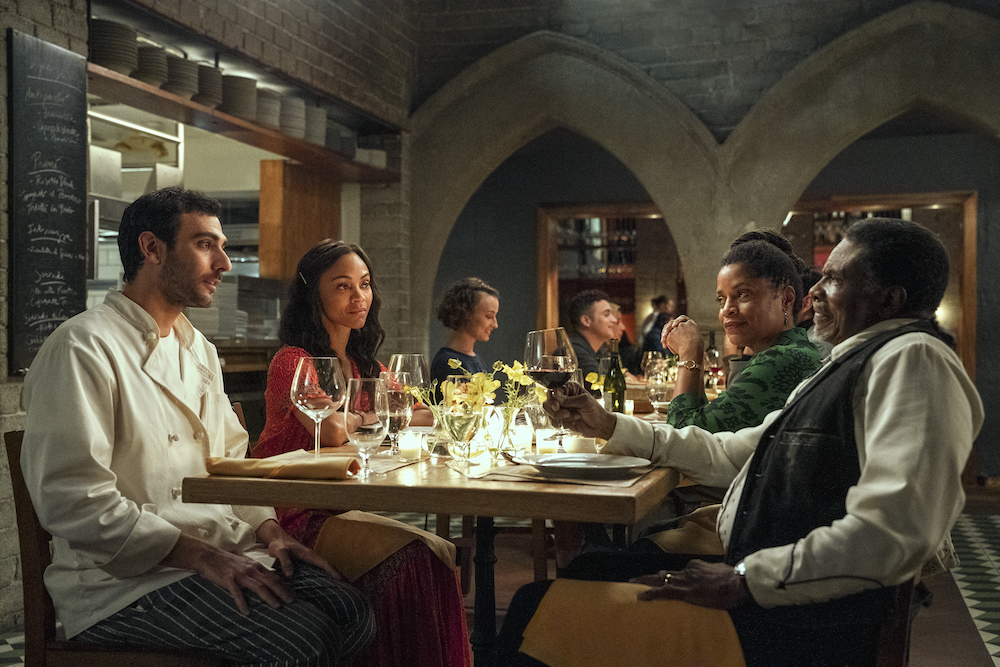 Amy Wheeler (Zoe Saldaña) is half a world away from everything and everyone she knows, on a journey of artistic self-discovery in Italy. While learning what it truly means to be inspired, she meets Lino (Eugenio Mastrandrea), a Sicilian chef who sweeps her off her feet. They decide to try and beat the odds of holiday romances and go the distance, learning to adapt to one another's completely different lives and cultures. But when Lino is given some awful news about his health, he and Amy must navigate even more terrifying unknowns.
From Scratch is a gorgeously bittersweet love story that will make you fall for Amy and Lino and the life they create together. The wonderful Italian backdrops make their journey even more beautiful. And the food! Wow, the food alone will have you head over heels—the culinary creations and the craft behind it is delicious to watch. Saldaña and Mastrandrea have great chemistry and their interactions with family and friends are way too real. Watching them is enthralling as Amy and Lino prove that love knows no bounds. It will also break your heart over and over—knowing their time on this earth together may be short but it is worth the pain—just like all the best love stories.
Stream From Scratch on Netflix on Friday.
From Netflix:
Inspired by the memoir, From Scratch is a cross-cultural love story that follows Amahle "Amy" Wheeler (played by Zoe Saldaña) an American student studying abroad in Italy, as she meets and falls in love with Lino, a Sicilian chef. Their whirlwind romance faces many unforeseen challenges, including their very different cultural backgrounds; true to real life, it is also infused with lightheartedness and moments of humor that exist alongside the more serious ones. But when Lino is faced with unimaginable health challenges and the couple's future is threatened, the two families come together to create an extended family unlike any they could have imagined, proving that love crosses all borders.
–
The Hair Tales
Season 1
Sat Oct 22
On Hulu
Watch The Hair Tales on Hulu on Saturday.
From Hulu:
Executive produced by Oprah Winfrey, Tracee Ellis Ross and Michaela angela Davis, "The Hair Tales" leads the audience through a revelatory journey connecting the personal tales of phenomenal Black women to broader societal and historic themes. The stories shared in the series offer an honest and layered look into the complex culture of Black hair and, ultimately, Black women's identity, beauty, cultural and social contributions and humanity. Guests featured include the inimitable Oprah Winfrey, Emmy® nominee Issa Rae, GRAMMY® nominees Chlöe Bailey and Chika, Congresswoman Ayanna Pressley and "black-ish" star Marsai Martin, alongside brilliant scholars, industry and cultural leaders, hair professionals and influential contributors including Esi Eggleston Bracey, Dr. Noliwe Rooks, Mickalene Thomas and Meshell Ndegeocello, to name a few.
–
Interview With the Vampire
"The Ruthless Pursuit of Blood with All a Child's Demanding" – Season 1, Episode 4
Sun Oct 23 – 10PM
On AMC/AMC+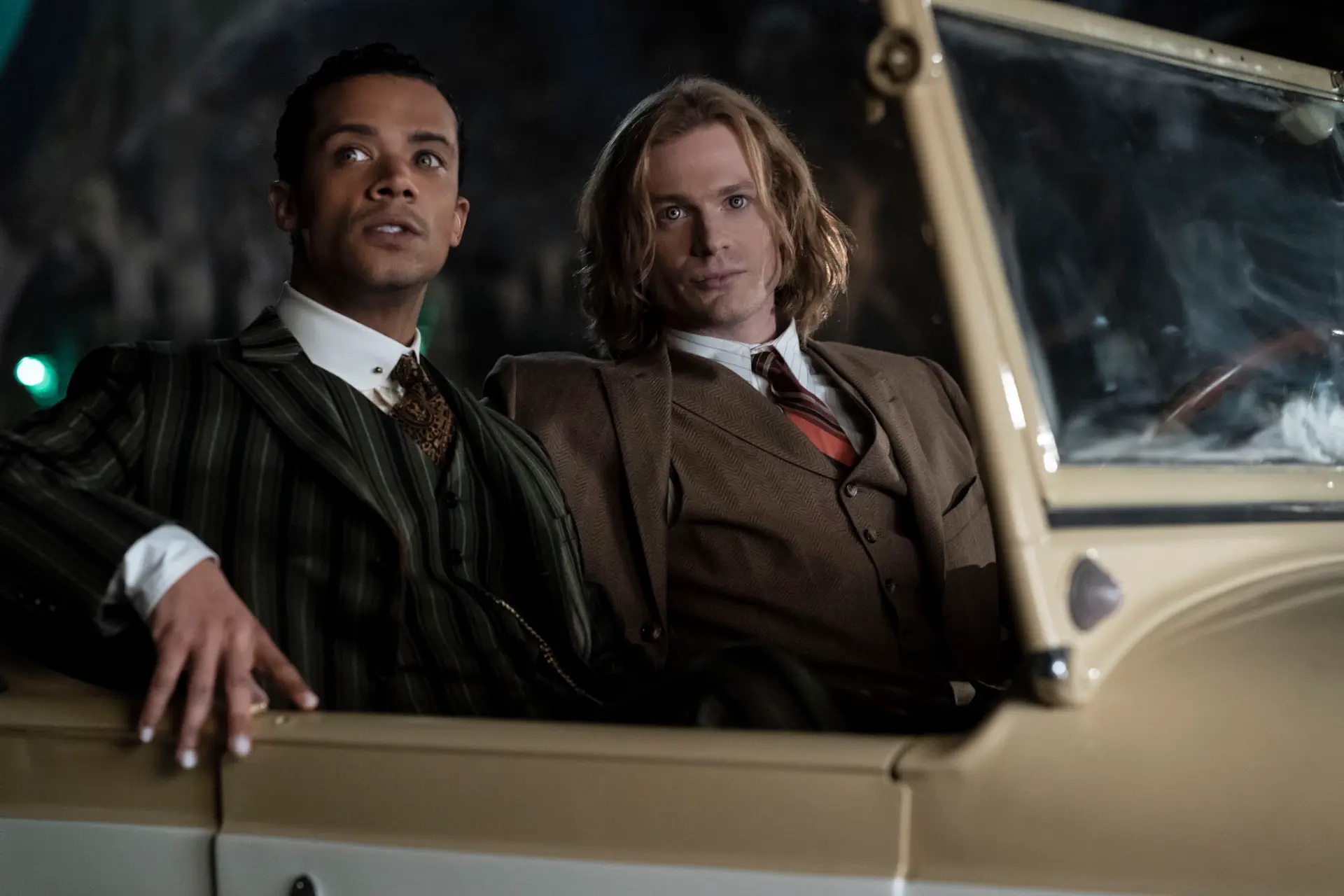 "Why do we burn bodies?"
The time has come. Yes, we finally meet Claudia, the girl-vampire who is forever locked in childhood. The same as in the books, Claudia (Bailey Bass) fills us with wonderment and a bitter kind of "oh nah, hell nah." And yet, this new version will also delight and dismay newer fans. In "The Ruthless Pursuit of Blood with All a Child's Demanding" Daniel (Eric Bogosian) is given access to the library by the cold yet intriguing Rashid (Assad Zaman) and the writer gets caught up in the girl-vampire's diaries. It's easy to get caught as we watch Claudia's blood thirst grow beyond any we've seen, but she also learns first-love is a far more uncontrollable hunger. As the immortal girl's humanity slips away, Louis (Jacob Anderson) also finds his ties to his family are coming undone. Of course, Lestat (Sam Reid) exists in a perpetual state of unraveling, so he doesn't mind at all. The only thing that dulls the thrill of this series is the domestic drudgery that seems destined to tear Louis apart from Lestat—but if you've read the books you know that might be the best part. (by Sherin Nicole)
Watch Interview With the Vampire on AMC on Sunday.
From AMC:
In his penthouse, Louis gives Molloy access to Claudia's diaries, which offer a fresh and contemporaneous account of the creation of the young fledging vampire and how her Vampire guardians adjust to their new family of three.