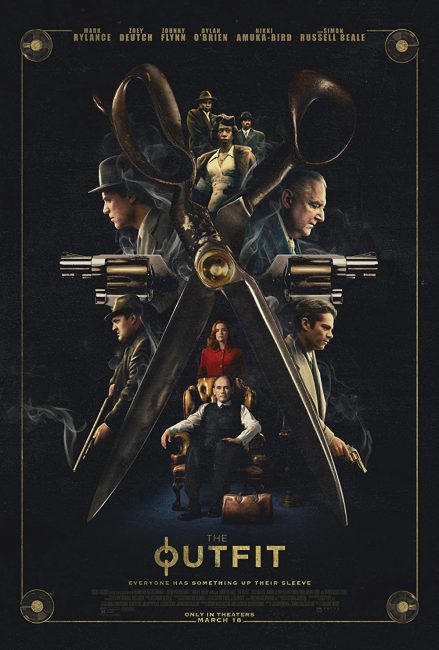 Much like a well-cut suit, the gangsters of 1950s Chicago have many intricacies BUT the hidden pockets are what you should look out for… The Outfit isn't a film you see coming. Actually, yes it is. It brilliantly mixes mob drama with mystery thriller, and Sherin and Julian are here to tell you why they applauded at the end.
Sherin Nicole:
We saw this film tonight called The Outfit. It is directed by Graham Moore and written by Moore and writing partner Johnathan McClain, starring Mark Rylance, Zoey Deutch, Johnny Flynn, and Dylan O'Brien—that's right, Stiles is in this movie. But he is not the Teen Wolf character we know. He's the son of a gangster and he plays the role well. Our good friend Nell Minow also got to sit down with Moore for a Q&A after our screening.
Julian Lytle:
Yeah, yeah.
Sherin: Neither Julian nor I knew what to expect from this movie. I had seen the trailer, so I had an idea it would be a movie Julian might be into because of the gangster aspects, and because this movie takes place in 1956 Chicago the mobster-isms are real. But, I thought, being as tired as I am that I might fall asleep. I'm going to tell you guys right now, The Outfit does not allow such things as being slept on. It barely allows blinking.
Julian: No, it doesn't. It grabs you up by the collar, sits you down, smacks you in your face, and says you're gonna watch this movie.
Sherin: Yes, and it keeps flipping and turning on you. Nell called it "A Rubik's Cube movie" because of the way it keeps changing and unveiling surprises. And what I loved about it is, it's so well written. For me, as a writer, I knew what was gonna happen but not because it was predictable. It wasn't that at all. You can see the reveals coming because the writing allows you to play detective, all the clues are there. I'm not gonna tell you what those clues are. Don't look at me like that. I'm telling y'all nothing. That's how well-written this film is, it puts plot threads there for you to follow.
Julian: High thread count. You knew everything? Yeah, you could think about it like making a suit. That's a key component of the film.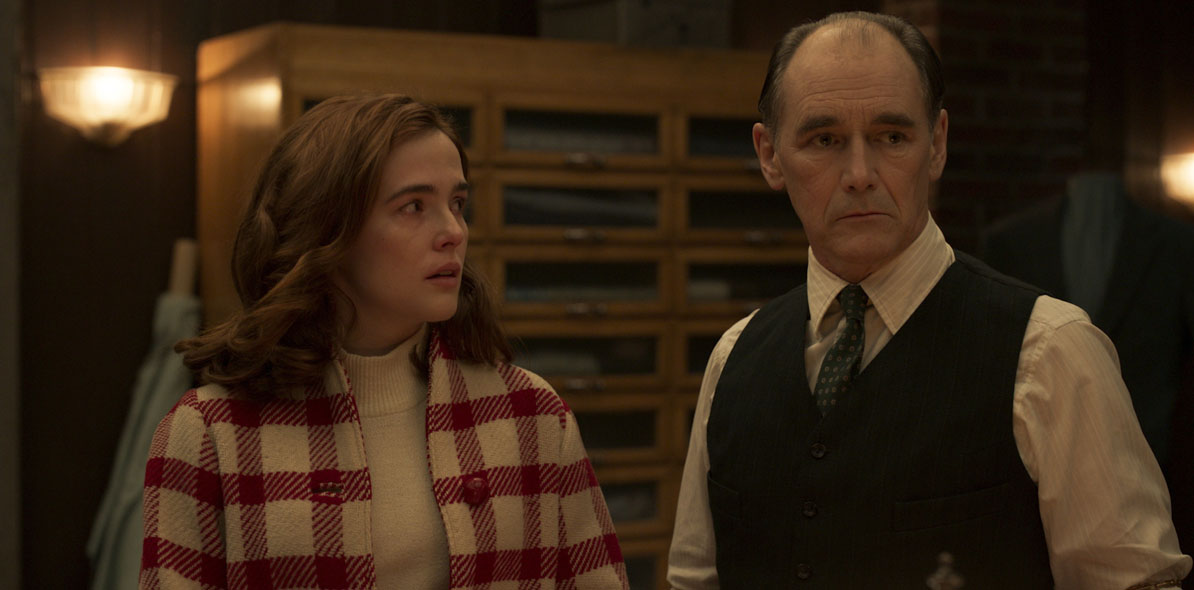 Sherin: Yeah, we should also tell you The Outfit is a play on words because the central character, Leonard, played by Mark Rylance is a master atelier. He calls himself a cutter because he was trained on Savile Row in England to be one of the best at his craft ever. If you call this man a tailor he will cut you. He makes bespoke suits for the gentlemen of Chicago and some of those gentlemen happen to be gentleman thugs. Thugs as in straight gangsters and, as Graham Moore mentioned, a lot of these characters are based on real-life mobsters, which gives them a lot of weight and makes them kind of recognizable. But back to Leonard, he's a master cutter with a tidy bespoke shop in Chicago and he gets caught up in a web of criminal enterprise. It's interesting to see how everything plays out because the titular "The Outfit" is a kind of Illuminati of gangland, right?
Julian: Yeah, with some connections to the government. And the way this plays out, it feels like a stage play at times. But, oh, also things like The Telltale Heart then it gives you some Sherlock Holmes vibes, and then some straight-up Peaky Blinders-ness. It's like well, well, well.
Sherin: Yeah, yeah, yeah. Some Batman vibes too.
Julian: And many other things that have you wanting to learn about the history of twentieth-century crime in the United States and how it connects to gangs or mobsters in movies. You start finding out things. Uh oh, yeah you know who that's supposed to be? I'm like haha you can't get that past me, Graham Moore. I know this stuff.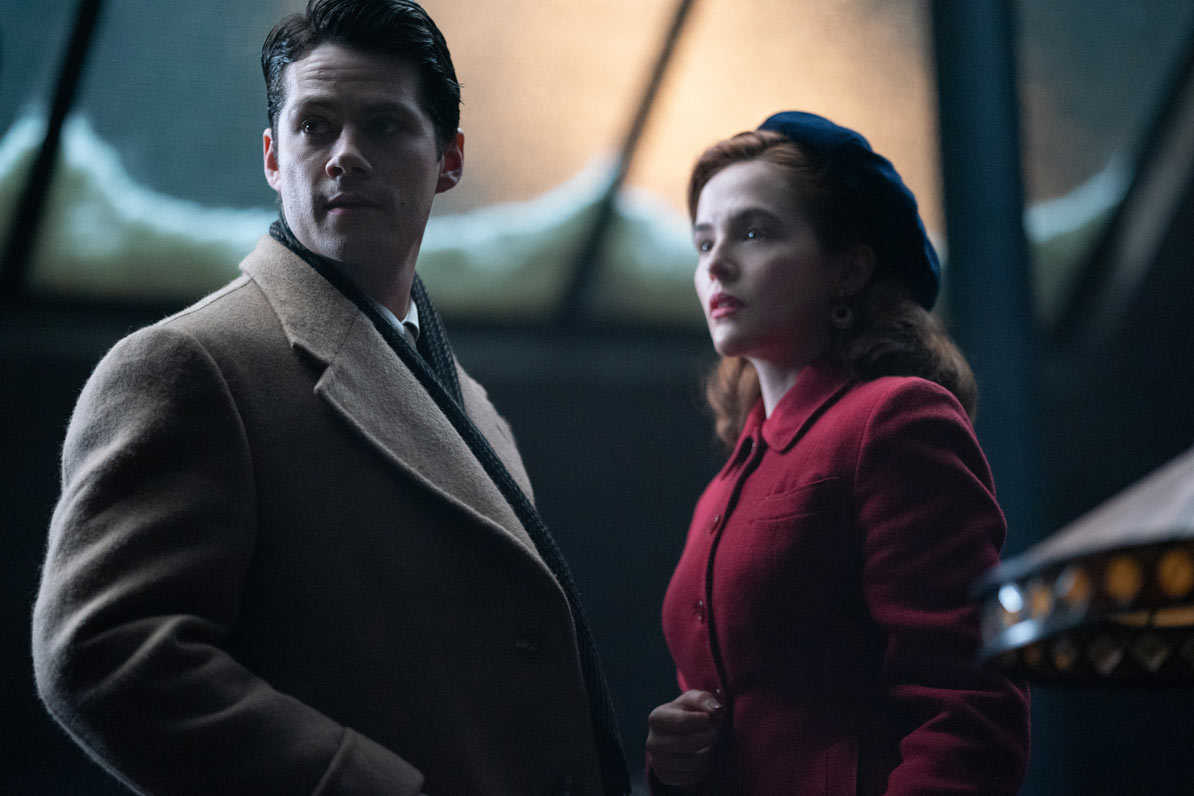 Sherin: You want to say, we know what you're doing there, buddy. I also have to say the women characters, although there aren't many of them, they're very well drawn. Very well rendered. The main woman is Mabel, played by Zoe Deutch, who is the assistant to…
Julian: Our man Leonard.
Sherin: Yes. She's a really interesting character who wants to travel the world and has this obsession with snow globes.
Julian: Yes, they explain it well and they build that dynamic between characters so well within the first 6–10 minutes, that it feels like you had a good 45 minutes of the movie with them before it really started. You feel like you know them.
Sherin: You really do, the dialogue between them alone. We also get a great voiceover that sets us up for the story by showing us the making of a suit and all of the parts and components that go into it, how much time and craft it takes to make the perfect garment.
Julian: You know how they work and you know their dynamic from the start. You get it.
Sherin: That has a lot of relevance and resonance throughout the rest of the film. Then there's Dylan O'Brien. He does a great job in a role that we aren't used to seeing him in. Very different from The Maze, Teen Wolf, or that monster movie he did.
Julian: I don't know him from anything else. So all I know is him playing an Irish gangster perfectly. He gave a good performance. You believe him as this brash young prince of a crew. He wants all the power without any of the responsibility of it.
Sherin: Absolutely and then, of course, his father wears the crown. His name is Roy, played by Simon Russell Beale, who is for me is like imagining if The Penguin were a real person. It would be this dude running things and making things happen. Then, finally, we have the counterpoint to the Dylan O'Brien character, Ritchie, and that is Francis played by Johnny Flynn. The two of them play off of each other like Kane and Abel.
Julian: Sho' enough. They do, yes.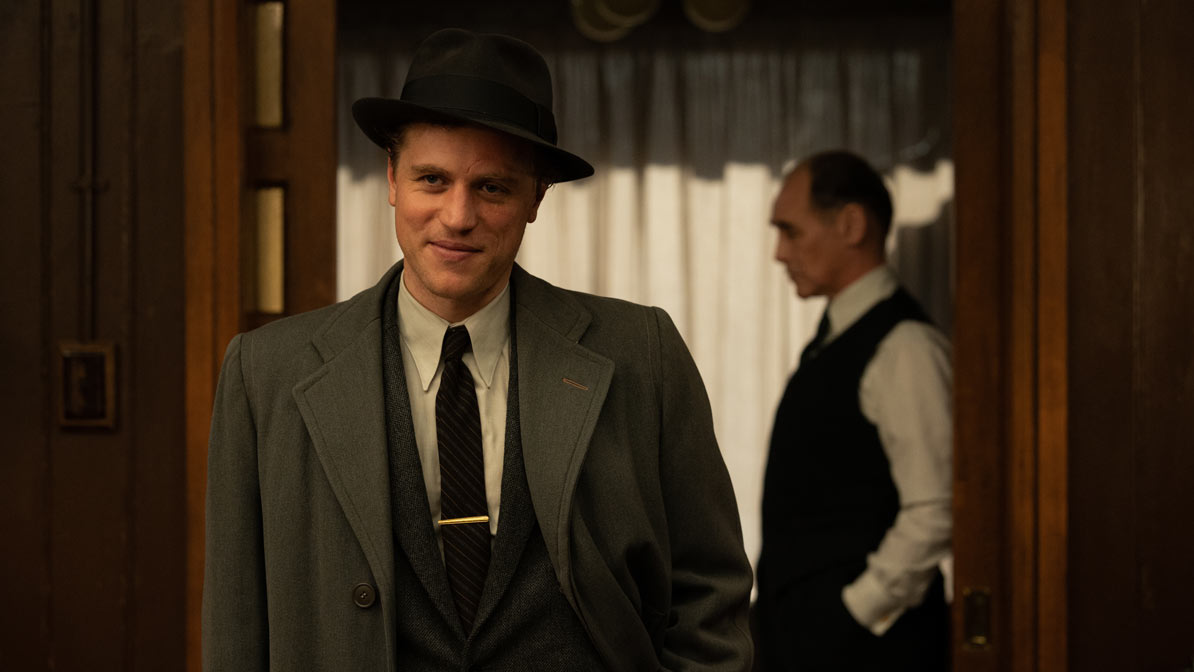 Sherin: It works so so well. You guys out there will like this small tight cast. It's almost like the tension is going to boil over. It feels like a murder mystery but it is more like a locked-room thriller, unfolding the ways the characters have affected each other's lives and causing us to question who will survive the night.
Julian: Yeah, it does go into full crime thriller territory but a territory where everything literally happens within like, what, maybe seven hundred or so square feet?
Sherin: Yes. It's all in the bespoke suit shop. We get what I think is 3 rooms max, maybe 2, where all the action takes place. We never go outside and yet it is outside as hell.
Julian: You see outside a little bit, you see just enough.
Sherin: To give you a sense of the time of day because this is a 48-hour story arc. One of the things that is really interesting, Julian, is they shot this the same way you would do a play, in sequential order.
Julian: That was amazing because in most films they shoot at all types of places, out of order, and that's why editing is so important.
Sherin: Completely.
Julian: Academy Awards are why you're supposed to have editing, you follow that script, make sure to put everything together, then you can cut down to the shots.
Sherin: Yeah, and that's why your continuity editor is so important.
Julian: But the fact they were able to shoot this in order because they're all in the same room and they were able to act off of what they did before, instead of trying to remember what you did when it happens at the beginning of Act 3, even though you're now filming, like, the middle of like Act 1. They got to build, moment to each moment.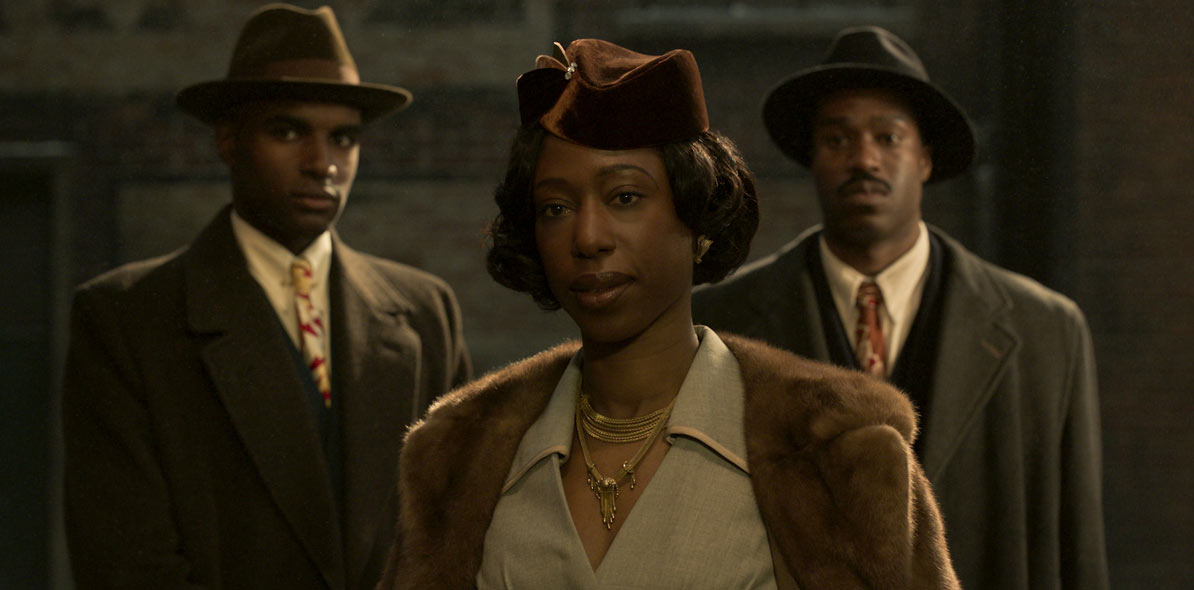 Sherin: It makes for a super tight film, something that makes you want to figure out who you can trust, who's lying, who's honest, and who's the biggest, baddest villain in the room.
Julian: How you gonna get out of here? How you gonna survive?
Sherin: Right? It's a well-written film but it's also beautifully directed, so you've got Jonathan McClain and Moore writing it and they write this thing that—like we said—is based on history but also based on little factoids about history. But then there's Moore with the camera.
Julian: Yeah, good camera movements and shot placement. You get some really good scenes, like some great composition. From just listening to Moore talk you know where he's pulling from.
Sherin: Yeah, yeah.
Julian: You know his sources—what he's influenced by—he uses those things but he uses them in a way where they don't feel like a complete homage and it doesn't take you out of it because you're so into the story, through the tight writing. Yeah, it's all on point.
Sherin: It's all so authentic. Great, down to the accents. Which, if you recognize those accents, they give you even more information about what's happening on the screen. I have to say, you rarely get something so well crafted that you can glean clues from clothes, mannerisms, accents—it enriches the entire experience as it is unfolding.
Julian: Yeah, I think that is a good point. These are mostly Irish gangsters so don't watch it expecting to hear a bunch of over-the-top Italian-style people. This is believable for the time and the way people talked.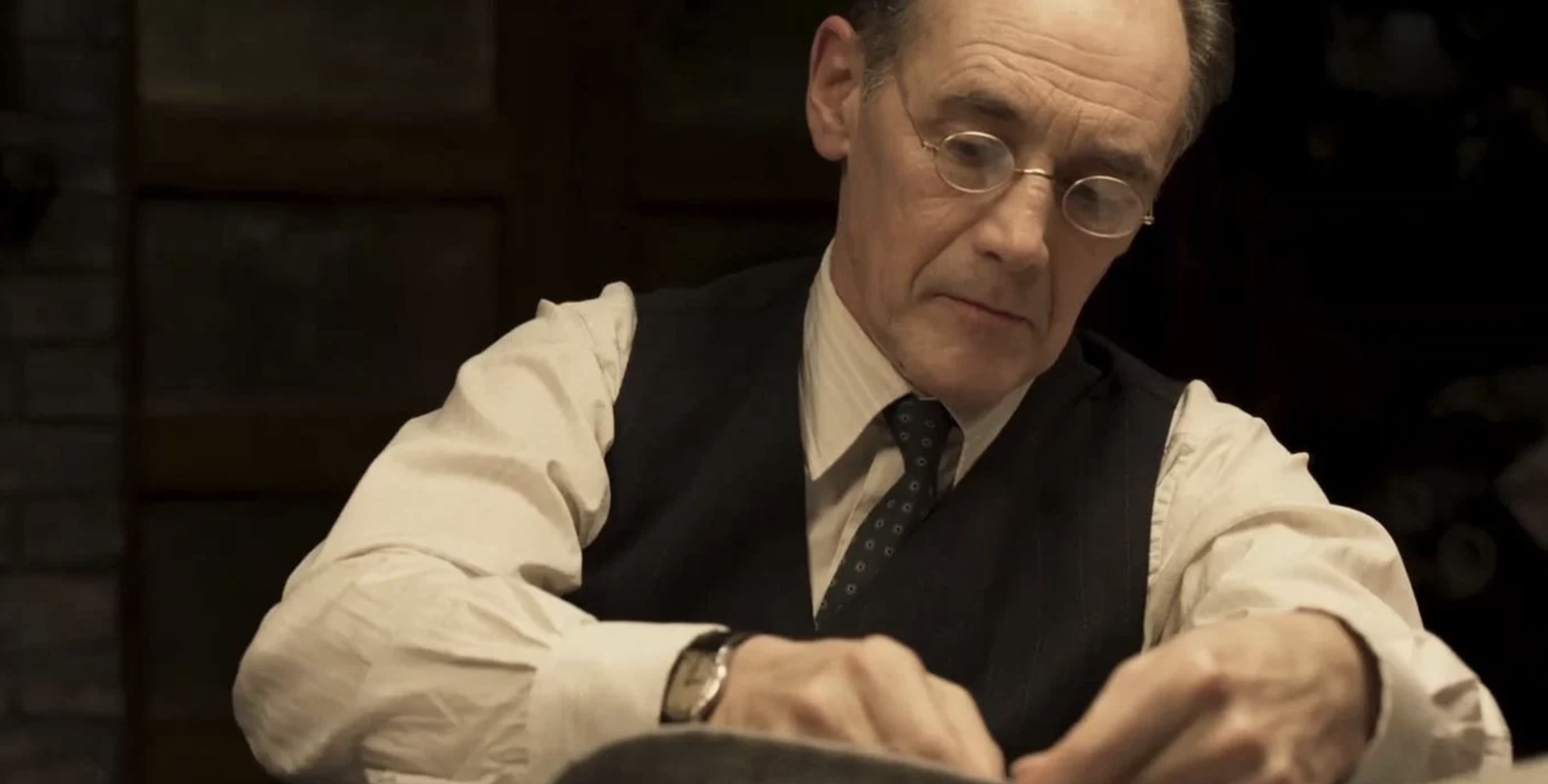 Sherin: Time and place. Yeah, absolutely. The clothing is gorgeous. As it would need to be in a film like this. Zac Posen, the fashion designer, came in to work on the film alongside the costume designer Sophie O'Neill, so that was a great pairing. The music was good too but it's funny because with this film the score becomes atmosphere. You don't hear it as music, it informs how you're feeling about that moment. All in all, I have to say yeah.
Julian: Yeah yeah, everything you said is correct. It just folds you right into the story and helps build tension, man, and the tension builds.
Sherin: Being that it all takes place in the shop, it makes for a very tight space and because they're using all of these browns and all these men's suiting fabrics, it gives you this earthy, neutral background palette for the characters to bounce off of. They're almost silhouetted against this background, not silhouetted in a way that you can't see them but in a way that they're just perfectly lit so they stand out and pop off the screen. The setting just works. Also, all the performances are great I can't think of a single performance that let me down.
Julian: Yeah, the cast is too tight and too small. Everybody goes ham.
Sherin: They really go ham. What we're saying is this movie should be a hit. We think you're gonna want to see it. We think people are gonna want to talk about it and all the little twisted turns that take you through the labyrinth of the film. So, definitely check out The Outfit. It's out Friday, March 18th.
Julian: Only in theaters, as they say, and it might be one of those releases that opens up slowly.
Sherin: So, y'all have a good weekend on March 18th because Jujutsu Kaisen 0, the movie, is also out in the United States and Canada too.