Photo credit: Tom Barnes
December 8, 2012: I've recently graduated university, I'm working a customer service job while I try to figure out my future, and I'm standing inside London's Wembley Arena, screaming my lungs out to You Me At Six.
Since then, I've talked about this moment a lot: That time I flew to London, a trip built around one of my favorite bands. You Me At Six was celebrating the end of an album cycle with their largest show to date and as soon as the "Final Night of Sin" was announced, I knew I had to be there or I'd regret it forever. So, my sister and I packed our suitcases and hopped a flight from Toronto to London.
The memories are so vivid, it's like it happened days ago, not years. Standing between Wembley Arena and the massive (more famous) Wembley Stadium. Afternoon tea from that place around the corner. Sitting outside and waiting to join the line while reading The Phantom of the Opera which I had picked up at Waterstones that morning. The opening bands: We Are The Ocean (whose set I missed at Warped that year, so it was nice to finally catch them) and Deaf Havana (I went to HMV the next day and bought their albums). I even remember the "five minutes until the show" announcement sounding while I was in the washroom and the way I ran out of there to get back to my seat.
Not only was the show spectacular, it made me fall completely in love with London. I had been there once before and I enjoyed it, but it wasn't until I spent a December weekend wandering the city that I felt the magic. There's a reason Coldplay sings about the lights on Oxford Street and, contrary to what Matty Healy claims, Winter Wonderland is decidedly not "shit." London became my favorite city and now holds so many special memories.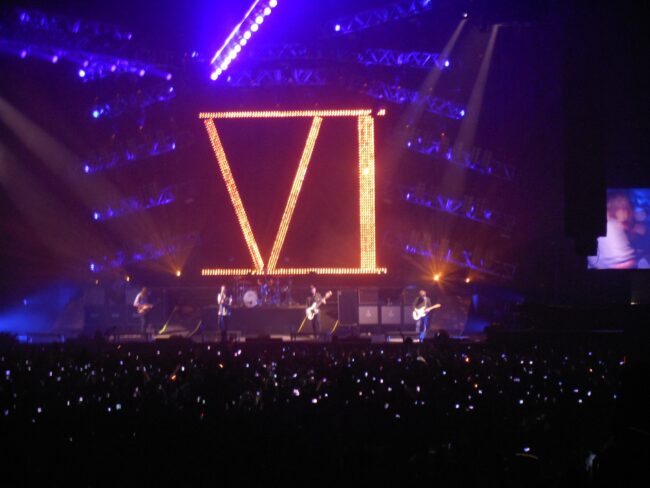 A few months later, You Me At Six released a CD/DVD of that show and I can't tell you the number of times I've listened to it and screeched along while reliving it. I've memorized the in-between-songs-banter from lead singer Josh Franceschi (when he tells the crowd there's one song left and they boo, he says "Uh oh SpaghettiOs®" and I laugh every time) and some songs just don't hit the same way if I'm not listening to the live version (the crowd singing along to "Always Attract"? Chills.).
It was the first time I ever traveled to a show—the first time I realized it was possible to travel for a show. The Final Night of Sin flipped a switch in my brain; suddenly, I wasn't limited to waiting for bands to come to me—I could go to them. Nowadays I often go out of my way to see tours that aren't stopping in Toronto and 95% of the vacations I take revolve around a show (ask me how many different cities I've seen The Maine in).
I should note that I know it's a privilege to be able to jump on a plane and fly around the world for a concert. Back in 2012, I was lucky enough to not be in heaps of debt from school and to be working a job where I was making decent money—and it didn't hurt that I have an older sister who was willing to foot most of the bills (I think I've paid her back in full by this point…). A big chunk of my paycheck now goes towards traveling for shows because I've made it my personality plus these experiences bring me joy. And it's all because of that one weekend in London over a decade ago.