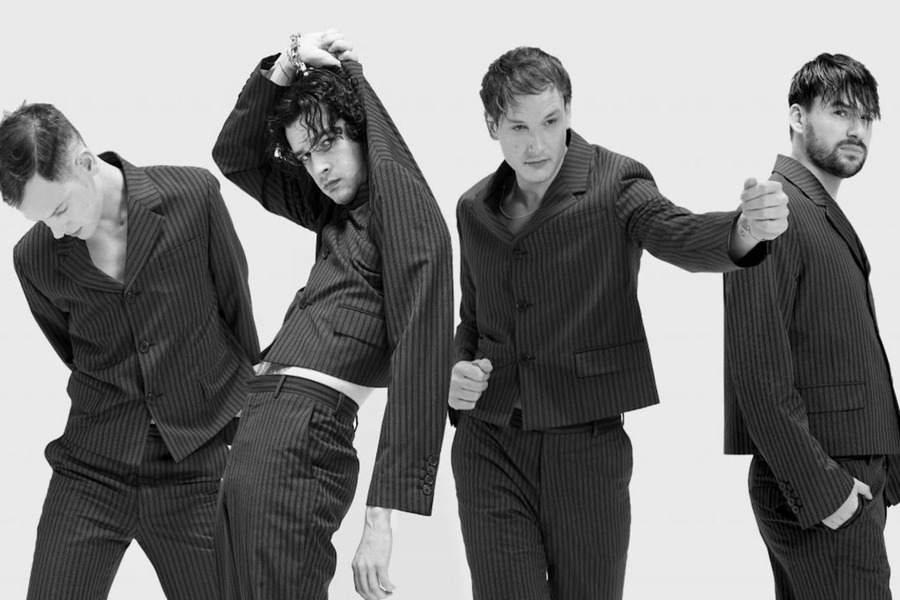 It appears that The 1975 are Still…at their very best. The British rockstars are taking their tour back home across the pond next year to fans in the UK and Europe. Kicking things off in Glasgow on February 8, 2024, and concluding on March 22 in Cologne, Germany, the 26-date run follows their 2023 North American leg of shows.
In an Instagram post, the band also shares that additional shows in Glasgow, Manchester, and London were added "due to phenomenal demand." Fans of The 1975 can purchase tickets to the UK tour tomorrow, September 8, at 10 AM local time.
The exciting tour announcement follows the 10-year anniversary of the band's debut self-titled record. The iconic album, known for its black-and-white imagery and rebellious '80s pop sound, introduced the world to The 1975 with standout tracks such as "Sex," Chocolate," and "The City." To celebrate the release, the band dropped a deluxe 4-LP pressing of The 1975, which includes demos, as well as the band's first four EPs.
"The 1975 was recorded in Liverpool, with Mike Crossey co-producing alongside the band's Matthew Healy and George Daniel," the description reads. "A seamless meld of their kaleidoscopic range of influences, it encapsulates all that is great about pop music in 2013."
In addition to the vinyl release, The 1975 performed their debut full-length in its entirety at this year's Reading & Leeds festival. Landing a headlining spot after Lewis Capaldi's cancellation, fans were excited to hear the album that started it all.
Check out the band's UK and Europe tour dates below and snag tickets to see them tomorrow here to experience the band live in 2024.
Tour Dates:
Feb. 8—Glasgow, UK @ OVO Hydro
Feb. 9—Glasgow, UK @ OVO Hydro
Feb. 12—London, UK @ The O2
Feb. 13—London, UK @ The O2
Feb. 14—London, UK @ The O2
Feb. 17—Manchester, UK @ AO Arena
Feb. 18—Manchester, UK @ AO Arena
Feb. 21—Birmingham, England @ Resorts World Arena
Feb. 26—Lisbon, Portugal @ Sagres Campo Pequeno
Feb. 27—Madrid, Spain @ WiZink Center
March 1—Paris, France @ Le Zenith
March 2—Amsterdam, North Holland @ AFAS Live
March 3—Forest, Brussels-Capital Region @ Forest National
March 5—Hamburg, Hamburg @ Barclays Arena
March 7—Oslo, Norway @ Oslo Spektrum
March 8—Stockholm, Sweden @ Annexet
March 10—Frederiksberg, Copenhagen @ KB Hallen
March 12—Berlin, Berlin @ Verti Music Hall
March 13—Warsaw, Poland @ Torwar Hall
March 14—Prague, Czechia @ Fortuna Hall
March 16—Zurich, Switzerland @ Hallenstadion Zurich
March 18—Munich, BY @ Zenith
March 19—Milan, IT @ Mediolanum Forum
March 21—Frankfurt, HE @ Jahrhunderthalle
March 22 — Cologne, Germany @ Palladium