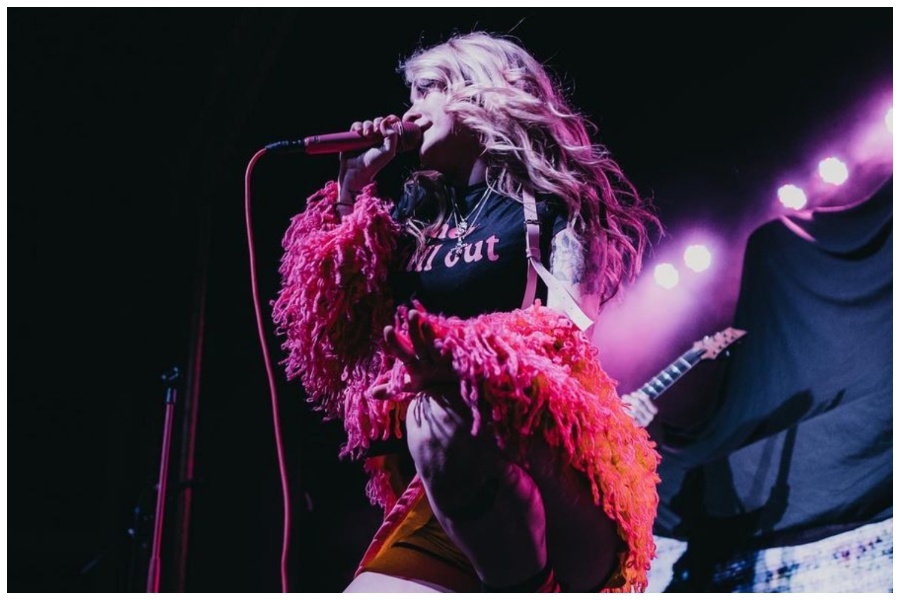 Following her electrifying performance at Slam Dunk Festival this past weekend, Scene Queen, the sensational self-proclaimed bimbocore newcomer, is set to make her highly anticipated return to the UK this fall for the aptly named Bimbos, Beans & Toast Tour. The short run will kick off on Oct. 2 in Glasgow and run through Oct. 9 where she will wrap the tour in London. Tickets for the Bimbos, Beans & Toast Tour will go on sale this Friday, June 2 at 2 PM BST.
In a post to her Instagram account, she shares, "Not only am I in the UK to play Slam Dunk I'm also here to tell you IM DOING A UK HEADLINE TOUR !!!!! Tickets go on sale Friday @2pm BST. See you soon Bimbo babes"
Amidst the flurry of excitement surrounding Scene Queen's already remarkable year, her journey reached new heights last night as she triumphantly claimed the title of Best International Breakthrough Artist at the Heavy Music Awards. In a fierce competition Scene Queen beat out fellow newcomers that featured an array of promising newcomers Chat Pile, LS Dunes, Scowl, Soul Blind, and ZULU.
Check out the full list of forthcoming UK headline tour dates and be sure to snag tickets this Friday to see Scene Queen perform this fall.
Tour Dates:
Oct. 2—Glasgow, UK @ The Garage
Oct. 3—Leeds, UK @ The Key Club
Oct. 4—Norwich, UK @ The Waterfront Studio
Oct. 6—Birmingham, UK @ O2 Institute2
Oct. 8—Bristol, UK @ Thekla
Oct. 9—London, UK @ O2 Academy Islington
More on Scene Queen:
Earlier this year, Scene Queen caught up with idobi's Nick Major to discuss her 2022 EPs Bimbocore and Bimbocore Vol. 2, working with her lifelong friend Cody Carson of Set It Off for the track "Barbie & Ken," and more. Check out the full interview below.