Coffee in your cup, music in your earbuds,
it's time to Rise Rock n' Shine…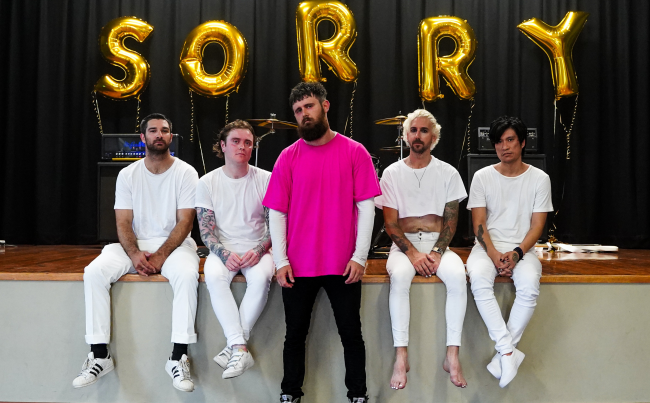 Who: Sydney's Clay J Gladstone came together like a puzzle. Made up of members of Resist the Thought, Caulfield, and Buried in Verona, the band formed last year to add another musical feather to the powerhouses' caps.
What: Get to know the band with their new track "Sorry".
Why: If you've heard the members of Clay J Gladstone in the myriad of groups they've played in before, you know these guys make good music… but you might not have realized how good. "Sorry" sees them take creative control for a manic alt-rock tune that gets a lot done in three minutes. Rapid fire vocals and a flair for emo-rock are the icing on this catchy AF cake.
FFO: idobi Radio
Find Clay J. Gladstone on Facebook and Instagram.
"'SORRY' is our sarcastic emo anthem. It's about crippling anxiety and the need to apologise for everything, particuarly when you dont mean it. The song and music video is bright, though the actual undertone of the track is coming from a very gross, dark place which you can expect from a lot of our music." – Clay J, frontman for Clay J Gladstone
—
—
Who: Torre Cioffi can't stop making music. As a member of Transit and Bloom, we've been singing along to his tunes for years. His latest project, Dog Hotel, sees him enter all new territory with a fresh sound and a new journey to take.
What: Hear Dog Hotel's very first track, "One Way Ticket".
Why: Pull out your best pair of Vans and that skateboard you don't know how to ride anymore—it's time to reconnect with your pop punk roots. "One Way Ticket" has the same energy of all those Mayday Parade tunes you jammed back in the day but with a fresh face. When rainy-day verses slip into a sing-along chorus, you'll feel like you're 16 and headed to the Warped Tour again. Maybe the song is a fountain of youth, or just a fountain of nostalgia—either way, we'll be jamming it all day long.
FFO: idobi Radio