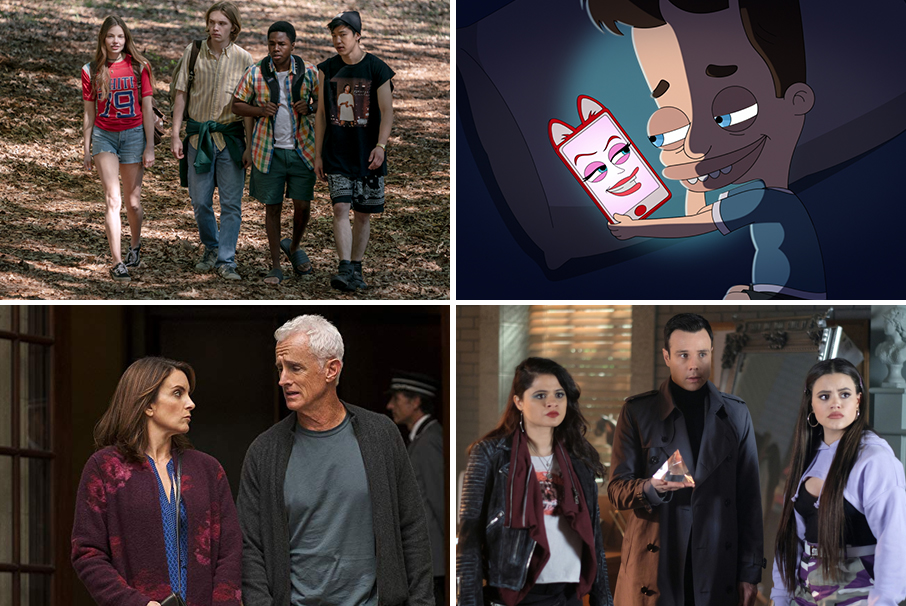 The ladies of Geek Girl Riot are back to add to your ever-growing watch-lists! Catch some quick takes below about the TV shows premiering this week and listen to the full GGR roundup here.
Evil
"Evil is out on CBS starring Mike Coulter who you may remember as Luke Cage. Don't get mad at me but I like to call it big black Hellblazer (I can say that because I'm little black She-Hulk). It's very Constantine, it's also got that vibe of Fallen, where fallen angels are taking over people's bodies or desires. Mike Coulter plays a priest who teams up with a court psychologist to help those who have been influenced by evil."
It's very Constantine, it's also got that vibe of Fallen, where fallen angels are taking over people's bodies or desires. Mike Coulter plays a priest who teams up with a court psychologist to help those who have been influenced by evil."
"It's an interesting show, I'm not sure about it yet. But if you're into the paranormal and you like Constantine, you're going to like this show."
Watch Evil on CBS every Thursday.
—
Rotten
"Rotten season 2 dives into the supply of all your favorite food—avocados, chocolate, and edibles (for all you guys in California, Denver and Portland)—and it shows the darker side to it. The show dives into the advances in food and food supplies and whether or not that's a good thing. It'll definitely make you think twice about picking up your next favorite snack."
"Netflix makes the best documentaries."
—
Living Undocumented
"Living Undocumented follows eight undocumented families who have come to America. They're risking their lives and their livelihoods by allowing a film crew to chronicle their journey, as they try to get work and stay under the radar. It's heartbreaking and harrowing as you get to know these people and the struggles they face. If Living Undocumented doesn't inspire you to take action, to vote, and to do everything you can to help your fellow people, you need to watch it again."
"You have to have a lot of respect for someone who puts their life on the line to make a change which is what these families are doing. They want you to know what living an undocumented life is like, how much they're risking, and what their needs are so that they can help other families. It can be very dangerous for them so that takes a lot of courage. This is important. It's also executive produced by Selena Gomez, she's doing good work."
Living Undocumented is now on Netflix.
—
Raising Dion
"Raising Dion caught our attention back when it was a proof of concept trailer created by Dennis Liu, who also wrote a comic about it. It's about a little boy who has superpowers and his mother who has to figure out how to raise a superhero and in the process kind of becomes one herself. It's a wonderful concept, Dennis Liu did a phenomenal job setting it up. The story got picked up by Netflix and Michael B. Jordan's production company, it's also coming out from Charles King's Macro. Watch it and let us know you feel about it."
Stream Raising Dion on Netflix on Friday.
—
Big Mouth
"The huge fan-favorite Big Mouth returns for season 3 and it is just as raunchy and honest and ridiculous and cool as it ever was. It is a buck-wild ride. But as outrageous as Big Mouth is, it's also very relatable to what it was like to be a teenager when puberty confuses you to where you don't know whether to fight people or hump 'em. The show has some really great insight. I particularly love the episode where they get into fanfic: It was so on point and not mocking at all. Big Mouth really does speak to the issues you go through as a teenager but it satirizes them too. You actually feel like you could be one of those kids and that you're okay."
"I'm here for Ali Wong as the new student who captivates pretty much the whole of Bridgeton Middle School."
"Thandie Newton is pretty wonderful as well."
Big Mouth is back on Netflix on Friday.
—
Batwoman
"Batwoman is now being played by Ruby Rose…this will be an interesting one to watch."
"We got a sneak preview last year in one of the big Crisis events so we'll see how they work it out. How will Gotham subsist without a Batman? Well, we're going to find out how they do with a Batwoman…"
Watch Batwoman on The CW every Sunday.
—
Kids Say the Darndest Things
"Kids Say the Darndest Things is being rebooted by ABC, hosted by Tiffany Haddish who we love. She has just the right amount of sweet and sass to bring something new to this show. And the kids are absolutely brilliant every time."
"Tiffany Haddish still has her childlike sense of wonder so that's going to work well."
Get into Kids Say the Darndest Things on ABC on Sunday.
—
The Walking Dead
"It's Michonne's final season and, while I'm so sad to see Danai Gurira go, at the same time I'm so excited for what she's going to do next because she's amazing."
"She is an amazing actress, she's also an incredible playwright. Danai Gurira is multi-talented and I hope that she gets to do more of her own work and people recognize her brilliance."
The Walking Dead returns on Sunday, only on AMC.
—
The Flash
"There are some things going on that I'm not sure about, I'm not sure how much of The Flash family we're going to get but it's going to be interesting to find out and the cast always keeps me happy."
Catch The Flash on The CW on October 8th.
—
Nancy Drew
"The CW's Nancy Drew looks like it will be an interesting take on the teen detective. It's by the same team behind Riverdale which means it's going to be all kinds of dark and twisty."
"It definitely has the same vibe as Riverdale and Chilling Adventures of Sabrina, it seems like there's some ghostly stuff happening and they're leaning into the paranormal. Look for the darkness…"
Nancy Drew premieres on The CW on October 9th.
—
Supernatural
"This is the final season. It's been a good run but it's been an overly long one—like what in the hell, people. Hopefully this season of Supernatural is going to be whizz, bang, BOOM! And hopefully we'll get to see Sam and Dean be happy…although it's Supernatural so it's probably going to end badly, bloodily, with someone locked up in Hell."
Supernatural returns to The CW on October 10th.
—
El Camino: A Breaking Bad Movie
"The trailers look pretty juicy…I think this might break the internet in the right way."
"The hype is real and I can't wait to see whether it's earned. I have a lot of faith in this one."
Get into El Camino: A Breaking Bad Movie on October 11th.
—
Charmed
"I was a big fan of Pru, Piper, and Phoebe from the original series so I wasn't really certain about the new Charmed. I didn't enjoy the first few episodes but I learned it's a pretty good show that deals with a lot of social issues within a supernatural context, which works really well. It didn't grab an audience initially because I think a lot of people felt the way I did when it started. It didn't sizzle at first and everyone was comparing it to the original…so The CW is talking about revamping it. I think The CW needs to have more patience and let it be what it is—once the word gets out that it's a good show and it wasn't what we thought it was, it'll be fine…but I think they're revamping it anyway so we know what that means!"
Charmed is back on The CW on October 11th.
—
Looking For Alaska
"For all you John Green fans, this one's for you. His debut novel has been turned into a Hulu series. It's about a student called Miles Halter and his adventures at boarding school—he finds some new friends, they pull some pranks together, and he falls in love with a girl. But when a tragedy shakes the friendship group it makes them reevaluate themselves. The story becomes about their journey through healing, loss, and grief. Looking For Alaska the series is really well done, it's one of the most lovingly made adaptations I've ever seen. It's a bit of a slow burn but it does get better in the second half of the season so be patient with it. The actors are greatand completely sell it. To me, Denny Love is The Colonel. Jay Lee is brilliant as Takumi—I want to be friends with him. I have nothing to fault about the acting here, the cast are fantastic. Josh Schwartz is behind the adaptation—he was also behind The O.C. and Gossip Girl—so it's that kind of high school teen drama but there are a lot of good themes and a good twist. Whether or not you've read the book I'd definitely recommend it."
Looking For Alaska comes to Hulu on October 18th.
—
Modern Love
"Modern Love is an anthology series about different kinds of love. Each episode focuses on a single story and delves into what it's like to love someone. One relationship is between a tenant and a doorman, which is really quite sweet. Modern Love is cool, it's another slow burn, it's relaxed, it's simple, but it's definitely sweet."