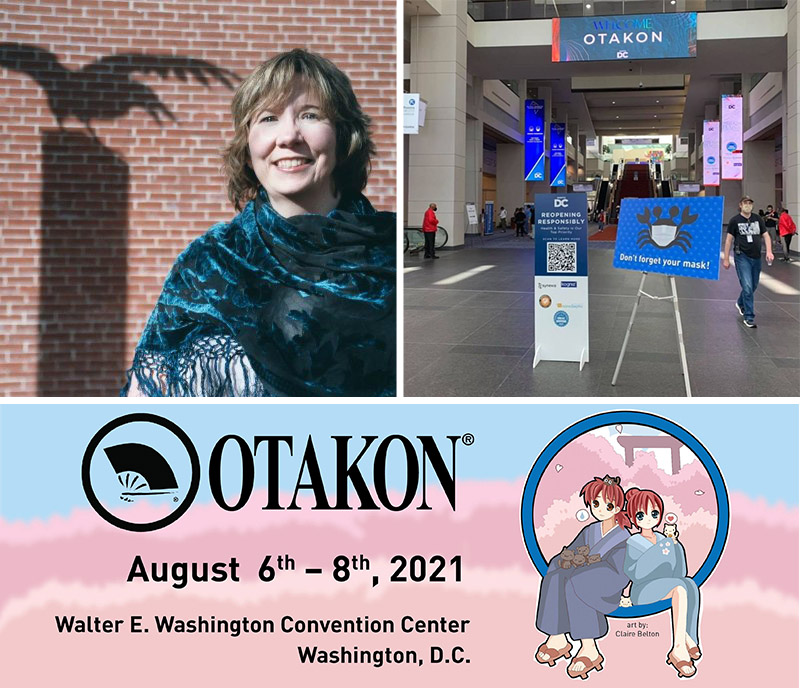 CW: Alyce Wilson (photo via Twitter) // Otakon entrance (photo via Instagram) // Otakon banner
From August 6 – August 8, in the year of our Hokage Naruto Uzumaki, 2021, OTAKON returns to the Walter E. Washington Convention Center in Washington, DC. If you are unaware, OTAKON is a non-profit and educational convention for fans of East Asian media, arts, and popular culture. Beginning in 1994 in a small hotel in State College, PA, this gathering of like-minded fans has become one of the longest-running pop-culture conventions featuring anime and manga in the United States. In its 27 years of operation, the event still holds fast to its original intent: By Fans for the Fans.
With the pandemic causing last year's event to be canceled, this year promises to make up for lost time, and the staff has hit the ground running. Activities include a whole slew of incredible adventures for the otaku in us all. From Art Shows, Artist Alley, Dealer's Hall, Manga Library, Maid Café, and Video Games, OTAKON wants to ensure that the fans receive the most incredible experience possible outside of the mecca of all Japanese pop-culture: Akihabara, Tokyo, Japan. With just that, you may be asking yourself what else one could ask for? However, as I said earlier, this event is not a manic fevered Akihabara dream of anime, video games, and manga, with swaths of shonen and shoujo idolatry; this show is also about education, culture, and understanding. OTAKON also sports panels on The History of Okinawan Drumming, an Introductory Crash Course in Japanese, and panel discussions, such as the role of Asian-American voice actors in the animation industry.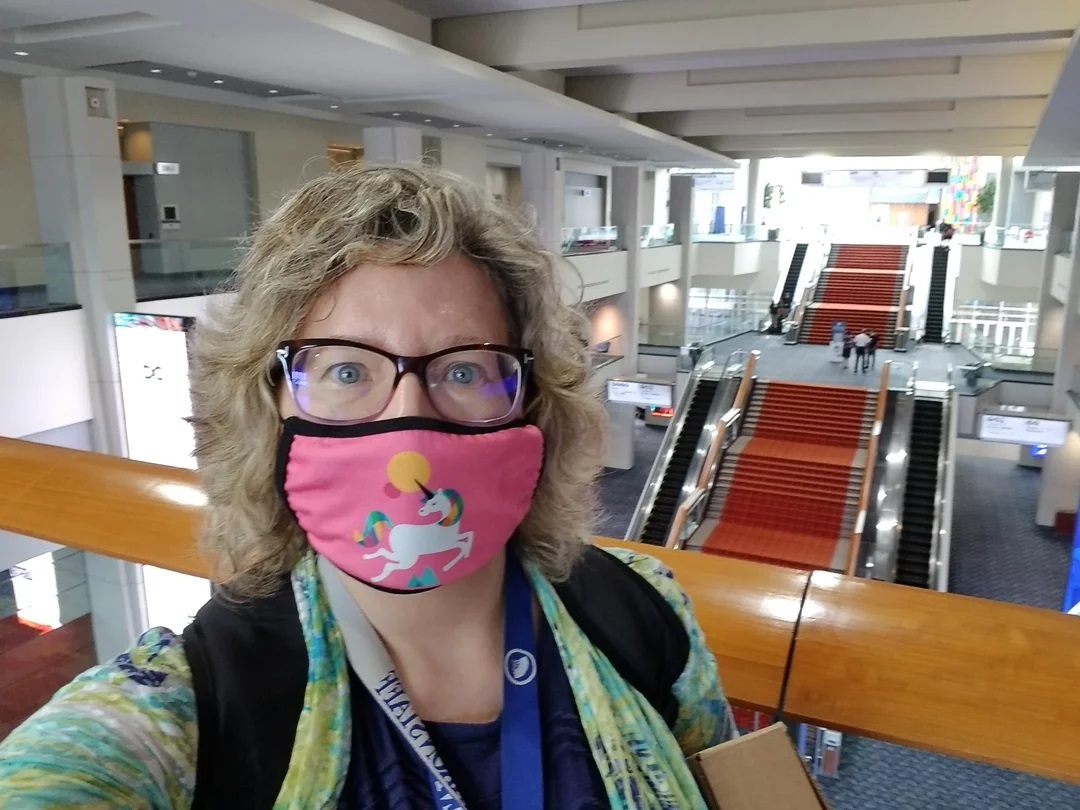 Alyce Wilson (photo via Instagram)
I recently spoke with OTAKON OG Alyce Wilson, head of Press Relations for OTAKON, about this year's expectations for the show and guests. As the liaison between staff, press, and guests, she has a unique insight regarding the return of OTAKON.
"We have been through a lot of isolation and the stress that creates the mental hardships and [for some] the physical hardships that people have been through," she continues with pride in the good work being done by the OTAKON team, "…this is an opportunity for us to get together and celebrate what we love again." This ideal is embodied in what has become the mantra for the event, as shared by Alyce, "We are 'The Convention at the end of the Rainbow.'"
The OTAKON team wants to provide a place of hope, joy, and just plain fun for fans to celebrate emerging from rough times to celebrate the things they love most: anime, cosplay, games, and crafting to name a few. A lofty aspiration, but they feel more than qualified to achieve this goal. Alyce went on to talk about the dedication of the staff and crew that eat, sleep, and breathe the OTAKON life. Resting on their laurels is not their way, from the top down, the prevailing thoughts are:
What can we do better?
What would be cool for next year? 
Is Space Jam an Isekai? (admittedly not that last one…but is it?)
As I said before, for the OTAKON staff the event is about fans doing it for fans. Of course, we also discussed the elephant in the room: The pandemic. With the Delta variant of COVID-19 on the rise, the challenges and conflicts of producing a large event during a pandemic are ever present for OTAKON leadership. I was pleased to learn from Alyce, even before Mayor Muriel Bowser reinstituted the mask mandate, OTAKON had already taken steps to ensure its attendees' safety, which includes an event-based mask mandate. The safety measures and technologies in operation include a no-contact multi-person thermal scanner for temperature checks; a non-toxic disinfectant and antimicrobial electrostatic sprayer installed in air ducts for rooms, escalators, and elevators; and next-gen water-based non-toxic antimicrobial spray that inhibits the growth and spread of bacteria (including COVID) on both porous and non-porous surfaces.  
L: Exterior view of Walter E. Washington Convention Center in Washington DC, USA // R: Surface Guard cleaning at the Walter E. Washington Convention Center 2020
With the staff's enthusiasm and these safety precautions, OTAKON looks poised to come back stronger than ever. Before signing off, as the head of Press Relations, Alyce sent this message to attendees and those trying to decide if they should attend OTAKON:
"We are doing everything we can to make it the OTAKON you remember," Alyce said. "What it lacks right now is for you [the fans] to come because it's these wonderful people who bring their love, bring their enjoyment, and bring their enthusiasm for this culture that makes OTAKON—that makes it real."  
For more on the safety measures being taken by OTAKON visit here 
For safety measures taken by the Walter E. Washington Convention center visit here