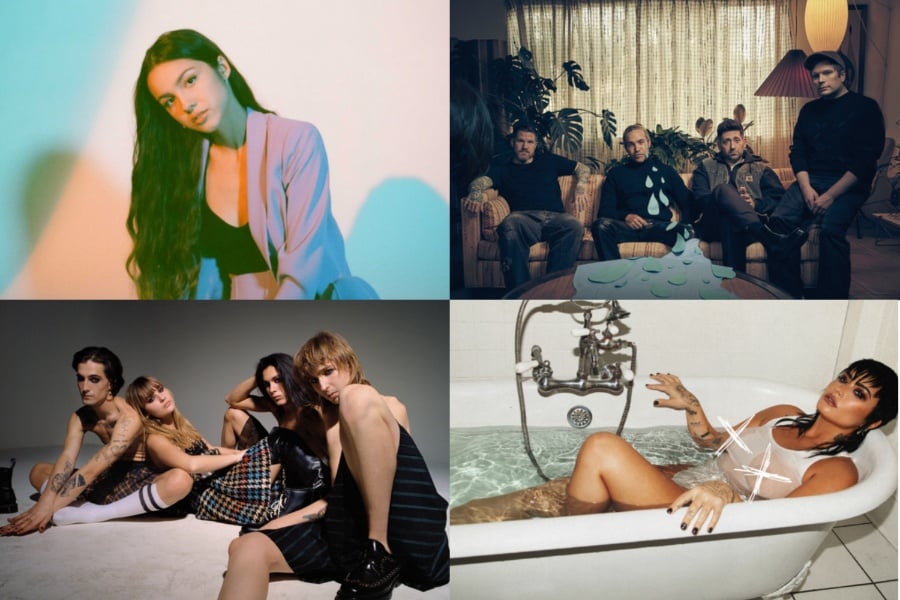 The MTV Video Music Awards have been a staple in cross-genre visual celebration since its first broadcast in 1984. Larger-than-life personalities have taken the stage, including Britney Spears and Beyonce all the way to Beastie Boys and Missy Elliot. This year is no different, with the MTV VMAs lineup absolutely stacked with performers. The show will include a dazzling group of stars who are honoring the 50th year of hip-hop, a special pre-show performance featuring NLE Choppa and Sabrina Carpenter, and even a Video Vanguard performance from award recipient Shakira.
Even if you don't pay attention to the mainstream pop and hip-hop artists, you will definitely want to turn your channels to MTV or stream on Paramount+ at 8 PM ET to watch the likes of Fall Out Boy, Måneskin, and Olivia Rodrigo take the stage. With host and performer Nicki Minaj, watchers will surely have a delightful whirlwind of a time hearing from Latin, rap, rock, hip-hop, pop, soul, etc. artists who are taking the music world by storm. So, here are all the artists performing on the 2023 MTV VMAs.
Anitta
Brazilian singer and dancer Anitta will surely wow MTV VMAs audiences with her punchy, energetic Latin pop. She is currently nominated for the video category of Best Latin with her track "Funk Rave."
Cardi B and Megan Thee Stallion
Cardi B and Megan Thee Stallion are the dream duo for rap fans, especially after their mega-hit "WAP." The two artists teamed up again to release their brand-new single "Bongos" for a booty-shaking good time and will premiere it live on show night. Megan Thee Stallion's "Her" is nominated for Best Art Direction, Best Choreography and Best Direction, and Cardi B and GloRilla are nominated in the category of Best Hip-Hop for "Tomorrow 2."
Demi Lovato
Demi Lovato is the VMAs queen, having performed "Sorry Not Sorry" and "Cool For The Summer" in 2017 as well as "Give Your Heart A Break" in 2012. While still unconfirmed, fans are hoping to hear the new track "SWINE," which is nominated for Best Pop and Video For Good. While the track is chock-full of rock vocals with her signature belt and dark, politically charged lyrics, the VMAs still added it to the pop category, which is certainly a choice.
Despite the label, Lovato is a rock goddess whose 2022 LP HOLY FVCK remains both powerful and poignant. Following her performance at the VMAs, fans are ecstatic to hear the rock version of "Neon Lights" featuring The Maine, which will arrive on September 15.
Diddy
Diddy is returning to the VMAs stage as a performer and as this year's Global Icon. The star has four nominations in the categories of Best Collaboration and Best R&B for "Creepin' (Remix)" and Best Collaboration and Best Rap for "Gotta Move On."
Doja Cat
Doja Cat is modern MTV VMAs royalty and returning to perform for the third time since her 2020 debut. This year, she has a whopping five nominations for Video of the Year, Best Direction and Best Art Direction with "Attention," Artist of the Year and Best Collaboration with "I Like You (A Happier Song)" alongside Post Malone. Hopefully, she will bring her demons with her to this year's performance.
Fall Out Boy
If you're tuning in to see Fall Out Boy, don't worry; you're definitely not alone. After all, some of us can't afford tickets to the second leg of So Much For (2our) Dust. This is the next best thing. While their song choices remain unconfirmed, the band has nominations for Best Alternative with "Hold Me Like A Grudge" and Best Visual Effects with "Love From The Other Side."
Maybe they'll bring the Magic 8 ball and decide to play "I Am My Own Muse" or a deep-cut from Folie à Deux. The last time we saw Fall Out Boy perform at the VMAs in 2007, they sang in a suite with Rihanna. While times have definitely changed, we're still hoping for a RiRi cameo in 2023.
Kaliii
Kaliii has nominations for the highly coveted Best New Artist. She first started to rise to fame on TikTok and the airwaves with her viral hit "Area Codes." She even appeared on the Barbie movie soundtrack with FIFTY FIFTY. She'll be performing on the Doritos Extended Play Stage.
KAROL G
Nominated for Artist Of The Year, KAROL G is going to take over the stage with her Latin pop and R&B vibes. Her most recent album Mañana Será Bonito, is a jam in any language, TBH. She has received nominations for Best Latin and Best Collaboration with "TQG."
Kelsea Ballerini
Kelsea Ballerini is making her VMAs debut this week, showcasing her country pop niceties. While not confirmed, it's very likely she will be performing a track from her new release Rolling Up the Welcome Mat.
Måneskin
Italy's sexiest export Måneskin is back for the second year in a row to share their horny international rock music on one of TV's most iconic stages. The quartet hinted that they would be playing a live version of their brand-new single "HONEY (ARE U COMING?)", and it is sure to take the internet by storm.
In 2022, the band played their hit "SUPERMODEL," featuring lead singer Damiano David in assless chaps… They took home the Best Alternative Music Video award last year for "I Wanna Be Your Slave," and may take home Best Group and/or Best Rock for "THE LONELIEST" this year.
Metro Boomin
Producer Metro Boomin is nominated for several of his collaborations from this year and will take the stage to showcase his most recent work alongside NAV, Future, Swae Lee, and A Boogie Wit Da Hoodie. He has nominations for ​​Best Collaboration and Best R&B for "Creepin' (Remix)" and Best Hip-Hop for "Superhero (Heroes & Villains)."
Olivia Rodrigo
What better way to celebrate the release of her astounding new angsty album GUTS than by performing on the VMAs stage? Olivia Rodrigo has offered nothing but pure, unadulterated bangers on her highly-anticipated sophomore record, from singles "vampire" and "bad idea right?" all the way to the pop-punk-tinged "all-american bitch."
Fans are eagerly anticipating the track(s) Rodrigo chooses to share on stage. She recently appeared on the Today Show singing a live version of "vampire." It's safe to say that we are also on the edge of our seats, waiting to see what she does. In 2021, this award-winning Best New Artist played "good 4 u" and smashed the camera lens at the end. We know she will definitely top last year's performance, but how? Don't hold a "grudge", tune in tomorrow.
Peso Pluma

Peso Pluma is one of the latest heartthrobs in the Latin music scene. This will serve as the artist's MTV VMAs debut. He is nominated for Best New Artist or Best Latin for "Ella Baila Sola."
Reneé Rapp

Whether you are familiar with Reneé Rapp from her appearance on HBO's 'The Sex Lives Of College Girls' or know her from the widely-acclaimed album Snow Angel, it's clear this artist is already a well-rounded performer. Bringing her dazzling pop to the stage, Rapp has nominations for Best New Artist and PUSH Performance of The Year on "Colorado."
Shakira

This MTV VMAs night truly belongs to Shakira as she is set to perform a medley before receiving her Video Vanguard Award. On top of being honored as the icon she is, the artist is also nominated for Artist of the Year, Best Collaboration, and Best Latin with "TQG" and Best Latin for "Acróstico."
Stray Kids

South Korean boy band Stray Kids are making their major MTV VMAs debut this year, and K-pop fans are absolutely thrilled. Their high-energy track "S-Class" has received a nomination for Best K-Pop.
The Warning

Rock trio and band of sisters The Warning will be bringing their heavy rock wonder to the Doritos Extended Play Stage. The band is currently wowing classic rock fans as they support Guns N' Roses on their North American tour dates. Any time mainstream media showcases women in rock music, it's a good day.
TOMORROW X TOGETHER

This K-pop band is sure to set the stage ablaze with their beloved song, "Sugar Rush Ride." The track has nominations for both Push Performance of the Year and Best K-Pop. According to the VMAs Instagram, the band will be joined by Anitta.
DMC, Doug E. Fresh, Grandmaster Flash and the Furious Five, LL COOL J, Lil Wayne and Nicki Minaj

This team of icons is joining together to celebrate hip-hop's 50th anniversary at New Jersey's Prudential Center. Nicki Minaj will also serve as the night's emcee and premiere her single "Last Time I Saw You."