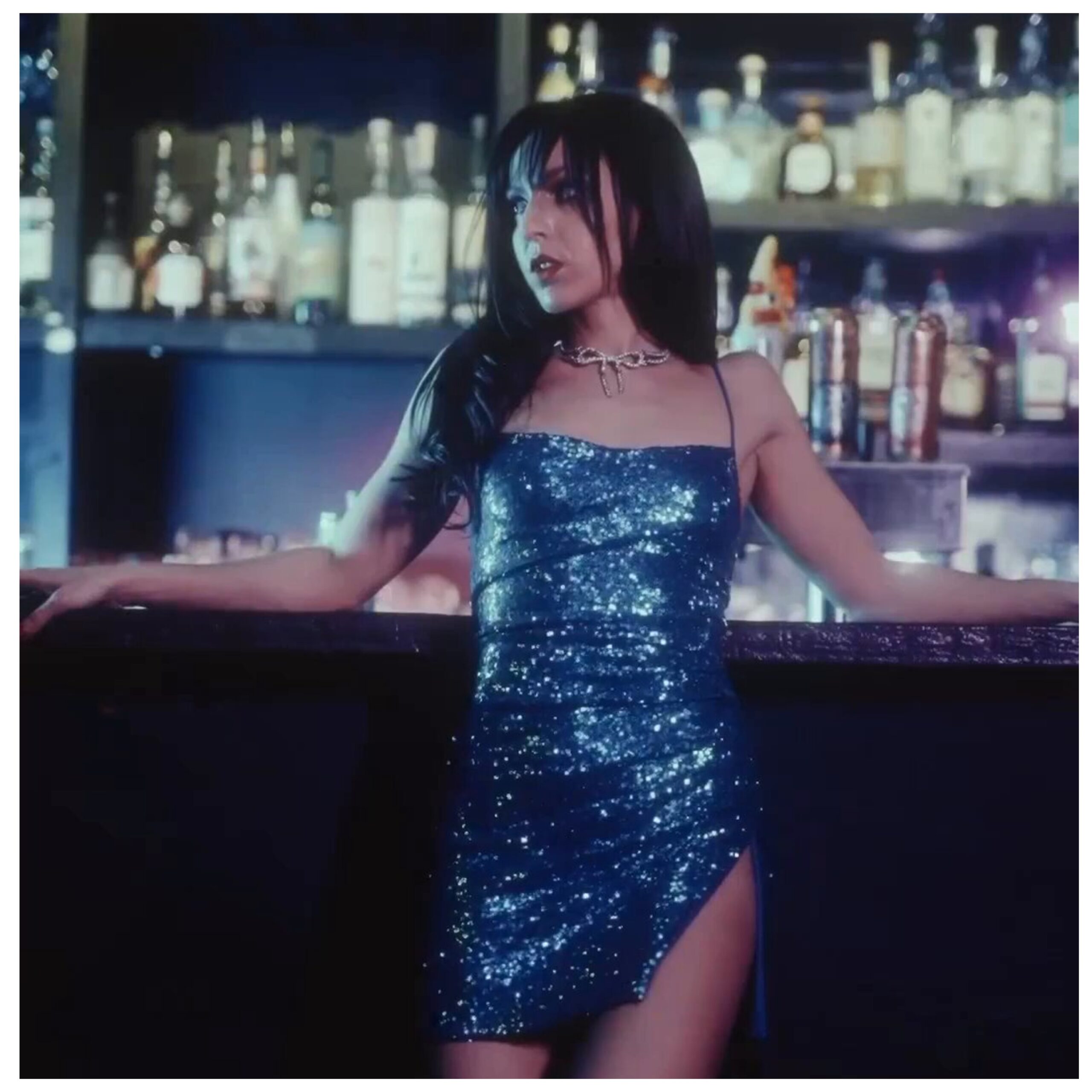 Following the release of her debut solo single, Jen Razavi, the co-frontwoman of The Bombpops, has issued the accompanying music video for "Saw In Half." Razavi's debut track, produced by Will Yip (known for his work with Circa Survive, Turnstile, and La Dispute), is a hauntingly atmospheric showcase that beautifully draws out her tenderness and vulnerability.
Further cementing the line, "Lovely assistant to the stage/Here's a trick, we call it heartbreak," the cinematic visual for "Saw In Half" metaphorically analyzes a failing relationship comparing it to the toxic one-sideness between a magician and their assistant. Razavi is acting as the assistant—the backup performer—to the star of the show in her own relationships. Regaining her sensibilities, Razavi exits the situation and in a flood of headlights, goes out on her. The same can be said when leaving a relationship littered with toxicity that has run its course.
"It's a song I wrote exploring the power dynamics of a one-sided, toxic relationship through the lens of a magician's assistant being sawed in half," Razavi explains of the track. "Just like the magic act, the relationship creates an atmosphere of suspense and intrigue but ultimately leaves the individual feeling broken. It was recorded in the winter of 2022 with one of my favorite producers, Will Yip."
The chorus' lyrics of "Saw In Half," which read, "It's written in our stars and planets/Your center stage and I'm on call/It's always been our power dynamic/You get it all/You get it all," effectively shatter Razavi's emotional barriers and delve into themes of identity, self-doubt, and the difficulty of finding comfort when alone. The lyrics eloquently capture the unequal power dynamic in a toxic relationship, where one person is always in control, and the other is always on call to fulfill their partner's needs.
Check out the captivating music video for Razavi's "Saw In Half" below.
Razavi is embarking on an exciting tour across the UK and Europe this month and continuing into June. Take a look at her complete tour schedule below and grab your tickets to experience her live performance here.
Tour Dates:
May 16—Bristol, UK @ Exchange
May 17—Southampton, UK @ The Joiners
May 18—Stamford, UK @ Voodoo Lounge
May 19—Manchester, UK @ Rebellion
May 20—Stafford, UK @ Redrum
May 21—London, UK @ Underworld
May 24—Berlin, DE @ Cortex
May 27—Budapest, HU @ Ruin Brew
May 31—Lake Como, IT @ Granozero
June 1—Bern, CH @ Planetspade
June 2—Rorschach, CH @ Treppenhaus
June 5—Lindz, AT @ Sbäm Fest