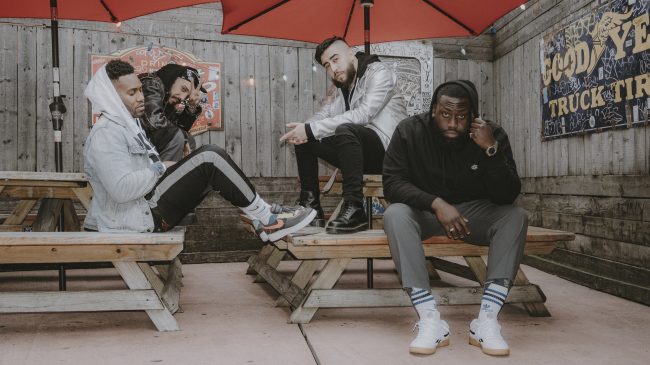 The history of rock and roll is dark and murky. It's a road paved with appropriated beginnings and weird ideas about who can or should make the music. Over time, some would say it stopped being on the edge and lost it all together.
Then Oxymorrons entered the game— and they're ready to start a revolution.
"'Green Vision' is us showing the shape of rock to come," they explain as they chat about their new single. The song is only three minutes long, yet you'll catch elements of hip hop, punk, and good ol' rock and roll hiding in its notes. 
This is what gives Oxymorrons their oracle-like abilities. The lines between genres are disappearing and the band capitalizes on the freedom it brings. It's a new era for music, especially rock, and their willingness to think outside the riff makes them trailblazers for a reinvented scene.
"It's our unique blend of everything that we love about making music and putting our 'New Yorkness' on it," they continue. The band brings the inspiration of NYC into both the track and the music video, which sees them jam from the corner store to the front porch. It's a more honest look at the city than we usually see from Times Square shots, which makes it perfect for the energy that "Green Vision" brings.
"For the first time ever, when you think of NYC you'll think of a POC band." It shouldn't be the first time and yet, due in part to the thievery mentioned earlier, it is. That's another exhilarating part about the band. This isn't just a revolution of music, it's a revolution of the whole damn system. It's why the band fits right in on Fever333's 333Wreckords, and why you should pay attention to the words while you rock out. "If you listen to the lyrics and decode some of the metaphors it's vulnerable, honest and swaggy." 
"'Green Vision' isn't just a braggadocious track about who we are… We touch on everything from our pain, politics and in short from everything it means to be a person of color in music and life." Oxymorrons take the narrative—and the genre—into their own hands with their songs, creating a BIPOC music movement that the world desperately needs. "Rock and roll didn't die, it just moved to the hood."
Fun Fact about "Green Vision":
"Jafe got hit by a car in the making of the 'Green Vision' music video. Unscripted."
—
Keep up with Oxymorrons: