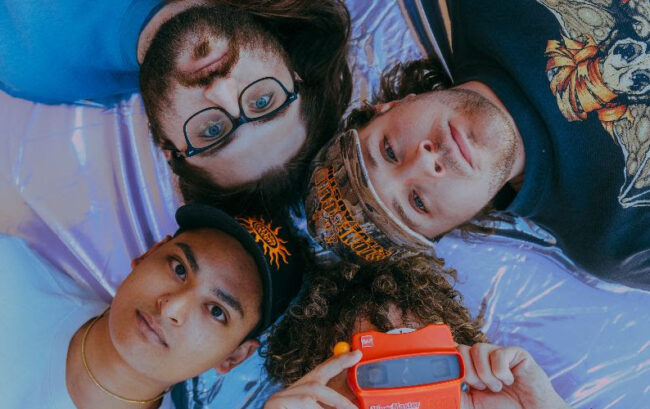 Today, Hot Mulligan have released another new track from their upcoming album Why Would I Watch out May 12th via Wax Bodega. The new tune "Gans Media Retro Games" shows the band at their loudest and poppiest. This track follows the release of their song "Shhhh! Golf is On" last month, both produced by their long time studio partner, Brett Romnes. Hot Mulligan also released a goofy and dramatic wrestle-themed visual to accompany the new song and if you watch closely you might just catch a cameo from Dan Lambton.
"This song is about only seeing what I'm doing wrong," explains vocalist Tades Sanville. "Seems like I drink and lose touch between what I'm saying and what I mean. Musically, this song has a cool little balancing act between distortion and that kinda ghost-y lead that I'm stoked about. It doesn't really sound like something we've done before." 
Check out the music video below and pre order the new album here!
Earlier this month Hot Mulligan announced that they are going to be playing a string of headline shows to kick off the summer. They will be joined by an incredible set of supports in the form of Stand Atlantic, Free Throw, Cliff Diver and Ben Quad on select dates. 

Here are the dates that you will be able to catch them at:
July 9th – Carrboro, NC – Cat's Cradle
July 28th – Tucson, AZ – Railto Theater
July 30th – Albuquerque, NM – Sunshine Theater
July 31st – Oklahoma City, OR – Beer City Music Hall
August 2nd – St. Louis, MO – Delmar Hall
The band is currently wrapping up a tour alongside The Wonder Years and Carly Cosgrove, and set to perform at When We Were Young Fest this October. The festival is sold out, though, so if you want to catch the band live, make sure to grab tickets to their headline shows. Tickets are available here.