photos & words by Austin Spruill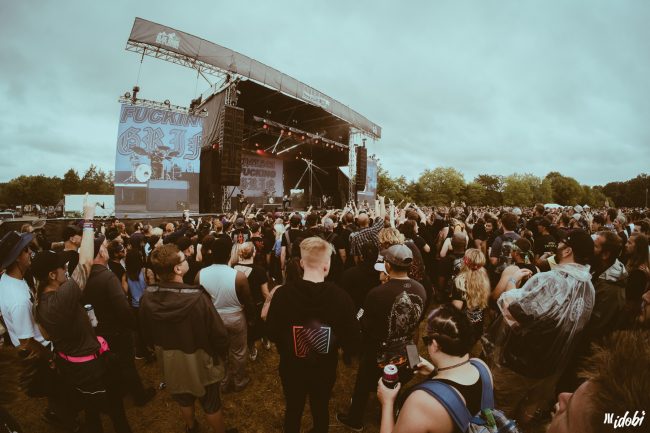 As the blistering summer of 2022 winds down into the cooler weather of fall, musicians and fans alike are treated to a number of high-profile festivals raging across the country, from Welcome to Rockville and Inkcarceration to Rocklahoma and Louder Than Life. However, few were as highly anticipated as this year's incarnation of Blue Ridge Rock Festival, taking place from September 8–11.
Hosted at the world-renowned Virginia International Raceway in Alton, VA, hopes were high for the relatively young festival, as the successes and challenges of 2021 propelled the event further into the spotlight for its sixth year of rock and metal mayhem. Featuring a hefty lineup of over 100 of some of the most notable acts in the game, including well-known headliners such as Disturbed, Mudvayne, Alice Cooper, Lamb of God, Ghost, and the almighty Slipknot, these names alone were enough to attract over 40,000 people on a daily basis throughout the four days of festivities.
Despite last year's growing pains, folks were not deterred from the promise of a weekend getaway to spend some quality time jamming out to their favorite bands and indulging in the variety of food vendors that BRRF had to offer all weekend long. As a result, there were some hits, but there were also some misses that came along with the ambitious undertaking. Let's dive into the nitty-gritty of it all.
Last year's event was unique. A mess nonetheless, but it was definitely something special and was ultimately what you made of it. Last year, camping was drastically oversold and folks were forced to spill over into the offsite parking lots, however, this was not an issue this year due to the much larger and more accommodating festival grounds. Accessing the festival was a major issue last go around, due to no onsite parking being allowed, paired with a major shuttle shortage, creating hordes of foot traffic. While foot traffic wasn't an issue this time, there was still a shuttle shortage for the first two days, which in turn led to massive lines and wait times just to get to the grounds.
Though not perfect, this year's venue and setup was an improvement to the grounds of last year. The grounds were essentially broken up into two halves split by a beast of a hill, with three stages at the top (Monster, Zyn, Heartsupport), and two at the bottom (URW and Fan Driven). The two main stages were placed beside each other, which was convenient, while the Heartsupport stage was directly across from these stages, near food vendors. The downhill side featured a large stage comparable in size to the main stages, known as the URW stage, which featured plenty of larger acts as well. Placed somewhat adjacent to the URW stage were also food vendors, though I didn't notice them until late into Friday. Located just around the corner of the URW stage, and adjacent to the camping area, was the Fan Driven stage, which featured bands of similar caliber to the Heartsupport stage.
—
Day 1: Thursday, September 8th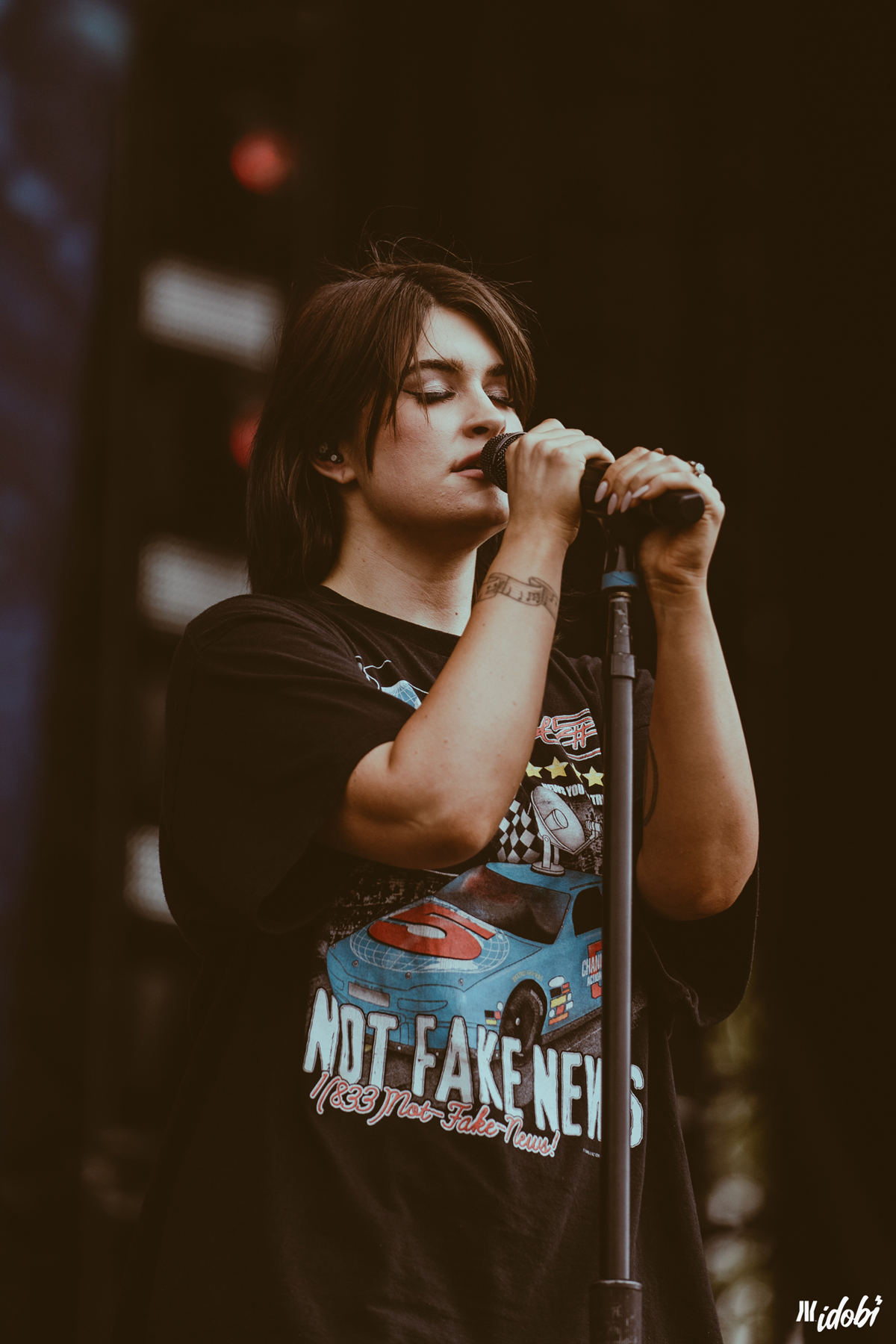 Thursday started out with catching half of an incredible set from a band I never thought I'd get to see perform again: The original lineup of A Skylit Drive (otherwise known as ASD), opening up on the Monster stage. After reuniting at the end of 2021, they've recently started playing shows again, performing their debut EP She Watched the Sky. Their performance was a glorious, triumphant return to their roots.
My only regret was having to leave their set early to go catch Melbourne-based metalcore beasts Alpha Wolf at the Fan Driven stage, clear across the venue. Their performance was rock solid, as they relentlessly pummeled the crowd with punishingly heavy riffs and breakdowns. They closed out with "Akudama" to a roaring crowd pleased with having just had their faces melted off and ears blown out.
After Alpha Wolf hopped off stage, I, along with a good majority of the crowd, stuck around to catch Afterlife. Navigating between newer and older fan favorites, crushing each song as they went along, crowd involvement remained high throughout the set. Definitely, a band to keep on your radar if you're a fan of post-hardcore/nu-metal-styled bands.
Afterward, I finally had the opportunity to catch a band I was robbed of seeing at BRRF last year, due to waiting three hours at the gate for photo passes: Spiritbox. Despite the sound issues that plagued the opening of their set, vocalist Courtney LaPlante dominated throughout, more than making up for it. The sound had thankfully improved by the time they brought out their heaviest of hitters, "Holy Roller" mid-set. As their set came to a close, they went out by changing the vibe and performing a couple of songs off their latest EP: "Rotoscope" and "Hysteria".
After Spiritbox finished up, I set off to conduct interviews with Tyler Levenson of Afterlife, as well as the original A Skylit Drive lineup.
Closing out my night, I caught performances from Counterparts and In This Moment. Counterparts took to the Heartsupport stage with a vicious performance. As one of the best bands in the genre, they know how to deliver a performance to keep the crowd moving from start to finish. Opening with the recently released "Whispers of Your Death" off their upcoming album A Eulogy for Those Still Here, the Quebec-based outfit set the tone for a pit-heavy rager of a performance. Continuing forward with their set, they performed another new song "Bound to the Burn", further showcasing what they've been cooking up in their time between albums. They performed favorites off several of their previous albums too, including "Wings of Nightmares", "No Servant of Mine", "Paradise and Plague", and "The Disconnect".
In This Moment closed out the Zyn stage. They're another band I'd been wanting to see for quite a long time. After 12 years of attending shows, it's rare I get to watch a performance that actually shows something I've never seen before, but I certainly found that here. The band's performance was completely cinematic and theatrical, with stage setups and visual effects that were impossible to ignore. Vocalist Maria Brink stood at the top of an altar, singing while surrounded by masked, gowned figures, drumming in time to the beat of the song. There were constant changes of costume for Maria and the dancers between each song, as well as a scenery change handled by a well-oiled crew, which was actually pretty seamless. That impressed me as much as the actual performance. During the instrumental portion of the set, Brink roamed the stage in a strange stilted outfit, complete with a wolf mask, before going around in a reaper outfit with a scythe. I can't say I've ever seen anything like that before. The entire performance was purely stunning from start to finish.
—
Day 2: Friday, September 9th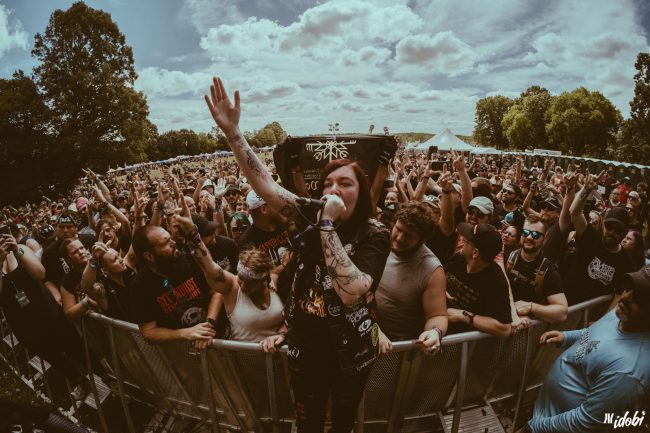 With the first day in the books, I was ready to keep it rolling with back-to-back sets from BRRF veterans Dying Oath and Hollow Intent. Dying Oath kicked things off to a sizable crowd with a command of the stage that one would expect from a seasoned act who spent a great deal of time building a die-hard and loyal fanbase. And die-hard they were, as the Pit Crew was in full effect here, keeping the crowd going from the moment the band's foggers went full blast at the start of the set, to the cataclysmic closing as vocalist Mindy Jackson climbed down to be a part of the crowd for the last song in their set.
The bar had been set high already and who better to follow up that performance than Hollow Intent? Another band returning to the festival, it felt great to capture those moments on film for them once again. The Wilmington-based hard rock/metal outfit took to the stage and delivered a set that seemed to harness the energy Dying Oath had just expelled before them and churn it back out three-fold. Meandering between funky groove, a punishing rhythm section, gnarly riffs paired with spin kick-worthy breakdowns, and topped off with vocalist Will Baker's versatile singing and screams, there was something for everyone here. Later, I got some time to snag interviews with both bands.
After spending the first couple of sets at the Heartsupport stage, I crossed over to the other side to catch sets from Fit For An Autopsy and Whitechapel, two of the biggest names in the deathcore touring circuit. The energy directly up in front of FFAA was on a different level, as the double bass drove a pounding sensation straight into my chest for the entire duration I was up there. The crowd was clearly on board with that, as crowd surfers consistently made their way up to the front amidst fists being pumped into the blistering dusty heat, on-time with the beat of the drums.
The story was no different during Whitechapel, as the population in the crowd remained consistent. In perhaps a surprising twist, they chose to forego playing any of their hit songs from their critically acclaimed This Is Exile or even anything at all further back than Our Endless War. Instead, more current songs were favored, giving a more accurate depiction of the sound the band has gone for in recent years. Nonetheless, the energy remained high from start to finish.
After soaking up some sun at the bottom of the hill, I made the journey back up for another veteran BRRF band. The one and only: Underøath. Opening with "Damn Excuses" the band powered through various eras of their 15+ year existence at the flip of a switch, keeping the audience engaged effortlessly. They performed a few newer songs, as well as classic fan-favorite anthems such as "Breathing In a New Mentality", "A Boy Brushed Red Living In Black and White", and of course, "Writing on the Walls". Once their set was up, I took some time to chill out and re-energize before heading back down to catch Halestorm at the Zyn stage.
Having heard Halestorm a few times and knowing there was a lot of hype around their performing at Blue Ridge, this was a set I didn't want to pass up. While I couldn't name any of the songs that were played, I can say the display of shredding while singing at the top of her lungs that Lzzy Hale showcased was second to none. The rest of the band was equally explosive with an energy that radiated across the sea of faces being melted into oblivion right before my eyes. It's safe to say, Halestorm has risen to the top of the list of best live performances I've ever seen.
Following up on the next stage over was a scathing performance from the French metal act, Gojira, showing off a merciless display of absolutely unrestrained dominance of the stage. This was another band that I hadn't listened to much but had heard a lot about. Their performance rocked the crowd from front to back and featured a sizzling display of pyrotechnics at various points in their set.
Alice Cooper was more of a bucket list performance for me, so it was cool getting to watch a true classic legend come out and perform to a crowd that stretched as far as the eye could perceive. In classic Cooper fashion, his stage setup was decked out with chandeliers, a castle-themed riser in the back, along with someone going around in a giant reaper getup, and plenty more that I didn't have the opportunity to see, as I had to get back over to the Monster stage for the night's headliners.
Mudvayne is another band that I had heard more about than listened to. I wasn't sure exactly what to expect from them but it was clear the massive crowd in front of their stage was expecting a lot. So I strapped myself in for whatever was to come. They leaped right into their opening song. "Dig" is a classic even I recognized. That and "Severed" were about all I recognized from them, though. Aside from their trademark makeup and wild cosmetics, what definitely set them apart from other acts was the insane energy of their bassist Ryan Martinie. Leaping and bounding across the stage, he was honestly a show in and of himself. I wasn't sure what to make of the performance of vocalist Chad Gray, though. After going back and watching videos from fans who were there, I can affirm that what I was hearing was definitely not a performance as up to par as I would've expected from a vocalist for a band of such stature. It was noticeable that Chad's vocal abilities were struggling here, as it was difficult at times for him to keep up with the songs, and his screamed vocals sounded strained as well. Despite this, the band powered on and delivered as best as they could, though I left after their fourth or fifth song of the set.
—
Day 3: Saturday, September 10th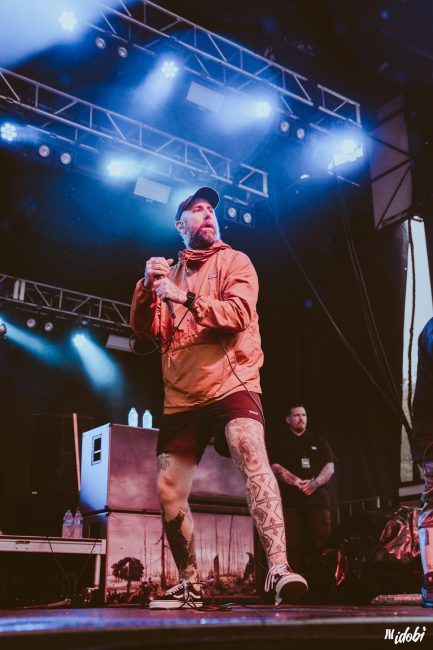 As Saturday arrived, rain clouds loomed above, suggesting that the day could get messy. I had planned to start by shooting Lacuna Coil's set but found out shortly beforehand that they had dropped off, which was disappointing. Instead, I started my day off shooting Varials but left early to get down to the URW stage in time for Chelsea Grin. These deathcore veterans put on a killer performance as I had come to expect from them after having seen them numerous times in the past.
Afterward, I made my way over to watch another favorite of mine: The Plot In You. Vocalist Landon Tewers took the stage solo for the first 45 seconds of "Face Me" before the remainder of the four-piece charged onstage in electric synchronization, sending the crowd into an uproar. They had no trouble keeping this energy high throughout their set, as they followed up with a couple of newer songs including "Fall Again" and "Enemy". Once my time was up at the Fan Driven Stage, it was time for yet another arduous journey back up the hill to the Heartsupport stage to catch a set from one of my most anticipated bands: Kublai Khan.
It was at the very start of the Kublai Khan set that I wished I had grabbed one of the garbage bags from the media tent for my cameras, as it began pouring right as they started playing. This made for an incredibly rowdy throwdown, as the hardcore heavyweights came in strong with "Swan Song" with a feature from Terror's very own Scott Vogel, which was every bit as badass as you'd expect it to be. Truth be told, I don't remember most of what they played, as I was quite preoccupied with trying to shoot their set in the pouring rain, as well as dodging crowd surfers coming over the barricade. Something that stood out to me was the total lack of security in the photo pit. Other photographers, as well as crew, were having to stand in and catch people coming across and some folks weren't as fortunate as I saw a number of crowd surfers just tumble over the edge. Not sure who dropped the ball on security with this one.
After I had some time to dry off my gear, I headed back to the same stage to catch The Acacia Strain. At least this time I had managed to secure a garbage bag around my camera to prevent any further rain from drowning my precious gear. With no let up from the downpour, The Acacia Strain took the stage and in came the distinct opening guitar of "Beast". At that point all hell broke loose. This time, however, there was some actual preparedness behind the photo pit as security had been placed here, in contrast to the situation during Kublai Khan. Scorching their way through the rain, they churned out hard-hitting favorites from throughout their catalog before closing their set out with an all-time classic "JFC". During the final moments of their set, vocalist Vincent Bennett jumped down to share the end of the song with the crowd. One of my favorite moments of the festival for sure.
Later on, the storm finally let up as I made my way back down the mudslide of a hill for comedy rock duo Tenacious D. When it was showtime, all lights dimmed as "Post-Apocalypto Theme" played back and out walked Jack and Kyle. Holding the infamous crystal ball while performing "JB JR Rap" Black got the crowd going wild as he "lorded his power" right before tossing the crystal ball off to the side of the stage and diving straight into "Woman Time" and "Save the World" with the full band coming into effect. If one were to go see a Tenacious D set without any prior knowledge of the band or what it was about, they would almost certainly leave more confused than anything. However, if you know anything about anything regarding Jack Black, you ought to know that everything he does revolves around comedy and his musical endeavors are no different. This being said, the performance in and of itself was spectacular and greatly entertaining and the crowd was captivated throughout the fifteen-song extravaganza.
Leading into the final act of the night, there was an absolute exodus of fans to the Monster stage as I Prevail closed out their set. The most anticipated performance of the weekend was finally upon us, as thousands upon thousands eagerly awaited the mayhem that was soon to wash over the crowd. Full disclosure: Media was not permitted to shoot Slipknot in any capacity. Nevertheless, I stayed for their entire set. When the Iowa-hailing titans of metal finally took the stage, atomic-level energy erupted and spread like an absolute wildfire throughout a sea of people spanning as far as the eye could see, as the legendary intro riff of "Disasterpiece" catapulted the crowd into total mania. Leave it to Slipknot to come in swinging harder than the entirety of the MLB combined. Without giving anyone a chance to recover from that beating, the show kept rolling with classic after classic with a few more recent songs peppered in. Including the most recent single "The Dying Song (Time to Sing)". It's always a pleasure watching absolute masters of their craft show everyone how it's done. Slipknot's performance was every bit as incendiary as they've been known for with a massive production that I was impressed was able to fit onto the stage.
—
Final Critique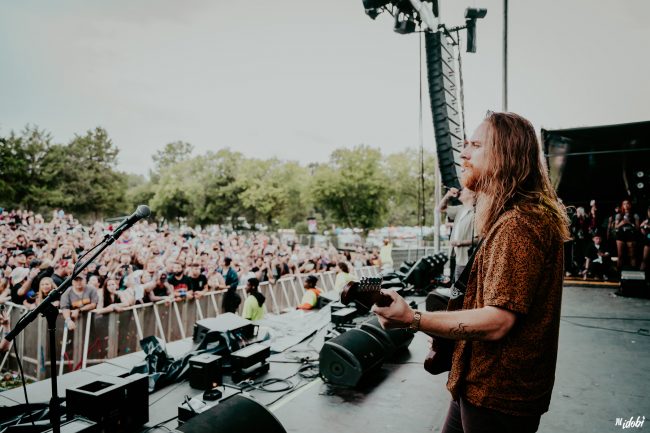 With Saturday wrapping up, this was unfortunately the abrupt end to my time at the festival. Improvements were made and this year generally ran smoother compared to last year. When it comes to the fans having an ideal experience across the board, it seemed that those who camped onsite had the best experience while those who commuted daily as GA attendees got the short end of the stick. It also seems the ADA concessions were a little more lackluster than had been hoped for; this was something that was an issue last year as well. Accessibility is key when you are hosting a festival. I did also notice security getting overwhelmed a number of times, and this is something that should rarely if ever happen. It shouldn't be necessary for the contracted security agency to have to recruit the Pit Crew to bolster security at the barricades due to the lack of an appropriate number of security agents onsite. If the festival plans to host at the Virginia International Raceway again next year, hopefully, these issues will be addressed as BRRF has been built from the ground up on listening to fan feedback.
—
Final Thoughts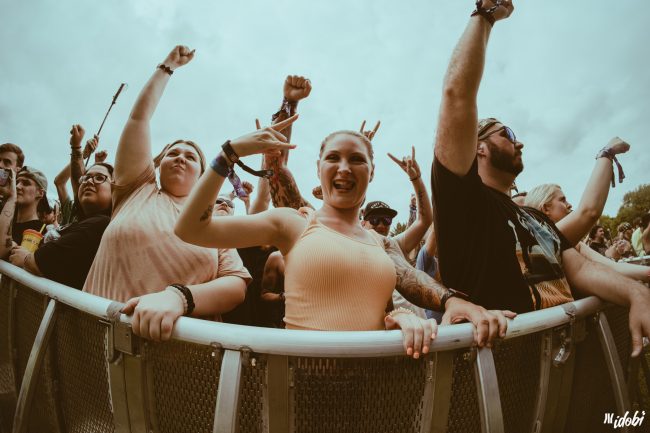 Overall I had a fun time at Blue Ridge Rock Festival this year. Despite areas for improvement, I wouldn't say they overshadowed the most important aspect of the festival, what everyone really came for: The music. When it comes down to it, the lineup was the strongest and most diverse I've seen for this festival and when compared to longer-running festivals, such as those mentioned at the beginning, it held up and provided an experience of similar caliber as far as the music goes. Through rain and shine, BRRF offered something for everyone. Whether you've been a seasoned festival-goer since the previous century or if attending festivals is a newer experience for you, there were plenty of good times to go around. As the spotlight continues to be cast in its direction, I have no doubt we will see growth in all areas, as Blue Ridge Rock Fest proves to live up to its name as a true fan-driven experience. For this reason alone, I can't wait to go back in 2023 for another round.