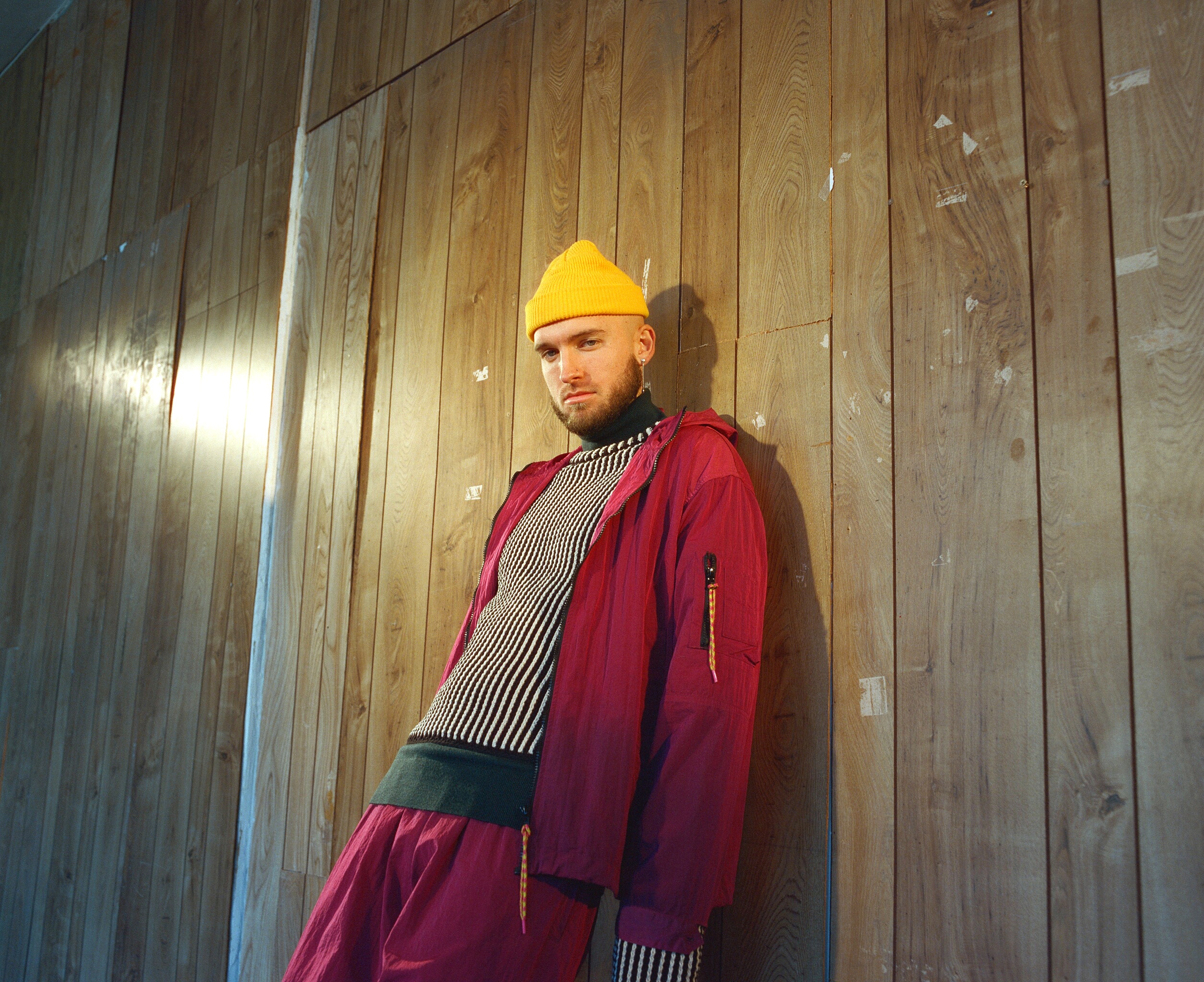 A crucial part of the 'Hero's Journey' is the 'Road of Trials' according to Joseph Campbell's Monomyth. As the hero traverses the road, we see their resolve tested and the adventure take shape. Gavin Haley is firmly on his Road of Trials and he is loving every minute of the challenge.
I met the singer-songwriter when he opened for Tate McRae's Spring 2022 North American tour, also featuring Mimi Webb. Haley has been perfecting his own blend of confessional R&B featuring acoustic guitar, electric production, and sensual vocal talent.
On a Bench with Gavin
He asked me to meet him at Echo Lounge and Music Hall in downtown Dallas before his set. I was ushered in between tour buses, not 20 yards from the line of fans queuing for the show. Greeting me with a warm and dimpled smile, Haley invited me to sit down on a very out-of-place park bench. "I won't bite," he jokes.
I was struck by how accommodating of a host he was and asked where such a warm human drew the inspiration for songs of heartbreak. "I'm in love right now!" he says. Refusing to reveal any juicy details, he does go on in a more general vein, "I draw from pain and trauma. I was actually talking with my therapist the other day about why things aren't changing—she said it is probably because you like to draw from the pain! Really I just draw from my life. Instead of spending all my time in the studio, I like to go out and live it up until I'm broke. Then I come back and write because I actually have stuff to write about."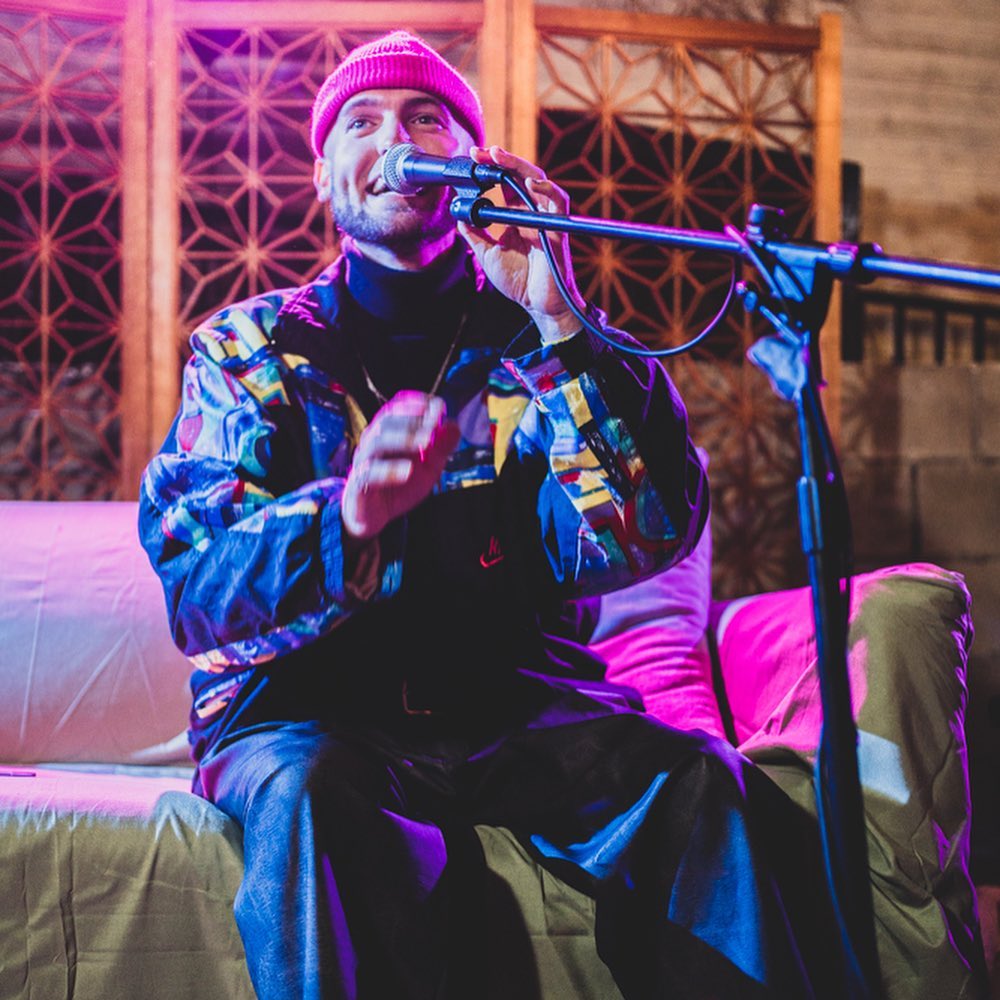 This sense of adventure has been with Haley his whole life. When he was 17, he was a competitive outdoor cyclist, going so far as to live in Belgium for months at a time training with some of the best athletes in the world. "I loved my time there. It was a completely different way of life and transportation there. I started writing a journal there and that was also when I first started writing songs."
Becoming a world traveler so early made international collaboration undaunting. Haley has become popular in the Southeast Asia sphere of pop music after a collab with Mew Suppasit in August of last year. "First off," Gavin says, "Mew is the sweetest person. I would love to be able to tour in Southeast Asia. I had a conversation with my team about how to get there. Honestly, I want to play shows everywhere, but that is definitely high on my list."
"Everywhere?!" I ask. Haley says, "I have no plans on settling or slowing down right now. With the way the pandemic hit, in the past two years, I don't feel like I've gone forwards or backwards. I could be on this grind until I'm in my 30s, ya know?" He takes a breath and looks pensive, thoughtful, but never harried. "My ultimate goal is to get to a place where I can sell-out shows every night and sing my songs for people all over the world. That has been the dream since the start and I put that [at] number one."
Haley's truthfulness is refreshing. He wears his heart on his sleeve like open-book cufflinks. How does one become this open? The inevitable "where are you from" question begs an answer. "I'm gonna clear this up because I see you have Detroit and Louisville written in your little notebook," he jokes, "I was born in Troy, MI, but my family moved to Louisville, KY when I was 2 years old. I grew up there until my family relocated to Santa Rosa, CA when I was 17. I was homeschooled this whole time and that's why I pursued cycling; it's hard to do team sports when you're homeschooled."
He is guarded about his familial bonds, however, and the more personal answer to "where are you from?" is "I am protective of my family. I am lucky to come from a family that was really supportive and loving growing up." He looks at the ground, but doesn't stop talking, "But, before I ever experienced an intimate relationship, I was writing about heartbreak. I've always been a person who feels a lot and I have come to see my parents are people. And, people make mistakes. Parents have insecurities and are figuring stuff out because I thought I'd have stuff figured out by this age, but I don't!" He smiles. "With each year that passes, I think they understand me better and I understand them better." Those are heavy topics handled with grace by Gavin Haley.
Switching gears with some levity, I told him how much I loved his cover of "Secret Tunnel" and asked if he had plans for more pop culture covers in the future. With a big laugh, he says, "Thanks! I'm glad you liked it. I loved that show growing up. I'm fascinated by how it had a deeper meaning when I re-watched it when I was older. I love anime and Avatar: The Last Airbender. I am very interested in writing music for television and animation."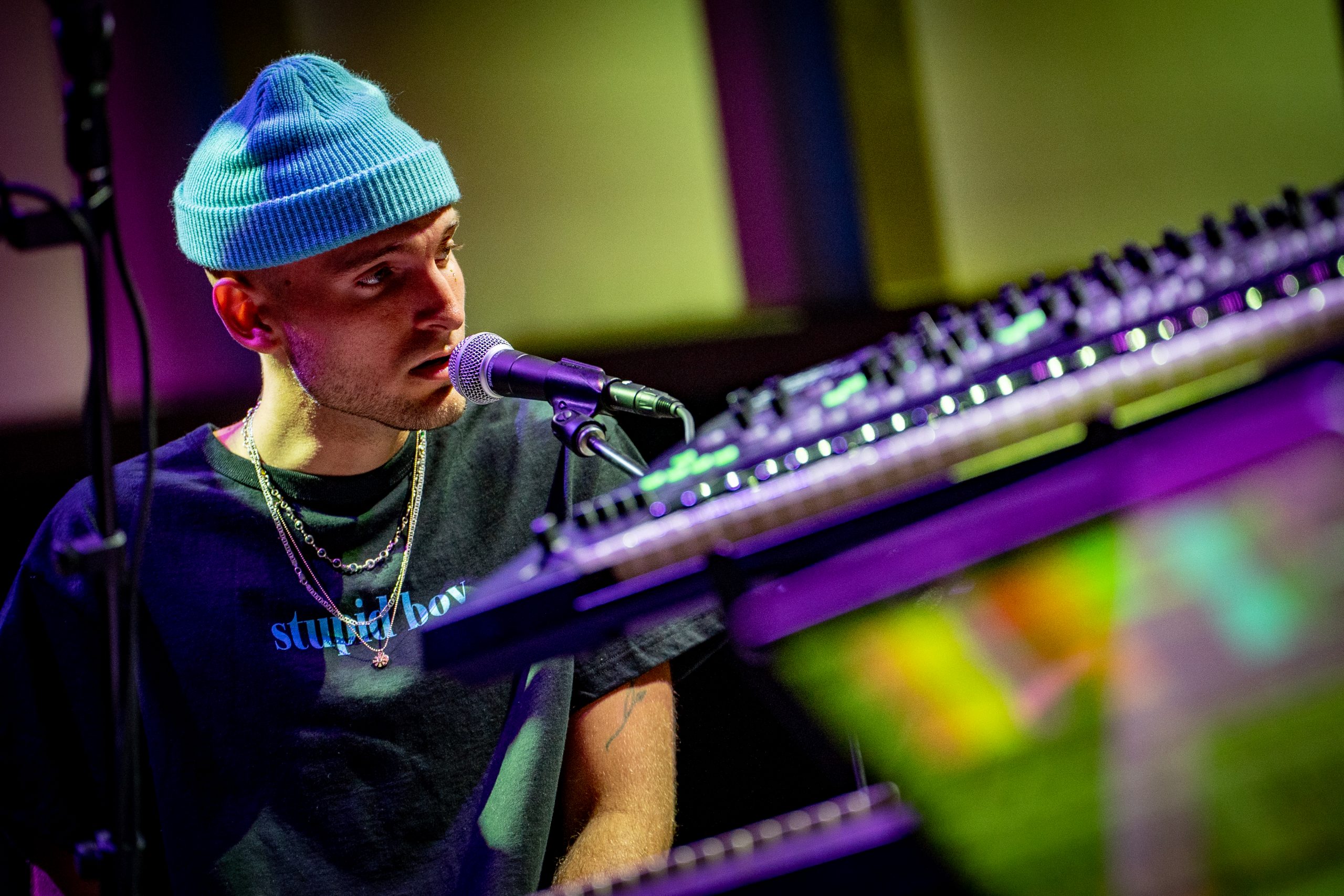 Live Show And Acute Onset Infatuation
So genuine. So authentic. Gavin Haley does not put on airs. What he does put on is a great show. Not too long after saying our goodbyes, I got to see him perform live. Employing a guitar, a keyboard, and his smooth-as-butter voice, Haley quickly ensnared the heart of every attendee. "We love your dimples" and "You're so cute" flew from the brave in the audience but, after the first skillfully held note, everyone had stars in their eyes.
Haley nailed a stripped-down version of his most recent single "Body Language". He ended on a crowd-pleasing cover of Olivia Rodrigo's "traitor", then blew a kiss to the crowd. It was dark in the venue, but I think I saw some folks pass out from acute onset infatuation.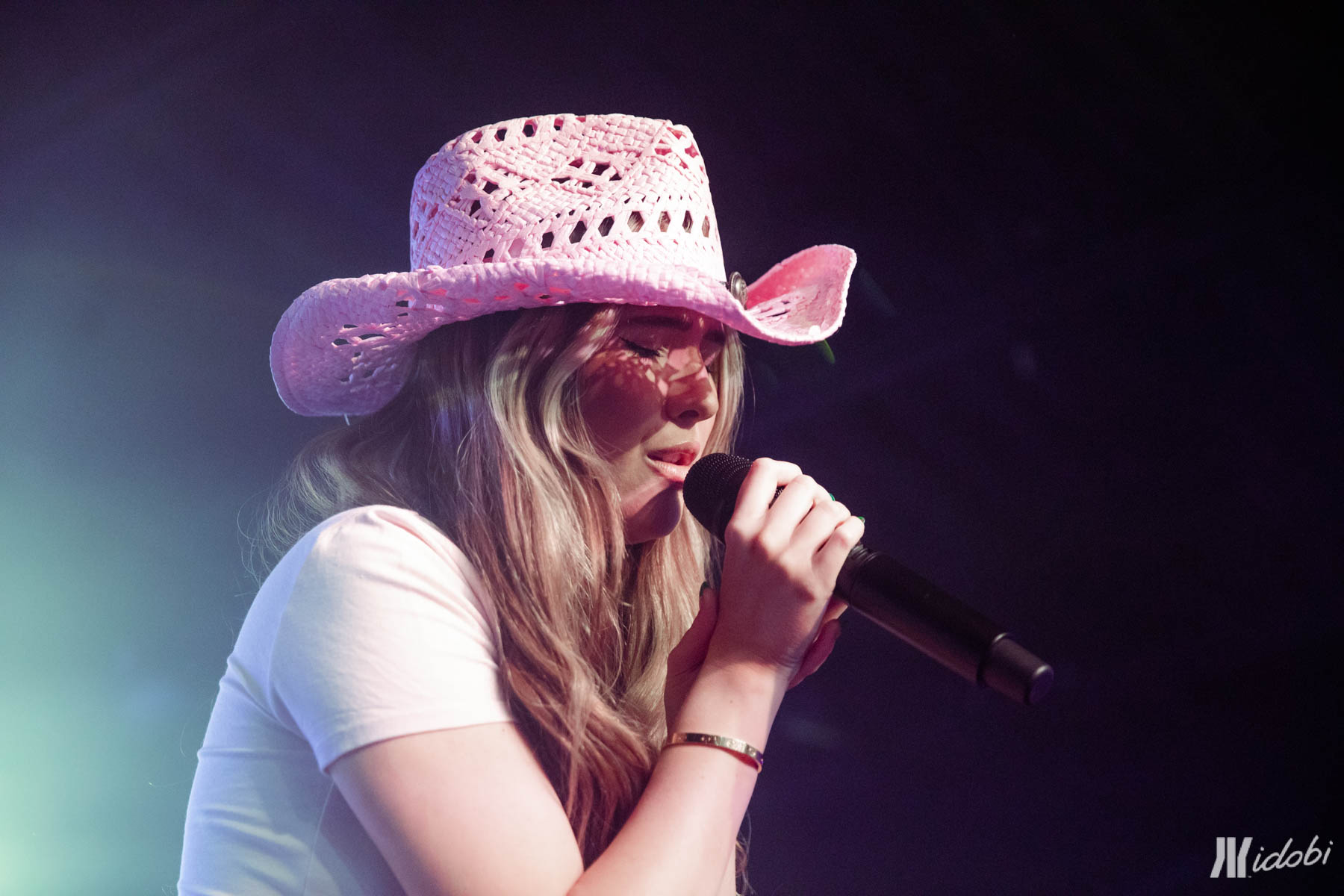 Spice Girl Next Door
Mimi Webb was the next young star to burn up the stage. Accompanied by her band, the singer strutted her British soul-pop energy in knee-high platform boots like the Spice Girl Next Door. Webb's distinctive voice separates her from the bubble-gum pop crowd, but the patrons were more impressed with her energy on stage.
For her newest single, "House on Fire", the entire crowd was pulsing, jumping, and waving their hands whether they knew the words or not. A cover of Sam Smith's "I'm Not the Only One" slowed things down, yet could not diminish the crowd's participation.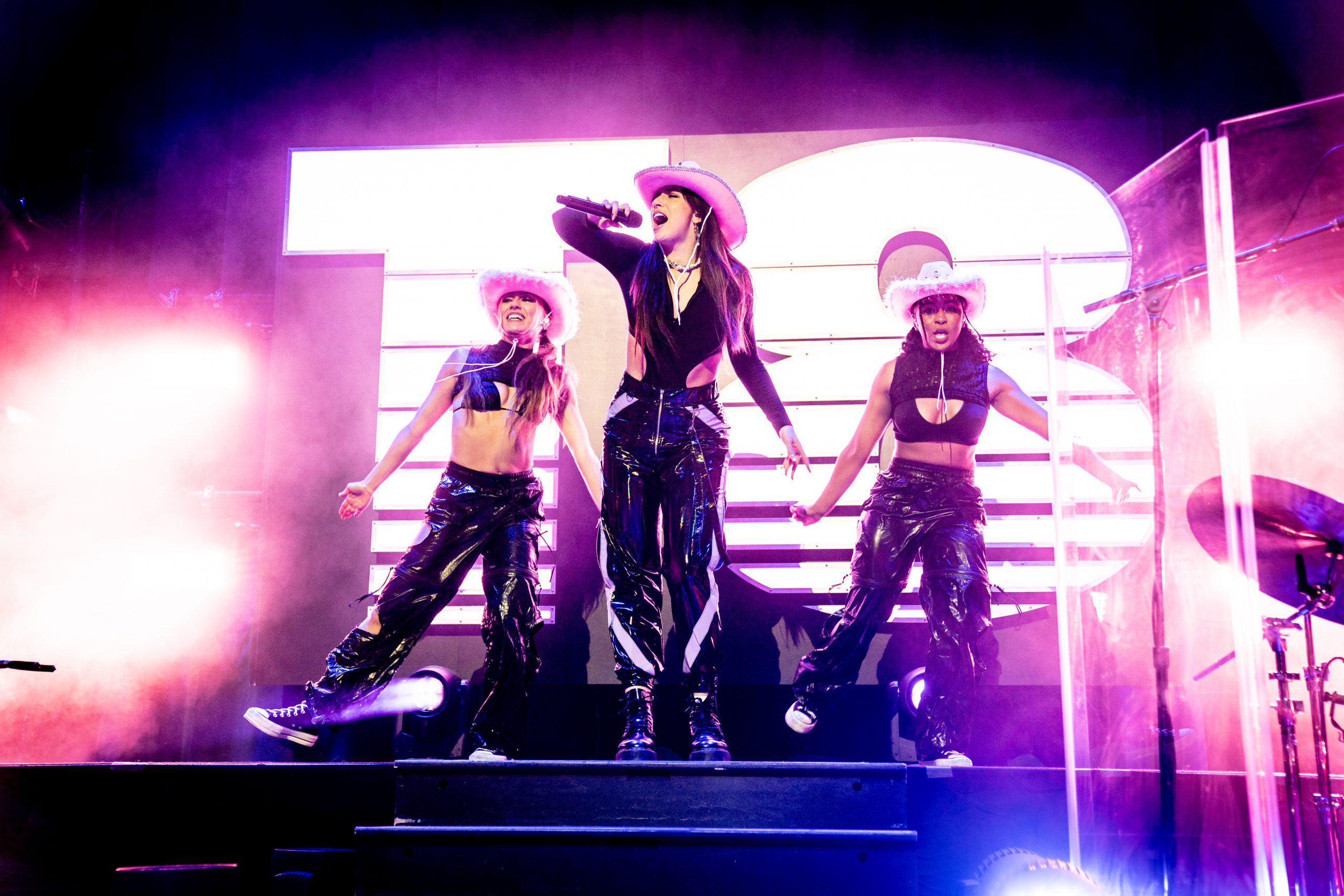 Tate McRae and Sweet TikTok Clout
Headliner Tate McRae was simply born to perform. With a giant "T8" backdrop, Tate and two dancers unleashed polished choreography in a fairly small space. Their use of the allotted space was impressive. All three donned neon pink cowboy hats to the glee of the assembled Texans.
That was only the beginning of the crowd's delights, however. It seemed that with every new song McRae started the crowd swelled to greater levels of energy. Even the parents were singing when The Script's "Breakeven" was being covered.
McRae confidently reined in the energy to introduce the backing performers including a multi-instrumentalist who absolutely slayed on an electric ukulele. She confided in the crowd that the next song would be an unreleased one. Cheers erupted across the venue and phones were hoisted high in an effort to accumulate that sweet TikTok clout. She then bowed out until the inevitable cheers of "Encore" brought her back out for the concert-ending crescendo. The crowd sang "you broke me first" with McRae so loud I legitimately could not hear her.
A Man Going Places
Towards the end of the night, Haley came out to prepare for his meet-and-greet, scheduled for after the concert. He spotted me and made his way over to give me a hug. The 'Road of Trials' can't slow him down. This man is going places. Right now, he is on one hell of an adventure to get to those places. Using his musical talents as a source of light, he unveils and untangles the dark trials of pain, trauma, and heartbreak. The truth he finds helps each of us on our own unique yet kindred adventures.
—