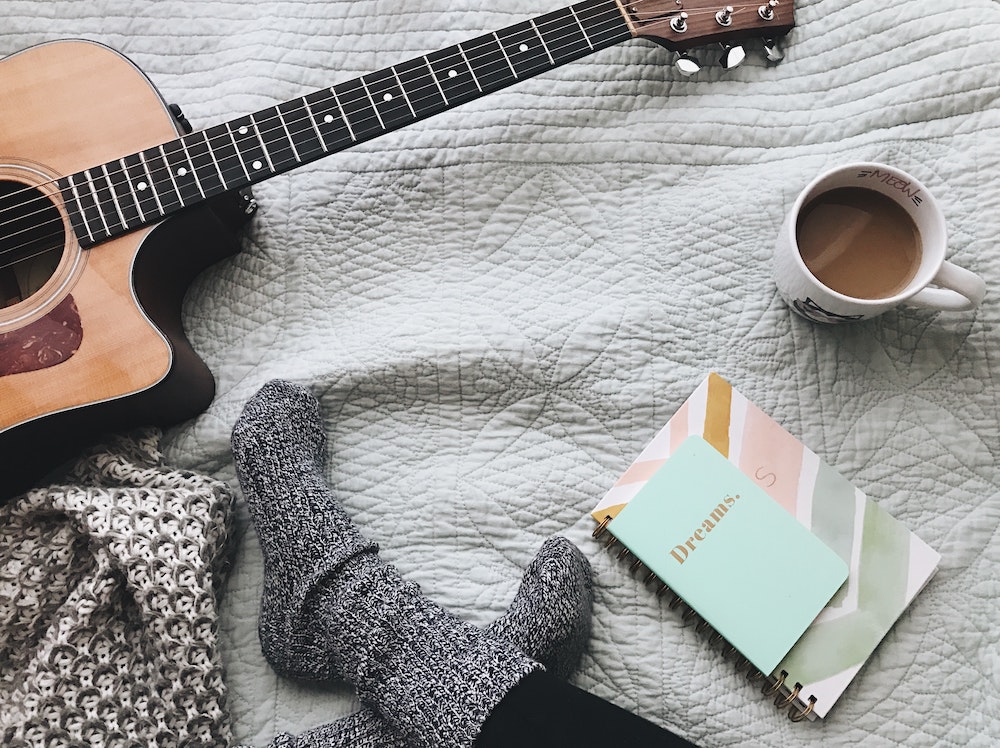 What better way to kick off a weekend than with new music? Fridays are always chock full of the latest songs and albums ready to be the soundtrack to everyone's antics, and here you'll find some of the week's standout releases. Whether you're ready to spin an anticipated song from a favorite artist or just taking a look at what's out there, there's a whole lot of tunes to dive right into. Who knows—maybe you'll find your next obsession.
Blackbear
In Loving Memory
In Loving Memory might be Blackbear's sixth album but it might as well be his debut. That's because, with his pivot to a polished pop-punk sound, he's hardly the same artist anymore—that's how polarizing this shift is. The "Hot Girl Bummer" rapper doesn't abandon his hip-hop tendencies 100% (like on "gfy", for example), but you can sense just how real and honest he is about his new venture when he's got tracks that feature the likes of Bayside, The Used, and New Found Glory.
—
The Early November
"Denent"
We were supposed to get "Denent" 20 years ago—but better late than never. The new song was originally intended to be on The Room's Too Cold, The Early November's debut from 2002, but its refreshed version is making an appearance on the band's upcoming anniversary record Twenty. Even though it would've been great back then, it probably sounds even better now.
—
Games We Play
Get a Job
"I have never heard of pop-punk in my life," Emmyn Calleiro says in his bio. "I'm just riding a trend." You can't help but love the humor, which comes across in both written word and song, especially on Get a Job, his new EP. The new project backed by Pete Wentz gives no-frills pop-punk hooks and tunes about pooping your pants on a date. Funny and relatable.
—
Tiny Moving Parts
Tiny Moving Parts
Tiny Moving Parts are a ticking time bomb; their new album marks the end of their fuse. The self-titled LP may be self-titled for unintended reasons; it's far and away the best representation of who they are—you sense it right from opener "Decibel". It's just straight-up perfect pop-punk.
—
Nothing,nowhere.
"M1SERY_SYNDROME (feat. Buddy Nielsen)"
Along with a title that's an adventure to type, nothing,nowhere.'s new single, "M1SERY_SYNDROME" is an adventure to listen to too. The singer/songwriter brings along Senses Fail frontman Buddy Nielsen to add some oomph to the all-out rocker and definitely makes it better. NN has been going nuts with new music this year and this one is the best of the bunch so far.
—
The Front Bottoms
"Hello World"
"Hello World" is quirky indie-emo at its finest, as The Front Bottoms rev up for their new EP (out next month). The building, slow-burn tune has a satisfying payoff when the full band bursts into the chorus but the overarching piano line throughout captures your attention immediately.
—
The Dangerous Summer
Coming Home
The Dangerous Summer makes powerful, emotional rock like none other and Coming Home becomes their definitive record. Frontman AJ Perdomo sings his heart out on tracks like "Wide Open", but it's when they strip things down on songs like "Big Green Eyes" that they really show off how talented they are.
—
DJ Khaled
God Did
As long as Drake exists, so will DJ Khaled. The rapper is among the highlights on the hype man's new record, God Did, which features the usual star-studded track listing with a few twists. There's the latest posthumous Juice WRLD appearance, and then a Kanye West/Eminem collaboration on "Use This Gospel"— a long-teased remix of a West song finally seeing the light of day.
—
Check out the Set It Off x Scene Queen video for "Barbie & Ken":
—
Other new releases:
Elton John and Britney Spears – "Hold Me Closer"
Story of the Year – "Real Life"
Parkway Drive – "Darker Still"
The National – "Weird Goodbyes (feat. Bon Iver)"
Madison Beer – "Dangerous"
Bastille – "Hope for the Future" / Give Me the Future + Dreams of the Past
Muse – Will Of The People / "You Make Me Feel Like It's Halloween"
Pinkshift – "GET OUT"
Joji – "YUKON (INTERLUDE)"
Rema – "Calm Down (with Selena Gomez)"
KAROL G, Maldy – GATUBELA
David Guetta, Bebe Rexha – "I'm Good (Blue)"
NAV – "Wrong Inside"
Ingrid Andress – Good Person
EKKSTACY – "i want to die in your arms"
The Happy Fits – Under The Shade of Green
John Harvie – told ya.
Noah Cyrus, Benjamin Gibbard – "Every Beginning Ends"
Joey Bada$$ – "Let It Breathe"
Surfaces – Hidden Youth
ROLE MODEL – "Cross Your Mind"
Cheat Codes, Russell Dickerson – "I Remember"
Big Nartsie, Ed Sheeran, Papoose – "Groundwork"
Marcus Mumford – "Better Off High"
JVKE – "i can't help it"
Tai Verdes – "how deep?"
Rina Sawayama – "Phantom"
RAYE – "Black Mascara"
Ashe – "Emotional"
Djo – "Figure You Out"
Mickey Guyton – "Somethin' Bout You"
Wild Pink, Julien Baker – "Hold My Hand"
TWICE – Between 1&2
Ellie Goulding – "Easy Lover"