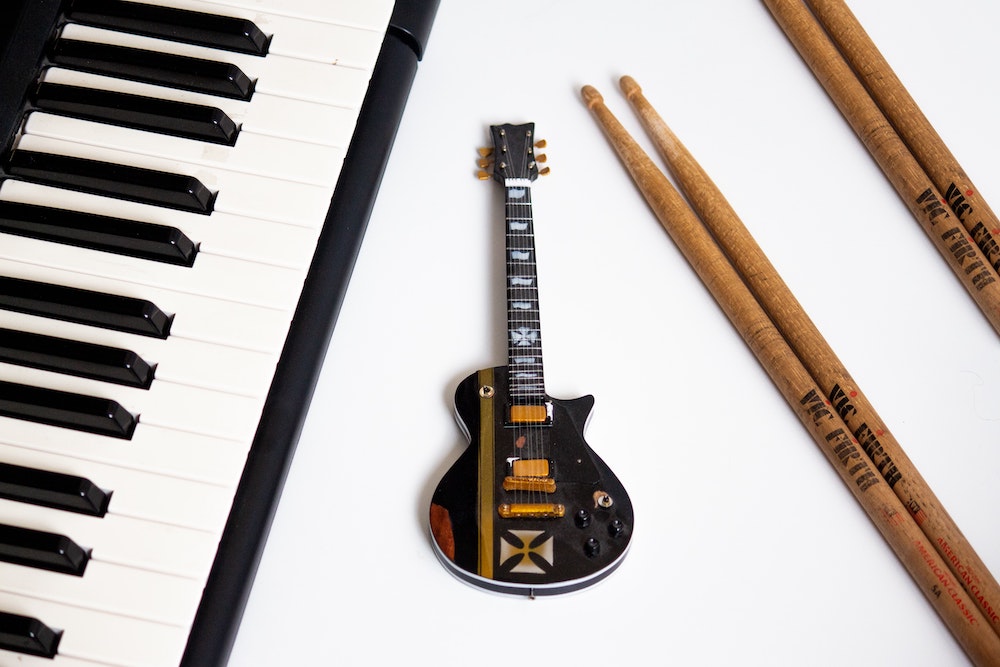 What better way to kick off a weekend than with new music? Fridays are always chock full of the latest songs and albums ready to be the soundtrack to everyone's antics, and here you'll find some of the week's standout releases. Whether you're ready to spin an anticipated song from a favorite artist or just taking a look at what's out there, there's a whole lot of tunes to dive right into. Who knows—maybe you'll find your next obsession.
Ed Sheeran
"Visiting Hours"
The announcement of Ed Sheeran's upcoming album = comes alongside a beauty of a new single in "Visiting Hours". The track dedicated to his friend who passed away this year isn't trying to top any charts but pull on your heartstrings instead.
Lorde
Solar Power
The long-awaited Solar Power LP from Lorde lives up to expectations and then some. The genius pop songwriting—ranging from breezy summertime vibes on "Mood Ring" and the title track to the tranquil notes of "Big Star"—is enhanced by Jack Antonoff's mellow yet vibrant production. Despite its warm-weather aura, Solar Power is a record for all seasons, for years to come.
Senses Fail
"Death By Water"
Heavy chugging guitars support Senses Fail's "Death By Water", but they still make room for the track to be ridiculously catchy. A guest feature from Ice Nine Kills' Spencer Charnas adds to its firepower—the brief but effective bridge is brutal.
Yungblud
"Fleabag"
You never really know what you're going to get with a Yungblud song. For his new single, the eccentric singer/songwriter delivers a full-on rock anthem that is without question inspired by Nirvana's "Smells Like Teen Spirit".
Mayday Parade
"Bad at Love"
"Bad at Love" takes a bit of a different route for Mayday Parade than usual. It actually sounds like they were listening to a lot of OneRepublic's "Apologize" while writing this one. But frontman Derek Sanders' pipes know no bounds, so he sounds right at home no matter what the track is.
Lil Lotus
Error Boy
Go on and add another pop-punk-hip-hop-tinged record to your collection with Lil Lotus' Error Boy. It's basically Jxdn Lite, but with 12 songs under a half an hour—backed by collaborations with Travis Barker, John Feldmann, and Chrissy Costanza—it's easily digestible with a couple tracks worth a repeat or two.
The Maine
"Sticky" (The Knocks Remix)
The Maine's delicious "Sticky" gets a facelift by way of electronic duo The Knocks. The original version was a party from the start, but this new touch on the infectious pop-rock tune makes it ready for a dance floor debut.
Skrillex
"Don't Go" (feat. Justin Bieber & Don Toliver)
Skrillex keeps the hits coming with Justin Bieber on the fiery "Don't Go", fully equipped with an irresistible falsetto and pulsating production. It's instantly one of the best tracks Bieber's been a part of this year, even when you consider how solid his Justice record was.
Every Time I Die
"Post-Boredom"
Every Time I Die refused to drop a new album until they were able to safely tour on it. That time has come. The band's new album, Radical, is out this October and "Post-Boredom" is here to ease the wait. The breakdowns and riffs are top tier—par for the course for ETID—offering a poppy chorus to bob your head to.
Other new releases:
Third Eye Blind – "Again"
Big Red Machine – "Renegade" (Pop Version)
Kane Brown – "One Mississippi"
Trippie Redd – Trip at Knight
Switchfoot – "Lost Cause" / interrobang
Swae Lee, Jhené Aiko – "In the Dark"
TOMORROW X TOGETHER – The Chaos Chapter: Fight or Escape
Bastille – "Thelma + Louise"
Blossoms – "Care For"
Santana, Rob Thomas & American Authors – "Move"
Shawn Mendes & Tainy – "Summer of Love"
Iron Maiden – "Strategy"
Alesso & Marshmello – "Chasing Stars (feat. James Bay)"
dvsn & Ty Dolla $ign – "Memories"
Pitbull – "I Feel Good (feat. Anthony Watts & DJWS)"
Dream, Alec Benjamin – "Change My Clothes"
Surfaces, Tai Verdes – "Sheesh!"
James Blake – "Life Is Not The Same"
Disclosure – "In My Arms – Edit"
Keith Urban – "Wild Hearts"
Tiwa Savage, Brandy – "Somebody's Son"
Matoma, Jonah Kagen – "Summer Feeling"
Jaden – "Summer"
JoJo – "Worst (I Assume)"
Sturgill Simpson, Willie Nelson – "Juanita"
Dillion Francis – Reaching Out
R3HAB – "Runaway (with Sigala and JP Cooper)"
Olivia Vedder, Eddie Vedder, Glen Hansard – "My Father's Daughter"
Clinton Kane – "I GUESS I'M IN LOVE"
Red Velvet – Queendom – The 6th Mini Album
Asking Alexandria – "Alone Again" 
Lady A – "Where Would I Be"
Morgan Page, Lights – "Turn Off My Mind"
Pentatonix, ATEEZ – "A Little Space"Keane – Dirt EP