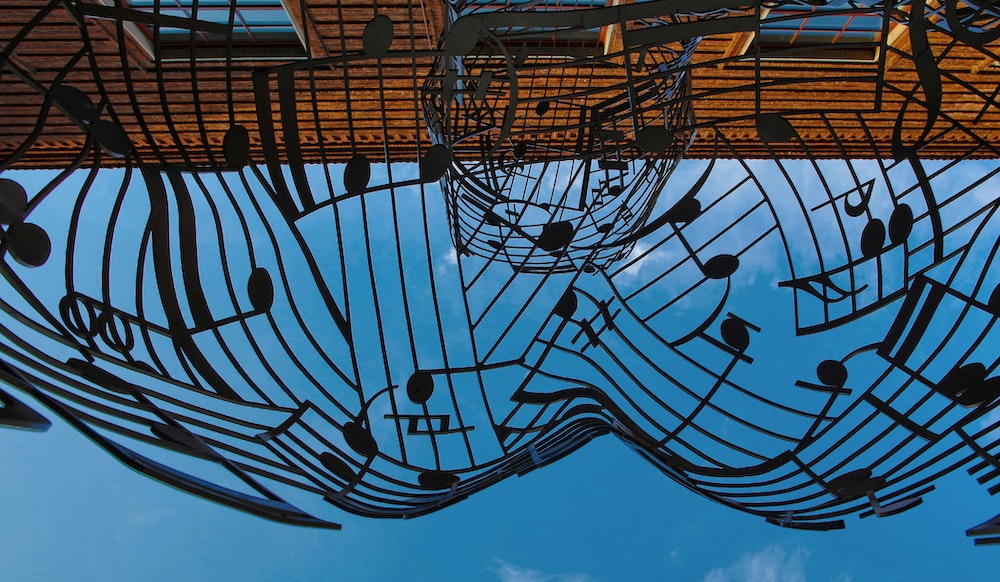 What better way to kick off a weekend than with new music? Fridays are always chock full of the latest songs and albums ready to be the soundtrack to everyone's antics, and here you'll find some of the week's standout releases. Whether you're ready to spin an anticipated song from a favorite artist or just taking a look at what's out there, there's a whole lot of tunes to dive right into. Who knows—maybe you'll find your next obsession.
Bring Me the Horizon
"Obey" (feat. Yungblud)
UK rock phenoms Bring Me the Horizon and Yungblud are a force to be reckoned with on the new single "Obey". Given BMTH's recent dabbling in borderline pop radio rock, longtime fans will be pleased to hear that the track is one of the band's heaviest in years—equipped with a huge chorus, of course. They're such a presence that Yungblud is barely noticeable as BMTH sits firmly in the driver's seat from start to finish.
McFly
"Growing Up" (feat. Mark Hoppus)
McFly's comeback has been nothing short of fantastic—especially now with the release of "Growing Up" featuring their old friend Mark Hoppus. Ironically, the song's lyrical content hardly matches its tone as the nostalgic pop-punk riffs and Hoppus' higher vocal register make you think you've hopped into a time machine set for 2003.
Sara Bareilles
More Love
Author. Actress. Singer. Songwriter. Queen.
Sara Bareilles really does it all and until she's literally ruling the world she'll always be considered underappreciated. Her latest offering is a collection from her recent TV show, Little Voice—More Love presents songs from the show performed by her instead of the cast. Like her Broadway-penned hit, Waitress, Bareilles' songwriting just works better when she's the one behind the mic. While the show and its cast are solid, her voice is simply matchless here.
Silverstein
"Infinite" (Alternate Version)
Silverstein, a band of many talents, show off their creativity with an alternate version of "Infinite"—a fan favorite off their latest record released earlier this year. The original brought an unruly amount of energy and intensity, which means an alternate version can only take it in the complete opposite direction. Despite the tough task, the band appropriately chills the track out to a more tranquil state while still keeping the song's authenticity intact.
AJR
"Bummerland"
Count on AJR to provide the next song to get stuck in your head. The indie-pop trio's "Bummerland" gives off an upbeat vibe that you can still use as fuel for summertime happenings—even if the track is about, well, being bummed out. With its catchy hand claps and fun vocal melody, it's a song that'll plant a smile whether bummed
or not.
Haim
"Summer Girl (Lauren Auder Remix)
With how unique their songs are, the thought of HAIM being remixed is almost redundant. Still, the beauty of their tracks let them breathe in whichever way they're presented—including remixes. This time, UK singer/songwriter Lauren Auder revamps "Summer Girl" and transforms it into something near-unrecognizable with an emphasis on its jazzy qualities coupled with deeper vocals.
The Dangerous Summer
"Come Down"
Gorgeous keys introduce The Dangerous Summer's new track "Come Down". Frontman AJ Perdomo joins in soon after and provides a goosebump-inducing falsetto, but things get even better in the final third of the song when the instrumentation explodes into full-band. After all these years, "Come Down" shows TDS still know how to impress.
Finneas
"What They'll Say About Us"
Superstar songwriter/producer Finneas has had a bit of a lowkey solo project compared to the one he helped create with sister Billie Eilish. Though he isn't blazing through the charts just yet, his solo material is actually pretty good. "What They'll Say About Us" is a bit of a continuation of what he does with Eilish production-wise, but his almost-raspy vocals put him and his sister in completely different worlds.
American Authors
"Counting Down"
A bit of folk-rock finds its way into American Authors' new single "Counting Down", and it's done incredibly well. The guitar strums and booming percussion are a bit familiar but few can hold a candle to the band's ability to craft a legendary hook.
Other new releases:
The Rolling Stones – Goats Head Soup (Deluxe)
Sza – "Hit Different (feat. Ty Dolla $ign, The Neptunes)"
Big Sean – "Lithuania"
Ava Max – OMG What's Happening
G-Eazy – "Down (feat. Mulatto)"
Scott Helman – Nonsuch Park [read our review]
Paloma Faith – "Better Than This"
Ari Lennox – "If You Want Me to Stay (with Anthony Ramos" 
MAX – "Working for the Weekend (feat. bbno$)"
Cheat Codes – "Between Our Hearts (feat. CXLOE)"
I Don't Know How But They Found Me – "Leave Me Alone"
Fickle Friends – "What a Time"
WONHO – Synonym #1 : Right for Me
Melody Gardot & Sting – "Little Something"
Nao – "Woman (feat. Lianne La Havas)"
Jackson Wang, Galantis – "Pretty Please"
St. Vincent – "New York (feat. Yoshiki)"
Ozuna, Doja Cat, Sia – "Del Mar"
Big Sean – Detroit 2
Marshmello, 42 Dugg – "Baggin'"
Corey Taylor – "HWY 666"
Saweetie – "Tap In (feat. Post Malone, Da Baby & Jack Harlow)"
FLETCHER – "The One"
Monica, Lil Baby – "Trenches"
Rich The Kid, Quavo, Takeoff – "Too Blessed"
Joyner Lucas, Ashanti – "Fall Slowly"
Noble Oak, KONGOS – "Morning (KONOS Remix)"
Chloe x Halle – "Do It (feat. Doja Cat, City Girls & Mulatto)"
Super M – "Tiger Inside"
B.o.B (the flat-earther) – "ZZZ's"
Aloe Blacc – "Hold on Tight"
HRVY & Matoma – "Good Vibes"