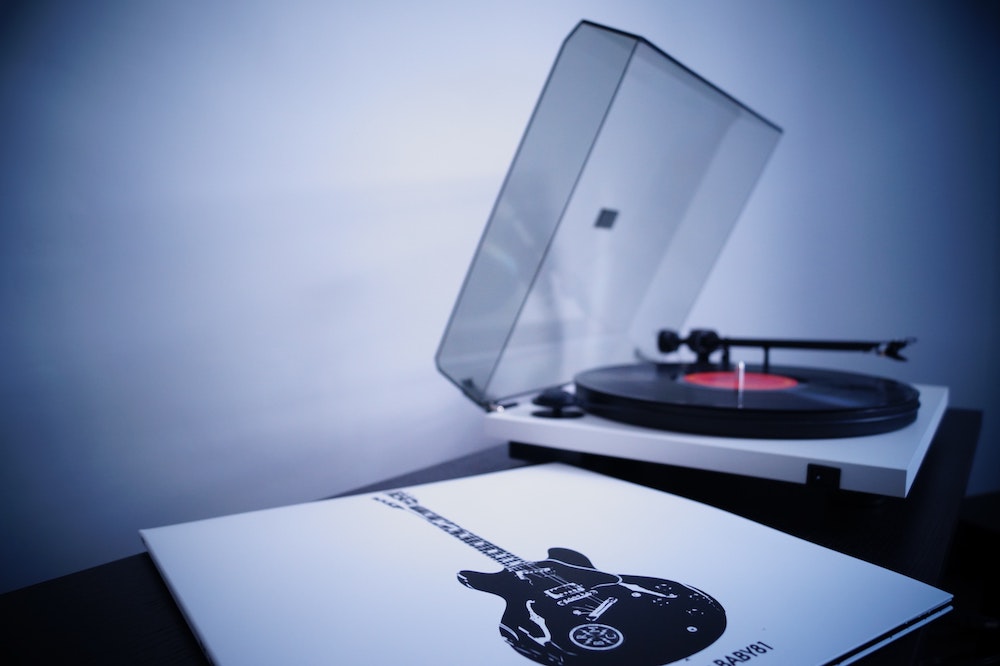 What better way to kick off a weekend than with new music? Fridays are always chock full of the latest songs and albums ready to be the soundtrack to everyone's antics, and here you'll find some of the week's standout releases. Whether you're ready to spin an anticipated song from a favorite artist or just taking a look at what's out there, there's a whole lot of tunes to dive right into. Who knows—maybe you'll find your next obsession.
New Found Glory
"Himalaya"
No matter which direction New Found Glory goes from album to album, they always have a soft spot for the harder side of things—case in point, "Himalaya". Off their new record, out next month, the track is filled with heavy riffs as guitarist Chad Gilbert takes command of the bridge, channeling his inner-hardcore roots.
The 1975
"Guys"
"Guys" is a beautifully wholesome love song (but not the kind you'd expect). The 1975 deliver an ode to one another as vocalist Matt Healy unravels his feelings about his band and the other members—attempting to sum up years of friendship in a four and a half minute song. It's largely successful: "Guys" could be the band's most honest song to date with melodies that rival some of their biggest songs.
Stand Atlantic
"Wavelength"
You may come for Stand Atlantic's pop-punk prowess but you stick around to see what else is up their sleeve. The Australian group's been killing it with their one-off singles released over the past year, and "Wavelength" keeps up that hot streak. Though in line with the hooky goodness you'd expect, the light electronic elements make it a standout Stand Atlantic track.
Various Artists
Scoob! The Album
Don't let the decent soundtrack to this new Scooby-Doo movie distract you from the fact that Hollywood is once again destroying any remnants left of your childhood. Though this compilation can't possibly measure up to the Scooby soundtracks of old (the one feat. Simple Plan, Mxpx, and Outlast…on the same record), it's got some jams: Thomas Rhett, Kane Brown, and Ava Max's cut is pure summer fuel, while Galantis serves up a proper club anthem in "I Fly".
Future
High Off Life
Ever since Future released his "Life Is Good" single earlier this year, you could argue that life has, in fact, not been all that good…but the state of his music says the opposite…at least for him. High Off Life, announced only days ago, is the latest record from the prolific rapper who never seems to take a night off from the studio and his 21-track LP never shows signs of fatigue. While the energy is high front to back, most will be returning for "Solitaires", the surefire hit with Travis Scott.
Jonas Brothers
"X (with KAROL G" / "Five More Minutes"
Making sure 2020 is just as successful as last year, Jonas Brothers keep expanding their sound on a set of new singles. "X", featuring a co-write from OneRepublic's Ryan Tedder and pop mainstay Shellback, enters Latin territory with help from Colombian singer/songwriter Karol G. On the other side of the spectrum, the chilled-out "Five More Minutes" is the pop-rock chaser needed after what is essentially "Sucker" Part 2 on "X".
Charli XCX
How I'm Feeling Now
How I'm Feeling Now was merely words coming from Charli XCX's mouth when
she announced the creation of a new album back in April. Now, the record channels feelings that could probably only be formed in song to begin with. For an artist
who has seen album delays, song leaks, 'mixtapes', and hits throughout her career, her fourth LP's unconventional methods find Charli right at home. Figuratively
and literally.
Katy Perry
"Daisies"
Katy Perry's powerful new single "Daisies" has a similar energy to what "Roar" gave off—but without the cheesiness. From her forthcoming album, out in August, this track is lightly tinged with a familiar folk sound, and the co-writing from Jon Bellion lets Perry flourish to her strong suits vocally.
Misery Signals
"The Tempest"
Founding member of Misery Signals, Jesse Zaraska makes his illustrious return to the studio for the first time in sixteen years on their new song "The Tempest". Originally re-joining the band back in 2014, the new track is a stark reminder as to why this metalcore act became so iconic.
MxPx
"Worries"
Music can be an escape from problems but it can also help you face them head on. Pop-punk legends MxPx turn their worries into a classic feel-good jam, equipped with a hard-hitting chorus wrapped up in a short but sweet two-minute package. It's the kind of song that makes you feel like everything just might be ok.
Other new releases:
Asking Alexandria – Like a House on Fire
LANY – "Good Guys"
Kygo, One Republic – "Lose Somebody"
MKTO – "How Much"
Migos – "Racks 2 Skinny"
Noah Cyrus – The End of Everything
Tory Lanez – "Temperature Rising"
Perfume Genius – Set My Heart on Fire Immediately
X Ambassadors – "Zen (with K. Flay & grandson)"
VÉRITÉ – "think of me (acoustic)"
Lennon Stella – "Summer Feelings (feat. Charlie Puth)"
FLETCHER, Kito – "Bitter"
Julia Michaels – "Give it to You (from Songland)"
Jake Miller – "Saved Me"
Biffy Clyro – "Tiny Indoor Fireworks"
Chloe x Halle – "Do It"
i_o, Lights – "Annihilation"
Everything Everything – "Arch Enemy"
The Ghost Inside – "Pressure Point"
Yuna – "Stay Where You Are"
Tiesto, ILIRA – "Lose You"
Khalid, GASHI – "Delali"
Mokita, Ella Vos – "Take It Back (80s Ballad Version)"
Ok Go – "All Together Now"
Alice Cooper – "Don't Give Up"