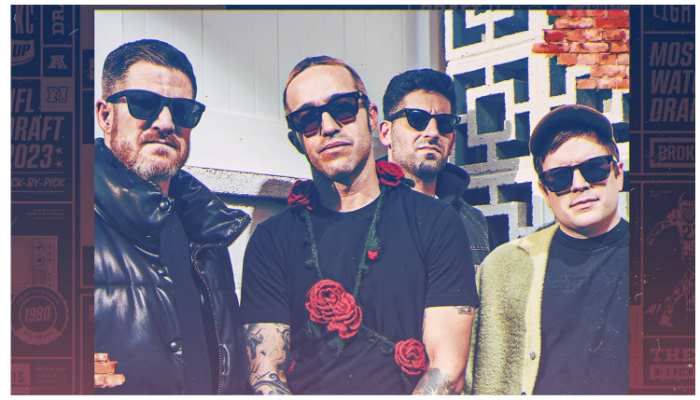 UPDATE (April 28, 2023 5:15 PM ET): We will continue to update when video footage becomes available again from Fall Out Boy's NFL Draft Concert Series performance.
Fall Out Boy took us all the way to the end zone at this year's NFL Draft Concert Series! Following Round 1 of the 2023 NFL Draft which concluded after the Kansas City Chief's No. 31 pick, Fall Out Boy took to the Kansas City Draft Theater stage.
Fall Out Boy's performance at the 2023 NFL Draft Concert Series was nothing short of electric filled to the brim with a high-energy stage presence and bursting instrumentation. The four-piece, Patrick Stump, Pete Wentz, Joe Trohman, and Andy Hurley, claimed the stage with opener "Love From The Other Side" pulled from their recent release So Much (For) Stardust before following with their breakout hit "Sugar, We're Goin Down."
Fall Out Boy 2023 NFL Draft Tracklist
Love From The Other Side
Sugar, We're Goin Down
The Phoenix
Immortals
Dance Dance
Hold Me Like A Grudge
I Don't Care
My Songs Know What You Did In The Dark (Light Em Up)
This Ain't A Scene, It's An Arms Race
Thnks fr th Mmrs
Centuries

Ahead of their final song, "Centuries," the stadium erupted with "happy birthday" cheers to celebrate frontman Patrick Stump's birthday (April 27).
Highlighted by Stump's belting vocal delivery, his perfectly positioned prickly growl, and command of the mic, Fall Out Boy ran through 11 singles—new tracks from their recent full-length to "Sugar, We're Goin Down" and "Dance Dance," which cemented them as a permanent fixture of the alternative music scene at the time of their respective releases.
More on 2023 NFL Draft
The NFL Draft runs from April 27-29 with a special musical guest performance to conclude each day. The three-day event at the Draft Theater in front of Union Station, which kicked off with a performance from Fall Out Boy, will see Mötley Crüe's set on Friday evening and Thundercat's performance on Saturday evening. All of the performances will be broadcast live on the NFL's official website, Facebook page, and YouTube channel.
In addition to the three headline acts for the NFL Draft Concert Series, Kansas City Chiefs tight end and Super Bowl champion, Travis Kelce will host the Kelce Jam Music Festival during NFL Draft weekend. Performances at Kelce's festival will include Machine Gun Kelly, Kansas City native Tech N9ne, Rick Ross, and Loud Luxury. Kelce Jam Music Festival will take place at the Azura Amphitheater in Bonner Springs, Kansas, on Friday, April 28.
"With the draft coming to KC, I think it's perfect timing for me to throw the biggest music festival that's ever come here," Kelce shared. "We'll have some unreal stage productions, Kansas City's best food, tons of attractions, and football-related games. This will be a whole lot of fun."
"​​I took note from what Gronk did last year," Kelce continued. "I want to throw a big party knowing that the draft is coming to Kansas City. It's a special event for the city to host…I'm going to need Kansas City to come out and be electric with me."