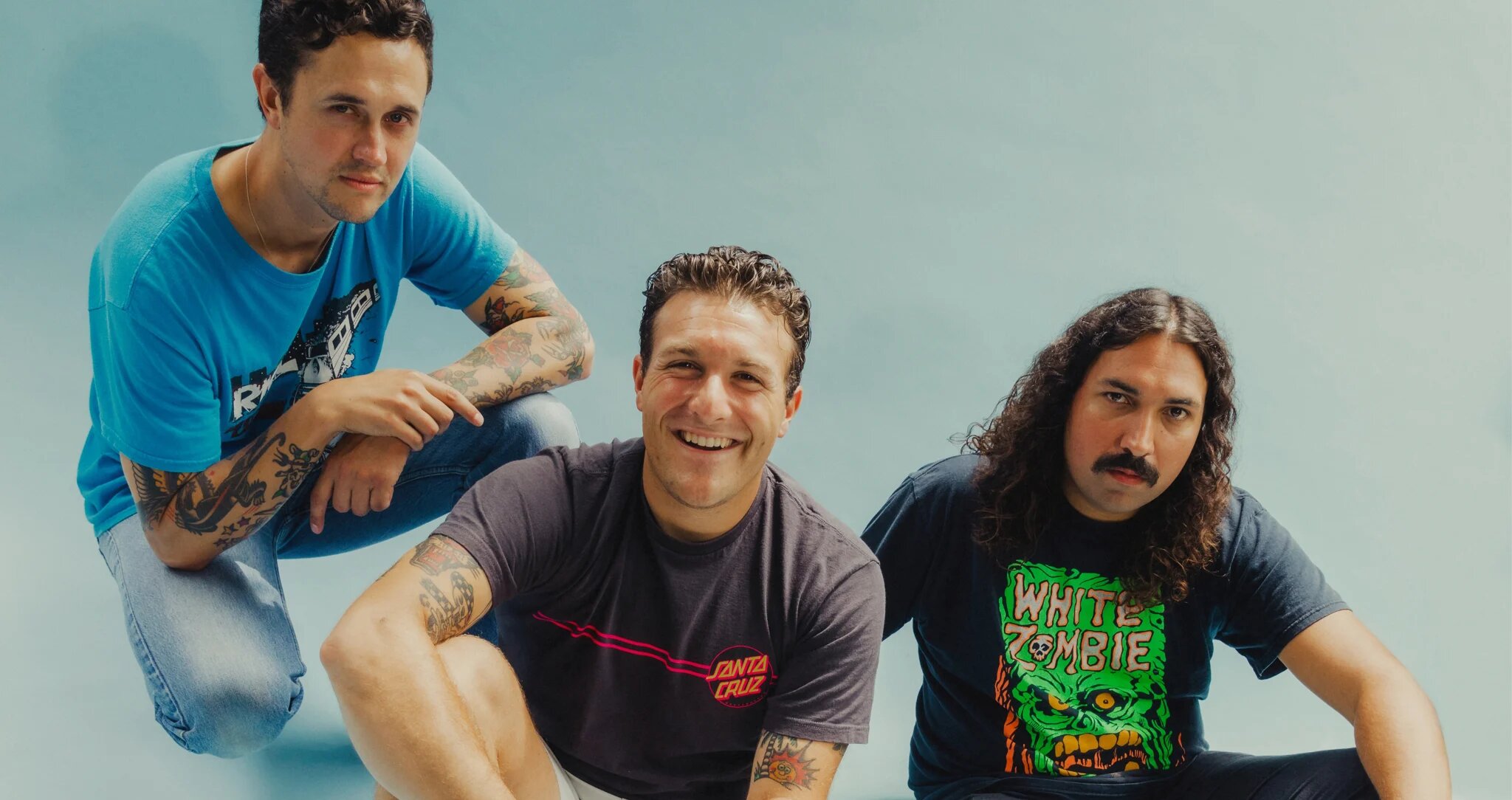 Hardcore three-piece Drain have released their boisterous cover of the Descendents' 1985 single "Good Good Things" via Epitaph Records. The classic punk-rock track which assisted in launching the Descendents into fame was featured on their sophomore album I Don't Want to Grow Up.
Drain's rendition of "Good Good Things" captures a similar essence as the Descendents' version, albeit with a more modern punk twist that showcases vocalist Sammy Ciaramitaro's melodic prowess. The group's cover will also be featured on their forthcoming full-length album Living Proof which is expected to drop via Epitaph on May 5. You can preorder the record here.
Ciaramitaro explains, "The Descendents were a huge band for me as both a teenager and as an adult. I know I can speak for all of us when I say that it's an honor to pay homage and respect to them, as a band that changed the game for us. I just straight up love this track and in a weird way felt like lyrically, it hit home and touched on the same themes that Drain is all about."
Check out Drain's cover of the Descendents' "Good Good Thing" below.
Following the release of their eagerly-awaited full-length project, Drain will also be circling the pit with an extensive North American headline tour. The group's "Outbreak Tour" sponsored by Monster Energy will feature the likes of Drug Church, Gel, MSPAINT, Magnitude, Restraining Order, Combust, Gumm, Torena, and Outta Pocket rotating as support across the 27-date trek. Drain's "Outbreak Tour" will kick off on May 25 in Tacoma, WA, and concludes in the band's hometown, Santa Cruz, CA, on June 24. You can check out the band's full routing below and get tickets here.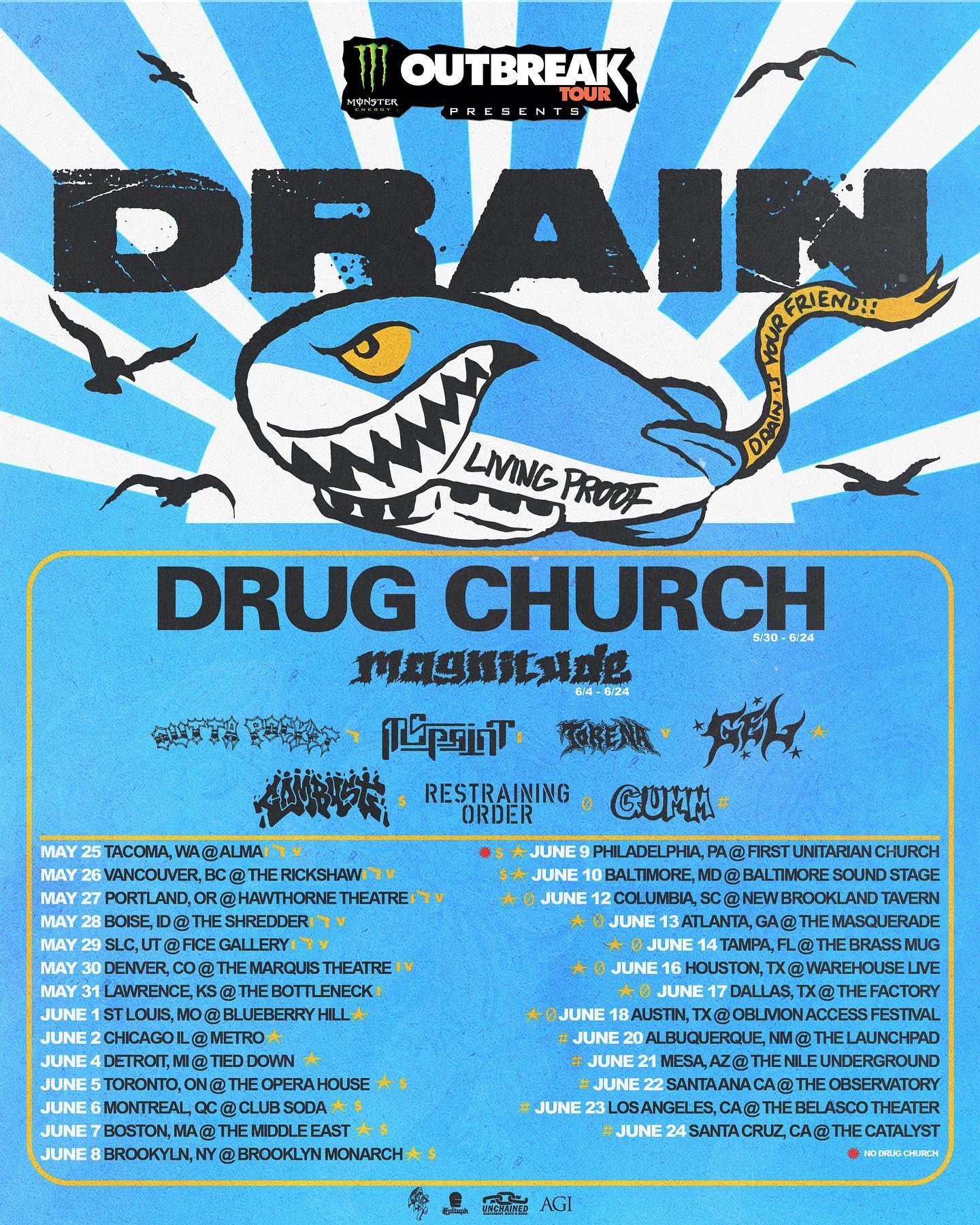 Drain Tour Dates:
May 25—Tacoma, WA @ Alma*
May 26—Vancouver, BC @ The Rickshaw*
May 27—Portland, OR @ Hawthorne Theatre*
May 28—Boise, ID @ The Shredder*
May 30—Denver, CO @ The Marquis Theater (with MSPAINT & Torena)+
May 31—Lawrence, KS @ Bottleneck (with MSPAINT )+
June 1—St. Louis, MO @ Blueberry Hill~
June 2—Chicago, IL @ Metro~
June 4—Detroit, MI @ Tied Down Fest~
June 5—Toronto, ON @ The Opera House^
June 6—Montreal, QC @ Club Soda^
June 7—Boston, MA @ Middle East^
June 8—New York, NY @ Brooklyn Monarch^
June 9—Philadelphia, PA @ First Unitarian Church (without Drug Church)^
June 10—Baltimore, MD @ Baltimore Soundstage^
June 12—Columbia, SC @ New Brookland Tavern>
June 13—Atlanta, GA @ The Masquerade>
June 14—Tampa, FL @ Brass Mug>
June 16—Houston, TX @ Warehouse Live>
June 17—Dallas, TX @ The Factory>
June 18—Austin, TX @ Oblivion Access Festival>
June 20—Albuquerque, NM @ Launchpad<
June 21—Phoenix, AZ @ The Nile Underground<
June 22—Santa Ana, CA @ The Observatory<
June 23—Los Angeles, CA @ The Belasco Theater<
June 24—Santa Cruz, CA @ The Catalyst Club<
*With MSPAINT, Outta Pocket, and Torena
+With Drug Church
~With Drug Church and GEL
^With Drug Church, Magnitude, GEL, and Combust
>With Drug Church, Magnitude, GEL, and Restraining Order
<With Drug Church, Magnitude, and Gumm