This week: Shadowhunters, Fresh Off the Boat, For The People, Chicago Med, Riverdale, The X-Files, Grown-ish, Speechless, 9-1-1, Krypton, Station 19, Atlanta, Santa Clarita Diet, Alexa & Katie, Roxanne Roxanne, The Walking Dead
Shadowhunters
"On Infernal Ground" – Season 3 premiere
Tues Mar 20 – 8PM
On Freeform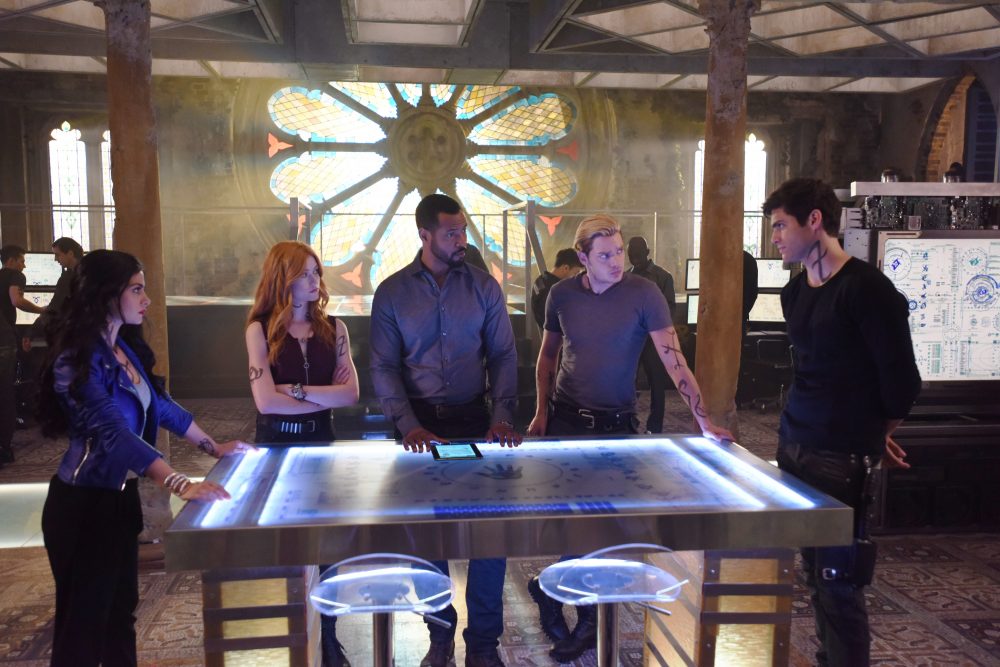 Photo: 

(Freeform/John Medland)
Season 3 of Shadowhunters is looking up for Clary (Katherine McNamara); she's all set for her official rune ceremony, and she and Jace (Dominic Sherwood) are seemingly stronger than ever. We just hope it lasts. This is Shadowhunters, after all…we give it ten minutes before someone shows up to rain on their parade—whether it's the huge secret about making a wish with the angel Raziel (Anthony Head) at Lake Lyn, or something even more darkly delicious. Clary's feeling all kinds of guilt, especially when she's praised for defeating Valentine (Alan Van Sprang) in front of her entire Shadowhunter family (damn, they came for a show and they're about to get more than they bargained for).
Shadowhunters returns to Freeform for its third season tonight.
From Freeform:
Secrets abound as the Shadowhunters and Downworlders try to get back to normal after Valentine's death.
—
Fresh Off the Boat
"King in the North" – Season 4 finale
Tues Mar 20 – 8:30PM
On ABC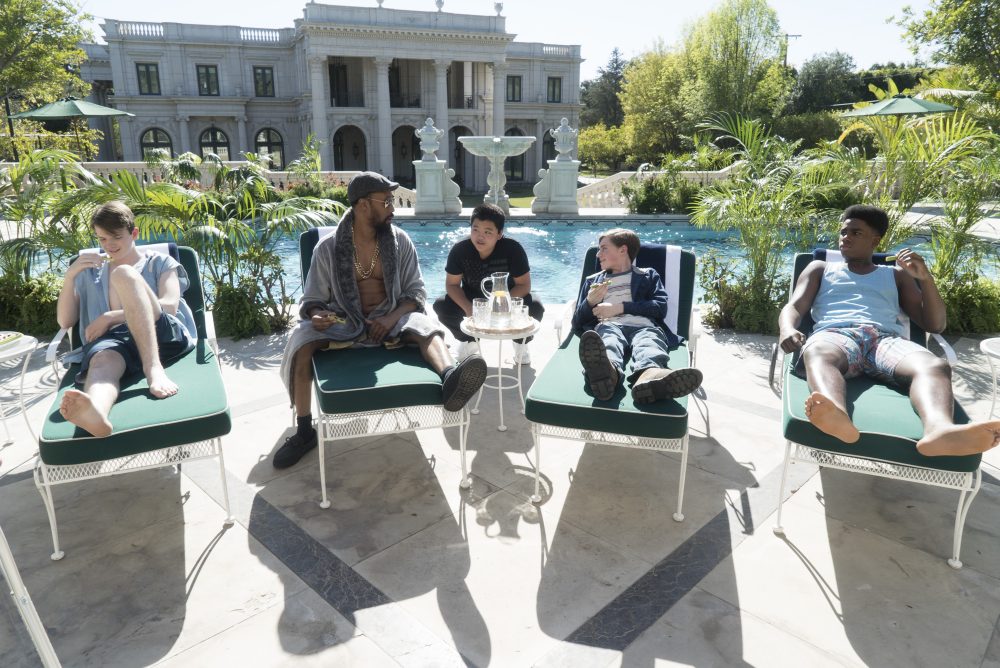 Photo: ABC/Richard Cartwright
Hidden agendas are never good…although they do make for damn good TV. In the season 4 finale of Fresh Off the Boat, Honey (Chelsey Crisp) is finally ready to relax before the baby arrives—but, you guessed it, Jessica (Constance Wu) has other ideas. Ideas to use the vacation to get Stephen King's endorsement for her novel. Ahh Jessica, we could write a whole book about you and your crazy schemes, but we wouldn't have it any other way.
Catch the season 4 finale of Fresh Off the Boat tomorrow night on ABC.
From Freeform:
Honey plans a relaxing vacation before the baby comes, but Jessica turns the trip into a crazy quest to get Stephen King's endorsement for her novel. When Grandma Huang decides to move out, Louis panics and does everything he can to make sure she knows how welcome she is. Meanwhile, Eddie, Nicole and their friends plan to wear matching suits to the school dance until a dress code demands that the girls must wear dresses, leading Eddie and Nicole to rebel.
—
For The People
"Rahowa" – Season 1, Episode 2
Tues Mar 20 – 10PM
On ABC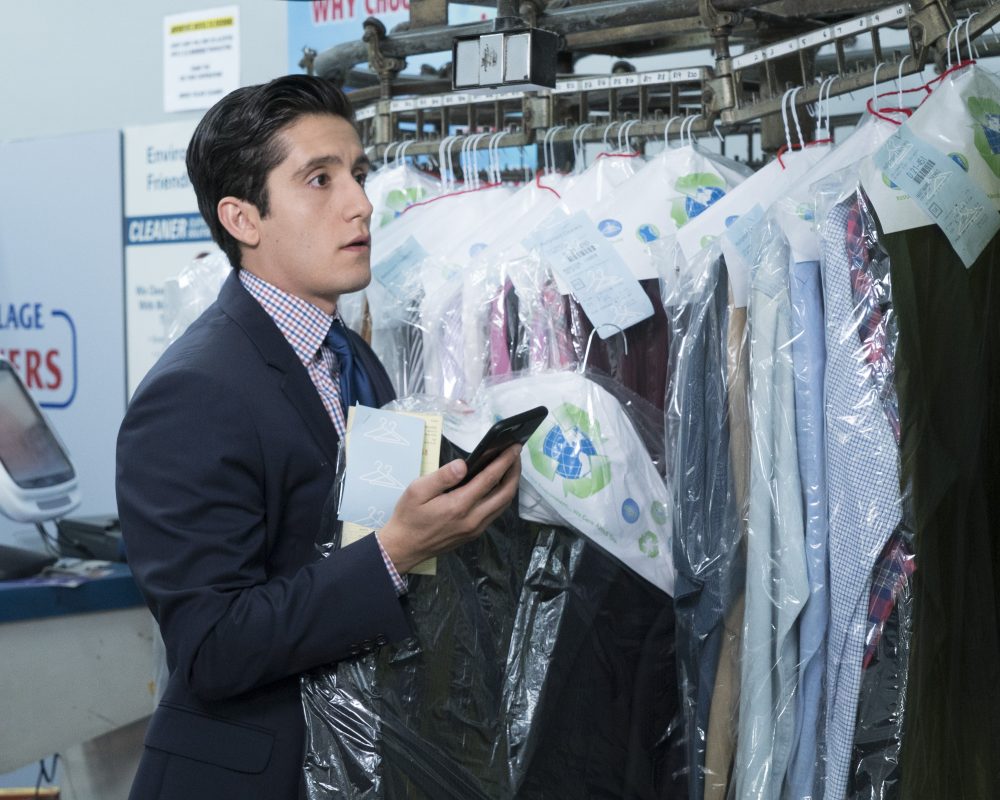 Photo: ABC/Byron Cohen
The latest Shondaland legal drama is finding its rhythm in episode 2 and we're officially gripped. Our young lawyers made it through the toughest first day in For The People but on the second round of cases things only get more challenging. Can we just take a minute to shoutout to idobi's Wesam Keesh (Jay Simmons), host of our new show Wesam's World, for holding his own in Shondaland and being the driving force of this week's episode. His new client forces Jay to pit his morals against his duty and to learn what being a public defender truly means. That's not the only lesson to be learned—pride comes before a fall and Seth (Ben Rappaport) had better watch his step. We're all about the learn the difference between a maze and a labyrinth…and how our lawyers will be changed on the other side.
For the People airs tomorrow on ABC.
From ABC:
The six young lawyers are even more determined to bring home wins and prove they are worthy of The Mother Court, as they tackle their second round of cases. Jay must set aside his personal feelings as he defends a client with controversial beliefs, and Sandra's idealism leads to an important lesson from Ms. Krissman.
—
Chicago Med
"Born This Way" – Season 3, Episode 12
Tues Mar 20 – 10PM
On NBC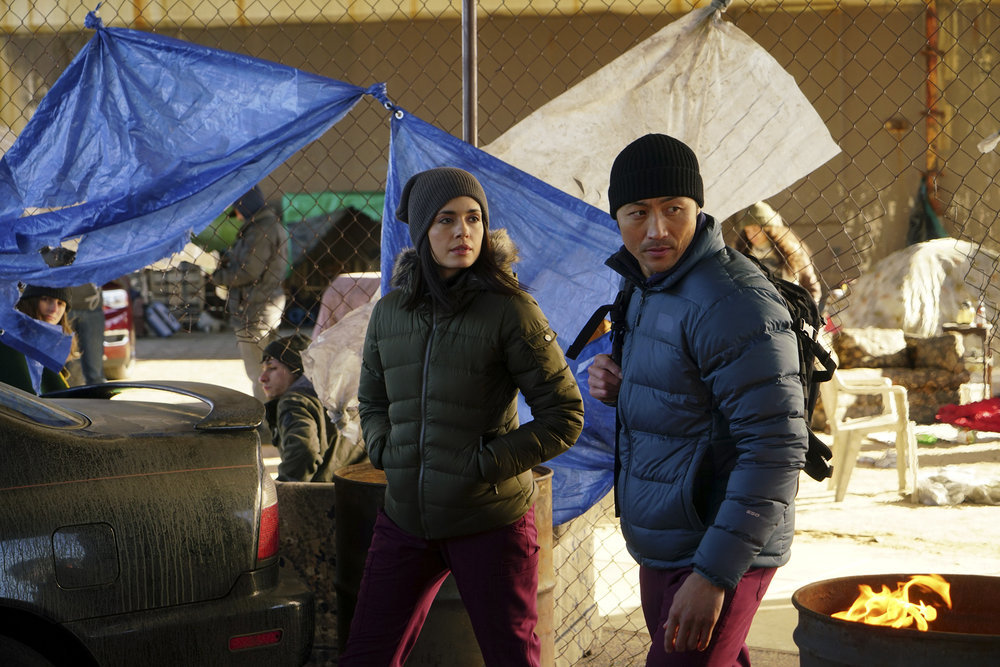 Photo by: Elizabeth Sisson/NBC
Chicago Med takes the theme of "Born This Way" and spins it so many different ways you'll be flying on emotional and ethical whirlwinds. You'd be correct in assuming there's a baby coming, one who's about to take Dr. Choi (Brian Tee) and Dr. Manning (Torrey DeVitto) out of the hospital. They're headed back to the homeless teen camp. Meanwhile two patients come into the ED in need of help from two entirely different angles. Halstead (Nick Gehlfuss) and April (Yaya DaCosta) struggle with a patient who's doing the right thing but with a horrible secret, while Rhodes (Colin Donnell) and Bekker (Norma Kuhling) go head-to-head over a transplant patient. Things are not looking good for anyone but we're safe in the knowledge that the patients are in the best hands. If only the burgeoning relationship between Rhodes and Bekker would hurry up and flatline with a do not resuscitate order (who us? Dramatic? nah). This week on Chicago Med is intense and we're totally here for it.
New episodes of Chicago Med air every Tuesday on NBC.
From NBC:
MANNING AND DR. CHOI ARE FACED WITH A TOUGH DECISION – MICHEL GILL GUEST STARS – Upon hearing news of a pregnant teen, Dr. Manning (Torrey DeVitto) and Dr. Choi (Brian Tee) venture to a homeless encampment to help deliver a baby under dire circumstances. Dr. Rhodes (Colin Donnell) and Dr. Bekker (Norma Kuhling) argue about the best way to treat a young boy with a chronic disease. Dr. Halstead (Nick Gehlfuss) and April (Yaya DaCosta) are put in an uncomfortable situation when they find out their patient is a pedophile. Goodwin (S. Epatha Merkerson) and Maggie (Marlyne Barrett) have to deal with a lawsuit against the hospital. Dr. Charles (Oliver Platt) learns of important news pertaining to Dr. Reese's (Rachel DiPillo) father (guest star Michel Gill).
—
Riverdale
"Chapter Twenty-Nine: Primary Colors" – Season 2, Episode 16
Wed Mar 21 – 8PM
On The CW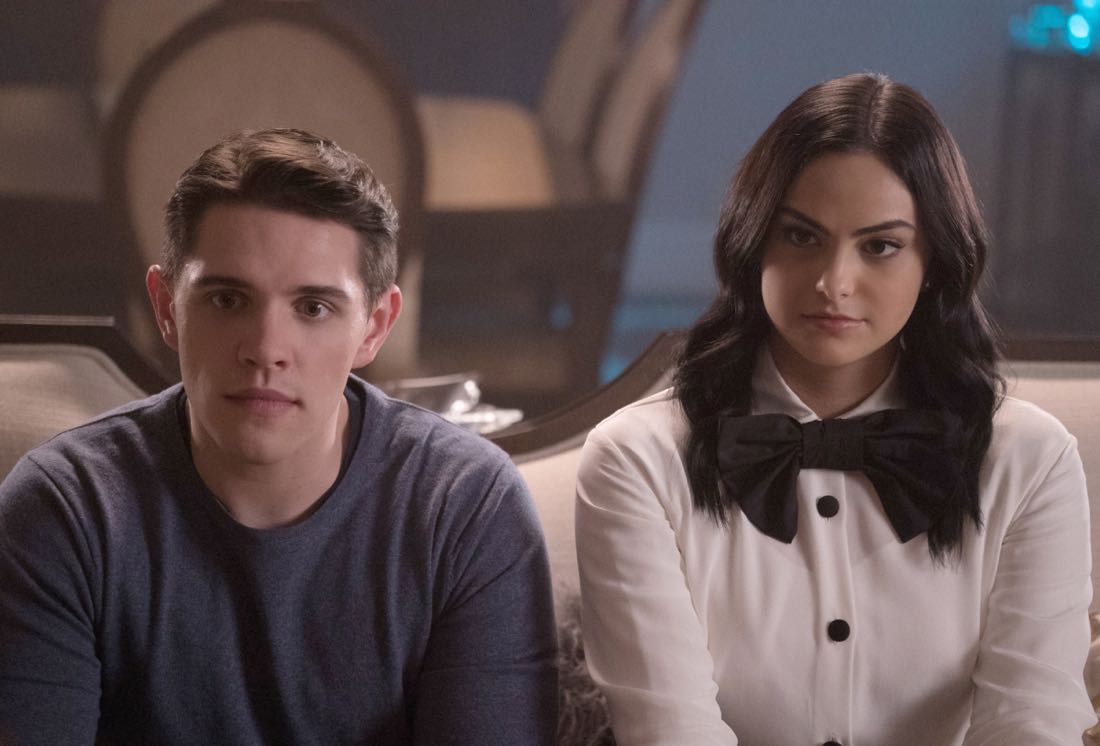 Photo: Katie Yu/The CW — © 2018 The CW Network, LLC. All Rights Reserved.
Sorry, we can't write about Riverdale right now, we're too busy doing our "toldya so" dance because…wait for it…wait for it…Chic (Hart Denton) isn't who he said he is! Hallelujah, all the pennies in the entire town of Riverdale have finally dropped—only, we don't know exactly who he is yet. Guess we're about to find out (and honestly, it may have been better for everyone involved when we didn't know).
Head to Riverdale every Wednesday on The CW.
From The CW:
A HOUSE DIVIDED — In the aftermath of Hiram's (Mark Consuelos) newly announced plans for Riverdale, Jughead (Cole Sprouse) resorts to drastic measures to voice his opposition. After making her own big announcement, Hermoine's (Marisol Nichols) friend Andy Cohen (guest star Andy Cohen) comes to town to lend a hand. Meanwhile, Veronica (Camila Mendes) goes against her parent's wishes to keep a low profile when she decides to run for student council president. Elsewhere, Mary (guest star Molly Ringwald) arrives in Riverdale just as tensions between Fred (Luke Perry) and Archie (KJ Apa) reach a breaking point. Finally, following a series of mysterious events, Cheryl (Madelaine Petsch) begins to fear that someone is out to get her.
—
The X-Files
"My Struggle IV" – Season 11 finale
Wed Mar 21 – 8PM
On FOX
The season 11 finale of The X-Files airs this Wednesday on FOX.
From TV Guide:
In the Season 11 finale, Mulder and Scully rush to find an on-the-run William, while the Cigarette Smoking Man pushes forward with his ultimate plan.
—
Grown-ish
"Crew Love" – Season 1, Episode 12
Wed Mar 21 – 8PM
On Freeform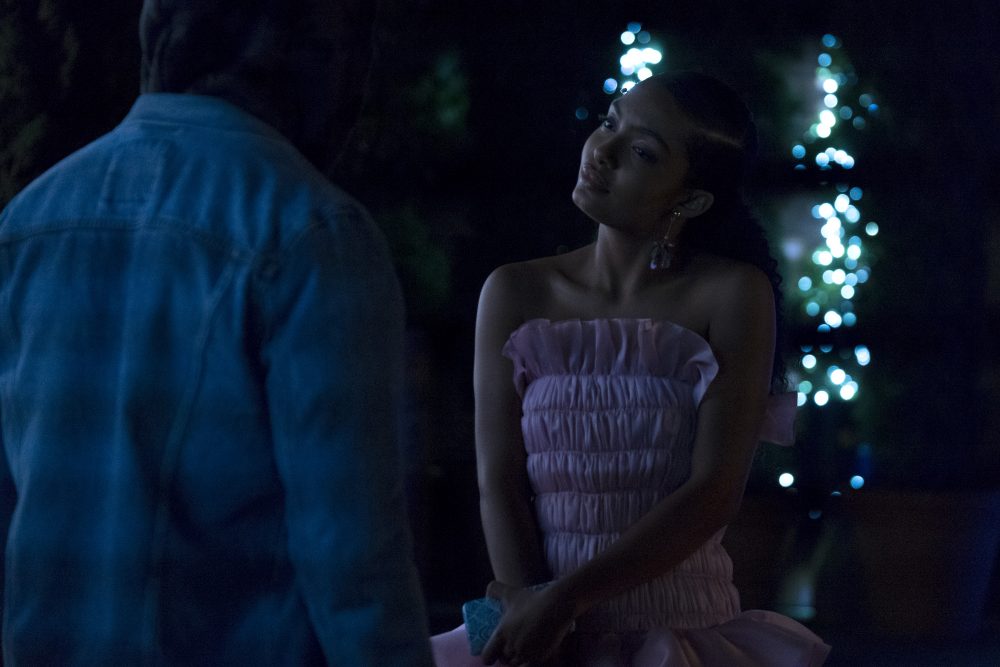 Photo: 

Freeform/John Fleenor
How do you know when you're in a relationship? You do all your business together (yes, even that…we were trying to be polite). Jazz (Chloe Bailey) and her girls get together to discuss the new and true meaning of #RelationshipGoals in Grown-ish this week. We only wish we had a support group as strong as this one…but what's got Zoey (Yara Shahidi) all twisted up?
Watch Grown-ish every Wednesday on Freeform.
From Freeform:
The crew gets ready for Freshman Formal, and Zoey, Aaron and Luca confront their issues with modern-day relationships. Meanwhile, Jazz revels in a new relationship and Ana realizes she's the tamest of the group in a game of "Never Have I Ever."
—
Speechless
"N-O—NOMINEE" – Season 2 finale
Wed Mar 21 – 8:30PM
On ABC
Speechless season 2 ends this Wednesday on ABC.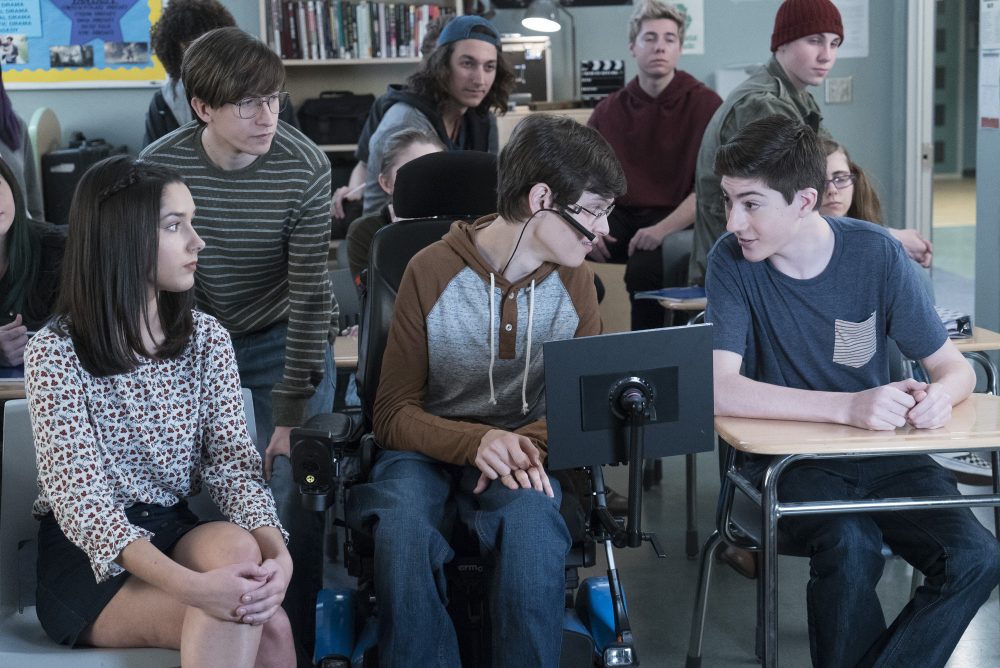 Photo: 

ABC/Eric McCandless
From ABC:
JJ travels to a film festival where he's been nominated for an award but is upset when he learns the real reason he's being honored.  Jimmy stays home and struggles to protect Dylan from the truth about an impending eviction. And Ray takes an unlikely and painful route to basketball stardom in hopes of winning back Taylor, on the season finale of "Speechless," WEDNESDAY, MARCH 21 (8:30–9:00 p.m. EDT), on The ABC Television Network, streaming and on demand.
—
9-1-1
"A Whole New You" – Season 1 finale
Wed Mar 21 – 9PM
On FOX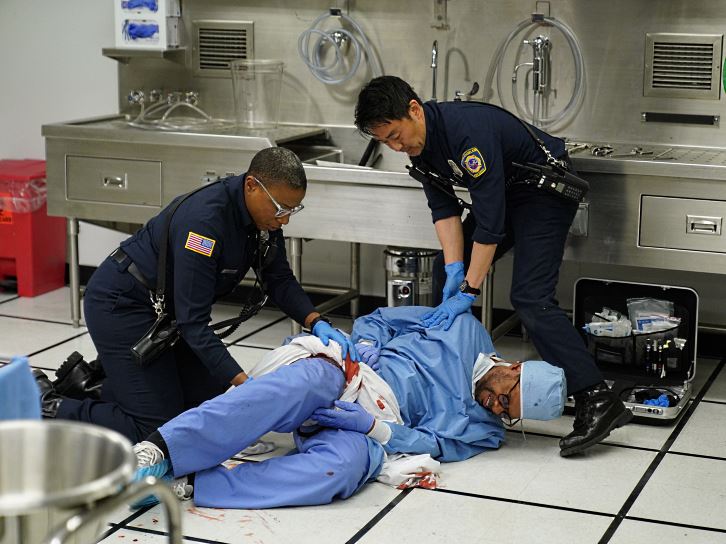 Credit: FOX
All season 9-1-1 has kept our hearts racing at hyperspeed—not to mention breaking them then putting them right back together—and the finale isn't going out without a fight. Our first responders hit the scene of a motorcycle crash so horrific it has us a feeling incredibly faint. Added to the thought of Abby (Connie Britton) leaving for good and we may not uncurl from the fetal position on the floor until season 2.
Catch the season finale of 9-1-1 on FOX this Wednesday.
From TV Guide:
In the Season 1 finale, the first responders take calls to help an unusual domestic disturbance, a "death" at a psychic's and a horrific motorcycle crash. Meanwhile, Bobby dips his toe into the dating pool, Abby takes a walk down memory lane, Buck is confronted by his past actions and Athena tries to start her new life.
—
Krypton
Series premiere
Wed Mar 21 – 10PM
On Syfy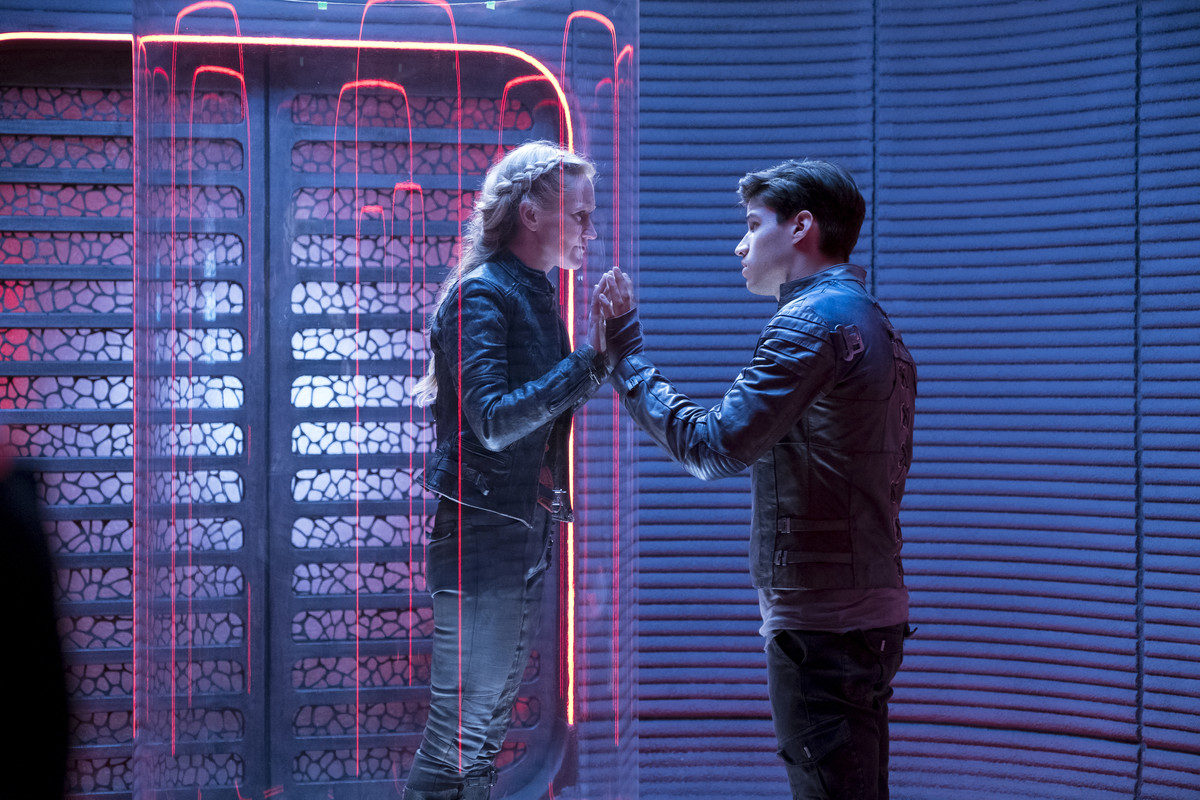 Photo: Steffan Hill/Syfy
Syfy might just have a new hit on their hands—and no, it's nothing like Sharknado. Krypton tells us a story we haven't heard yet. Sure, we know Superman's home planet expired and landed him smack dab in the corn fields of America, but what were things like before that? By taking us back two generations, Syfy introduces us to Kal-El's biological grandfather and the struggles he endured before everyone's favorite superhero was born. Tragedy and struggle seem to be inescapable, but if anything is absolutely certain, it's that this is one origin tale you don't wanna miss.
Head to Krypton this Wednesday on Syfy.
From Syfy:
Set two generations before the destruction of the legendary Man of Steel's home planet, Krypton follows Superman's grandfather — whose House of El was ostracized and shamed — as he fights to redeem his family's honor and save his beloved world from chaos.
—
Station 19
"Stuck" / "Invisible To Me" – Double series premiere
Thurs Mar 22 – 9PM
On ABC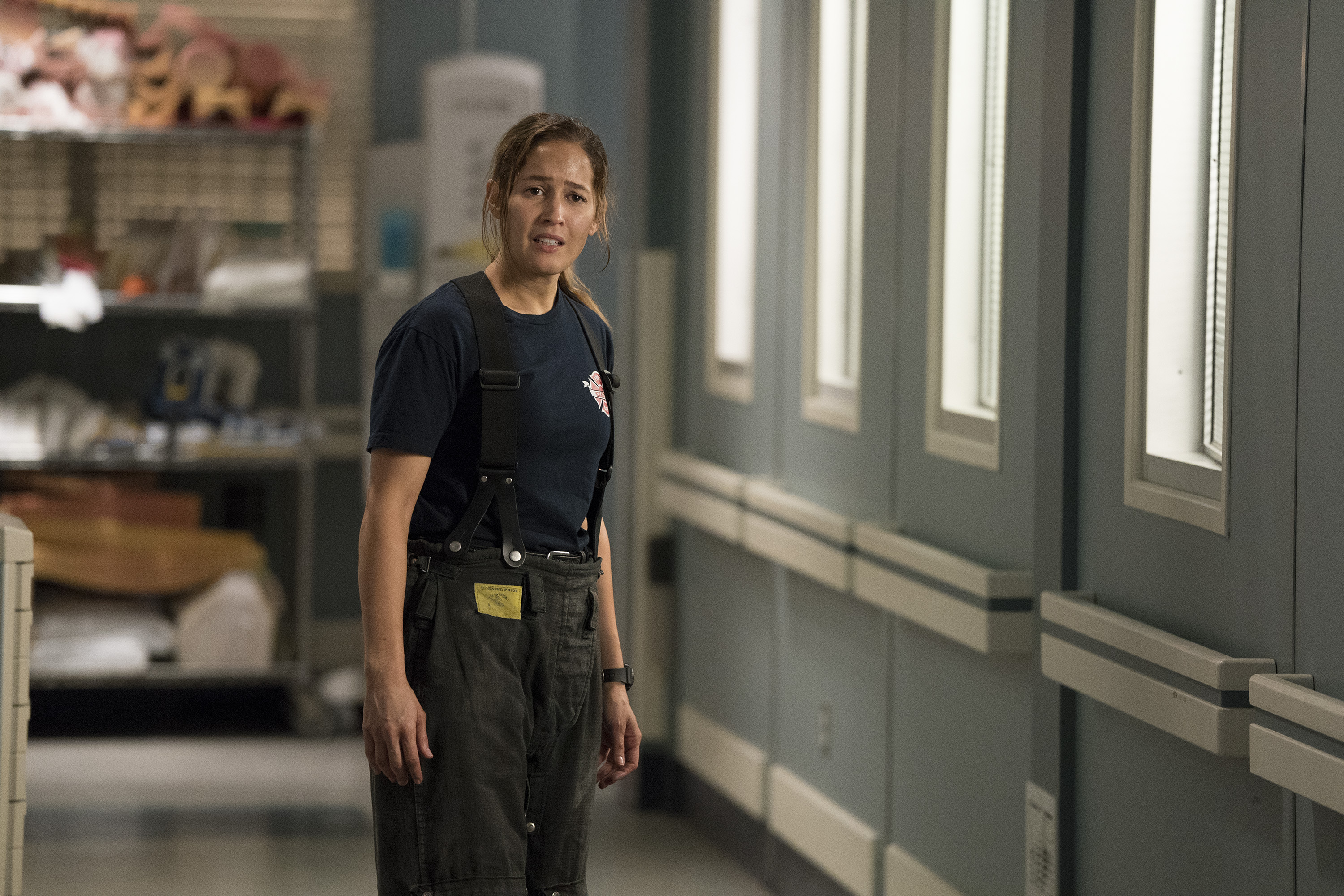 Photo: 

ABC/Mitch Haaseth
Shonda Rhimes may have left ABC but Shondaland is still going strong with the launch of Station 19, a firehouse spin off of Grey's Anatomy for fans who need an extra Thursday night fix. The new show focuses on the Seattle Fire Station 19 team and its challenges in the field on and off the truck. With firefighter Andy Herrera (Jaina Lee Ortiz)—we've missed you—forced to step up as captain (maybe), she's trying to maintain control not only of her crew but of keeping her relationship with colleague Jack (Grey Damon) under wraps. Be assured that their bond will get tested right out of the gates. After all, when you have a cute ex-love-of-your-life waiting in the wings things tend to get complicated. And that's before we get into her daddy problems because that would be too much of an emotional pile on…for this preview…in Shondaland that's the making for "must see TV". Expect plenty of old faces but explosive new action to go with the fiery relationships. Grey's alum Jason George forms the bridge between shows with his character Ben Warren transitioning from medicine to firefighting (and there may even be a Bailey sighting). Bring on the unresolved issues and romps in inappropriate places because when it comes to Station 19 we're totally sliding down the pole while yelling, "whee!"
Watch the double series premiere of Station 19 on ABC this Thursday.
From ABC:
When the team responds to an apartment fire, Captain Pruitt takes a hit, the future of the station's leadership is in jeopardy and firefighter Andy Herrera is forced to step up. Meanwhile, new recruit Ben Warren is trading in the scalpel for a fresh start as a firefighter, but it hasn't been easy and he has a hard time realizing that emergencies in the field are vastly different than those at Grey Sloan Memorial.
With the absence of Captain Pruitt, Andy and Jack try to navigate how to work together, and a car accident on a rural road puts both the victims and the crew's lives at risk.
—
Atlanta
"Helen" – Season 2, Episode 4
Thurs Mar 22 – 10PM
On FX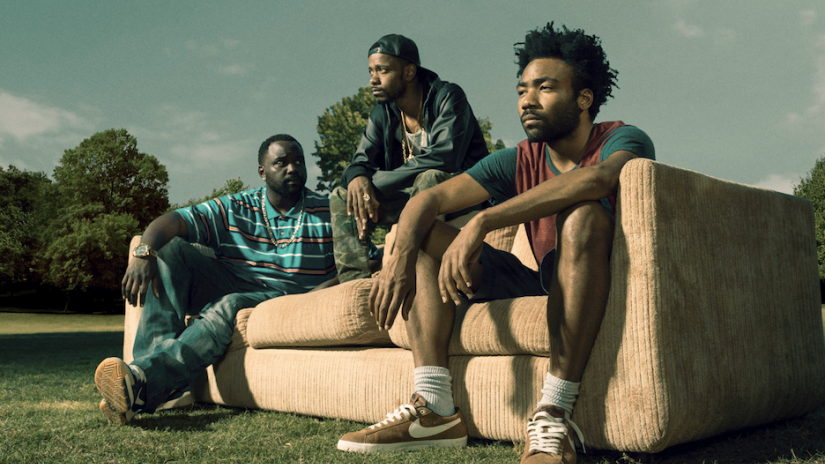 Photo: FX
We've always been of the opinion that the suburbs are a scary, scary place, and this week's episode of Atlanta confirms why life outside the city is all kinds of crazy.
Atlanta airs this Thursday on FX.
From FX:
When you go outside the city white people be acting different. That's why I can't even go to Marietta. Too weird.
—
Santa Clarita Diet
Season two premiere
Fri Mar 23
On Netflix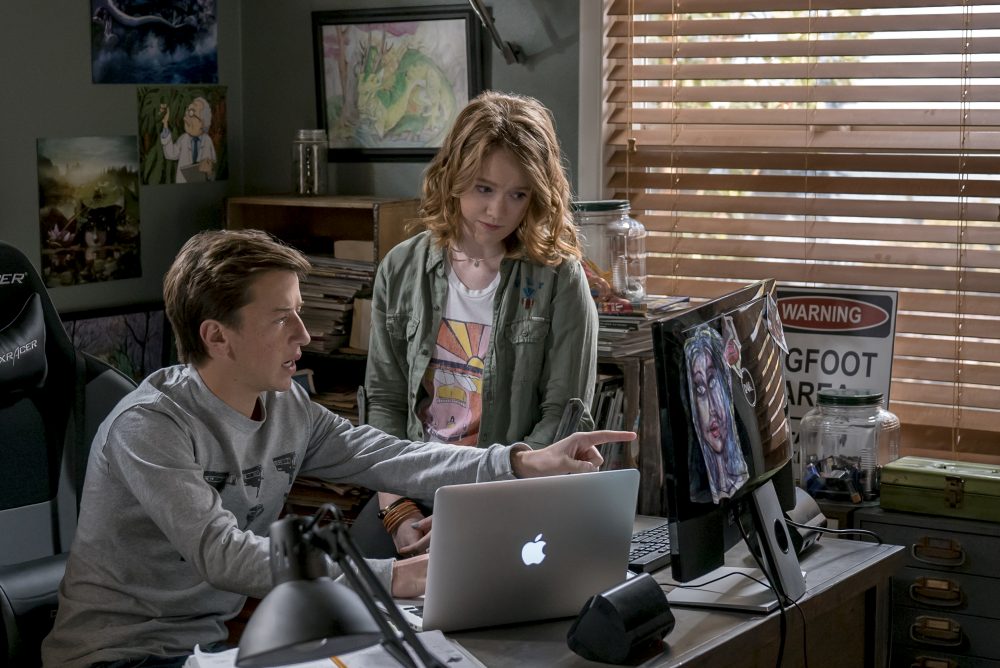 Photo: 

Saeed Adyani/Netflix
There have been zombie movies, post apocalyptic series, and undead novels, but none of them have made us feel as good as Netflix's Santa Clarita Diet. Rather than making us want to build a bunker and stock up on peanut butter (or send out for the delivery of shrimp cocktail), the show has combined zombie tropes and the stereotypical family sitcom for a second season.
Of course the combination is ridiculous and will continue to be throughout the next set of episodes, but that's what makes it so fun (well, that, and Hollywood goddess Drew Barrymore). This season, her character Sheila is out to save the world from the undead with her husband Joel (Timothy Olyphant)—so long as she can keep her own fleshy cravings at bay (spoiler alert: She can't) and keep Abby (Liv Hewson) from meeting strange men from the internet (it's totally fine, she has pepper spray, people).
Dig into season two of Santa Clarita Diet this Friday, only on Netflix.
From Netflix:
Joel (Timothy Olyphant) and Sheila (Drew Barrymore) are husband and wife realtors leading vaguely discontented lives in the L.A. suburb of Santa Clarita with their teenaged daughter Abby, until Sheila goes through a dramatic change sending their lives down a road of death and destruction…but in a good way.
—
Alexa & Katie
Season one premiere
Fri Mar 23
On Netflix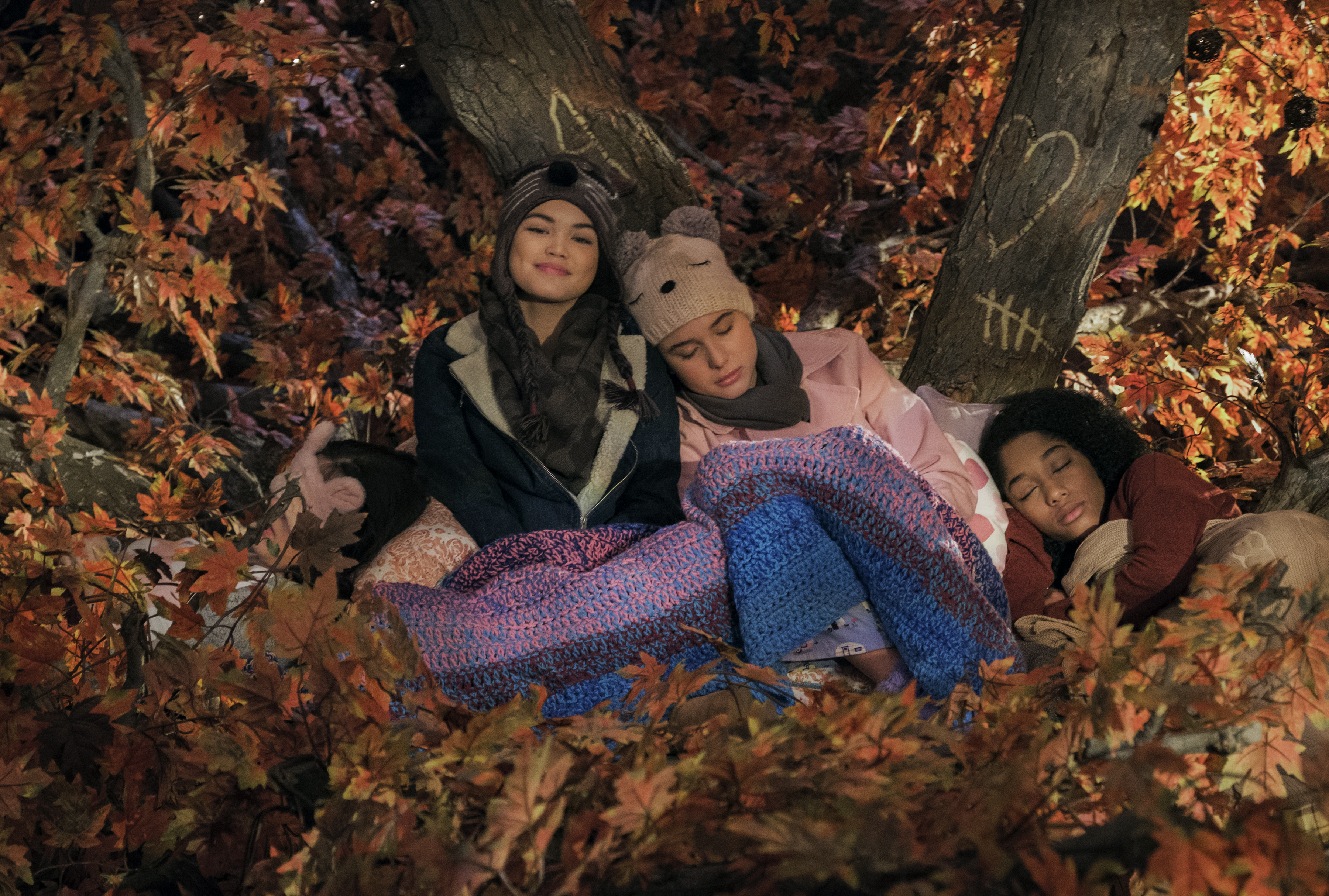 Photo: 

Nicole Wilder / Netflix
With your friends by your side, you can face anything. Even if that anything is battling the Big C. Alexa & Katie is Netflix's new show about two best friends who face everything high school throws at them, together—including Alexa's (Paris Berelc) cancer diagnosis. But that ain't about to bring the dynamic duo down. You can't help but smile watching her and Katie (Isabel May) uplift each other and refuse to be labeled as "the sick girl". Awkward, funny, sweet, and actually kinda clueless about navigating high school, there's only one thing these two kids can't do—and that's fit in. These two were born to stand out.
Stream season one of Alexa & Katie from Friday on Netflix.
From Netflix:
Alexa & Katie is a funny and heartwarming show about two best friends eagerly anticipating the start of their freshman year of high school. Despite the fact that Alexa (Paris Berelc – Mighty Med, Lab Rats: Elite Force) is undergoing cancer treatment, her outgoing personality and enthusiasm for life never falter, especially with her loyal, quirky, and awkwardly adorable best friend Katie (newcomer Isabel May) by her side. At times they're left feeling like outsiders, during a period when what seems to matter most is fitting in.
—
Roxanne Roxanne
Fri Mar 23
On Netflix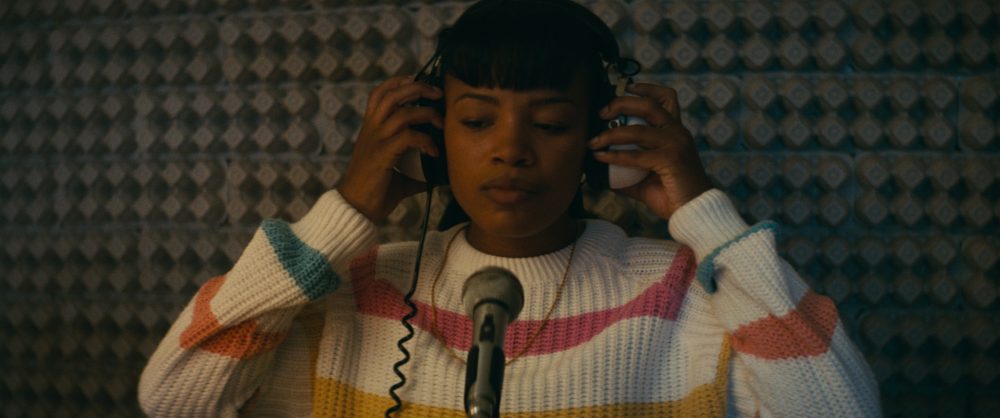 Photo: Netflix
Life was never easy for Roxanne Shanté, but she never stopped being a badass. In spite of growing up in some of the roughest parts of NYC, forging a career, and providing for her family all around the age of 14, she became known as one of the best rappers around. Netflix takes us through her story in their latest original film. They portray each one of the battles she faced—and how she stayed standing—with the help of the producers of Fruitvale Station and Dope.
Roxanne Roxanne debuts on Netflix this Friday.
From Netflix:
In the early 1980s, the most feared battle MC in Queens, New York, was a fierce teenage girl with the weight of the world on her shoulders. At the age of 14, Lolita "Roxanne Shanté" Gooden was well on her way to becoming a hip-hop legend as she hustled to provide for her family while defending herself from the dangers of the streets of the Queensbridge Projects in NYC.
—
The Walking Dead
"Do Not Send Us Astray" – Season 8, Episode 13
Sun Mar 25 – 9PM
On AMC
Get into The Walking Dead this Sunday at 9PM on AMC.
From AMC:
The fight continues in other communities as core members face hard decisions.
Tags:
9-1-1
,
ABC
,
Alexa & Katie
,
AMC
,
Atlanta
,
Chicago Med
,
For The People
,
FOX
,
Freeform
,
Fresh Off the Boat
,
FX
,
grown-ish
,
Krypton
,
NBC
,
Netflix
,
Riverdale
,
Roxanne Roxanne
,
Santa Clarita Diet
,
Shadowhunters
,
Shondaland
,
Speechless
,
Station 19
,
Syfy
,
The CW
,
The Walking Dead
,
The X-Files
,
Watch This Week
,
WTW