This week: Star Trek: Discovery, Curb Your Enthusiasm, The Gifted, Scorpion, The Middle, Lucifer, Fresh Off the Boat, Black-ish, This Is Us, The Mayor, Kevin (Probably) Saves the World, The Good Place, Scandal, The Orville, Once Upon a Time
Star Trek: Discovery
Episode 3 – Context is for Kings – Sun Oct 1 – 8:30pm
On CBS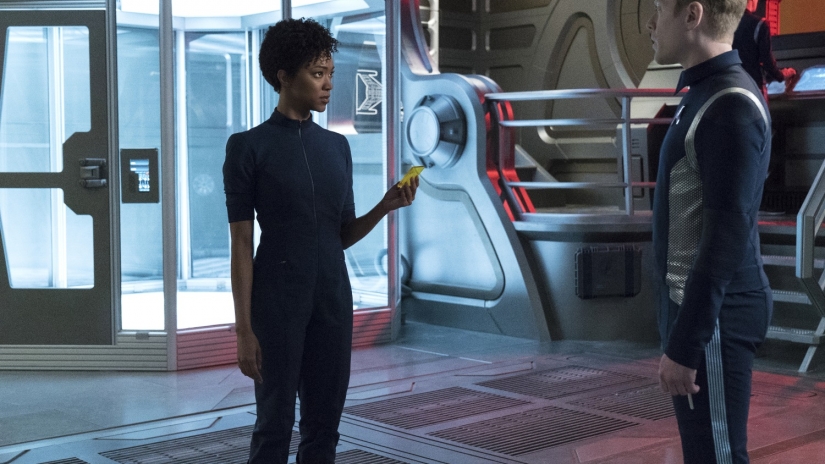 Episodes 1 & 2 made for a pretty fabulous prologue, but episode 3 of Star Trek: Discovery dives into the true direction of the show. Michael Burnham (Sonequa Martin-Green) is on her way to prison when her shuttle is suddenly beamed aboard the USS Discovery. The Discovery is on a secret science mission, one that has major ramifications for the war against the Klingons. No one will tell Michael a thing. Everyone blames her for starting the war and the deaths of 8,186 people—making her Starfleet's equivalent of Typhoid Mary. Nevertheless, Michael aka The Mutineer remains heroic. She kicks a lot of ass both physically and intellectually. Finally we learn the true mission of the Discovery from its shady captain, a man called Lorca (Jason Isaacs). Or maybe this new captain is just telling us what we want to hear. Beware of Lorca, children, because something ain't right in deep space.
From CBS:
Burnham finds herself aboard the U.S.S. Discovery where she quickly realizes things are not as they seem, including the mysterious Captain Gabriel Lorca (Jason Isaacs).
—
Curb Your Enthusiasm
Season 9 premiere – Sun Oct 1 – 10pm
On HBO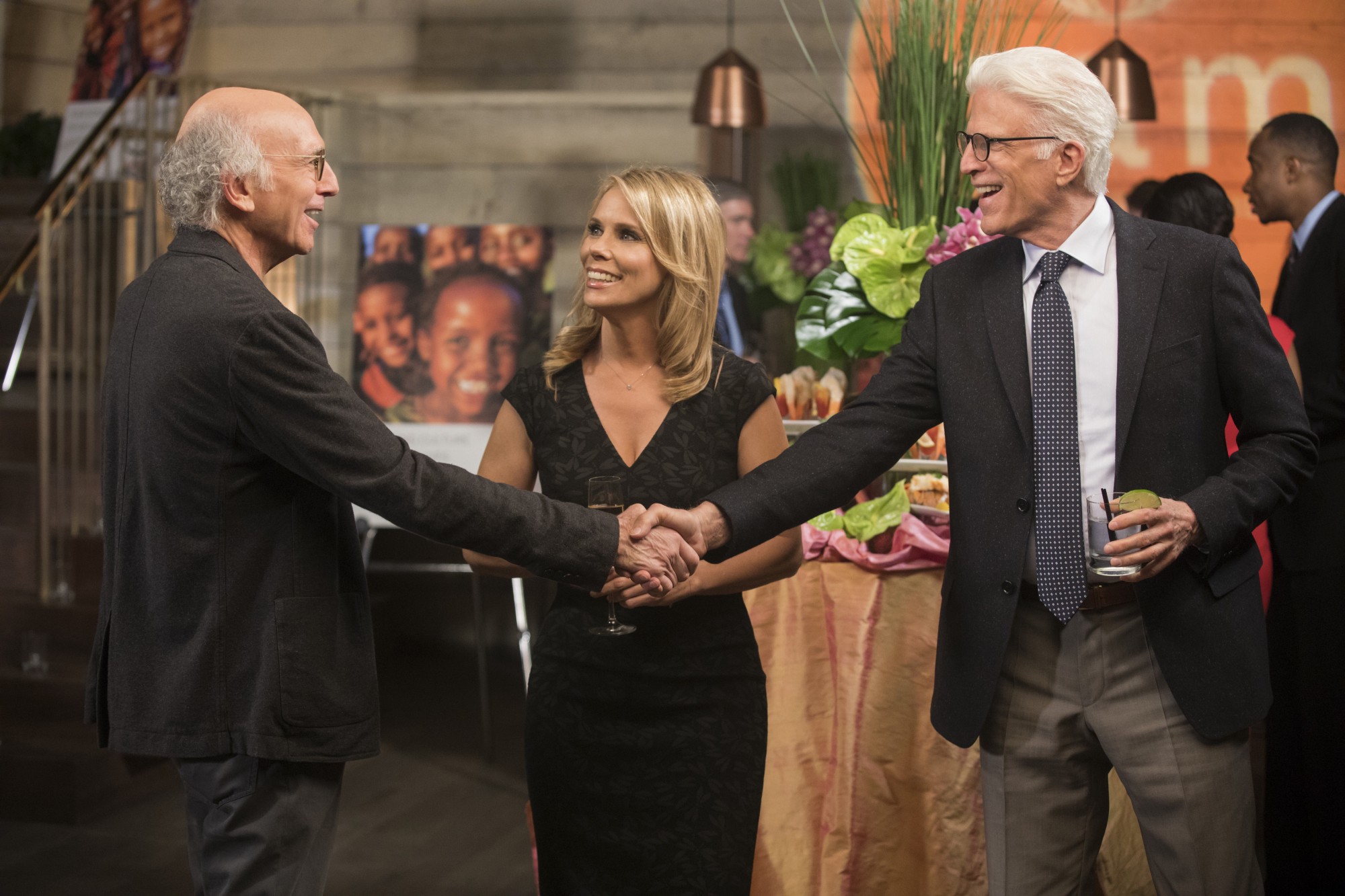 Not all heroes wear capes. Sometimes they wear gold-rimmed spectacles and a slight disapproving frown at all times, and they're prone to a good whinge about the world. And who can blame 'em? These are hard times we live in, a lot harder than the last time we heard from Larry David, and Curb Your Enthusiasm is coming back just when we need it most. No one is safe from Larry, and the internet applauds you, sir—we won't be Curbing our Enthusiasm for this return any time soon.
From HBO:
Season 9 premiere
Foisted!
"I was just trying not to offend you, and yet I wound up offending you, which is quite ironic."
– Larry
Larry heads to show Jeff the script for his newly-finished musical, Fatwa! – the story of Salman Rushdie's life. In the lobby of Jeff's office, Larry has an unpleasant run-in with a woman when, factoring in her masculine look, he decides not to hold the door for her. As luck would have it, the woman is Jeff's barber – Betty. The two make amends, and Betty goes so far as to offer to cut Larry's hair at the next opportunity.
—
The Gifted
Series premiere – Mon Oct 2 – 9PM
On FOX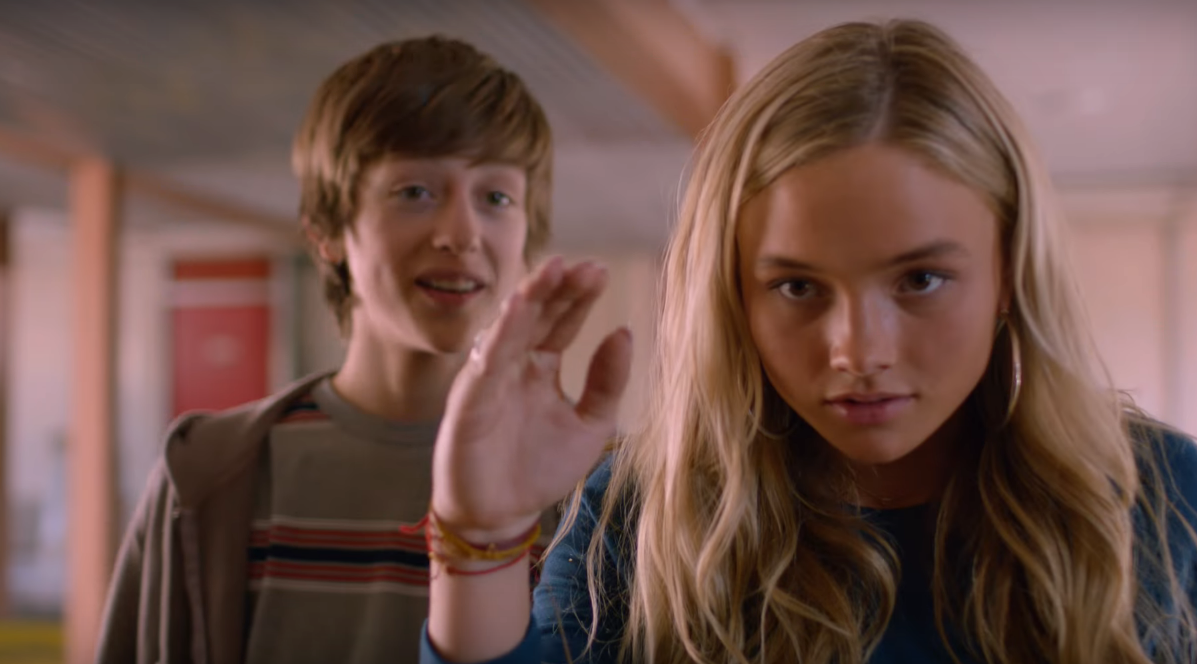 20th Century Fox and Marvel have teamed up to expand the X-Men/Marvel Universe. The show follows the lives of a family on the run after discovering their children have supernatural powers. Hold on tight, people, we're going underground with this one: It's going to get dark, dangerous, and will test the limits of family more than anything we've seen in this Universe so far. Ask yourself, how far would you go to save your loved ones?
—
From Fox:
Family adventure series THE GIFTED, from 20th Century Fox Television in association with Marvel Television, tells the story of a suburban couple whose ordinary lives are rocked by the sudden discovery that their children possess mutant powers. Forced to go on the run from a hostile government, the family joins up with an underground network of mutants and must fight to survive.
—
Lucifer
Season 3 Premiere – Mon Oct 2 – 8PM
"They're Back, Aren't They?"
On FOX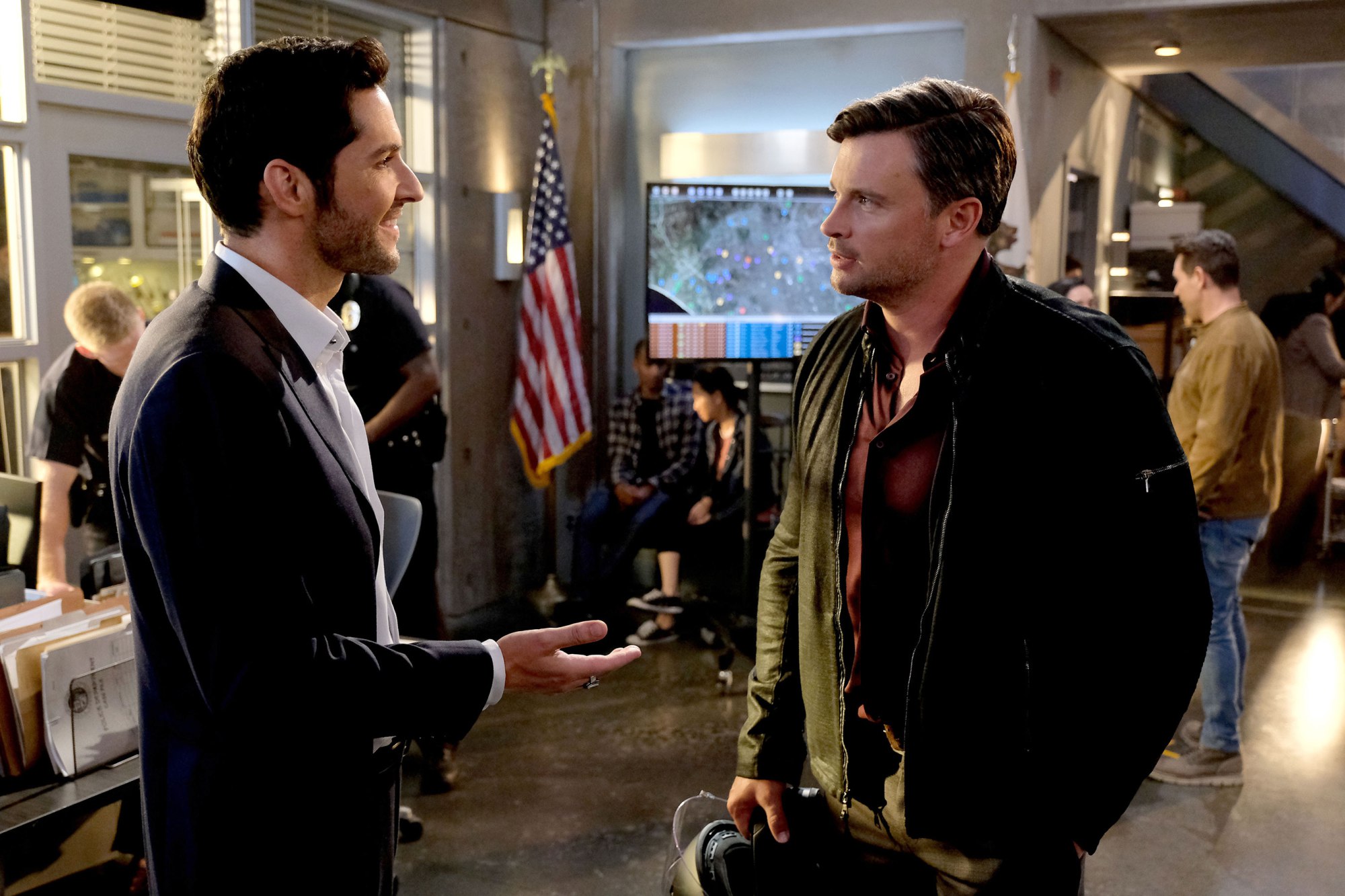 We'll always have a soft spot for this show despite not always being disarmed by its charm. The original Vertigo comics character was created by one of our favorite writers, Neil Gaiman, and developed by our good friend Mike Carey and his good friend Peter Gross. So we're cheering for Lucifer and the pair of fallen angels at its center are always good for taboo smiles—there's something about a tarnished halo that makes us feel wicked.
From FOX:
Season 3 | Episode 1 They're Back, Aren't They?
L.A. is hotter than ever…
Entering its third season, the story of the original fallen angel continues, when LUCIFER returns Monday, Oct. 2 in its new time period (8:00-9:00 PM ET/PT) on FOX. As Season Two came to a close, Lucifer took care of a little problem called Mom, aka Charlotte (Tricia Helfer). But now he's facing an even greater challenge – finding out who kidnapped him, and why his angel wings are back.
—
Scorpion



Season 4, Episode 2 – Mon Oct 2 – 10PM
More Extinction
On CBS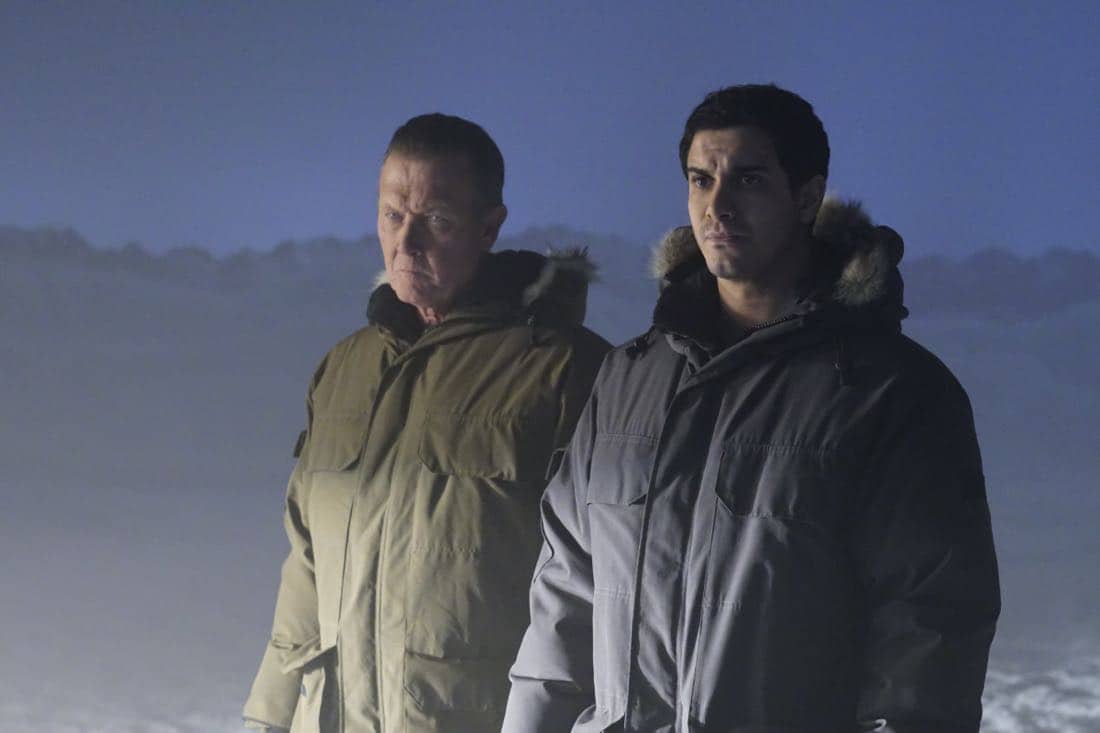 —
The Middle
Final season premiere – Tues Oct 3 – 8PM
On ABC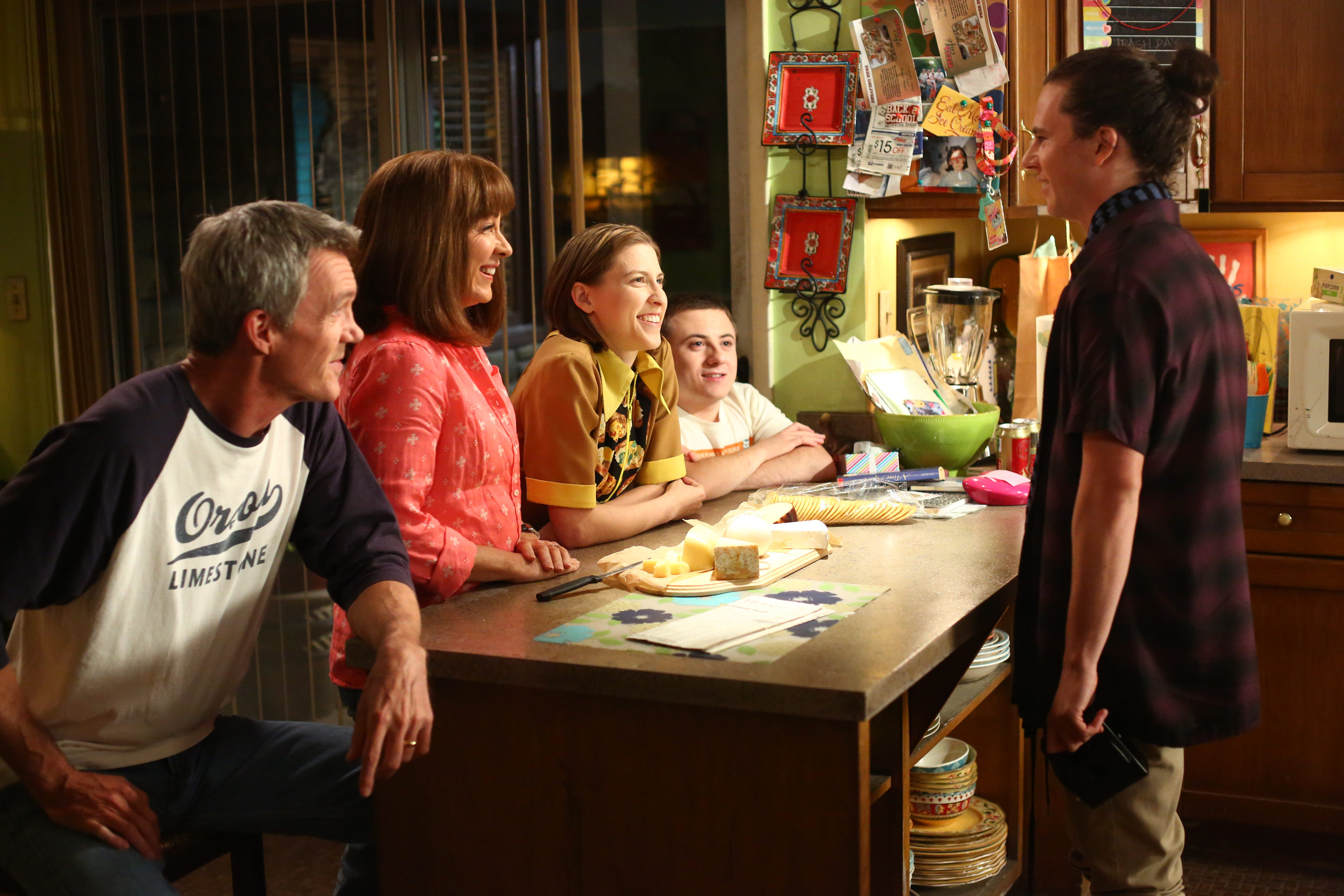 Ahh, our favorite middle-achievers. We don't know what we're going to do without this family reminding us that sometimes our best is just good enough. And not to sound like the grandma of the whole show, but those three kids are growin' up fast, aren't they? In the final season, Axl (Charlie McDermott) is back from Europe and needs to find a job, and Brick (Atticus Shaffer) is ready to break up with his girlfriend. As for Sue (Eden Sher)? Well, she's just tryna have some fun, Sue-style. We almost can't believe it's been ten years, but it's also hard to remember a time when we didn't have the comfort of Frankie (Patricia Heaton), Mike (Neil Flynn), and the kids on our screens. With one last season to send us off laughing, you might also find us shedding a quiet tear as we raise a glass to The Middle, and say, we're sure gonna miss the Heck outta you.
From ABC:
Vive La Hecks
Season 9 premiere
Axl returns home from his summer trip to Europe, sporting a man-bun and embracing a new, chill European outlook on life. Mike just wants him to clean up and look for a job, but Frankie thinks Axl will do this on his own and asks Mike to give him a little breathing room. Meanwhile, because Sue worked the entire summer at Spudsy's and missed out on having any fun, she decides to cram in a whole summer of fun in two days before going back to college; Brick makes the decision to break up with Cindy because he doesn't want to be tied down in a relationship when he's about to embark on the revelry of his "big sophomore year"; and Frankie desperately tries to come up with an item for a time capsule that's being buried under the Orson cow that will make the town remember the Hecks when it's opened in 100 years.
—
Fresh Off the Boat
Season 4 premiere – Tues Oct 3 – 8:30PM
On ABC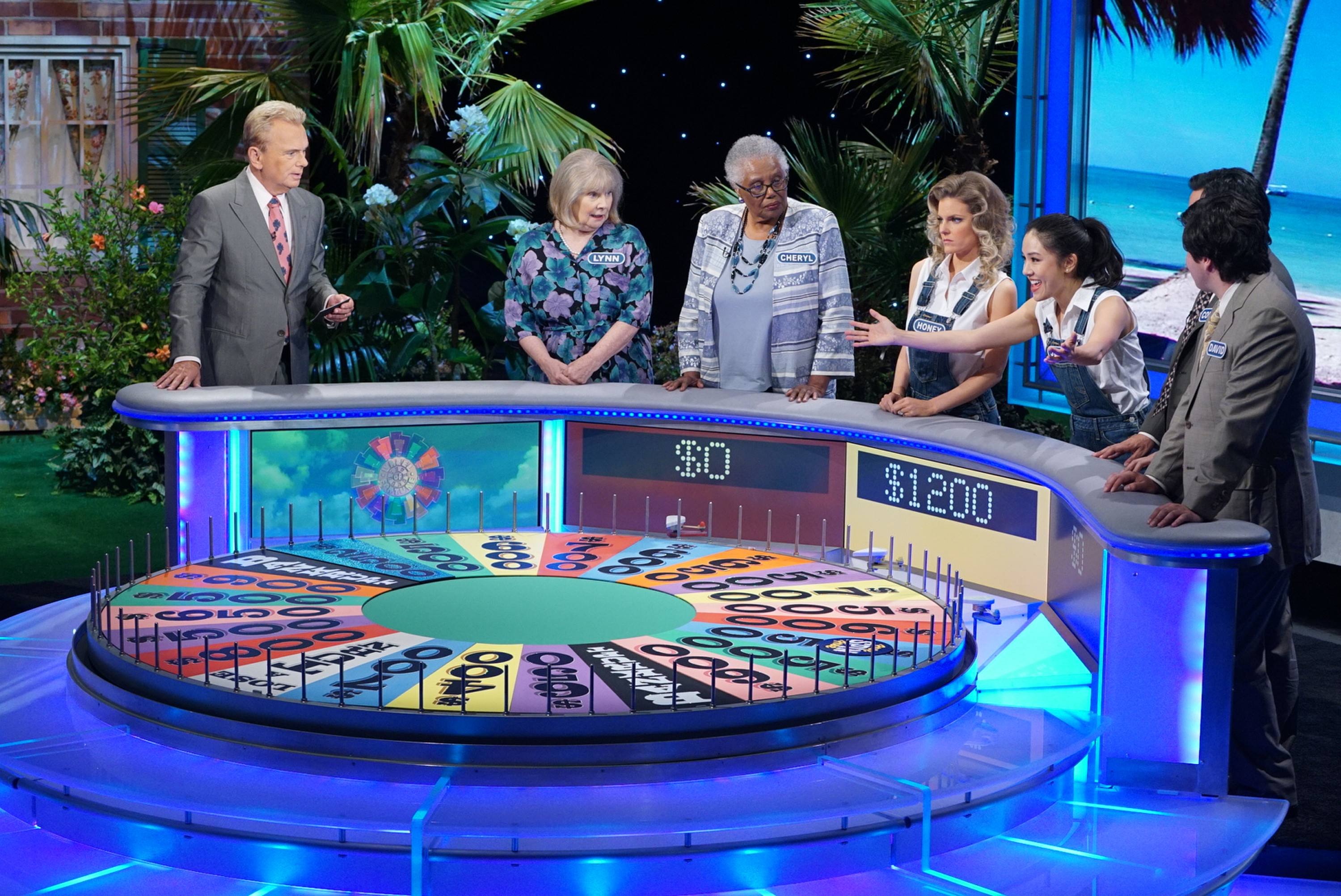 The only asian family on American TV is back! (We'll be glad when we can stop saying that—the asian part, not the "back" part.)
From ABC:
B as in Best Friends
Still homeless, the Huangs move in with Honey and Marvin. Jessica's dreams come true when she gets a chance to compete on "Wheel of Fortune" during Best Friends Week with Honey. Eddie starts high school and is still on the outs with his pals but finds unexpected sympathy from Nicole. Michael Bolton offers to step in at the restaurant to give Louis more time with his family, but does he have an ulterior motive?
—
Black-ish
Season 4 premiere – Tues Oct 3 – 9PM
On ABC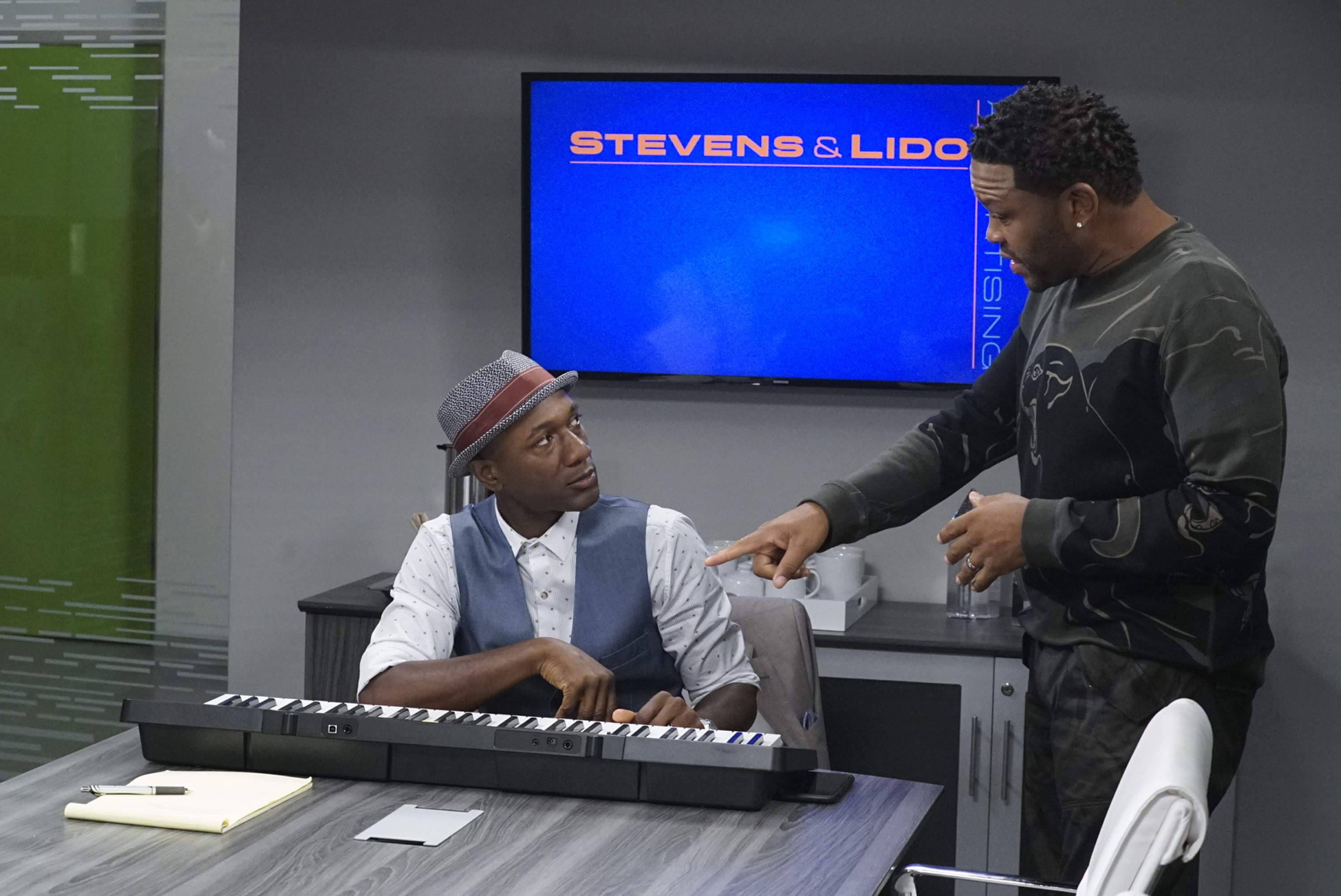 The Johnsons are movin' on up…to a new timeslot on Tuesday nights. With the fourth season, Black-ish welcomes us back with loving arms into the chaos of family life. The opening topic? Columbus Day. Yup, that "holiday". When Jack (Miles Brown) and Diane's (Marsai Martin) school play portrays Columbus Day as historically inaccurate, Dre (Anthony Anderson) enlists some help to raise awareness of an actual holiday he thinks is worth celebrating: Juneteenth. And who better to help out than the wonderful Aloe Blacc? Get your dancin' shoes on, 'cause Black-ish is back and it's about to get all kinds of festive.
From ABC:
Juneteenth
The Johnsons go to Jack and Diane's school play about Columbus Day, and Dre is dismayed by the historically inaccurate way that the holiday is portrayed. He feels like there aren't enough black holidays, so he enlists Aloe Blacc at work to help him create a catchy song to raise awareness for a holiday worth celebrating, Juneteenth.
—
This Is Us
"A Manny-splendored Thing" – Tues Oct 3 – 9PM
On NBC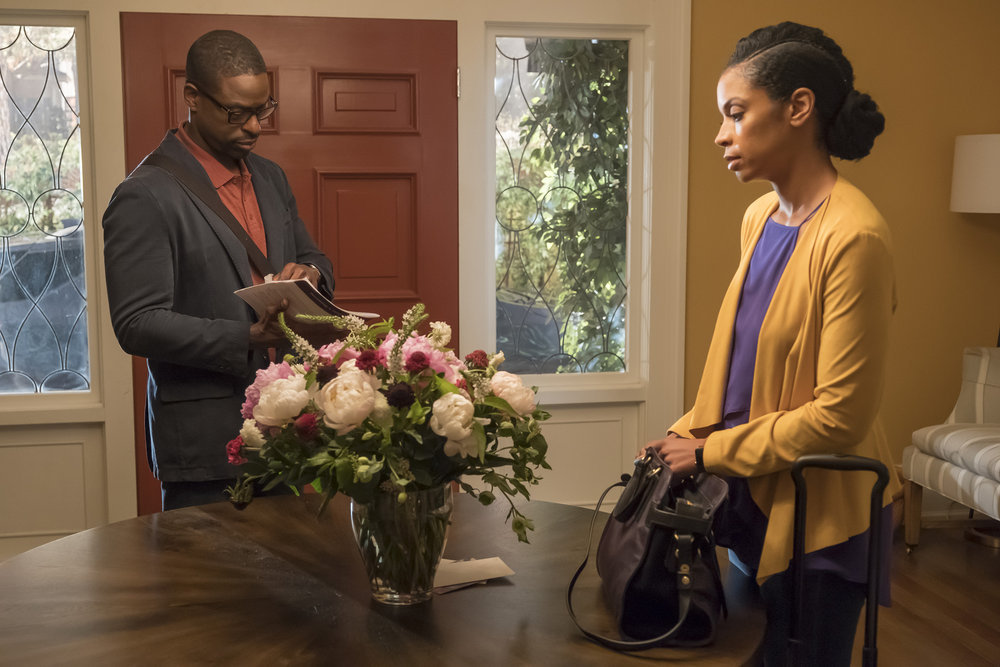 This week This Is Us forces us to pick a side or else get caught in the middle. Team Kate and Team Rebecca go head-to-head and we honestly don't know who has more hangups. The truth is that misunderstandings cause more resentment between people who love each other than lies do. Ooh, and we thought we might find out how Jack died at the start of season 2. Not yet. As Jack himself says in the opening of ep 202, "It was not easy." We do know Jack is an alcoholic but looking back we don't know when our hero was drunk and when he wasn't, which completely changes the hue of some of our favorite scenes. This Is Us continues to absolutely eviscerate us emotionally, but there's still lots of levity. Randall and Beth go toe-to-toe too, although with much funnier and sexier results. There's also lots of Kevin being Kevin dealing with his "Manny" issues and that's always a bonus.
—

From NBC:
The entire Pearson family visits Kevin on set in Los Angeles for a "Manny" taping. Jack confronts his demons in the wake of his fight with Rebecca.
—
The Mayor
Series premiere – 9:30PM
On ABC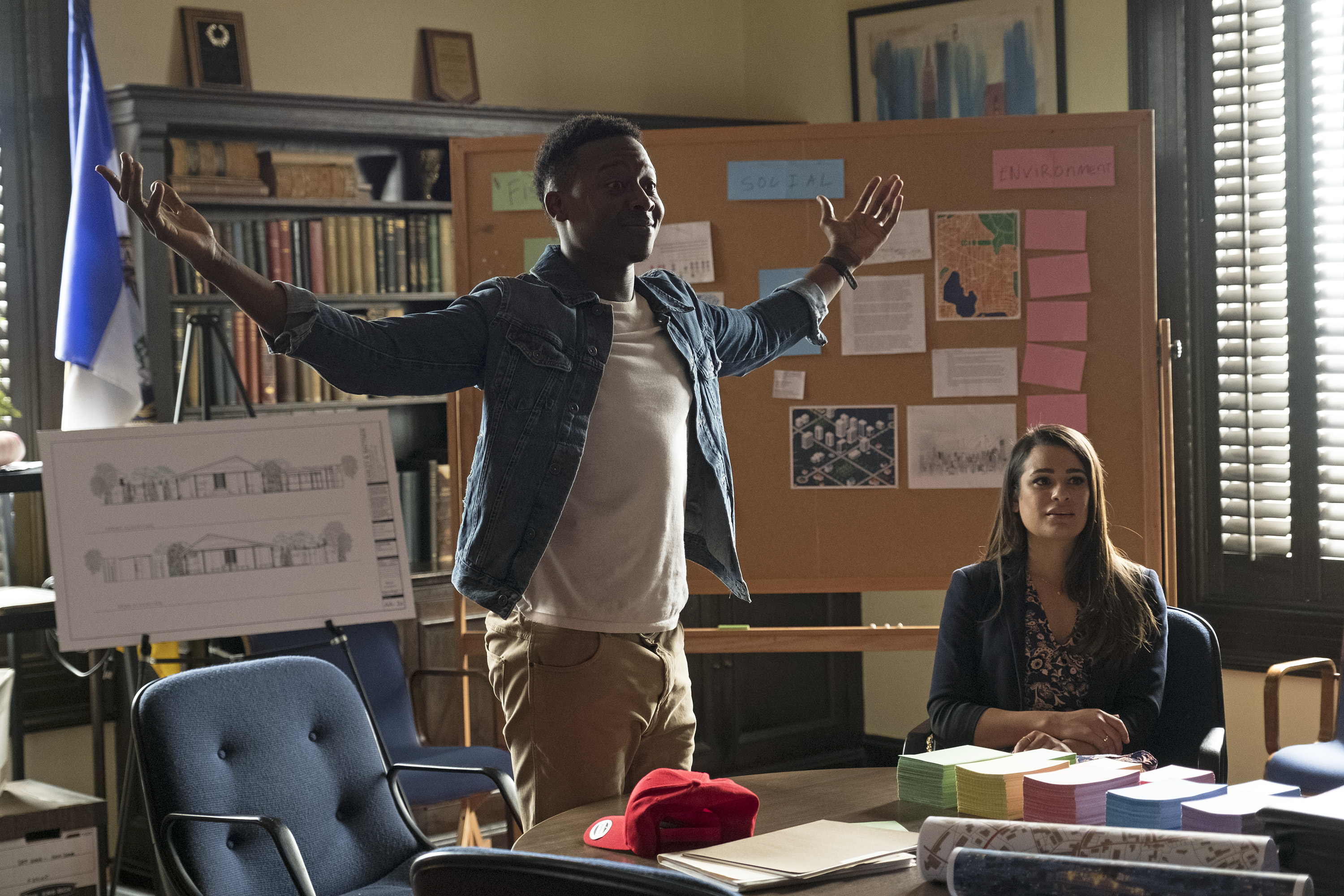 We've been waiting for this one to premiere so we could talk to y'all about it. The Mayor is all about a rapper who runs for mayor and turns out to be just the breath of freshness his town needs… He only has to figure out how to do the job. Executive produced by Daveed Diggs and starring Brandon Micheal Hall and Lea Michele, The Mayor is a super-cute show that deals with social issues in a fun way. Families can watch and enjoy this together without the edgelords in the clan thinking it's cheesy. Hall is a serious charmer in his role as Courtney Rose and the fact he means well (other than thinking running for office will boost his rap career) makes the character's mistakes all the more relatable. AND bless the writers, they avoid the cliches that were probably all too easy to fall into with a working class black lead. Likewise Lea Michele dodges the personal know-it-all stereotype to endear herself as Courtney's chief-of-staff. It's fun stuff. We like The Mayor. Now it's time for your vote.
—
From ABC:
Young rapper Courtney Rose (Brandon Micheal Hall, "Search Party") needs his big break. For years he's toiled away in a small inner-city apartment, making music in his junk-filled bedroom closet. Tired of waiting for opportunity to knock, Courtney cooks up the publicity stunt of the century – running for mayor of his California hometown, Fort Grey, to generate buzz for his music career. But his master plan goes wildly awry, ending in the most terrifying of outcomes: an election victory.
The series stars Brandon Micheal Hall as Courtney Rose, Lea Michele as Valentina Barella, Bernard David Jones as Jermaine Leforge, Marcel Spears as T.K. Clifton and Yvette Nicole Brown as Dina Rose.
—
Kevin (Probably) Saves the World
Series premiere
On ABC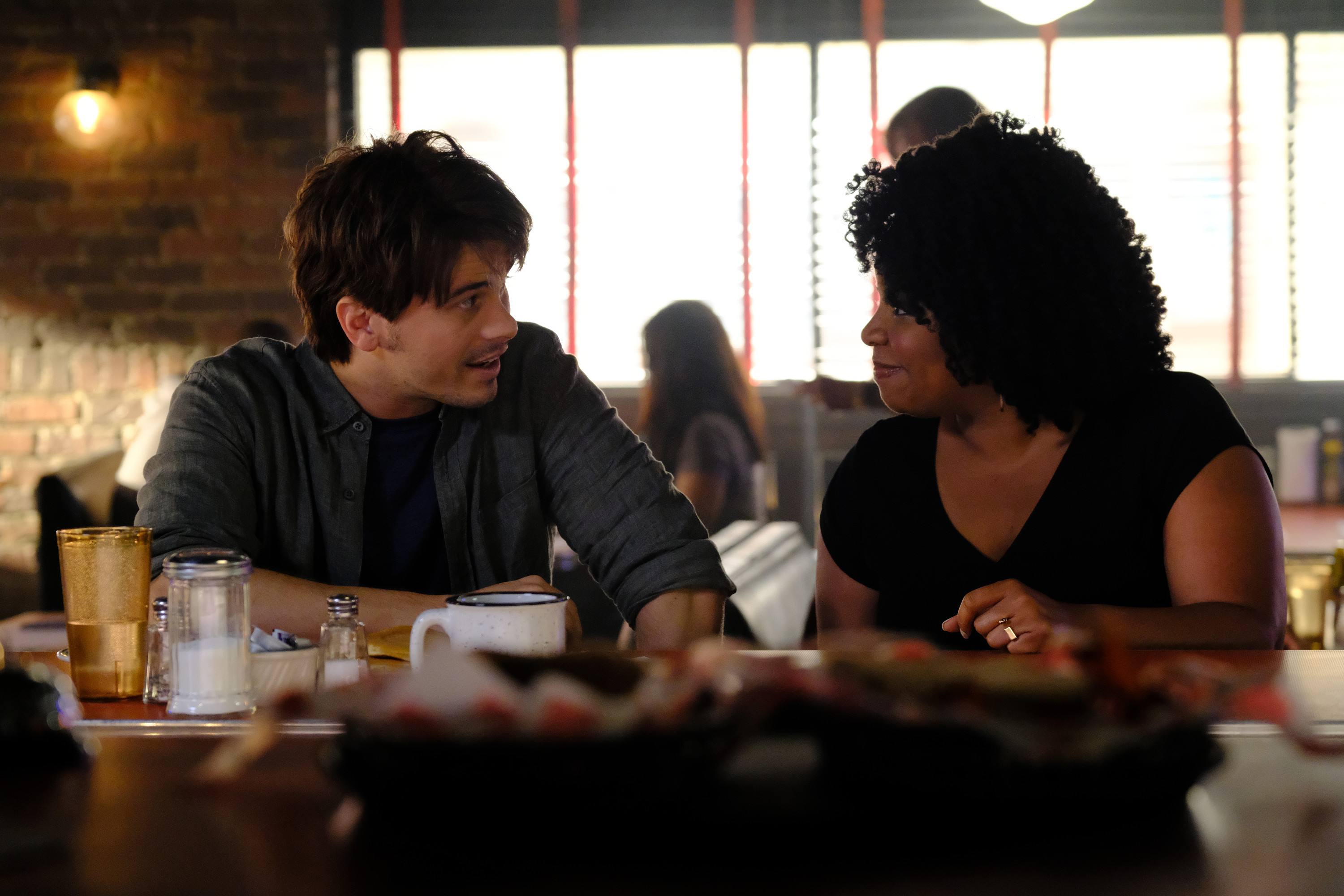 Kevin (Jason Ritter) is a total screwup with a fatal flaw, who somehow becomes the savior of the world when an emissary from heaven (Kimberly Hébert Gregory) rides a meteor to earth and turns his life into hell. Literally. This is another show we're personally connected to. Geek Girl Rioter Monique is the wardrobe superviser for the world of Kevin, and while we didn't love the pilot we honestly can't wait to see how Kevin's wrongness counterbalances his mission to find 35 other righteous souls. Apparently the world is sliding into Hades and neither Heaven nor Kevin can wait.
—
From ABC:
Kevin, who is on a dangerous path of despair, returns to his childhood home in Texas to crash with his widowed twin sister, Amy (JoAnna Garcia Swisher), and teenaged niece, Reese (Chloe East). It is a strained homecoming – he and his family have grown apart over the years – and Kevin has no real hope that anything will get better. But a series of fantastic events, including a meteorite landing near the house, lead Kevin to meet an unlikely celestial guide, Yvette (Kimberly Hébert Gregory). Yvette delivers incredible news to Kevin: in every generation there are 36 righteous souls on Earth whose mere existence protects the world. Kevin, she tells him, is the last of the 36 righteous. Humanity has been thrown into crisis. Without the 36, the world will begin to lose the one thing that allows us to persevere through the ups and downs of life: hope.

Now Kevin has a mission, whether he wants it or not: "power up" his soul through acts of kindness and selflessness, so that he can eventually find and anoint a new generation of righteous. Yvette will serve as his protector and teacher, a drill sergeant with divine authority, even if she's the least angel-like person he's ever met.
—
The Good Place
Season 2, Episode 4 – Thurs Oct 5
On NBC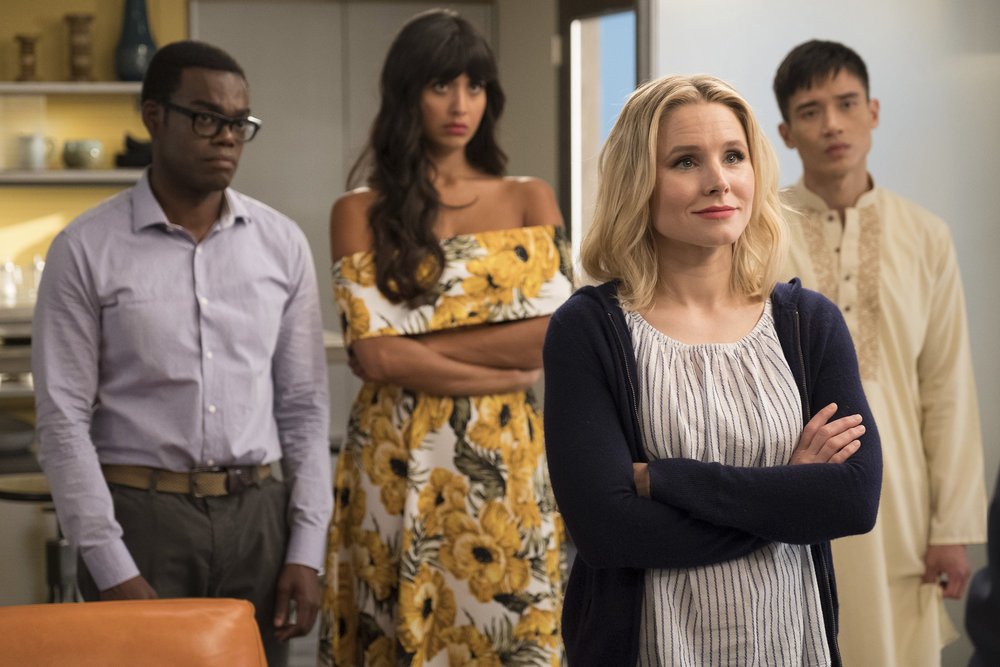 Thought season 1 was crazy? Thought the past three episodes couldn't get any more insane? Well, somebody better call Chidi (William Jackson Harper) because y'all are about to get a lesson in upping the stakes, in a game not one of us could even attempt to explain. But once you're in The Good Place, you're in for good, because this ever-tightening circle of madness makes for one hell of a ride. Michael has reached…well, one of his breaking points. He decides to offer our crew a different kind of deal. Only we think he's about to learn a lesson of his own—from what we've seen so far, Eleanor (Kristen Bell) and the gang aren't exactly the kind of people to rely on. And yet we'll cheer them on regardless. All together now: Team Cockroach!!!
From NBC:
Season 2, Episode 4
TEAM COCKROACH
IMPORTANT DECISIONS LOOM – Michael (Ted Danson) approaches things from a new angle. Eleanor (Kristen Bell), Chidi (William Jackson Harper), Tahani (Jameela Jamil) and Jason (Manny Jacinto) struggle to make a collective decision. D'Arcy Carden also stars.
—
SCANDAL
Final season premiere – "Watch Me"- Thurs Oct 5 – 9PM
On ABC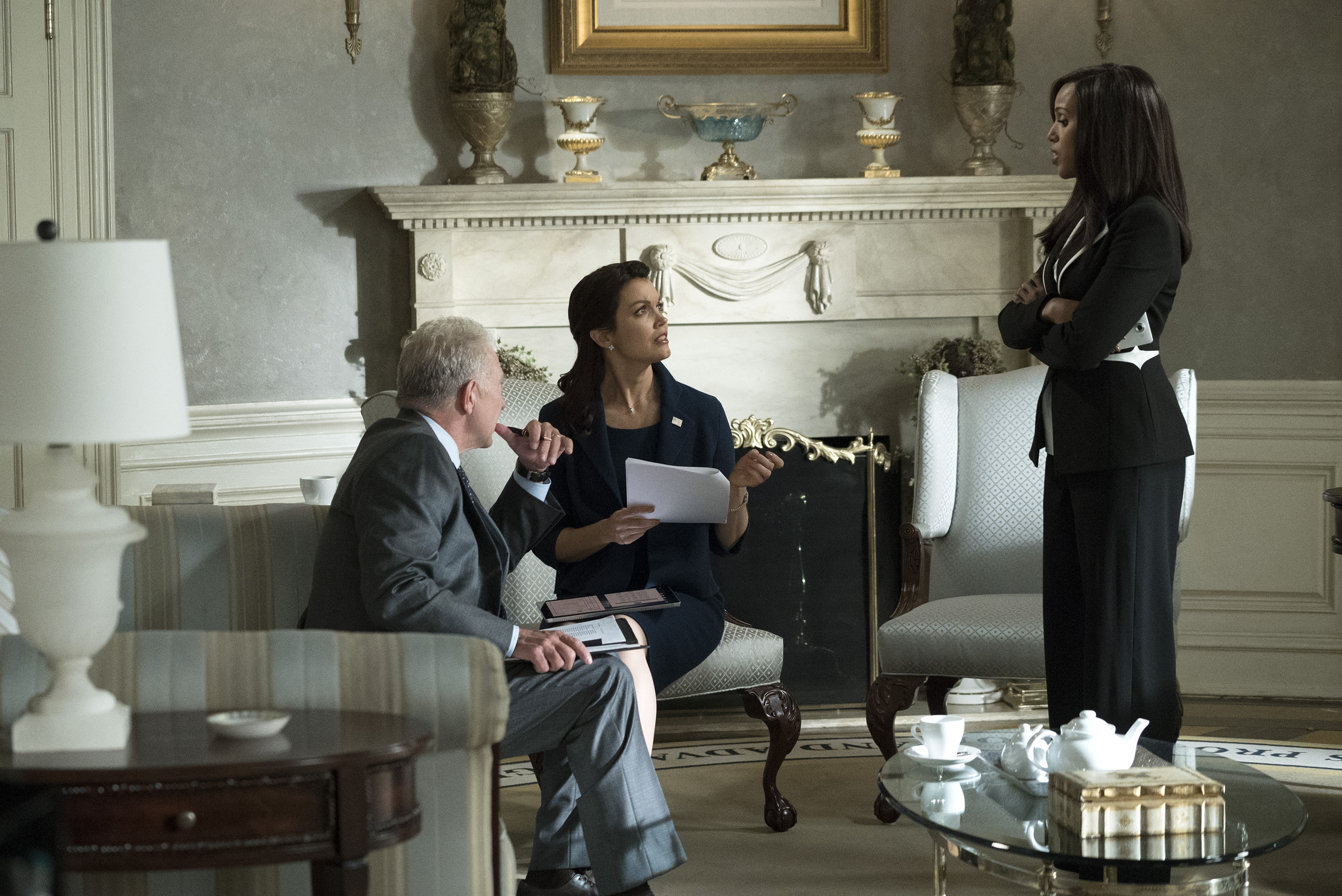 "You cannot have it all."
"Watch me."
We're not screaming. You're screaming. SCANDAL is back for its final season and Olivia Pope has gone darkside while still wearing the white hat…we hope she's still wearing the white hat. We only have one question: How is Shondaland going to fry our fragile little minds this season? We simply cannot wait, because just like Olivia Pope we plan to have our Jake and our Fitz too. Yes, we can have it all!
—
From ABC:
One hundred days into Mellie's presidency, Olivia Pope is proving she can run the world; but to avoid an international incident, she may have to make her toughest call yet. Meanwhile, Quinn Perkins & Associates struggle to find their first client.
—
The Orville
"Pria" – Thurs Oct 5 – 9PM
On FOX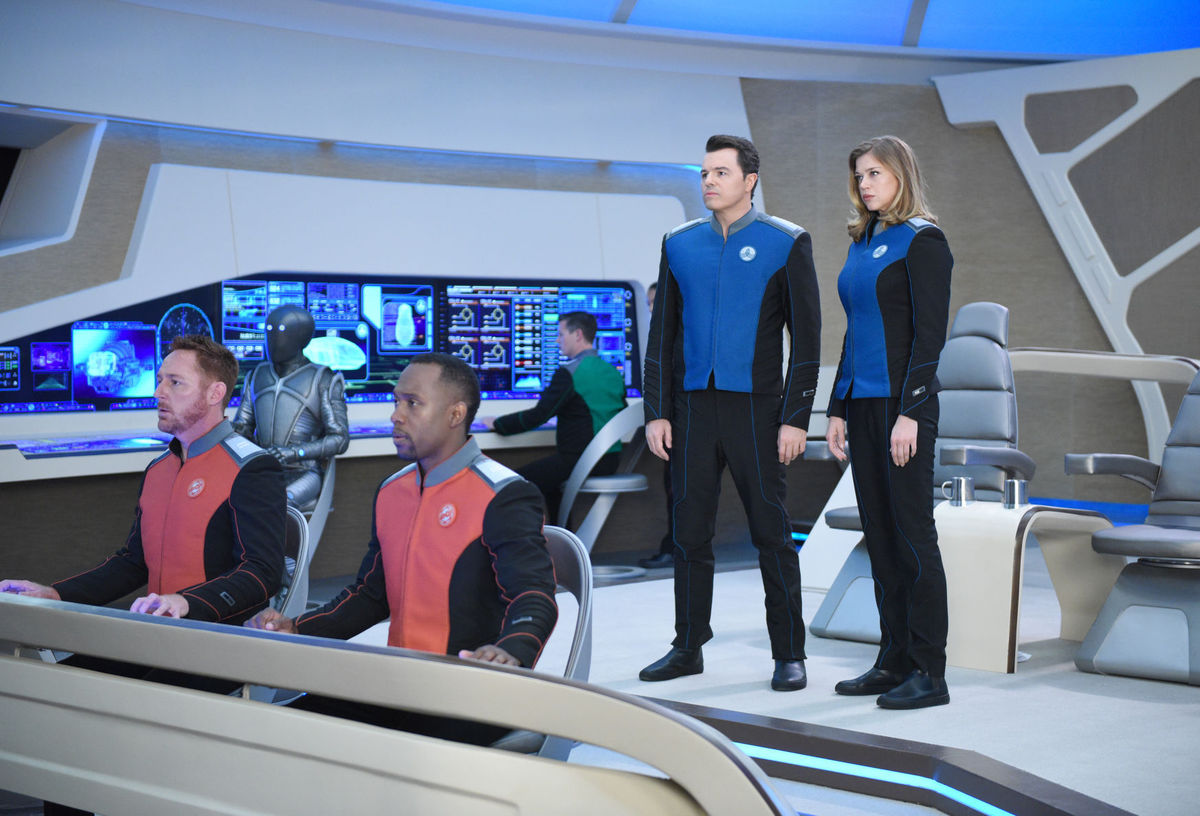 Seth MacFarlane's first live action series, The Orville is starting to grow on us…like a space fungus, but a symbiotically beneficial one. The first two episodes felt a little too on-the-nose to be a Star Trek homage, placing that show in that odd space occupied by slightly stiff European knockoffs (don't act like you don't know what we're talking about). We found ourselves wondering if a Galaxy Quest series would be more likely to ensure we "Never give up, never surrender" but we kept watching and The Orville began to find a rhythm—staccato, but a rhythm nevertheless. The show's absurdist humor often bumps up against its honest look at interpersonal relationships, but it's pretty, it doesn't flinch away from real issues, and the characters are interesting. Sign us up, captain, we're here for a few more missions.
From TV Guide:
After the crew saves a stranded ship and its attractive captain, Ed becomes smitten with the Orville's new guest, while Kelly suspects all is not what it seems. Meanwhile, Gordon attempts to teach Isaac the art of pulling off a practical joke.
—
Once Upon a Time
Season 7 premiere – Fri Oct 6 – 8PM
On ABC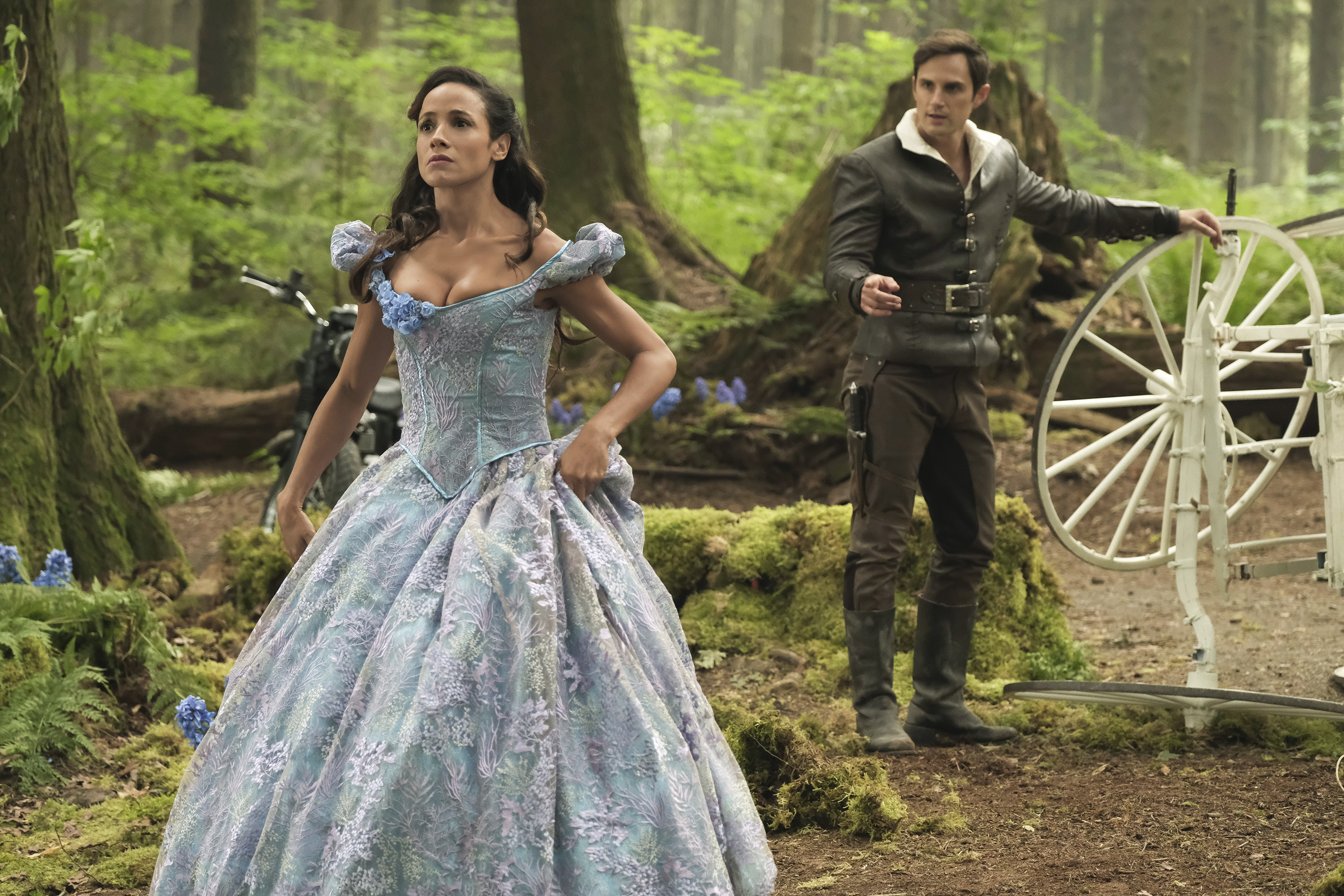 After six seasons, Once Upon a Time is hitting the reset button. There's going to be new characters, new settings, and a time jump of ten years, but there's still going to be elements of the old show you know and love. The original cast members that remain will play different iterations of their storybook counterparts, and there'll be flashbacks aplenty…oh, and a curse more powerful than ever before. You'll see some familiar faces and fall in love with some new ones, return to classic storylines, tread down new paths, to find yourself in a gentrified world with hidden threats abound. Because sometimes you've gotta go back to the beginning to interpret an old fairytale in a different light, and Once Upon A Time is ready to recapture the magic.
From ABC:
Hyperion Heights
The residents of the enchanted forest face their greatest challenge yet, as the Evil Queen, Captain Hook and Rumpelstiltskin join forces with a grown-up Henry Mills and his daughter Lucy on an epic quest to bring hope to their world and ours. Creators Edward Kitsis and Adam Horowitz ("Lost," "Tron: Legacy") invite you to take part in the journey as new fairy tale characters and old search for true love, find adventure and take sides in the ongoing struggle of good against evil.
Tags:
Black-ish
,
Curb Your Enthusiasm
,
Fresh Off the Boat
,
Kevin (Probably) Saves the World
,
Lucifer
,
Once Upon A Time
,
scandal
,
Scorpion
,
Star Trek: Discovery
,
The Gifted
,
The Good Place
,
The Mayor
,
The Middle
,
The Orville
,
This Is Us
,
Watch This Week
,
WTW