This week: Supergirl, The Flash, Black Lightning, Riverdale, Grown-ish, Happy, The Good Place, A.P. Bio, Altered Carbon, Absentia, This is Us, Star Trek: Discovery
SUPERGIRL
"For Good" – Season 3, Episode 11
Mon Jan 29 – 8PM
On The CW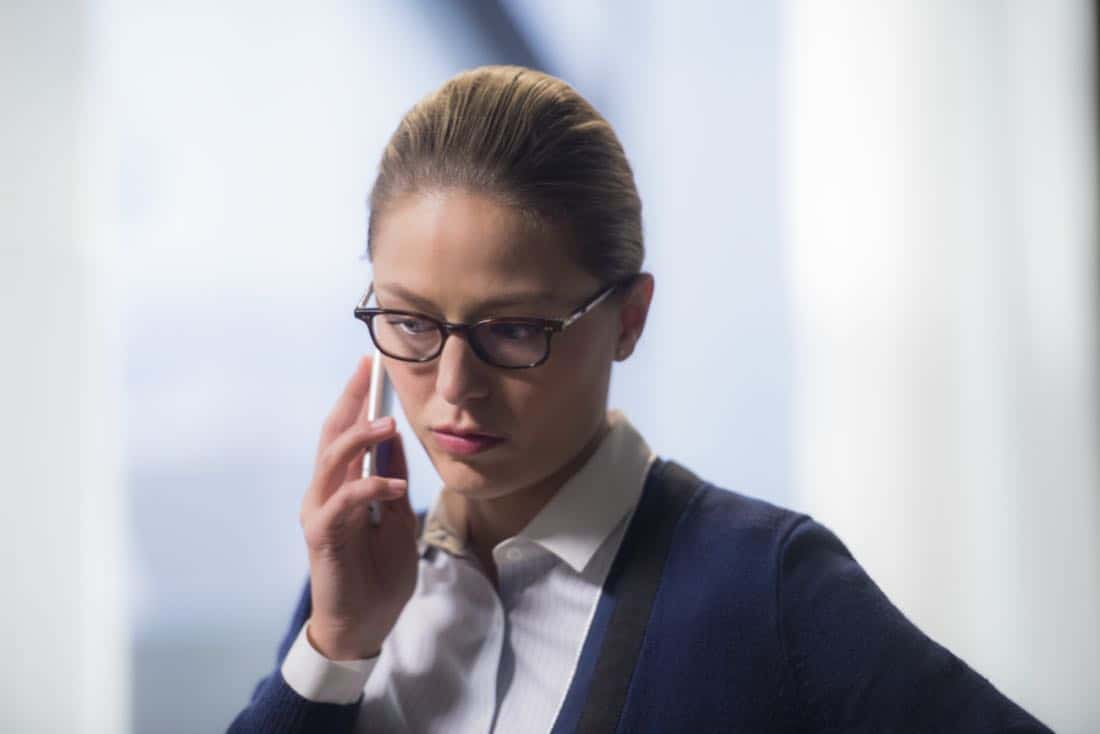 Photo: Diyah Pera/The CW — © 2018 The CW Network, LLC. All Rights Reserved.
With the headlines telling you everything's wrong, sometimes you need to be reminded of all the good that's left in the world—and Supergirl is here to save your soul. How? With Morgan Edge's (Adrian Pasdar) long-awaited return! He's back to take some of the spotlight from Reign (Odette Annable)…but it turns out the two may have a stronger connection than we know. For now though, it's Edge's turn to point the finger at Lena (Katie McGrath), leading her to doubt whether she can ever leave the Luthor name behind. But it's not complete radio silence on the Reign storyline, because Sam starts to realize something may be going on with her (y'know, maybe the fact that she's secretly a Worldkiller is keeping her up at night), which prompts Alex (Chyler Leigh) to run some tests…and it's only a matter of time before her Reign is revealed. C'mon already!
Supergirl is back tonight on The CW.
From The CW:
MORGAN EDGE THREATENS LENA – Someone tries to kill Morgan Edge (guest star Adrian Pasdar) and he barely survives. He accuses Lena (Katie McGrath) of being behind the attempt and vows to destroy her. When Lena fears her hatred for Morgan will take her to the Luthor dark side, Kara (Melissa Benoist) steps in to help her friend. Meanwhile, after Sam (Odette Annable) realizes she's losing time, she confides in Alex (Chyler Leigh) who decides to run some medical tests to see if she can find out what's going on with her new friend.
—
THE FLASH
"Honey, I Shrunk Team Flash" – Season 4, Episode 12
Tues Jan 30 – 8PM
On The CW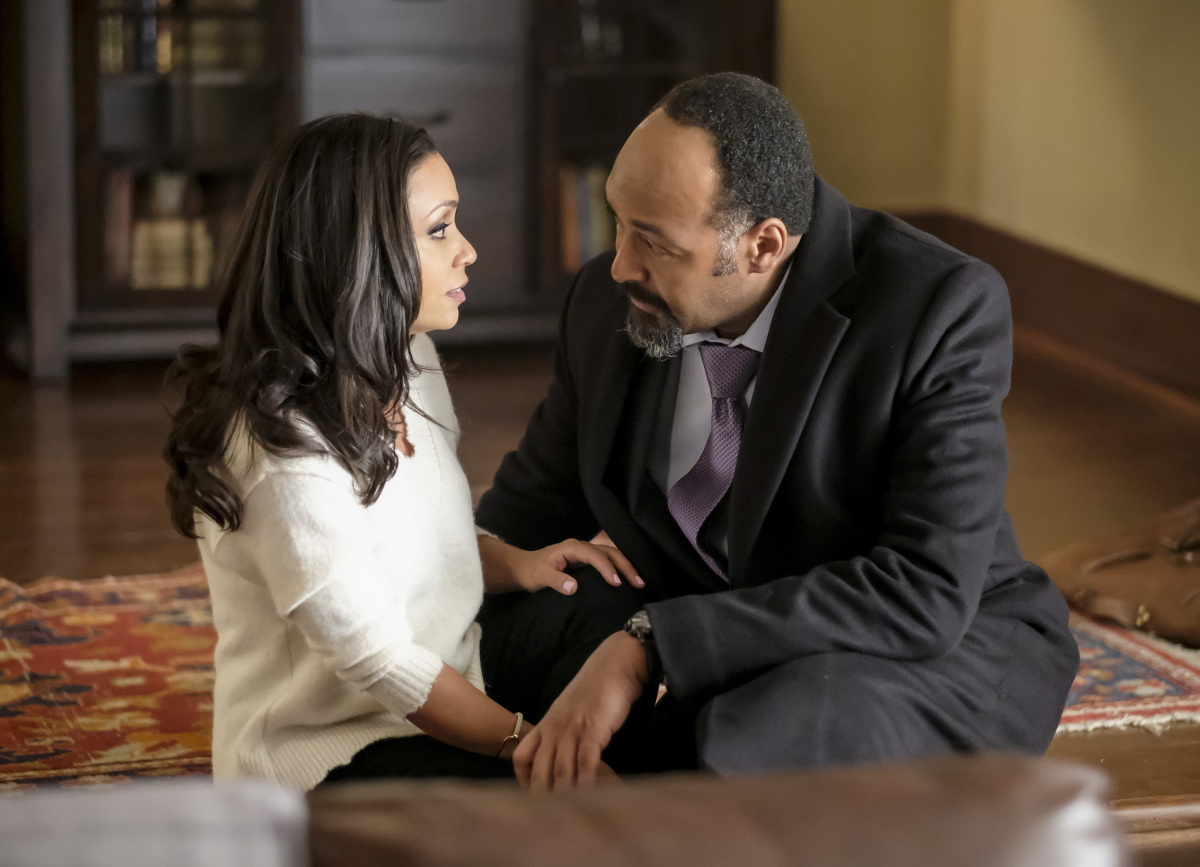 Photo: Robert Falconer/The CW — © 2018 The CW Network, LLC. All rights reserved
Team Flash gets fun-sized this week, and we can't stop giggling at the thought. When Cisco (Carlos Valdes) and Ralph (Hartley Sawyer) get shrunk by a powerful meta, the jokes are about to write themselves. But the team has some, ahem, bigger problems. Barry (Grant Gustin) offers to help fellow prisoner Big Sir (Bill Goldberg AKA wrestler Goldberg)—who happened to serve time with Barry's father Henry (John Wesley Shipp)—clear his name.
Tune in to The CW this Tuesday for all new The Flash.
From The CW:
THE INCREDIBLE SHRINKING MEN — A meta who can shrink anything he touches battles Team Flash. Cisco (Carlos Valdes) and Ralph (guest star Hartley Sawyer) get caught in his crossfire and are shrunk to miniature versions of themselves. Cecile (guest star Danielle Nicolet) realizes her pregnancy has caused her to have temporary powers and discovers she can hear other people's thoughts, which unnerves Joe (Jesse L. Martin). Meanwhile, Barry (Grant Gustin) meets someone with a mysterious connection to Henry Allen.
—
BLACK LIGHTNING
"Lawanda: The Book of Burial" – Season 1, Episode 3
Tues Jan 31 – 9PM
On The CW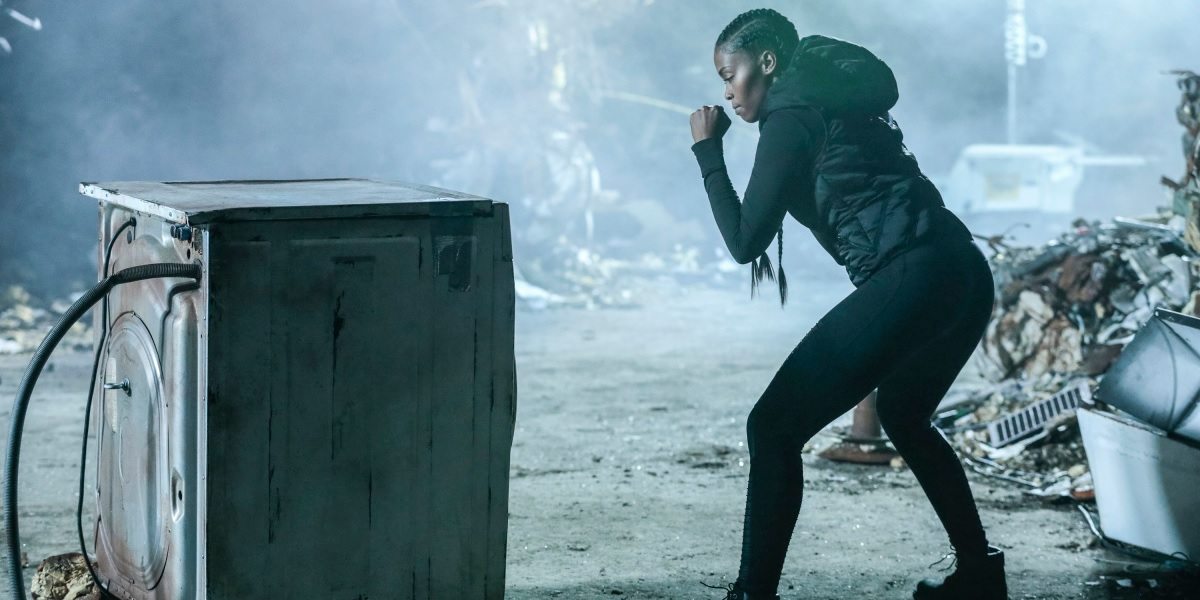 Photo: Carin Baer/The CW — © 2018 The CW Network, LLC. All rights reserved.
Black Lightning gets stronger with every new episode; this week, we get to see Jefferson's (Cress Williams) daughter Anissa (Nafessa Williams) come into her own. Like her father she has special abilities, and we're about to see her transition toward becoming the badass vigilante, crime-fighting, comic-fan-favorite, Thunder. We are so ready.
Black Lightning airs tomorrow on The CW.
From The CW:
HOLDING OUT HOPE — As Jefferson Pierce (Cress Williams) tries to determine if the community can survive without the help of Black Lightning (Cress Williams), Anissa (Nafessa Williams) starts to come into her own. Meanwhile, Jefferson and Lynn (Christine Adams) try and figure out their new dynamic. Finally, Jennifer (China Anne McClain) reveals to her parents that she has been grappling with something big.
—
RIVERDALE
"Chapter Twenty-Five: The Wicked and the Divine" – Season 2, Episode 12
Wed Feb 1 – 8PM
On The CW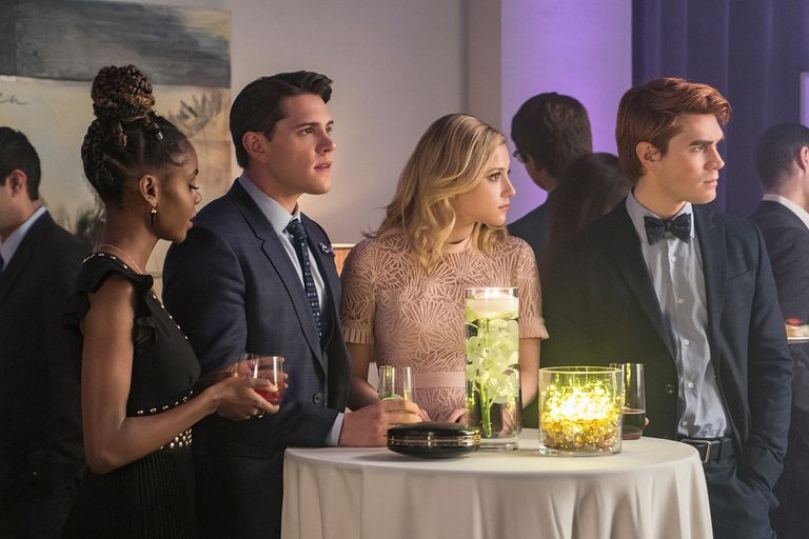 Photo: Daniel Power/The CW — © 2018 The CW Network, LLC. All rights reserved.
Betty (Lili Reinhart) still isn't heeding any of the red flags Riverdale keeps waving at her about Chic (Hart Denton) and, at this point, we don't even want to say "toldya so". Meanwhile, the tensions between our crew and the Serpents are at a Godfather-level (complete with a head in a box…don't panic, it's not a real one). This episode of Riverdale has got more snakes than a Taylor Swift video, and we're totally here for all the drama-drama.
Riverdale airs on Wednesdays on The CW.
From The CW:
FORGIVE ME FATHER FOR I HAVE SINNED – As preparations for her confirmation ceremony get underway, Veronica (Camila Mendes) becomes concerned that Archie (KJ Apa), who's agreed to be Hiram's (Mark Consuelos) "intern," may be learning too much about her family's secret business dealings. Jughead (Cole Sprouse) and FP (Skeet Ulrich) lead the charge after an incident at Pickens Park leads to increased tensions among the Serpents. Meanwhile, Chic (guest star Hart Denton) helps Betty (Lili Reinhart) deal with her inner darkness, while Archie finds himself in over his head after a high-stakes poker game with Hiram's shady inner-circle goes awry.
—
GROWN-ISH
"Cashin' Out" – Season 1, Episode 6
Wed Feb 1 – 8PM
On FREFM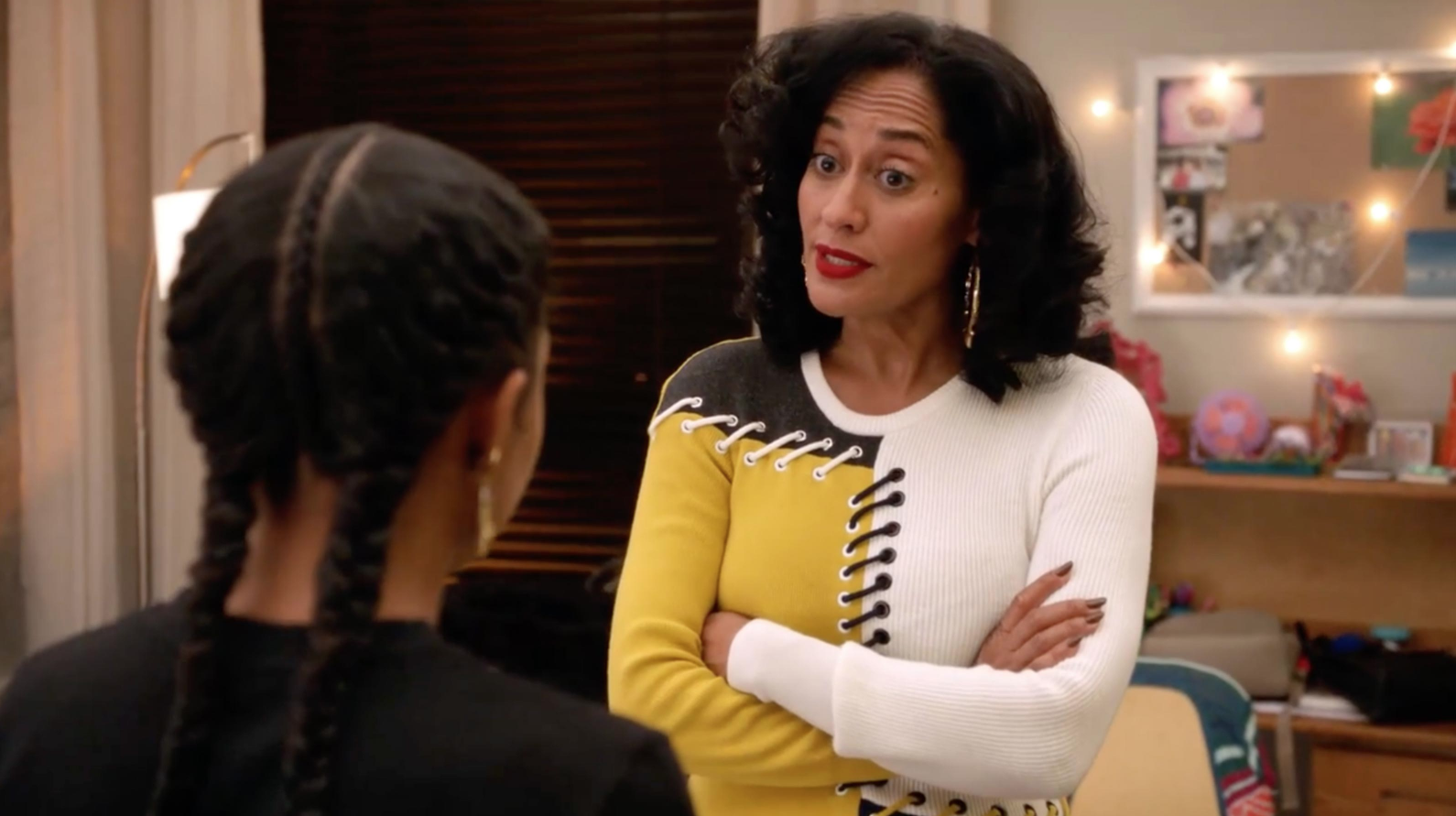 Credit: Freeform
You ever been so embarrassed you want to pack up and leave town? Yeah, that's the level of mortified Zoey (Yara Shahidi) is on after her athlete-superstar boyfriend Cash (Da'Vinchi) gives an ambush interview on national television. But Zoey might have other reasons to leave town…and the girl is sweating (guess it's good she forgot to put on her makeup). Zoey has a hard choice to make, so we really don't blame Rainbow (Tracee Ellis Ross) for committing the ultimate parental no-no and showing up at Zoey's dorm unannounced. (Um, Rainbow, going straight to vm means stay out the business, 'kay?) Like we said, "no blame" especially when Zoey reveals all kinds of new-adult things happenings in her life. #hardchoices. Is Zoey really trying to make her mom's head explode…or just her life?
Watch grown-ish every Wednesday on Freeform.
From TV Guide:
When Zoey is put on the spot on national television, she's faced with a difficult decision that may change her future.
—
Happy!
"I Am the Future" – Season 1 finale
Wed Jan 31 – 10PM
On SYFY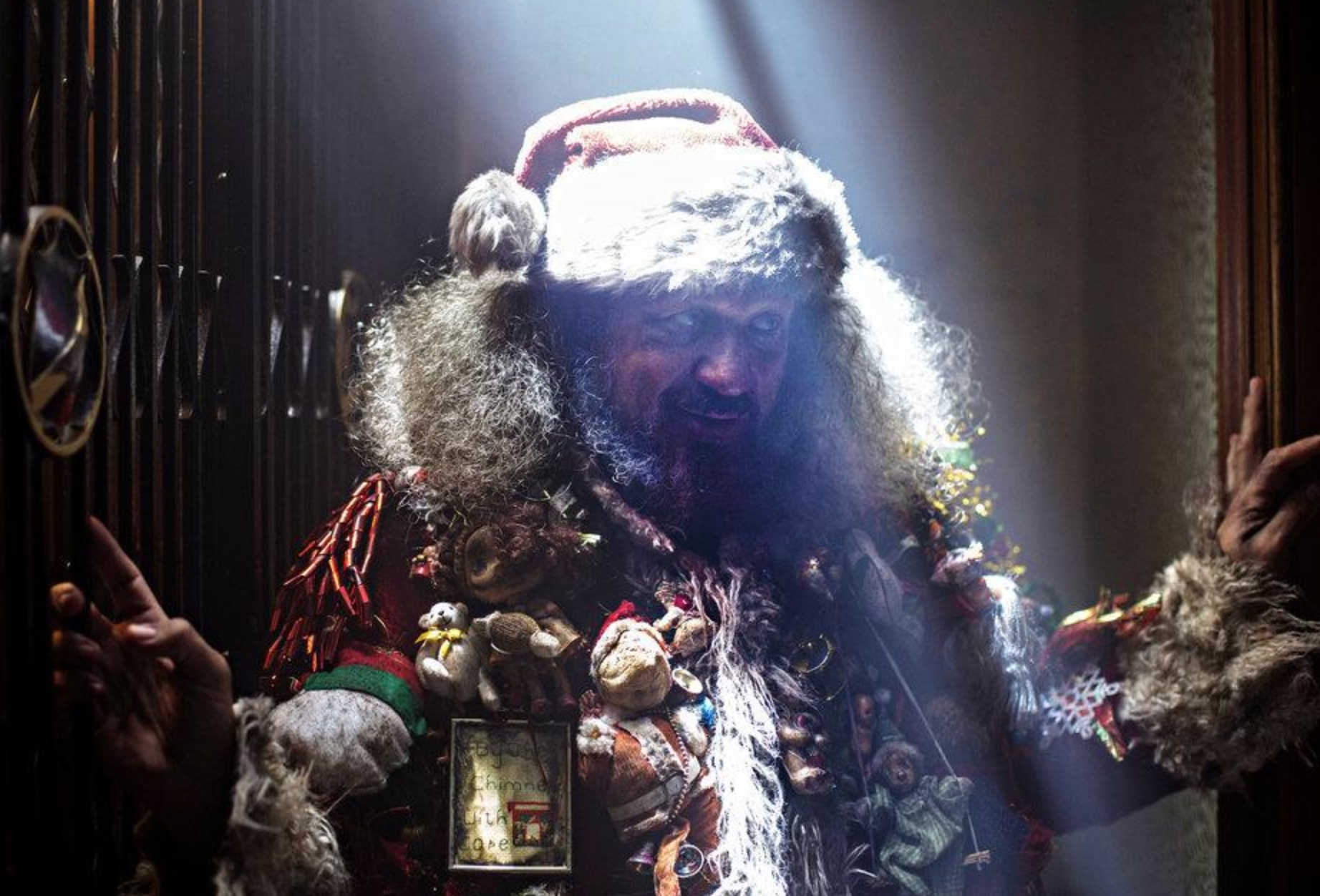 Photo by: Eric Liebowitz/Syfy
It's Christmas time and everybody's Happy!…well, uh, y'know, putting aside all the violence, cough syrup, and straight up perversion you'd expect during the festive season—at least when Grant Morrison is involved. Let's just say Happy (Patton Oswalt), the little blue flying unicorn…pegasus…unicorn…okay, imaginary friend is happy and be content with that. Just don't let your kids watch this show, because, aside from the R-Rating, Nick (Christopher Meloni) is about to go find Santa—Very Bad Santa (Joseph D. Reitman) that is—and he's definitely on the naughty list this year. Welp, that's Santa's ass.
From SYFY:
With Christmas approaching, Sax and Happy are locked in a climatic confrontation to rescue Hailey from Very Bad Santa's lair.
—
THE GOOD PLACE
"Somewhere Else" – Season 2 finale
Thurs Feb 1 – 8:30PM
On NBC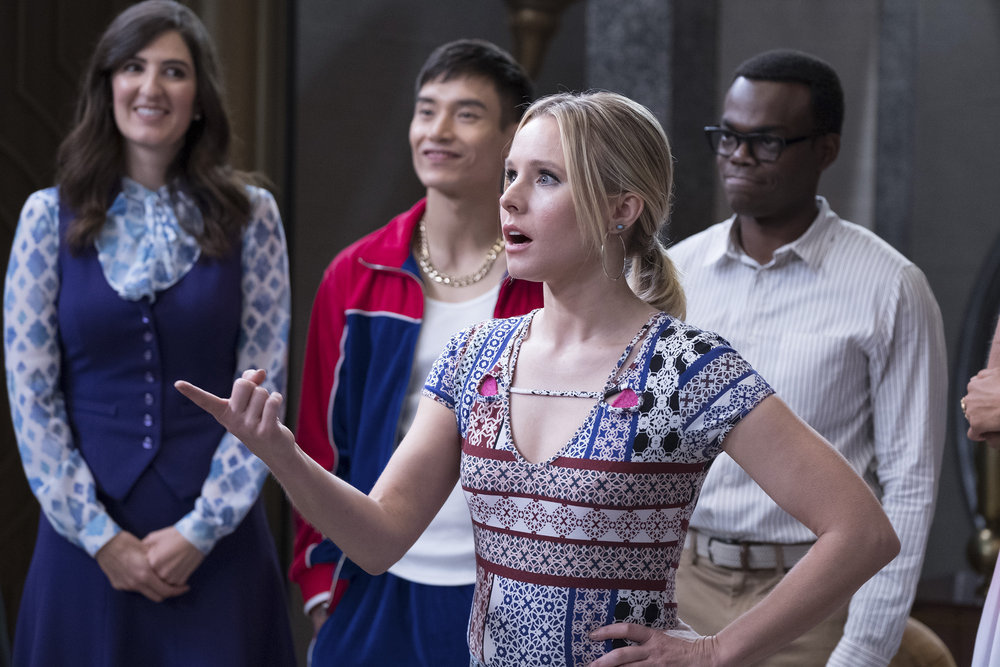 Photo by: Colleen Hayes/NBC
Just when you think Eleanor (Kristen Bell) & Co. are officially forked, Michael (Ted Danson) and Janet (D'Arcy Carden) show up to save the day…or at least try to. Unfortunately Big Mike has to make his case to Maya Rudolph, who absolutely shines as the all-knowing, all-burrito-loving Judge Gen. The Good Place has continued to surprise and delight us at every turn and we don't know what twists the S2 finale is about to take (NBC has that sh!t on lock…mean giraffes). Whatever happens we're sure the final moments of season 2 are going to make us say, "holy motherforking shirtballs", while it takes us on one Hell of a ride.
Dive into The Good Place this Thursday on NBC.
From NBC:
MICHAEL MAKES A PLEA AND ELEANOR LOOKS TO TAKE THE HIGH ROAD IN THE SEASON TWO FINALE – Michael (Ted Danson) tries to pull a rabbit out of a hat. Kristen Bell, Jameela Jamil, William Jackson Harper, Manny Jacinto and D'Arcy Carden also star.
—
A.P. Bio
Series premiere
Thurs Feb 1 – 9:30pm
On NBC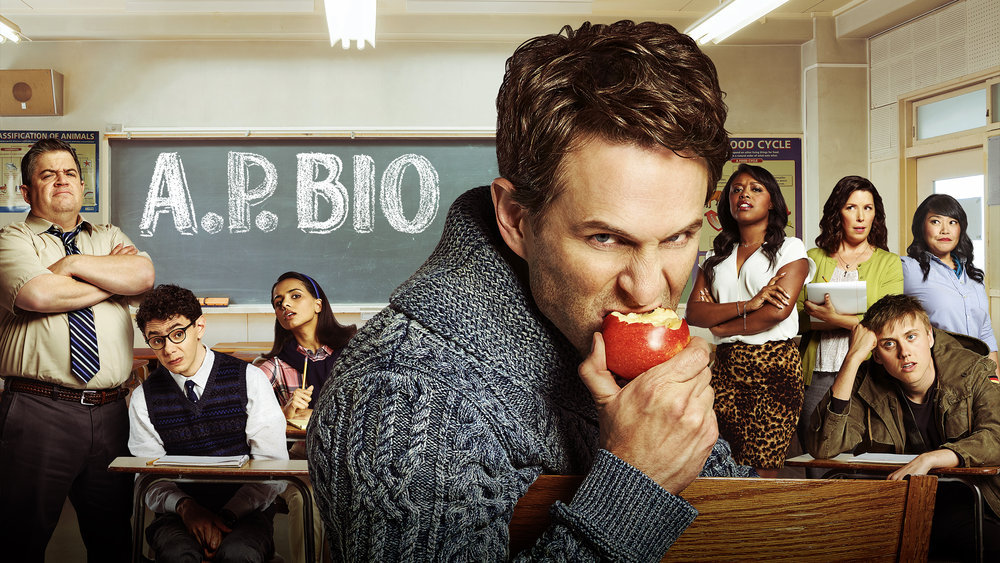 Photo by: NBCUniversal
Most students don't want to be in school. What if the teachers don't either? (Okay, that's sorta true for some of 'em, and you won't find any blame here.) When professor Jack Griffin (Glenn Howerton) finds himself back in his hometown of Toledo, Ohio as a—you guessed it—A.P. Bio teacher, he has absolutely no plans on actually teaching the subject, why should he? He's the country's (second) greatest philosophy scholar (and only he knows it). Instead Jack forces the brightest young minds of Whitlock High School to help him get revenge…and to royally f#©k up at every opportunity…guess that's more useful than learning what the powerhouse of the cell is. A.P. Bio is the satiric (well, kinda) look at what high school is really like, and we're left wishing we had a teacher like this growing up (our parents refused to let us f#©k up royally at any opportunity and we're lacking because of it). Forget about taking notes (Jack won't let you) and enjoy the freedom of high school when you can't be bothered and Patton Oswalt is your principal…even though Jack doesn't have any…principles we mean…stay in school so you can watch A.P. Bio on your phone.
Tune in to NBC this Thursday for a special preview of A.P. Bio.
From NBC:
When disgraced Harvard philosophy scholar Jack Griffin (Glenn Howerton) loses out on his dream job, he is forced to return to Toledo, Ohio, and work as a high school Advanced Placement Biology teacher. As he comes crashing into Whitlock High School, Jack makes it absolutely clear he will not be teaching any biology. Realizing he has a room full of honor roll students at his disposal, Jack decides instead to use the kids for his own benefit. Eager to prove that he is still king of the castle, Principal Durbin (Patton Oswalt) struggles to control the force of nature that is Jack Griffin.
—
Altered Carbon
Season 1 premiere
Fri Feb 2
On Netflix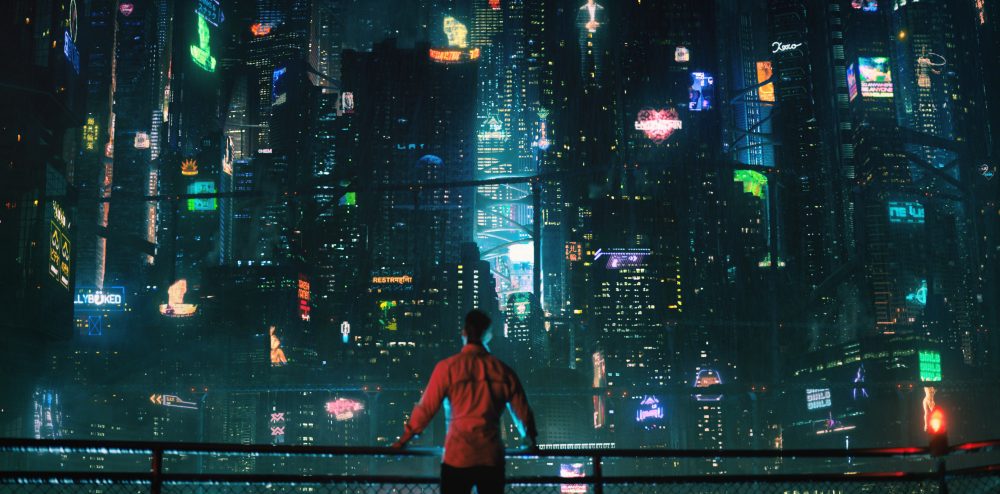 Photo credit: Netflix
Netflix is stepping into the world of cyberpunk and the results look stunning. We'll be spending the rest of the week wrapping our heads around Altered Carbon's trailer until season 1 drops on Friday—don't wait up:
Stream season 1 of Altered Carbon on Netflix from Friday.
From Netflix:
Based on the classic cyberpunk noir novel by Richard K. Morgan, Altered Carbon is an intriguing story of murder, love, sex, and betrayal, set more than 300 years in the future. Society has been transformed by new technology: consciousness can be digitized; human bodies are interchangeable; death is no longer permanent. Takeshi Kovacs is the lone surviving soldier in a group of elite interstellar warriors who were defeated in an uprising against the new world order. His mind was imprisoned – on ice – for centuries until Laurens Bancroft, an impossibly wealthy, long-lived man, offers Kovacs the chance to live again. In exchange, Kovacs has to solve a murder … that of Bancroft himself.
—
Absentia
Series premiere
Fri Feb 2
On Amazon Prime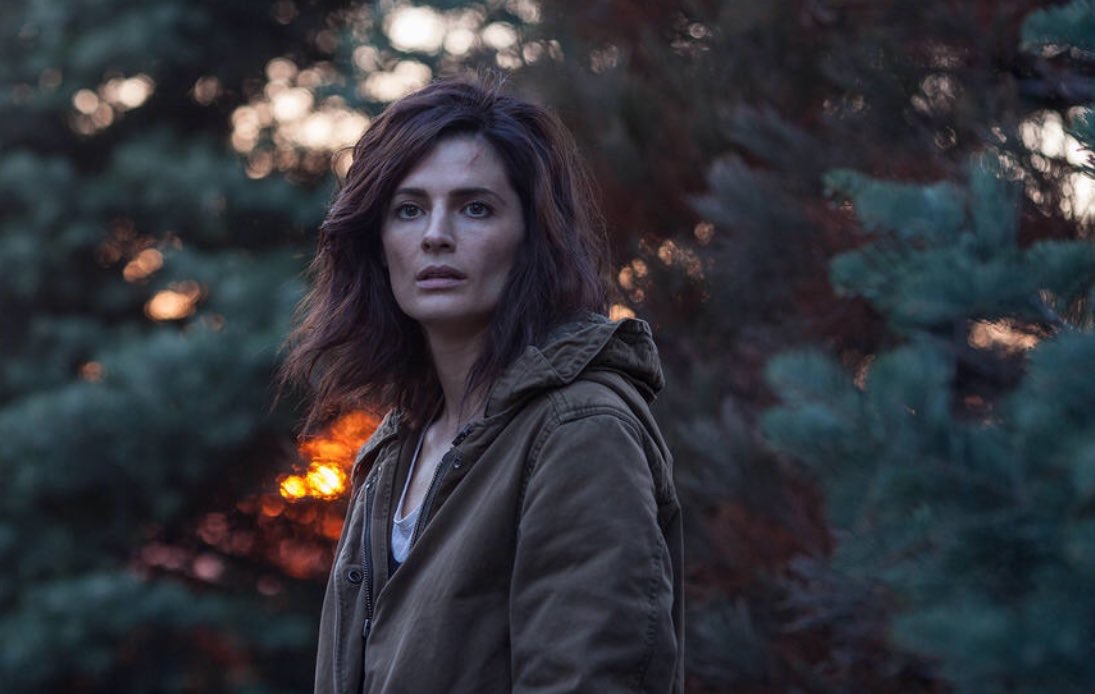 Credit: Amazon
Amazon Prime's new series Absentia asks five questions that'll raise the hairs on the back of your neck: 1. What happens when someone returns from the dead? 2. How do they adjust to life again? 3. What happens when their reappearance is linked to the murders of various women around town? 4. What the hell happened to Stacia Katic in that fishtank? 5. Is she evil (please tell us she's not evil but then say you're lying because it'd be really amazing if she's evil)? Absentia is taking a long hard look at justice, trauma, and mystery, and taking its time to really chill you to the bone with this grim new thriller.
Watch the series premiere of Absentia on Amazon Prime this Friday.
From Amazon:
After being declared dead in absentia, an FBI agent must reclaim her family, identity and innocence when she finds herself the prime suspect in a string of murders.
—
THIS IS US
Season 2, Episode 14
Sun Feb 4 – 10:15PM / After the Super Bowl
On NBC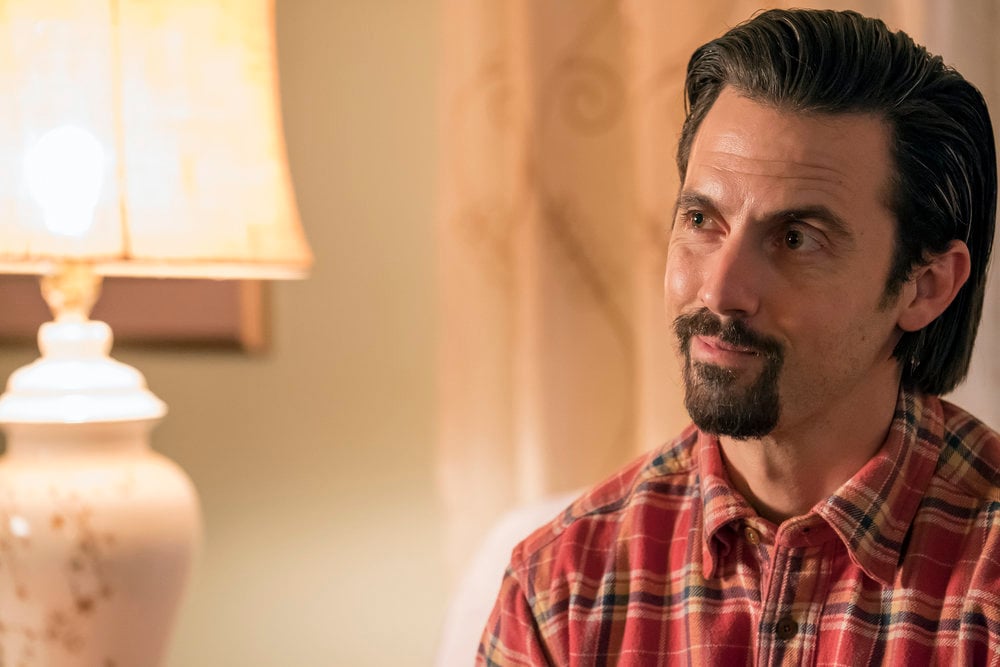 Photo by: Ron Batzdorff/NBC
If you haven't seen us since last week, that's because we're traumatized over what we know is coming this week on This Is Us (and we've been making sure our kitchen devices are working properly). NBC hasn't released much info about what to expect in the second episode of the heartbreaking death of the Pearson patriarch Jack (Milo Ventimiglia). This one is really going to hurt—Randall (Sterling K. Brown) might be having a Super Bowl party but we'll be having a good, long cry.
Catch This Is Us on NBC after the Super Bowl.
—
STAR TREK: DISCOVERY
"The War Without, The War Within" – Season 1, Chapter 2
Sundays at 8:30pm
On CBS All Access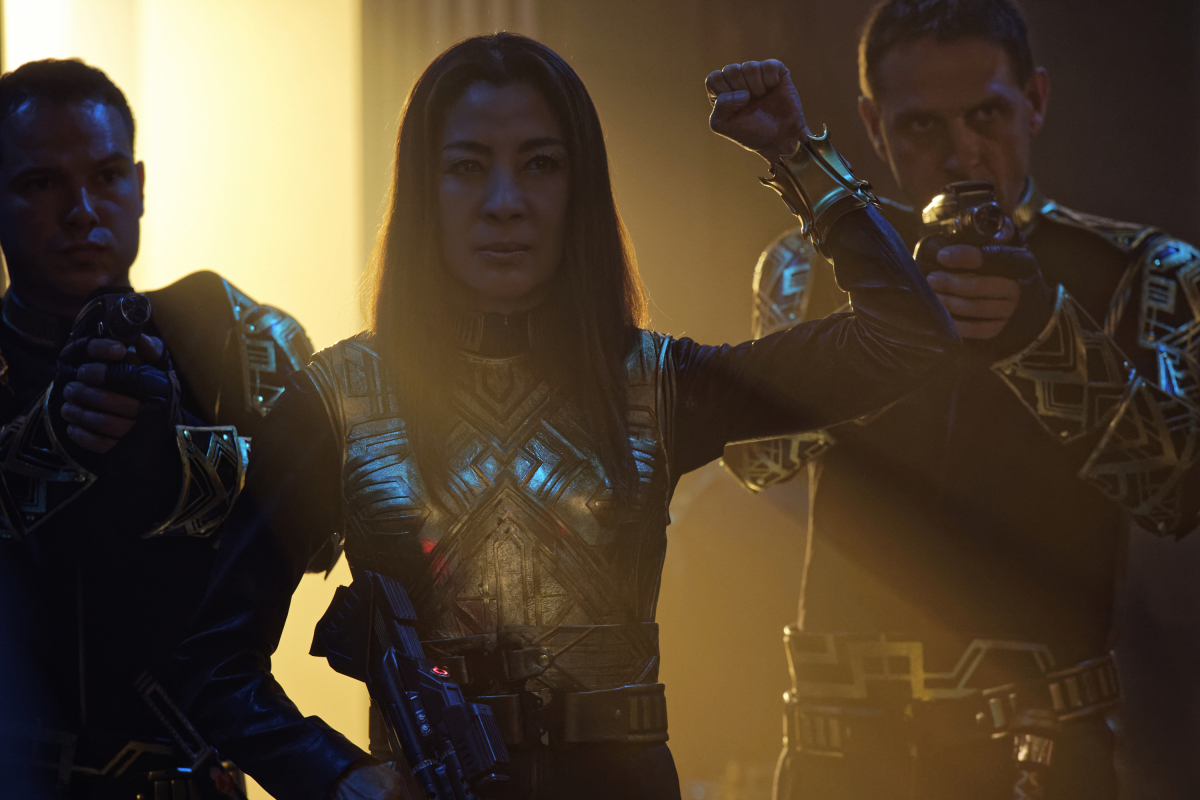 Photo: Ben Mark Holzberg
If any of you needed proof that Burnham (Sonequa Martin-Green) is the real hero in a universe full of morally ambiguous villains, yesterday's episode of Star Trek: Discovery was it. Whose side were you on last night: Lorca (Jason Isaacs) or Georgiou (Michelle Yeoh)? (sidebar: Why is Michelle Yeoh so dope?) Either way we need a whole week to recover from what happened and wrap our heads around the science of the Discovery finally making it back home after rebooting the mycelial network—but there ain't no rest for the wicked, because the crew find themselves nine months into the future, where Klingons have won the war.
Beam up onto Star Trek: Discovery on CBS All Access every Sunday.
Tags:
A.P. Bio
,
Absentia
,
Altered Carbon
,
Amazon
,
Amazon prime
,
Black Lightning
,
CBS
,
CBS All Access
,
Freeform
,
grown-ish
,
Happy
,
NBC
,
Netflix
,
Riverdale
,
Star Trek: Discovery
,
Supergirl
,
Syfy
,
The CW
,
The Flash
,
The Good Place
,
This Is Us
,
Watch This Week
,
WTW