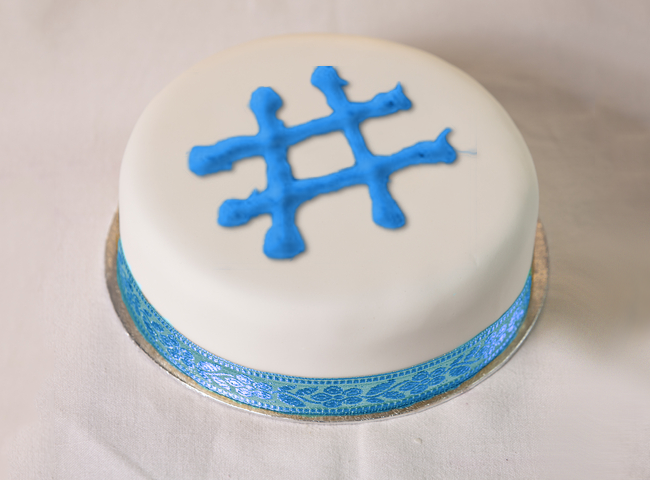 My favorite social media platform turned ten years old this week. If I could bake a bird-shaped cake to celebrate, I would. But let's face it, my Twitter birthday cake would just be a circle with a giant hashtag in blue frosting. Regardless, it's still pretty cool to see how far social media has come in a decade! I distinctly remember thinking Twitter would only ever amount to a Dear Diary-style word vomit where people would feel the need to narrate every moment of their day. Instead, that's Facebook now (plus a slew of branded advertisements, random event invites, and links to articles/Buzzfeed videos). Twitter has actually done pretty well in the last ten years. It's been an excellent resource for journalists and live reporting, and a great venue for conversation with trending topics and hashtags. It's still my favorite place to go to figure out what's going on in the world (and how I find new music to check out!).
So while there isn't a bird-shaped cake, or even a hashtag in blue frosting (I was kidding), I still want to take a second to celebrate a decade of Twitter. And what better way than with a bunch of the best tweets to ever grace my timeline? Here are some of my favorite moments over the years:
–
Ellen Degeneres, my hero, posted her Oscars selfie in 2014 to Twitter, and it's still the most retweeted image in history–3,343,035 retweets.
If only Bradley's arm was longer. Best photo ever. #oscars pic.twitter.com/C9U5NOtGap

– Ellen DeGeneres (@TheEllenShow) March 3, 2014
–
Following the highly anticipated release of Star Wars Episode VII: The Force Awakens, a parody account popped up on Twitter called Emo Kylo Ren. It is now my favorite account on Twitter. IT NEVER GETS OLD.
what's the word for when your father is frozen in carbonite but emotionally for your whole childhood

– Emo Kylo Ren (@KyloR3n) December 29, 2015
–
I remember the exact moment I learned that Blink 182 had reunited. It was 2009, I was backstage at my high school play where I played a maid or something and my friend called me. This was before I had Twitter, so I didn't get to see this life-changing tweet until later. But it still counts.
Hi. We're blink-182. To put it simply, We're back. We mean, really back. Friendships reformed. Summer 2009. Visit www.blink182.com

– blink182 (@blink182) February 9, 2009
–
Another reunion that literally rocked my world: Pete Wentz announced the return of Fall Out Boy with a simple "We missed you" and a brand new song.
mondays are tough, hopefully this will brighten yours a bit: http://t.co/WEORqf2S we missed you.

– t(-.-t) (@petewentz) February 4, 2013
–
Annnnd some more Fall Out Boy, because they were voted Artist of the Year at the inaugural Alternative Press Awards in 2014.
we only plugged in to save rock and roll ? thanks for voting us @altpress artist of the year pic.twitter.com/8QrvLssZpY

– Fall Out Boy (@falloutboy) July 22, 2014
–
State Champs opened for the chart-topping pop-punk boy band 5 Seconds of Summer, so that's pretty awesome.
5SOS x STATE CHAMPS
NZ/STRAYA 2015 pic.twitter.com/fGQReOelbO

– State Champs (@State_Champs) June 29, 2015
–
Linkin Park surprised everyone with a set at Vans Warped Tour '14 on Twitter.
playing @VansWarpedTour tonight in Ventura, CA #warpedtour #TheHuntingParty pic.twitter.com/Ku5VhEkdJU

– LINKIN PARK (@linkinpark) June 23, 2014
–
August Burns Red were honored with a Grammy nomination for Best Metal Performance last year! They may not have won the award, but they certainly won our hearts.
Honored and humbled to be nominated for a Grammy Award for Best Metal Performance. Thank you for making this happen! pic.twitter.com/ALeShsISqA

– August Burns Red (@abrband) December 7, 2015
–
Twitter celebrated the awesome engagement of some of our favorite people, Hayley Williams and Chad Gilbert in January. It was pretty cute.
Best vacation ever! I can't imagine a cooler way to celebrate getting engaged. Thx @WaltDisneyWorld for the memories! pic.twitter.com/3i321DFg8K

– hayley from Paramore (@yelyahwilliams) January 16, 2015
Hahahah this is the best RT @xrawrglare: @yelyahwilliams @XChadballX so happy for your engagement. chadley! <3 pic.twitter.com/j99LbVRBda

– Chad Gilbert (@XChadballX) January 5, 2015
@XChadballX ah! This one's better!! "@TheParamoreNews: New photo of Hayley w/ her engagement ring! #cute pic.twitter.com/6i6F1ZoLQz"

– hayley from Paramore (@yelyahwilliams) February 24, 2015
–
This only scratches the surface of cool things that happened, I know. But just think of all the cool things yet to come. Cheers to you, Twitter! Here's to ten more years.
#HappyBirthday #Decade
Tags:
August Burns Red
,
Blink-182
,
Fall Out Boy
,
Linkin Park
,
New Found Glory
,
Paramore
,
Star Wars
,
State Champs
,
The Oscars
,
twitter