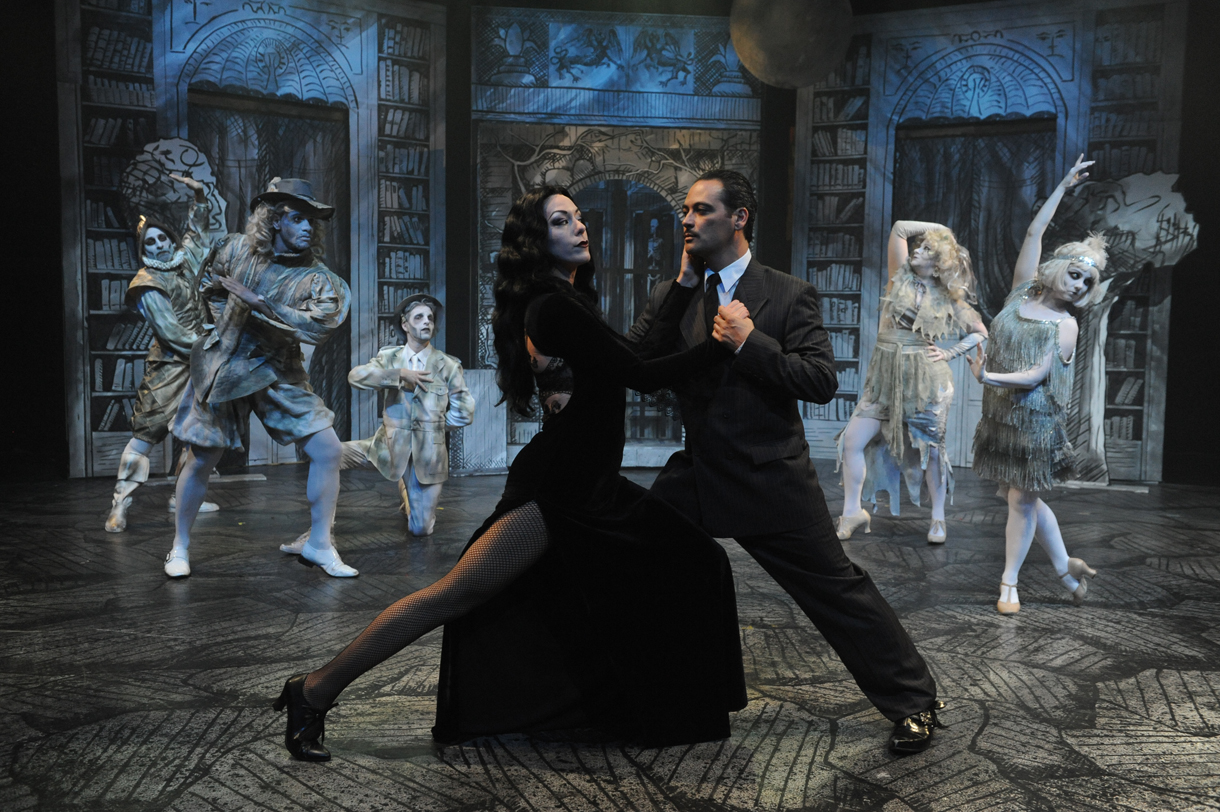 Picture this: You're planning the spookiest Halloween party in town. You have all the grapes peeled to trick your guests into thinking you're serving up eyeballs and all the perfect Pinterest decorations for the season. The only problem is that you urgently need bands to complete the eerie atmosphere. idobi has you covered! We've put together a set of the most haunting bands around to keep your guests dancing until they drop dead.
—
AFI
While flipping through my iPod in the beginning of fall, there's always one spooky band that stands out above the rest. AFI is essential to my October playlist and would be perfect to set the mood of our Halloween party. Their music is definitely more "ambient" than "dance party" most of the time, but there's something just right about "Silver and Cold" in the way that it makes you picture being in a Sleepy Hollow-esque forest with rain hitting the fallen leaves on the ground. After putting us in a Tim Burton-like trance, the band would end the set with the throwback "Miss Murder", and there is no doubt that we wouldn't be able to resist dancing and screaming the lyrics back at the top of our lungs. If you want the most chilling graveyard party of the year, this will always be the band to turn to. (Eli McDonald)
—
Halsey
Halsey rules the world in my eyes, but in "Castle", she's taking a trip to the Badlands to take her rightful place on the throne, and she's doing it with an eerie power that shines through in every song. Coupled with the religious, slightly ethereal chanting in the background and the slow ritualistic drumbeat, it's enough to send a shiver right down your spine that makes it the perfect Halloween soundtrack. And that'd just be the opening of her set; with her soft yet steady vocals in sultry verses on tracks like "Haunting" and "Young God", you can almost feel a cold wind blowing on the back of your neck, warning you of that thing you know is there but you've yet to see. Before you can quite catch your breath, her explosive and theatrical choruses will swoop in and grab you tight.
There's an undeniable pull in her music that both sets you on edge, but also makes you sure that Halsey will be the next Evil Queen you'll both love and fear. By the time she closes out her set with "Ghost", you'll be ready to follow her straight to that Castle—because there's absolutely no question that Halsey won't get whatever she wants when she gets there, and we don't envy anyone who gets in her way. (Alex Bear)
—
Panic! At The Disco
My number one "Halloween is just around the corner" jam is Panic! at the Disco's "It's Almost Halloween". The scariest part of this song is the video quality—don't watch it in full-screen mode unless you like feeling dizzy—but it's a reminder that, in spite of all the spookiness, Halloween is also about having fun and "doing the trick-or-treat". I've been listening to this song every October for the past seven years but I don't think Panic! ever played it live—half of the original members left the band less than a year later—so I would love to see Brendon Urie break it out one day, and idobi's Halloween party would be the best place to do it. I have faith that he'd adapt the sound so that it would fit into a set list along with "Emperor's New Clothes" or "Nearly Witches" or maybe even his cover of "This is Halloween". And if getting Brendon to play a Halloween party meant he'd have to break out the ol' guyliner…I'd be okay with that. (Sam Devotta)
—
PVRIS
What Halloween party wouldn't want to be rocked by PVRIS? The band's dark aesthetic is the perfect fit for a downright spooky event, and I'm pretty sure their trademark mirror is magical enough to add that mystic edge every All Hallows Eve needs (does it transport you to another dimension? Does it trap souls? Is it just a wicked looking mirror? We may never know.)
Smoke and mirrors aside, the band's debut album White Noise is impeccable. "St. Patrick" and "My House" will bring the house down in an angry rage, while "Eyelids" will sweep a whispery chill across the party. You can lighten the mood with "Mirrors", or make things extra intense with "Let Them In". With just the right amount of spook and melody, PVRIS is a one stop shop for Halloween tunes. (Emillie Marvel)
Tags:
AFI
,
Halloween
,
Halsey
,
Panic! At The Disco
,
PVRIS