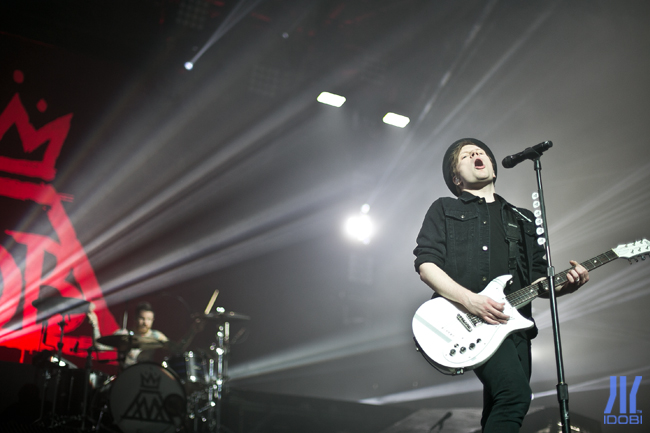 Photo credit: Gaëlle Pitrel. Full gallery here.
Had my mother not thrown out a box labeled "Emotionless Catalyst" during my parents' most recent move, someone would've stumbled over dozens of composition notebooks filled with Sonny Moore fanfiction, and my feelings would have spilled out. If you had the patience to flip past New Found Glory drawings and lyrics and managed to find a September 17, 2005 date, you would probably see the day I more than likely fell out of love with Fall Out Boy.
For other seasoned fangurls, you might be racking your brains now, trying to piece together the significance of that day. Maybe you're wondering if Fall Out Boy was playing on your MySpace page (hint, if you can still remember your password, you can log in and see an entire playlist your teen self created) or if maybe they had an appearance on TRL that day.
Ten years ago today, Fall Out Boy's "Sugar, We're Going Down" was hitting its peak of spending 20 weeks in the top 20 on the Billboard charts. For those of you who were old enough to remember, this was a time when you couldn't go to the mall without hearing this song blasting from both Hot Topic and Claire's, and Pete Wentz' face was on notebooks and necklaces at both stores.
Like all true fangurls, I was hitting a point of annoyance that the band had gone so "mainstream." This was, of course, something I experienced even more when My Chemical Romance released absolutely everything after I Brought You My Bullets, You Brought Me Your Love, so I was already growing accustomed to this trend. I did not, however, sob the words "underground" and "before they were even cool" when it came to Fall Out Boy. Those are phrases I reserve for when I drunkenly cry and force people to listen to "Early Sunsets Over Monroeville," saying that I always imagined dancing to this MCR song at prom.
By the time Fall Out Boy dropped out of the Top 10 five weeks after they released "Sugar, We're Going Down," I already had my fill of this song. Fifteen more weeks of a "loaded God complex" was overkill, so I was rejoicing when they retired this song from the radio, and then made fun of my friends who were just getting into Fall Out Boy. What N00bz.
It took me a minute to even find "Sugar, We're Going Down" on Fall Out Boy's Spotify, because it's officially almost off everyone's radar. I'm assuming the only reason the song is even in their top five most-played songs still is because older fangurls like myself like to give ourselves a taste of nostalgia every now and then; songs like this bring us back to sulking behind locker doors, applying and reapplying Wet'N'Wild dual-sided eyeliner (for me, black and purple) and dreading what was probably a civics class.
Today, Fall Out Boy's "Uma Thurman" and "My Songs Know What You Did in the Dark (Light Em Up)" lead the pack in terms of most-frequently played songs. My guess is the new wave of fangurls will soon get equally sick of hearing how these dudes can move mountains and work a miracle, retiring this song from their playlists as they slowly grow up and turn into me. Don't worry, Uma Thurman will be cool to jam out to 10 years from now, when you pretend it's 2015 because you're a grown-up, grumpy fangurl, too.
Tags:
Fall Out Boy
,
Rewind