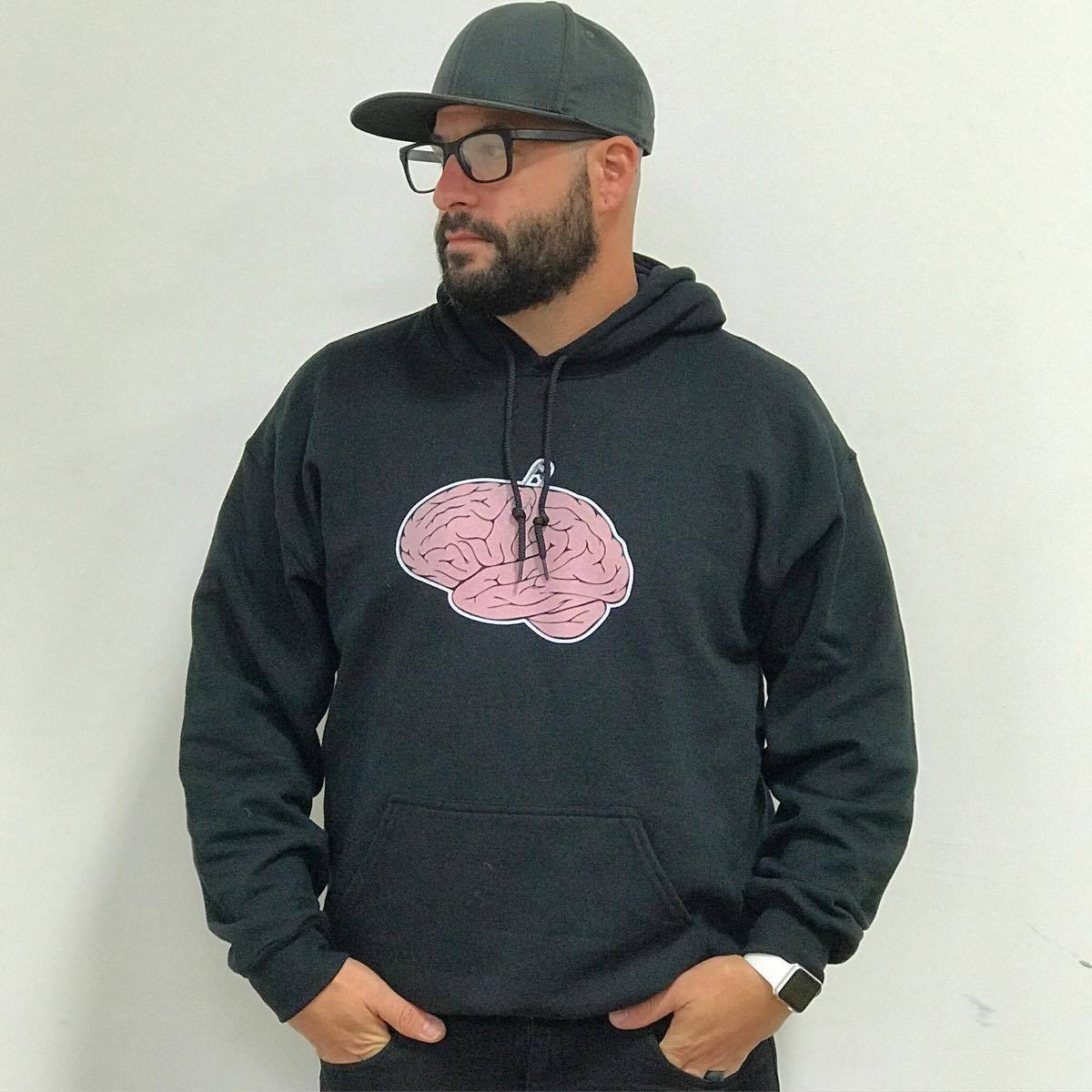 "All of these concepts actually come from a sketchbook I had while I was living in Las Vegas."
When life gets out of hand, it's time to hit reset. That's the idea behind Brooklyn based apparel line, Reset In Peace. Founded by Chris Ghiraldi (aka Velapene Screen in the electronic music scene) after conquering addiction, the line not only dresses you in rad clothes, but also gives back to the places that helped Chris in some of his darkest times.
With Christmas right around the corner, Reset In Peace should be dominating your wishlist, and we're gonna tell you why. We've put together a lookbook of all of RIP's best pieces, complete with stories from Ghiraldi himself. Because a cool shirt is one thing, but a cool shirt that means something, well that's even better.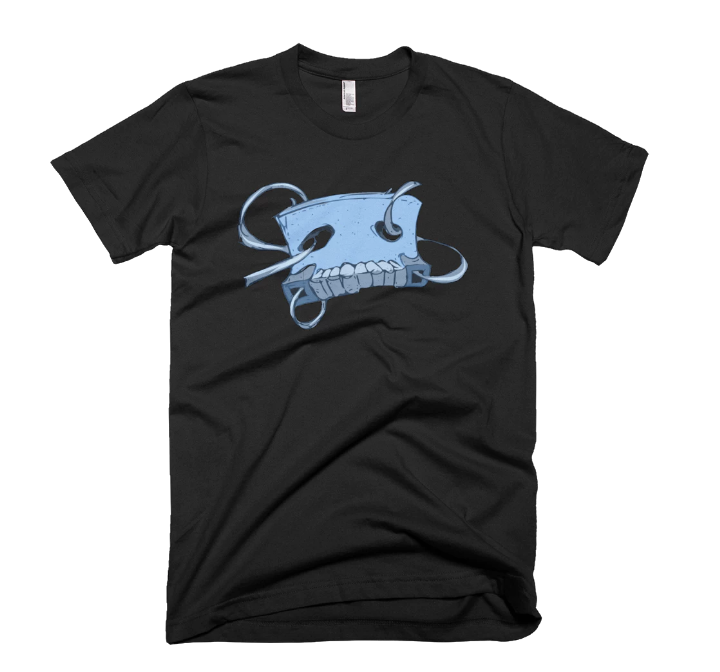 Flashback to a few years ago, and you'll find Ghiraldi on the streets of the City of Sin. It seems like such a fitting place to fall into drug dependency and survive on a backpack, sketchbook, and street art, which is just how Chris's Las Vegas story went. The skull + cassette tape sketch (aka the Skape) was born out of that time in his life, and soon became an emblem that could be found around the city. "I made a stencil out of it, and I started putting it up around, spray-painting it up around town."
You can't sell art you spray-paint around town, but you can sell art you sketch on envelopes—which is what he did. "People were buying them!" For awhile, Skapes and robots were holding what I can only assume was some pretty cool mail, and Ghiraldi was happy to have the help. "You know, that was cool. It got me by for a little while."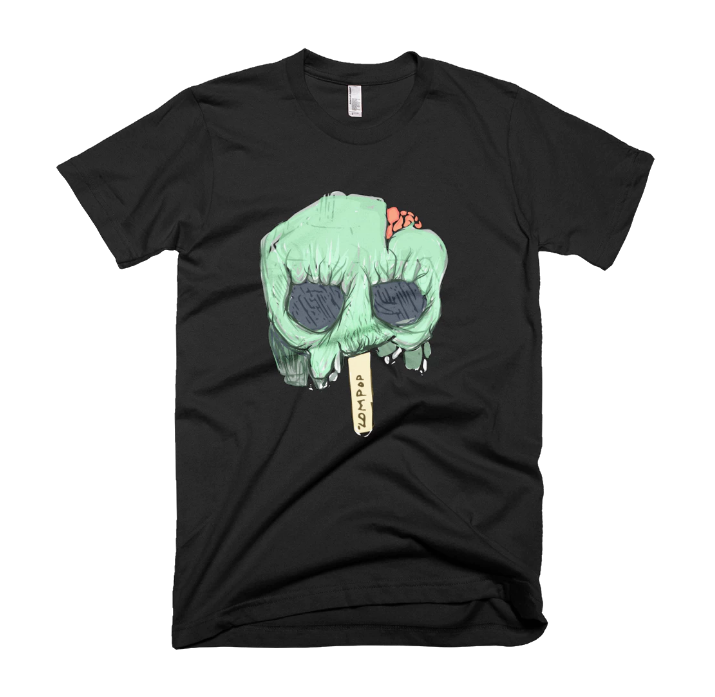 Popsicles for zombies & taco eateries tell the next chapter in Ghiraldi's story. The zom-pop opened an unexpected door and allowed Chris to become a mentor. "I sold one to this kid that worked at this taco place… and he actually asked me to teach him how to draw," he explains. "We would sit down with the salt and pepper shakers and I would show him what shapes of light and dark look like and how to see the shapes in order to make them into actual drawings."
"I'm clean now, and I'm resetting, and the only way to do it is to find peace within yourself."
You can only burn out for so long before it's time to get help, and during Ghiraldi's stay in Las Vegas, he was confronted with the realization that it was time to reach out a hand. Also a musician, Chris has friends in the industry—including Regina Spektor, who helped him get in touch with the Grammy run organization MusiCares. "If you have like six or more records out, you can apply to the fund and they will pay for your rehab." Thanks to that, he was able to get out of the self destructive state he was in, and move forward to healthier days ahead. "They flew me out of Las Vegas and put me in a rehab in Hampton Bays on Long Island, and paid for the whole thing. So that's how I got clean."
Recovering from addiction led Chris right into Reset In Peace. "I actually had a huge burst of creativity when I got sober." When deciding on what to call the label, Rest In Peace didn't quite fit his story, but Reset In Peace got exactly what he was trying to say. "That makes total sense because I'm clean now, and I'm resetting, and the only way to do it is to find peace within yourself."
The safety pin that's found in the line's items, as well as the logo, has just as much meaning, and maybe even more of a backstory. "I was holding my pants on with safety pins at one point when I was homeless, and they kinda became relevant to me." Like the ones that hold clothes together, the safety pins in Reset In Peace's line are there to remind you you can learn to hold yourself together too. "I guess it's kinda self explanatory, but it's just like fixing yourself."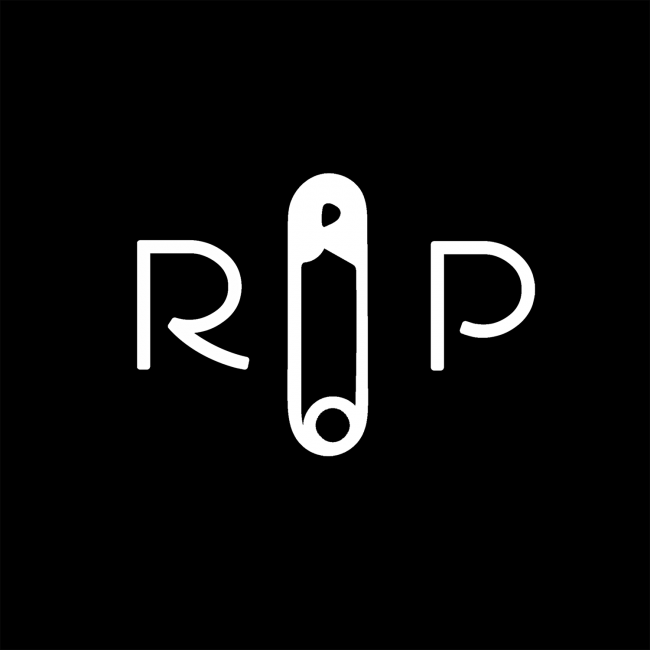 By starting over in his own life, he's also helping others get the clean slate they deserve. He's grateful to have gone from struggling to have clean clothes to making them and donating their profits. "It feels really good to be able to give back. On a daily basis I'm overwhelmed with gratitude that things are going well, because it took me a really long time to get myself straight." On top of giving back to the shelters that helped him out, he's also happy to drawings from his lowest points in life become something more. "Being able to see them come to life and on people is really an amazing feeling. And then being able to give back at the same time feels really good too."
"Addiction and most people's problems, it's all a brain problem."
Ghiraldi also wants to reach out to people who haven't gotten their clean slate yet. "'How are they doing that? How are they getting through a day without doing drugs?' Now, being one of those people, I'm coming up on two years sober, I actually can be clean all the time and be okay with it." His story is a beacon of hope, and one he hopes sheds some light for the recovering and unrecovered addicts he reaches.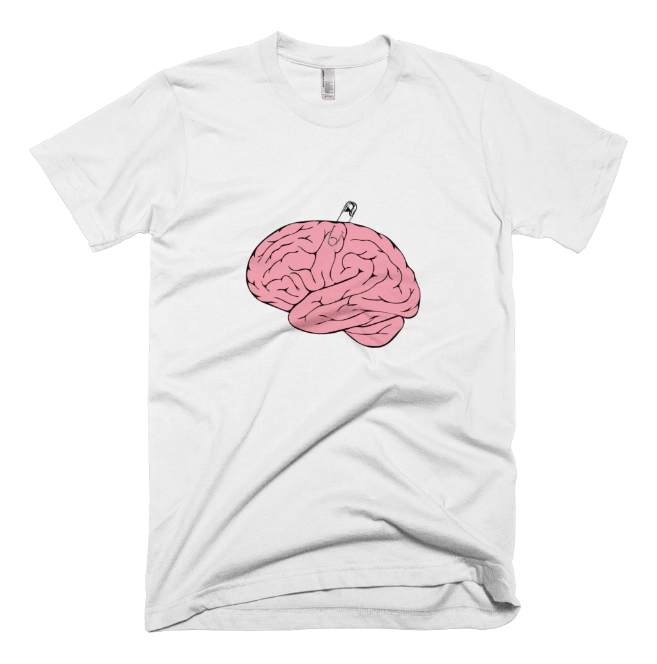 "It feels good to be able to take from the time that I was desperate."
On the topic of impacting people, I ask Chris which design he thinks resonates the most with buyers. "Addiction and most people's problems, it's all a brain problem," he explains. Recovering can feel a lot like putting yourself back together, and that process has to start with the thing that fights you the most. "People don't realize it's a thought problem. I'm my own worst enemy, and my brain is my own worst enemy." A safety-pinned brain sums up that feeling pretty well, and translates to buyers easily.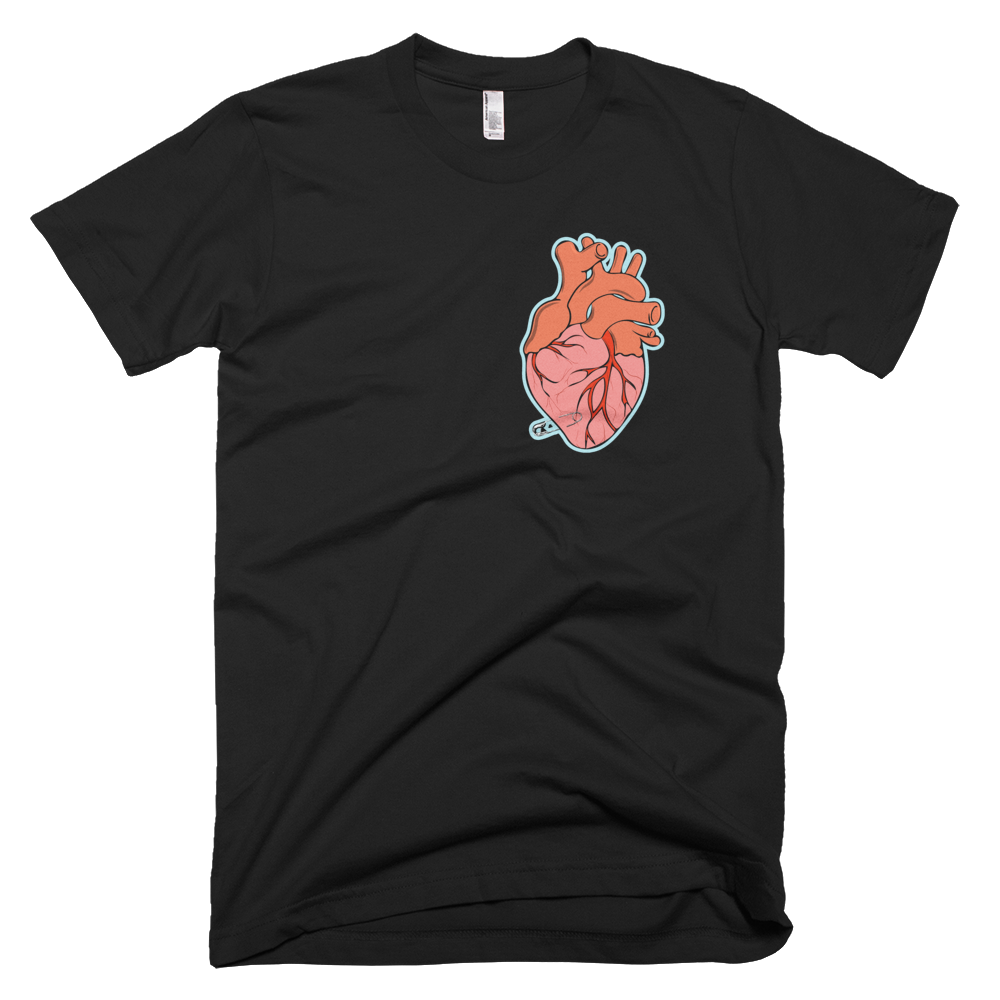 From there we talk about what's next on the agenda—and as long as it's tangible, you can expect anything. "As much as I love painting, I'm not very interested in doing it right now. I'm more interested in getting apparel out there and some cool urban vinyl stuff." Reset In Peace's upcoming products will have a couple other things in common too. Ghiraldi wants to keep working with human organs like he has with the brain and heart, "Things that could be damaged and repaired if you take care of yourself." He also wants to continue pulling from the past. "I kinda wanna continue to pull from the sketches that I did when I wasn't well, and then cleaning them up now that I'm okay. It feels good to be able to take from the time that I was desperate."
With so many ideas in mind, there's no telling what you'll be wearing from the line next, but Ghiraldi has one guarantee for you. "It's hard to say what direction it's gonna go, but I do know that they'll be colorful."
—
Ready to pick up your Reset In Peace apparel? Head over to www.resetinpeace.com, and enter coupon code IDOBI15 to save 15%!