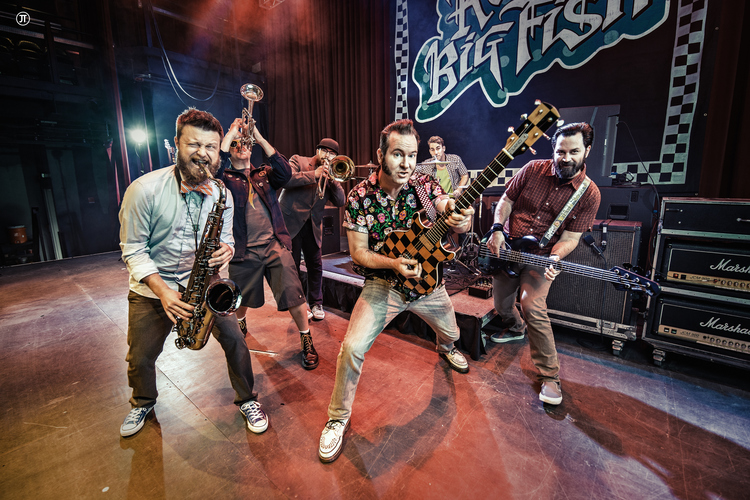 "I didn't think that I would be in a band like Reel Big Fish playing the music that we get to play…"
It's not all fun and games being in a ska band… Okay, maybe there is a lot of fun involved, but there's also long nights of touring, a noise no headphones could cancel, and fear of being eaten alive in a tent—before we get to that, though, let's introduce the world's most skankin' ska band, Reel Big Fish. The orchestra-worthy lineup have been doing this music thing for twenty-five years now (that's right, while you were reaching for a pacifier, they were reaching for a horn). The last twelve trips around the sun have been spent with resident trumpet specialist Johnny Christmas, which is exactly the man who called me from the Vans Warped Tour about two weeks ago.
We get chatting about the best places to go in my homestate of Michigan (Founders Brewery, looking at you AND your fire pit) before jumping into how Christmas got his start in the band. "You know I went to music school for trumpet, and that quite didn't work out for me," he explains. Maybe it was divine intervention, because without school, he was able to make and keep the connections he'd need to find himself playing mainstage on Warped in 2016. "Derek [Gibbs, RBF bassist] happened to knock on my parents' door when I was home from school and say 'Hey, do you wanna play in this band with me?'" That band was Forces Of Evil, and also featured RBF vocalist Aaron Barrett. "I went and rehearsed with the band on Sunday and then played a show on Friday, having never played in a band like this, and it was the most fun experience I've ever had in my life."
The rest is history, and speaking of that, Christmas also told me what sparked his interest in the ska brand in the first place. "I think part of it is just where I lived. I'm from Orange County," he tells me. It wasn't all hometown roots, though, because he's also quick to credit fellow SoCal musician Derek Gibbs again, but this time he was playing with Jeffries Fan Club. "Whenever I was home and they were playing hometown shows, I would go and watch them play. I'm like 'Wow this looks like a lot of fun, such a great time.' But I didn't think that I would be in a band like Reel Big Fish playing the music that we get to play in front of these huge crowds that are just going crazy."
"Everything in Australia wants to kill you."
Huge crowds of screaming fans pull us into our next topic, the well-loved Warped Tour. Johnny has one thing weighing heavily on his mind when talking about their experience so far this year. "It's hot, really hot, lots of sweating and heat stroke and sunburns. Just general dehydration all around."  He tells me how Reel Big Fish have been on the US trek seven times now, and have ventured out on the Australian and UK branches of it for a total of three more times. "So we are veterans of this tour and uh, it's still hot," he laughs.
I ask about the band's time on Warped in Australia, and get a story that probably inspired their song "Don't Start A Band". "The first time that the band did it in 1997, they gave the bands tents to camp out in. You were sleeping in a tent and then going to the next venue," he starts. While that may sound like the perfect way to cement that punk rock summer camp vibe, it wasn't as rock 'n' roll in real life… But maybe it was a little metal. "Everything in Australia wants to kill you," he finishes. "Whether it be plants, bugs, snakes, crocodiles, they wanna eat you and kill you."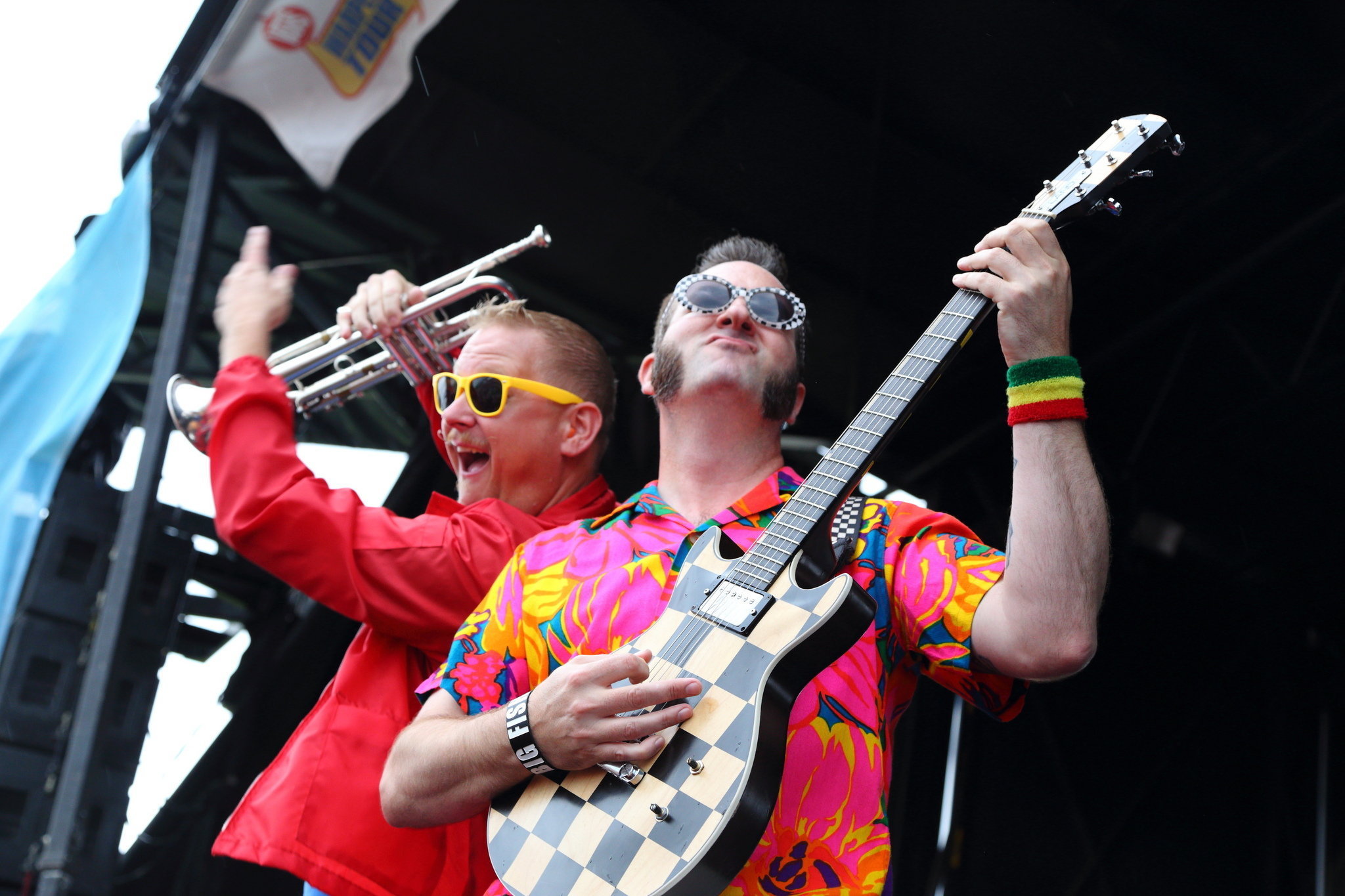 By the time the band joined the Aussie Warped trek again in 2012, they'd sorted out that whole death-by-nature issue. However, this year came with its own round of problems. "While I am a pretty social human being, I need a lot of time alone," Johnny had explained to me, setting the scene for the stories to come. "All the bands were driving in a greyhound bus to the next gig, and the thing about Australia is that all the cities are really far away. It's like playing New York and then playing Atlanta and then playing New Orleans and then playing Dallas." Long drives and no personal space make for a hard enough journey, but #thestruggle didn't end there. "You're stuck with these bands that haven't toured before or are just really young, and so they go crazy." Over the top alcohol consumption lead to containers filled with things you just don't want to see, and it didn't help Johnny's situation. "You're not sleeping very much, you play the gig and then drive eight hours to the next town, get in the hotel room, sleep for four hours, then wake up and play the show the next day, and then get in the bus and then drive. So, it was rough." We decided that Australia is definitely the Survivor Edition of Warped Tour.
This isn't to say our own Warped Tour comes without its struggles, though. "The two hardest things for me out on this tour are the heat and the noise. You can't get away from other bands playing and the generator noise… That's really hard, because just to do this interview [finding] a quiet spot is really, really difficult." It's not all "Hiding In His Headphones" though, because from city to city, the band finds a quiet place in their bus, thanks to the sleep schedules of crew members. "Since we get to this tour so early in the morning, the crew all goes to bed pretty early, so it doesn't make it conducive to talk in the bunk or anything."
One of the best things about Warped Tour US? If you've ever heard any interviews about the summer-long festival, or spoken to our Warped Tour correspondent Fish, you could probably predict the answer. "Ta-Da Catering that caters this tour are all first rate and make really, really good meals." Even with the food, though, it seems Warped Tour UK is the easiest ride. "It's not a traveling festival like it is out here, so when we went it was just one show in London, which was really awesome, really big, and a lot of fun."
There's only one Warped Tour locale we haven't spoken about yet, and that's Alaska. Each year the tour brings a handful of bands to The Last Frontier to kick things off with the Road To Warped Show. I ask Johnny Christmas about that experience, and we get started on the most important aspect. "It wasn't quite as hot, it was in the high seventies and sunny and everybody there was sunburned and half naked because it was the warmest day of the entire year." I laugh, and he dives into a story to rival the Australian Warped situation. "They had a party bus that took everybody to a nature preserve." A party bus has gotta party, so the first thing they did when the Warped crew filed onto the bus was supply everyone with a shot of cinnamon whiskey. "It was like 11 o'clock in the morning, I'd just had my first cup of coffee." That was strike one for Christmas. Strike two was discovering a stripper pole in the middle of the bus (it can only be assumed it was in place for All Time Low's Jack Barakat). "Then they just keep pushing people onto the bus," he continues. "There's just people standing in an aisle, it's not like a subway when you have a rail to hold onto, it's just like you have some guy's ass in your face. Strike three, I'm done, and I get off the bus."
Instead of partying with the caribou, Johnny Christmas and Derek Gibbs took a six mile walk around the bay. They took in all of the gorgeous sights, and swung by Earthquake Park for a learning experience about the landslides in 1964. And, like in Australia, they ran into some monster bugs. "The only animals that we saw aside from squirrels were gigantic mosquitoes. Huge mosquitoes."
After we talk about the varying levels of Warped Tour difficulty, I ask how he prepares for the trek. "Lots of sunscreen. Bathing myself in sunscreen. We have a shower that dispenses nothing but sunscreen on the bus," he jokes. "Y'know it's just like any other tour for me, there's lots of practicing involved. Unfortunately trumpet isn't one of those things that you can put down and just pick up two weeks later and be okay with it." He's not exaggerating either—the horn can be found at his side no matter what his current schedule looks like. Even on vacations, you can find Johnny Christmas practicing his art. "It's a constant battle—constant love—of honing my craft on the instrument. And that's what I do to get ready."
 "I think we still have music in us and we still have things to say"
The practice pays off, because Christmas is indescribably thankful for the job he has. "I'm really really fortunate that my life has taken this path. Y'know, 'cause I play the trumpet for a living, how awesome is that?" he asks me, and I can hear the smile in his voice. One of his favorite aspects of Warped Tour reflects that attitude. He tells me he enjoys the autograph signings, and leads into a story about a woman in West Palm Beach. "She was just in tears meeting us," he says, and then fumbles over his words for awhile, struck speechless by the memory. "I think it's amazing that we have this effect on people. That we are touching their lives in some way with the music that we make. It's really special what we do, and I don't take it for granted."
They'll be taking that gratitude back into the studio with them again soon. "I think it's time for us to record another record," he tells me. Their engineer lost his studio to rising rent costs, but he's found a new location, and now that he's rebuilding his set up the band is hopeful they'll be back in the studio soon. "I think we still have music in us and we still have things to say…. I think what we have to say is valid, and I think that we should record some more music."
No matter what they have to say this time around, there are some things that'll never change, and that's Reel Big Fish's way of leaving happiness wherever they go. "That's the one thing about us, we kind of stick out. We're so different from all of the other bands, that people smile, laugh, they dance, they sing."
Tags:
Johnny Christmas
,
RBF
,
Reel Big Fish
,
ska
,
vans warped tour