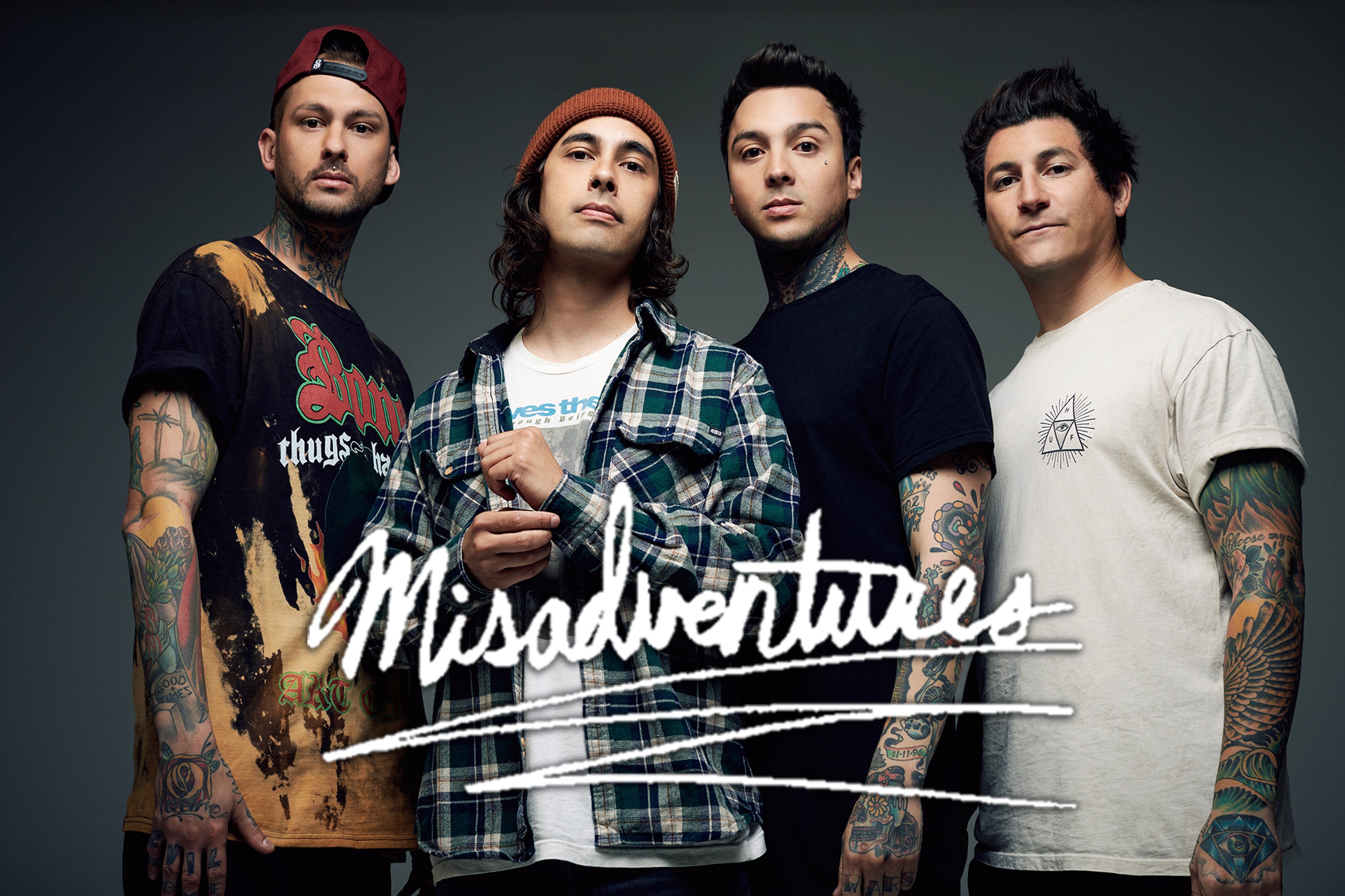 "That vibe where you get to grow up with your fans is the best feeling in the world."
It all started in a garage in San Diego. The Fuentes brothers, Vic and Mike, took over their parent's garage to fine tune the engine that would take them around the world and back—a couple of times. But the adventures didn't start until the two brought in Jaime Preciado and Tony Perry to add the finishing touches. After that, they were ready to hit the road, and to take the long way around.
It's in a hotel in Los Angeles where I call Jaime to recount this epic journey, the one that's led them to the place in their careers they're in now: with a fourth release, Misadventures, on the shelves (for a millisecond before it sold out of my local shop) and legions of fans around the world—some of whom have been there throughout PTV's entire decade of existence. When I mention I've been following the band since I asked for Collide With The Sky for my sixteenth birthday I earn a cheerful response from Jaime. "That vibe where you get to grow up with your fans is the best feeling in the world," he says.
Pierce The Veil couldn't have earned that feeling without paying their dues, and then some, without ever trying to rush the process. "For us it's never been about a quick ride, it's never been about being the biggest band tomorrow," he tells with the humble demeanor usually reserved for bands with only a year or two under their belt. "I definitely wanna be the biggest best band we can possibly be, but I don't want it to happen tomorrow or the next day or the next week. I want it to take time. I like that slow climb."
A lot of their clarity and integrity can be attributed to one day back in San Diego. The vehicle of music was ready, and the world was waiting, but the Pierce The Veil show couldn't get on the road until they decided what they were there to do. "We sat down in a room and decided that if we do this, that we were gonna do it full on, full force. We were gonna make this our lives. I still remember that conversation. I'm so glad we made that decision," Jaime tells the story as if it's the band's personal doctrine, a decision they'll never let go of. He attributes this to the band's success, and says it's their biggest advantage moving forward—something they certainly plan to do. "I wanna look back in a year from now and grow from where we're at right now."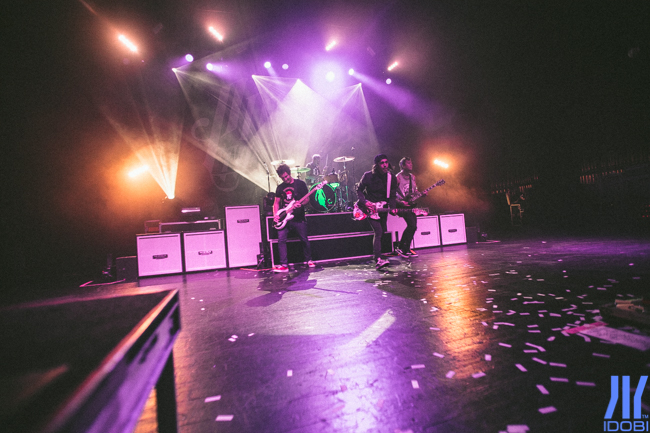 And like I said, the band didn't leave the garage and cruise straight into the headlines. If anything, they've worked twice as hard to get to where they are today, because while they were climbing with one hand, they were keeping their integrity firmly in their grasp with the other. Their first stops were deals with Equal Vision Records and a lone performance on the Ventura date of Warped Tour '07. Jaime describes the day, and the way the band utilized that opportunity, with the same excitement and determination he felt back then. "For us to be a part of it was huge… We didn't waste that opportunity. We tried to do everything we possibly could to really make an impression on everyone, whoever was watching."
They couldn't have known just a few years later they'd be playing mainstage on that very tour. What they did know is that there were more paths to take first, like tours with Scary Kids Scaring Kids and Emery. Getting to know those bands benefited Pierce The Veil in many ways, because they knew enough to know they didn't know everything. (Say that three times fast. Now try doing it.) "They were playing these huge rooms, and we had no idea what it took to be in that position. So we just watched, we learned. After telling about their classroom of touring, Jaime relives how the bands treated them with clear admiration. "On some nights, they would buy us pizza or get us hotel rooms or they would surprise us with dinner… They knew how to treat other bands. [It] almost reminded me of the punk rock days where it was really DIY. Everyone had to take care of each other." Pierce The Veil learned a lot from those treks and the acts headlining them, and they haven't forgotten it. Today, they repay the favor by treating everyone the same way and showing new bands the same courtesy. "We try to figure out how to make it fun for everyone all the time. Whether it was a fan, a crew member, opening band, any band, we want it to be a fun show from the moment people showed up."
It wasn't long after this that the band made a pretty big switch, one that changed everything but their impetus. I ask about their switch to Fearless Records in 2011 and there's no hint of animosity. It's simple really. A buddy scooped up an A&R position at Fearless, which prompted the band's switch (with plenty of respect for Equal Vision intact) and they've yet to regret the decision. "They just merged with another record label called Concord [Music Group]. That has just been such a huge help for us. It opens a bunch of other doors. More outlets, more ways of helping our band to get out there."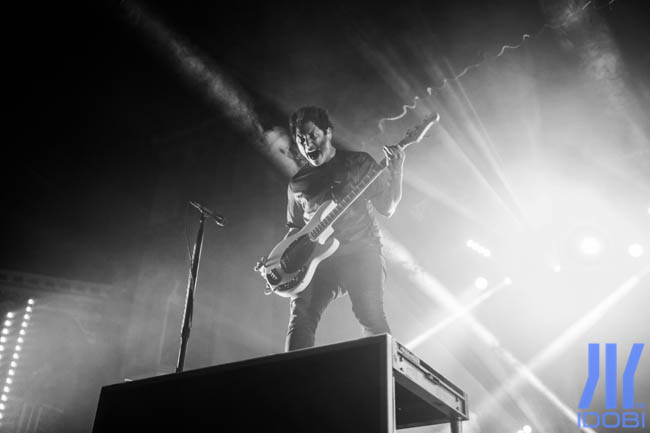 Signing to a new label didn't shorten the band's journey, however, and they never gave in to easy exits. Instead, they focused their attention on creating an album that would make Tumblr bloggers world 'round fall in love (and as a result, write some pretty weird fan fiction). 2012's Collide With The Sky was a vital marker on Pierce The Veil's story. It was the album that made them "Kings For A Day" (get it?) and then warned us to "Hold On Till May", when they released their fourth studio album. But not May of 2013, 2014, or even 2015. No, this album took three years to create. When Jaime starts in about the production of the record, he's not denying that it took an exceptionally long time to produce, but the band has a good reason for it. "We never settle for anything. We always try to outdo ourselves with everything we do."
After five months in the studio, they couldn't keep treading the same waters. A break wasn't just desired, it was necessary. They stepped out of the "office" to see the world via treks on the Warped Tour, and an overseas trip with their long time pals Sleeping With Sirens. "It helped us a lot to put it in perspective of why we do what we're doing. It reamped the drive to finish the record." When they came back, they were more than ready to hit the pavement again. "Once we did that, we went back, and Vic took another little trip… A little [lyrical] journey, a little [lyrical] quest," he explains. It's the way Fuentes has always written, taking his time and bringing in as many environmental influences as are available to him. "He went to a ton of Air BnB's, a studio in Santa Monica, he went to Seattle, and I think in Seattle was when he finished the last line on the record."
"We never settle for anything. We always try to outdo ourselves with everything we do."
As Jaime leads into the story, he slows down, reliving the feeling of freedom, of accomplishment. "I remember him calling me and explaining to me that he finally just finished writing the last lyric, and I remember over the phone I could tell that he was smiling when he was talking to me." I can tell Jaime is smiling as he's talking to me too, reminding me just how important it is to this band to release material they believe in. "I'll never forget the moment when he called me… That was a huge day for us."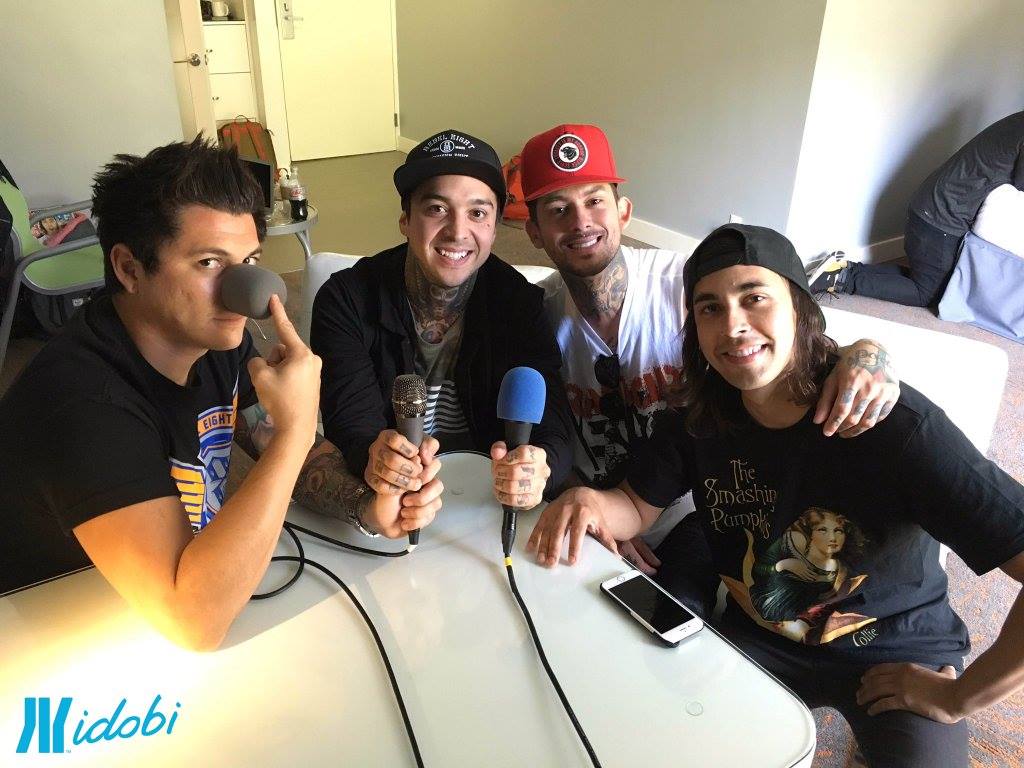 With only a minute or two left of my interview, I rush to ask what that last line was—what were the words that finally put an end to the production of Misadventures. When Jaime answers, it's my turn to smile, because the lyric is from "Dive In" and it perfectly summarizes the way the band have led their career (and how I've always felt about them). "It was for the breakdown, if I'm not mistaken, I think it was 'Kill me if I end up like you.'"
Oh, and as for that garage back in San Diego? They return there for all of their practicing and creating, because they've never once forgotten who they are or where they want to go.
—
Make sure you tune in for the exclusive Misadventures track-by-track hosted by Pierce The Veil only on idobi Radio (ido.bi/player) at 7pm EST, Monday May 23rd to hear all of the shenanigans!
Tags:
Misadventures
,
Pierce the Veil
,
ptv
,
TxTakeover