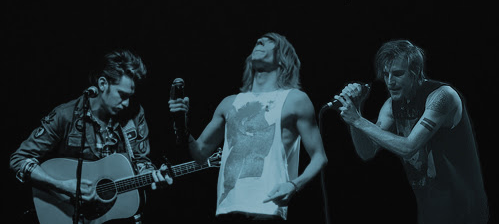 With everything that goes awry within the walls of the internet today, we cannot deny that it has also brought a lot of the world closer together. So much closer, in fact, that a small band hailing from Phoenix, Arizona could amass an incredible following from across the globe. 8,000 miles across, to be precise.
The Maine did something very special in January of 2014. In support of their fourth full-length record, Forever Halloween, the band went out on the 8123 tour, taking their best friends/label mates, This Century and Nick Santino, with them. They set out on a two-month run across North America and later brought that tour to the rest of the world. One particular city, however, has always made the band feel a little closer to home. This is uncovered in their new documentary, PHX — MNL.
Manila, Philippines, a densely populated area within the National Capital Region, is home to a little over 1.6 million Filipinos–about 99.9% of whom are deeply into music and its surrounding practices. Why is this? Some joke that we Filipinos came out of the womb holding a Karaoke microphone and then could belt out the words to Jennifer Hudson's "And I Am Telling You" at the age of three. Others may attribute it to the early integration of Sunday mass songs or the Christmas carols that start as early as September.
Music is embedded deeply into this country's culture, so it comes as no surprise that The Maine are able to sell out arena after arena with each visit. In fact, the band came around again not too long ago in support of American Candy, their newest record. With them on this tour were Baltimore, MD's All Time Low–another Filipino favorite. There is a palpable crossover among music fans in this part of the world. The same people who packed out The Maine's show earlier this month were also at Zedd's sold-out concert a couple nights prior, cementing just how deeply the people immerse themselves within the live music scene.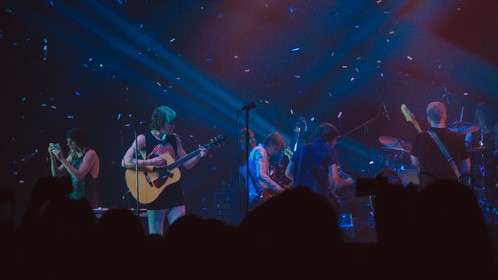 When asked in a radio interview on the documentary why they keep choosing to come back to Manila, their vocalist John O'Callaghan responds with, "I guess the real question is: What is it that they like about us to want us keep to coming back?" Interestingly enough, this connection dates all the way back to 2007, the year the band came together and decided that music is what they wanted to do. The MySpace era (as we all fondly refer to it) played a pivotal role in contributing to the Filipinos' undying love for alternative bands like The Maine. Just like every other fan from the United States, young people all over Asia also spent their days exploring the depths of the web: investing hours on customizable HTML layouts, deciding which of their friends to feature on their profile, obtaining new music through questionable methods.
"I guess the real question is: What is it that they like about us to want us keep to coming back?"
One of the fans featured in the documentary talked how discovering A Rocket To The Moon (Nick Santino's old band) led her to The Maine, and eventually This Century. This stuck with her, as it did with virtually all of their other loyal listeners. The music grew into something a lot more than just a bunch of words to sing along to. It made a significant mark within the alternative music industry. "It's amazing how much they [fans in the Philippines] actually get into the music. That is something we artists have so much appreciation for," This Century's Sean Silverman shares. Bands like Taking Back Sunday and The Used, both of which headlined the Bazooka Rocks Festival (Quezon City, Philippines) last year, are more likely to come back seeing how well-received they–and a lot of other bands–are on that end of the hemisphere.
"It's amazing how much they actually get into the music. That is something we artists have so much appreciation for."
"We're halfway around the world in a place that we never would've traveled to, playing music with our best friends," Nick Santino says as he tries to explain how surreal the experience has been for him. Musicians are treated like royalty in the Philippines. Their craft is indeed absorbed with a ton of reverence. This is made evident in the documentary as the crowd erupts with excitement, singing along to every single word, both old and new, and humming to every single solo. This is not only a reflection of the overarching love for music, it is also a testament to the sense of community that one can find within a small country.
The documentary also features the band's participation in Project H20, a beneficiary brought to life by students within the University of the Philippines College of Medicine to aid victims of the massive typhoon that hit the country in 2013. Fans expressed their gratitude in many ways. Similarly, the band expressed theirs, too. "The whole culture is completely based around kindness–almost overwhelming. It's also not just because we're from a different place. It's a nice, genuine thing," O'Callaghan shares.
PHX — MNL closes off with live footage of the band performing "We'll All Be…" Parading the tight-knit atmosphere that one may come across while in this city, the band brought out This Century and Nick Santino to sing with them on stage. Together, three of 8123's most revered artists, closed out a wonderful night on film–one which they and their fans can now relive whenever.
After all, Manila is their corner of the world now, too.
PHX — MNL is now available for purchase digitally here. Physical copies are available exclusively in the Philippines.
Tags:
81TWENTYTHREE
,
Nick Santino
,
The Maine
,
This Century