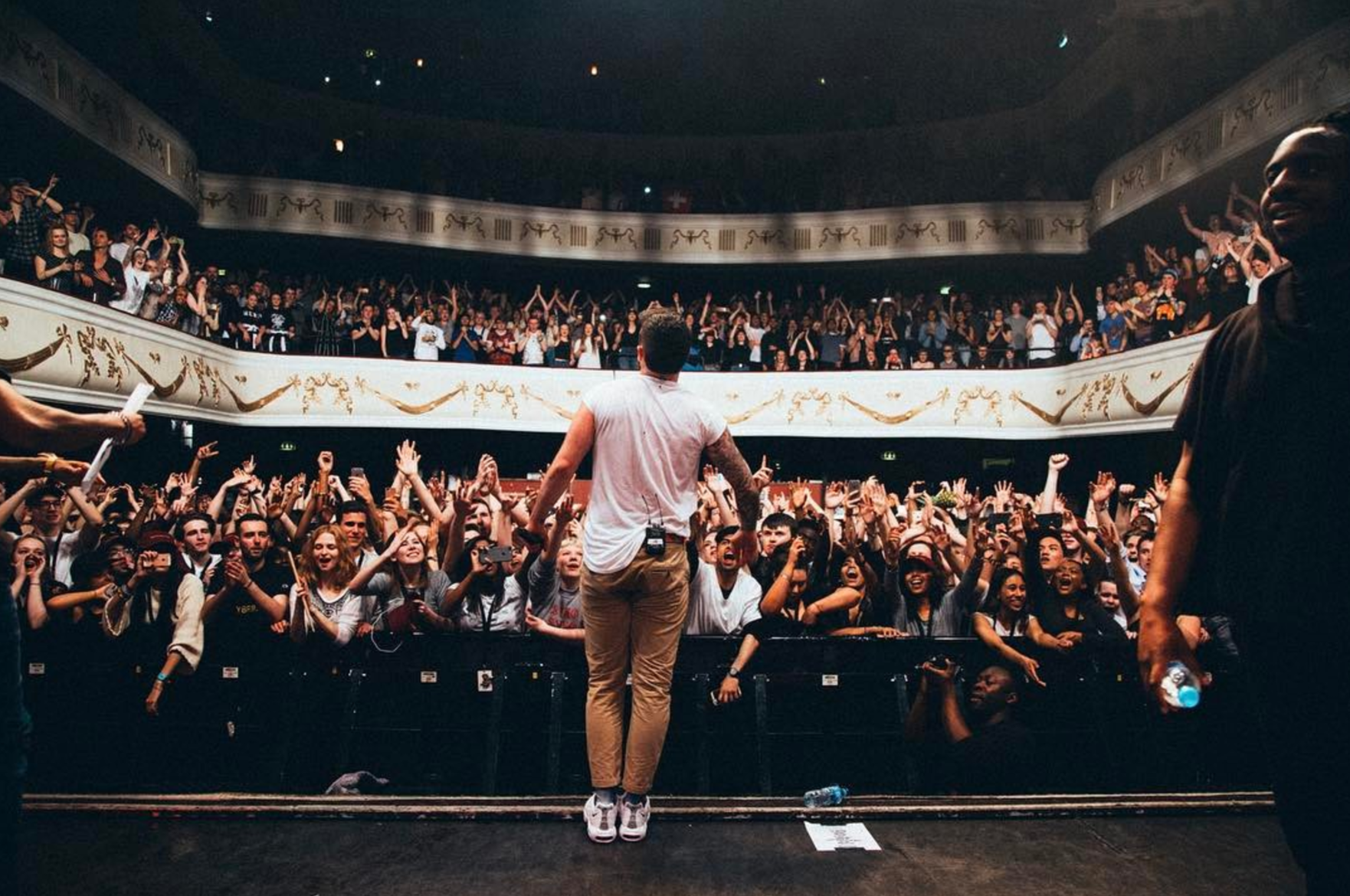 "After everything that I've seen in my entire life I've realized one common thing: no matter how far I get in the industry, no matter how things change in a country, all that people want, all that people need, no matter what color, no matter what race, no matter what you believe, no matter who you are, people are who they are and they do what they do because they need to feel love. People need to wake up in the morning and feel like they are cared about. When you look around this room, when you look up on this stage, does it look like we give a fuck what your skin color is?"
Jon Bellion talks like his brain works quicker than his mouth can play catch-up. He speaks fast, almost rapping, high off the energy of his performance, amplified by the crowd, ideas bursting out quicker than he can articulate. You get the impression he's hyper-intelligent from his music alone, but in person it's clear every fiber of his being is the culmination of sheer creativity and a strong belief in everything he does.
"I am just a man, I am just a man / Who lusts, gives, tries / Sometimes I lose my way"
The Human Condition, Bellion's major label debut, bottles his beliefs; his trust in good, bad, and the unknown. The record flows from its opening heartbeat right into your soul, through to its final note, and back again. The mix of hip hop, indie, and R&B is hard to define, but it's his faith in the world, people, and life itself that pulls you in most about Bellion's music. Even in his darkest and most introspective moments, there's a strong sense of hope, which is something that's completely universal.
Even before Bellion was due onstage, the crowd was chanting his name—drowning out the loudspeakers, making the room shake. This had me slightly panicked as the venue had only just reopened after fixing its collapsed roof. The chants were a clue that no one needed any direction to go completely insane from the second Jon and his band stepped out. You could barely see past the sheer amount of hands in the air, bouncing along to the beat. We walked into the venue not knowing anything about Bellion and crew's live set-up, and left in awe of the amount of talent on the stage. Joined by college friends and multi-talented band, Beautiful Mind, you could tell they'd bonded over more than just the music, working seamlessly together and filling the venue with a huge sound.
"Tears at a funeral, tears at a funeral, I might break / Angry at all the things, angry at all the things I can't change"
The crowd surrounding me on that Thursday night in west London was living proof that music transcends all differences—every age, race, gender, sexuality, all walks of life were laughing and getting high together (on the music or otherwise). The moment you walked in you felt like anything could happen. And it did. From the overheard conversation-turned-heated-debate about Hanson's "Mmmbop" to seeing someone hold a pineapple high overhead in the middle of the moshpit (this is not the first time I've seen this. Is this a trend?), that feeling of possibility and connection kept the hype at a constant high.
Every single moment was carefully instrumented to build anticipation, from getting the crowd to put their hands up to wait for the beat drop, only to be pranked multiple times and told, "not yet", to turning off all the house lights during "New York Soul pt. II" and switching them back on full blast when the chorus hit (my eyes are still recovering).
Jon and Beautiful Mind earned the title of true entertainers that night, but we were reminded again and again they're just a bunch of guys who want to make music, humbled by the fact they're halfway across the world playing for people they've never met. Jon shared he was worried before the show, "What if they don't fuck with us?" before giving a speech about how if he can follow and achieve his dream, so can everyone else there.
"When you're lost in the universe, lost in the universe / Don't lose faith"
When the band went offstage for the encore, leaving "Hand of God" to play them out, the crowd carried the song. Bellion's speech rang in our ears, "no matter who you are, people are who they are and they do what they do because they need to feel love." As we sang out every word, the music became more than just the sound, and his album title The Human Condition took on a new meaning. Because before we all went back to our separate lives, for one moment, we were all united by the same hopes, fears, and dreams; reminded we're all a part of something bigger. Long after those lights went off and the crowd turned back into strangers again, that's a message that has stayed with us; that's a message we all need to remember.
London had an unforgettable energy and love. pic.twitter.com/967UdjZyz7

— Jon Bellion (@jonbellion) April 9, 2017
Tags:
Beautiful Mind
,
jon bellion
,
London
,
Show Review
,
The Human Condition
,
The Human Condition Tour