by Kat Bittner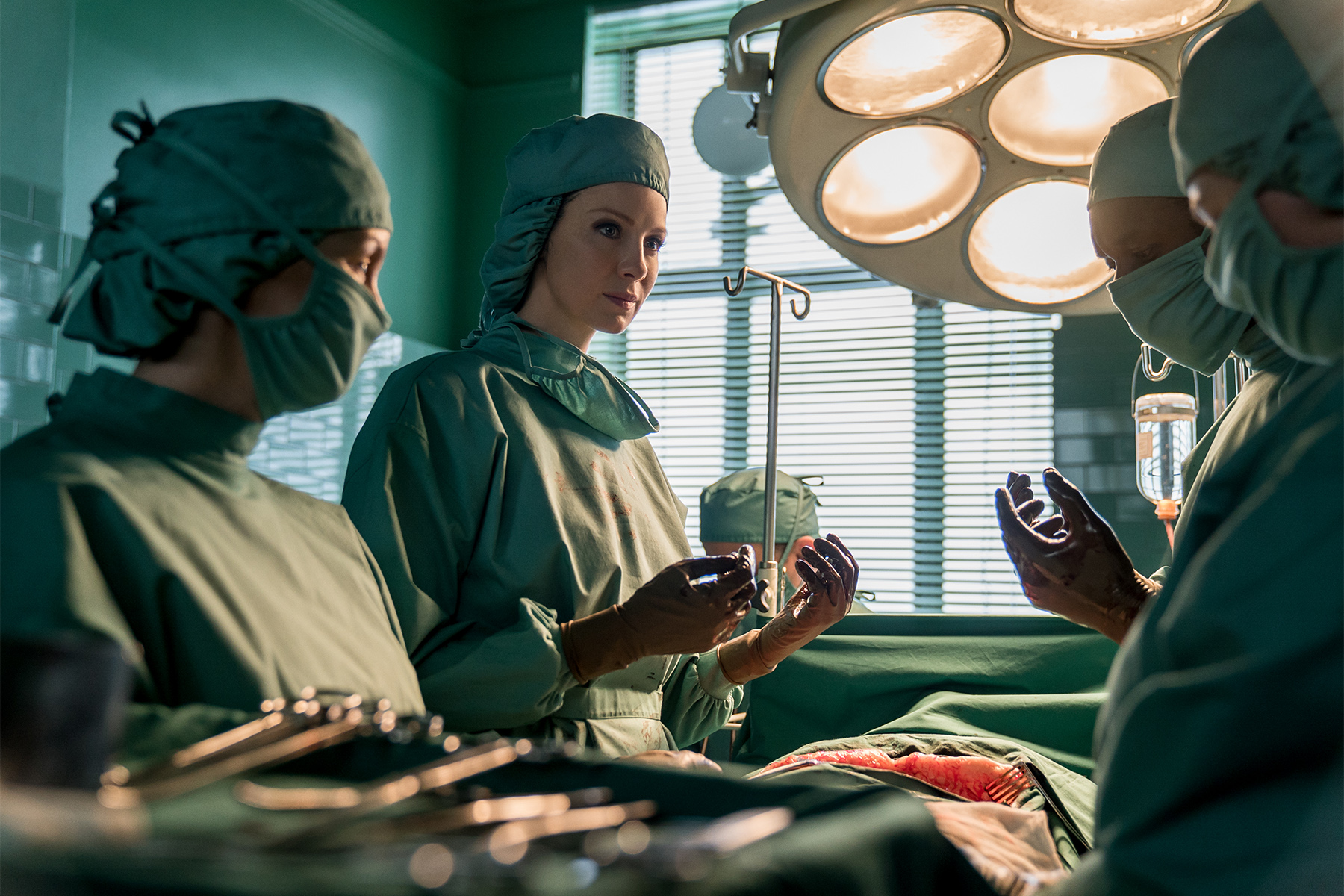 "The first time I was terrified. Second time heartbroken. This time I want it to be peaceful. If I had to say goodbye to you there I might never go."
The opening title vignette of "Freedom & Whiskey" shows Claire writing on a handmade ornament, "Brianna's 1st Christmas 1948", while wearing Jaime's wedding ring on her right ring finger. Not every Outlander episode begins by highlighting an object to be seen later in the story, but it's a flourish that seems to be used in major episodes.
It's December 1968 and mother and daughter have returned to their lives in Boston. Dr. Claire Randall is performing a difficult surgery with Dr. Joe Abernathy. We see she is a fearless and amazing surgeon. If there's ever a need for a historical medical drama, do a spin-off with these two!
Unfortunately, Brianna is not doing so well back in Harvard. She's failing her classes, bored of sketching columns, and only looks interested when her professor debunks the myth about Paul Revere being the one to warn the British are coming. Too bad the lesson ends just as it was getting good. He gives the students a parting question: "How can fictional prose alter the perception of history?" The professor is sympathetic towards her, saying her dad was a friend and he feels obligation to look out for his daughter. She assures him she's okay, but we later see her return home to an empty house. She touches the Christmas ornament from the title scene. She holds Frank's pipe and looks at pictures of her as a baby with her parents. Brianna misses her dad a lot.
Joe and Claire share a post surgery drink. He asks her what happened in Scotland. Did she meet someone? Claire is vague, but implies it's as serious and real as it comes, but fate had other ideas. Joe says, "Fuck fate!" and you can see why him and Claire are such good friends.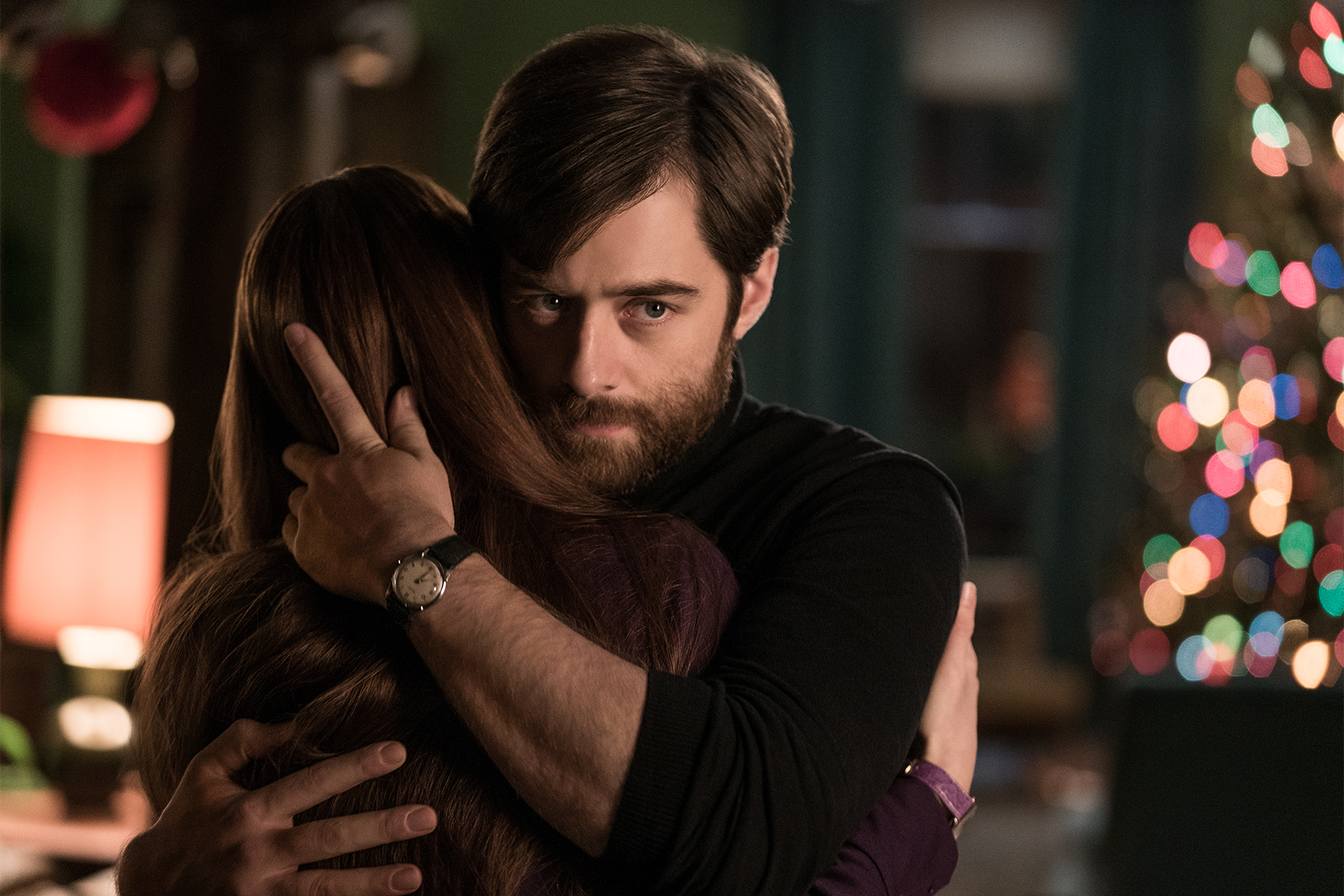 Roger has come to Boston on a whim and is giving himself a mini pep talk before he surprises Brianna. (Side note: I can't even get a gallon of gas for $2.50 let alone a cab ride from the airport!) No worries about Roger looking daft since he awkwardly arrived when mother and daughter are fighting; Brianna has told Claire she is withdrawing from Harvard and moving out at that very moment. Roger, clearly looking forward to spending time with Brianna, tries to head out, but Claire offers him the chance to stay the night.
The two catch up over dinner. Roger is not in his family home of Inverness since his foster dad, the Reverend Wakefield, passed away. They both share Christmas traditions with their families: Roger and his dad would go to the children's hospital and sing Christmas carols; Claire and Frank would read A Christmas Carol to Brianna. He admits that part of the reason he came over was to experience an American Christmas and make a new tradition. Claire sees through his BS and casually acknowledges his real reason for coming over was to see her daughter, of course. This is a good thing since Brianna is having a hard time coming to terms with who her real dad is.
However, spending time with Brianna under the mistletoe is not the only reason Roger came to Boston. He also comes with good news, revealing to Claire he found where Jamie is through his historical research. Jamie is working as a printer in Edinburgh in 1765. Claire is clearly freaked out—she goes through the five stages of grief in less than five minutes. We again see how hard it was for her to let go of Jamie. Now, with the knowledge of Jamie's whereabouts, she'll no doubt want go back to him. However, she's also a mom and cannot leave her daughter behind in such a vulnerable state.
Meanwhile, Joe is examining the skeleton of a murder victim from the Caribbean, sent over by a colleague for a second opinion. Just when we're biting our nails hoping this is not Claire's future fate the good doctor does an about face and asks Claire about her Scottish man. She confesses her mystery man is Brianna's real dad and she never stopped loving him. Joe admits no one saw her relationship with Frank as ideal and if she has a chance at real love she should take it. Her daughter will come around.
Roger is watching Dark Shadows—which oddly parallels the want to be reunited since neither time nor vampires can keep true lovers separated. Brianna and Roger fall into a playful banter. She's glad Roger came and apologizes for the scene between her and her mother the previous day. He playfully tells her his wish to experience a real American Christmas with lobster rolls and Boston creme pie. Brianna invites him to a ceremony for her dad at Harvard, but the important thing is to first finish the Dark Shadows episode!
From a Gothic soap opera to Gothic revival architecture, Brianna takes Roger on a tour of the Robinson Cloisters in Harvard. He says the Reverend told him stories about his real father, and knowing who he was helped Roger learn more about himself. Brianna questions the truth in the stories, but to Roger it doesn't matter. To her it does. Brianna is having a crisis of faith in trusting history—from who tells it to the stories that are told.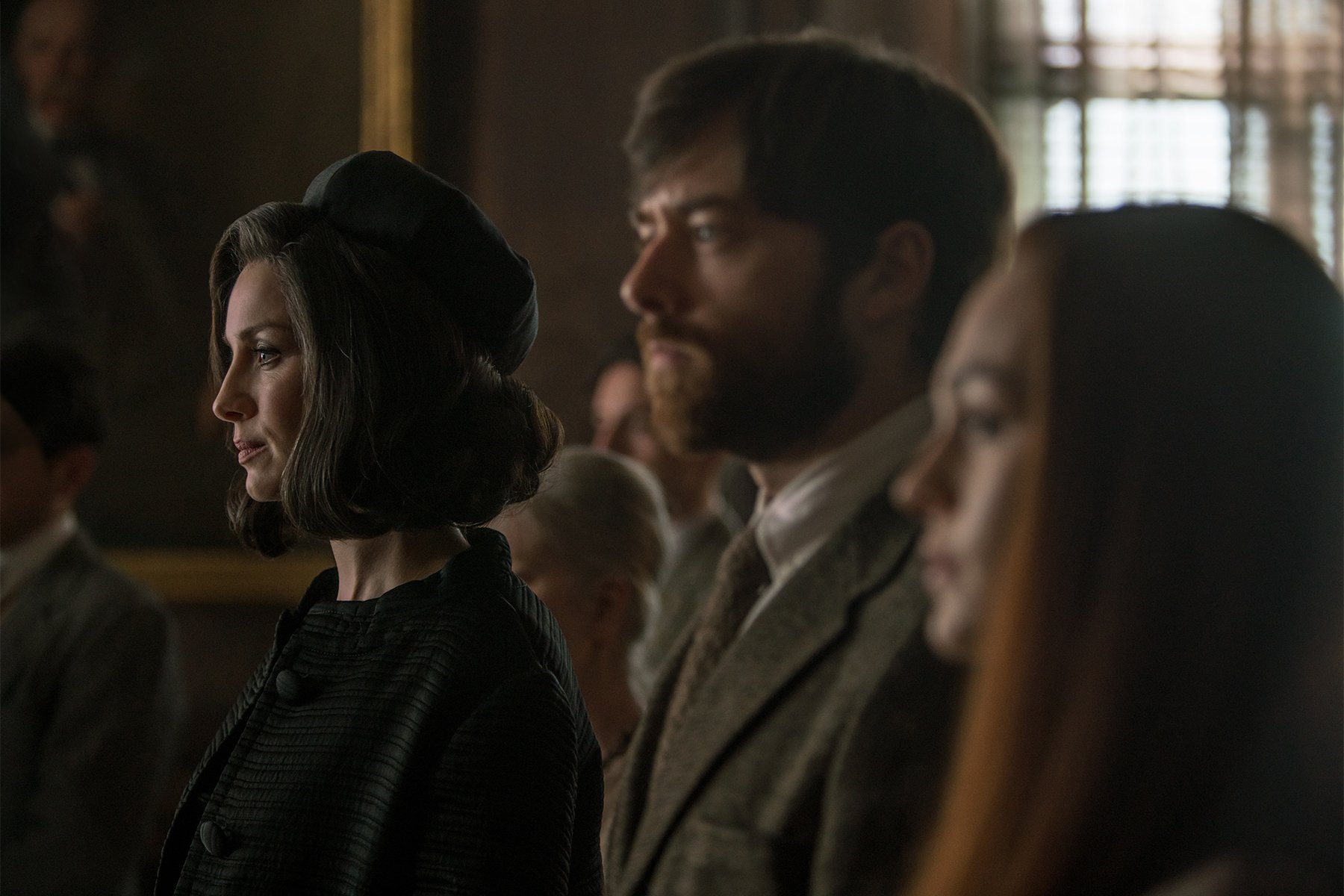 Naturally for Brianna the place where you want to be when you're doubting your own history—and the whole field of it in general—is to be at a ceremony naming a fellowship in European studies in honor of your late father, Frank Randall. At the cocktail party Claire encounters Frank's girlfriend Professor Travers. You can tell how each woman sees him differently by the way they imagined him reacting to this honor. Dr. Travers really gives Claire a lesson in all the hurt she caused her and her relationship with Frank. She believes he stayed with her for Brianna, even though he still loved Claire too.
Brianna sees the exchange and brings it up with her mom, who admits Frank loved Dr. Travers and was going to marry her. Brianna wonders if her parents hated her; Frank because he saw her as another man's child, and Claire as the reason she lost the love of her life. Claire is close to tears when she assures her daughter that Frank did love Brianna as his own and was the source of so much joy in his life. Likewise, she declares she loves Brianna for who she is and not who fathered her.
By the way, Claire also decides to drop that Brianna's boy from the other side of the pond found where her dad is. Claire's ready to stay in the present with Brianna and take care of her, but Brianna tells her mom even though she loves her she doesn't need her the way she did as a girl. (Now that I've grabbed the nearest box of tissues and given my girl, Cub, a big hug, onto the next scene.)
At the hospital the staff is watching the Apollo 8 space mission and we hear Joe wonder offscreen, how do you return back to your life after that. Claire thinks about her own journey, and how it seems even more impossible than a trip to the moon.
Claire and Brianna discuss the consequences of Claire leaving since there's a real possibility she may never return. Brianna confesses that she is her mother's daughter and if she is even half as resourceful and strong as Claire she'll be okay. But Brianna senses her mom is worried about something else. Claire is wondering whether Jamie has moved on. It's rare to see the confident Claire question herself, but it shows how far mother and child have grown in their relationship. Though Claire does seek a second approval from Joe who breaks it down with, "You're a skinny white broad with too much hair, but a great ass." Just like that, Claire got everything on her Christmas list: reunite with love of your life; make amends with estranged child; and still seen as attractive!
As if there wasn't enough good fortune for Claire the trio are exchanging gifts under the tree. Roger and Brianna give her period accurate currency and a book on Scottish history book. Brianna also gives her mom a topaz, because traveling through stones she's lost a gem each time. Claire jokes she needs a Batman-style utility belt to hide the scalpels and penicillin she plans to use in the 1700s. Queue the caped crusader's theme song while Claire makes her own period-appropriate outerwear from old raincoats.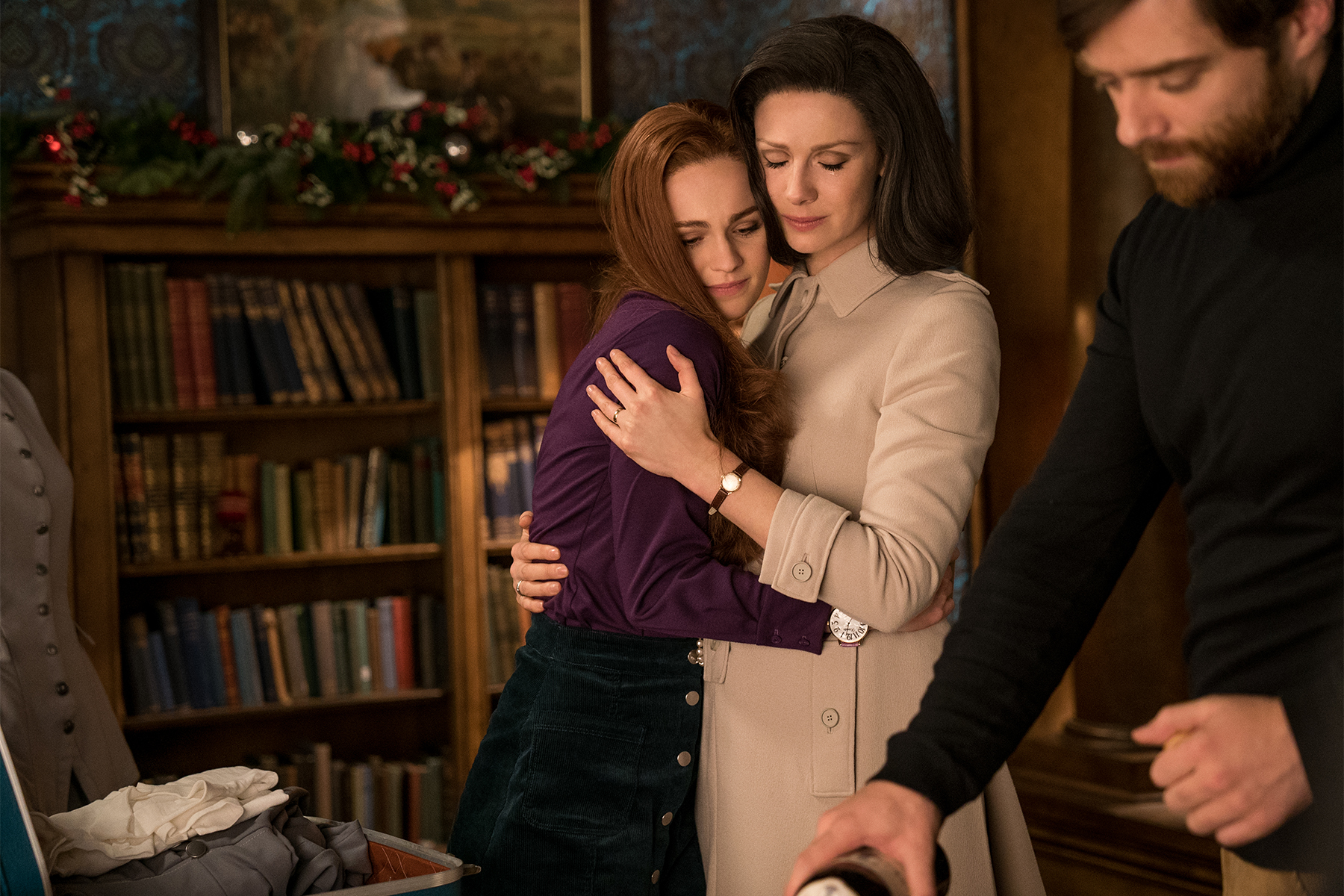 As for Claire's preparations for 1760s life? She gives Brianna her resignation letter to give to Joe; the deed to the house and the bank accounts are transferred to her. The only thing Claire requests from Brianna is that she can't go with her to say goodbye. "The first time I was terrified. Second time heartbroken. This time I want it to be peaceful. If I had to say goodbye to you there I might never go." Claire gives Brianna the pearls Jamie bestowed to her on their wedding night. She also thanks Roger for his persistence in finding Jamie. The three toast to freedom and whiskey.
After Brianna and Roger wave goodbye to Claire from the window they both begin their own Christmas tradition. Brianna dons a Santa hat and brings a tray of lobster rolls and Boston creme pie into the living room. Roger gives her a copy of A Christmas Carol. She's touched, especially now both her parents are gone, to have a chance to relive a childhood tradition. They kiss and Brianna snuggles in with Roger by the fireplace to read.
There's a nice inner monologue by Claire about her superstition of puddles—she imagines, by breaking through the smooth surface she might fall into a fathomless space—which marks the transition from a taxi in the 1960s to 1760s in Edinburgh. Claire finds the print shop with Jamie's name on the door. Unbeknownst that the love of his life has just crossed space and time to come back to him, when she enters Jamie calls out, "What took you so long, Georgie!" (echoing every viewers' thoughts). When he finally turns around and sees Claire, the man falls to the ground and we end with Claire in a panic. Queue hysterical laughter and groans from everyone in my household.
"Whiskey & Freedom" is an emotionally packed episode with more confessions than a Jerry Springer episode. This season seemed to serve as a way to illustrate the separate lives Jamie and Claire led and to develop the supporting characters, which was starting to test fan patience. Claire and Jamie are at their best when they are together and the show is as well.
So let's raise a glass of whiskey to a long awaited reunion!
Follow "Outlander" Online:
Twitter: @Outlander_STARZ
Facebook: https://www.facebook.com/OutlanderTVSeries.starz/
Instagram: https://www.instagram.com/outlander_starz/?hl=en
Join the conversation with #Outlander and #STARZ.
**NEXT WEEK**
OUTLANDER 306: "A. Malcolm"
Airdate: October 22nd at 8 PM ET/PT on STARZ, the STARZ app and STARZ On Demand
After decades apart, Jamie and Claire finally reunite and rekindle their emotional and physical bonds.
"Outlander" airs on Sundays at 8PM ET/PT on STARZ.
Tags:
Episode 5
,
Geek Girl Riot
,
GGR
,
Kat Bittner
,
Outlander
,
Recap
,
Season 3
,
STARZ