Most Wanted for: Bringing solace to punk through fuzz and grit.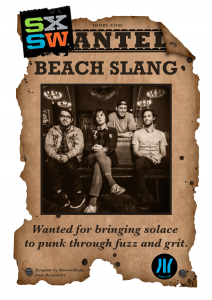 I saw Philadelphia's Beach Slang live for the very first time in 2014 at a very small bar in Brooklyn. This was roughly a year after their formation as a band. By that time they had only put out two EPs, but were already getting heat from all over the Northeast. Shortly after that, they had signed to Polyvinyl Records (home to bands like American Football) even without a full-length out. Being in the presence of Beach Slang is empowering on its own. They bring great energy and witty banter to any crowd. Their lyrics make you yearn for "the old days" that you never even had; you share frontman/lyricist James Alex's nostalgia for youth even when he's got a solid decade and a half on you. They're the ultimate Garage Band Experience, sans Mom telling you to turn it down a notch.
Beach Slang is loud and soft in all the right ways. The fuzz and the grit have never brought punk more solace.
Catch their SXSW sets:
Mar 14, 11PM – Barracuda (611 E 7th St)
Mar 16, 3:30PM – Sidewinder (715 Red River St)
Mar 16, 10:30PM – Cheer Up Charlie's (900 Red River St)
Mar 17, 12PM – Waterloo Records (600A N Lamar Blvd)
Mar 17, 2:30PM – Barracuda (611 E 7th St)
Mar 17th, 5PM – Frank (4th & Colorado)
Mar 18, 12:30PM – Stubb's BBQ (801 Red River St)
Mar 18, 6PM – Lady Bird Lake (800 W Riverside Dr)
Mar 18, 1AM (Fri Night) – Sidewinder (715 Red River St)
—
https://www.youtube.com/watch?v=i7nXvOTqyCY
Tags:
Beach Slang
,
Most Wanted
,
South By Southwest
,
SXSW