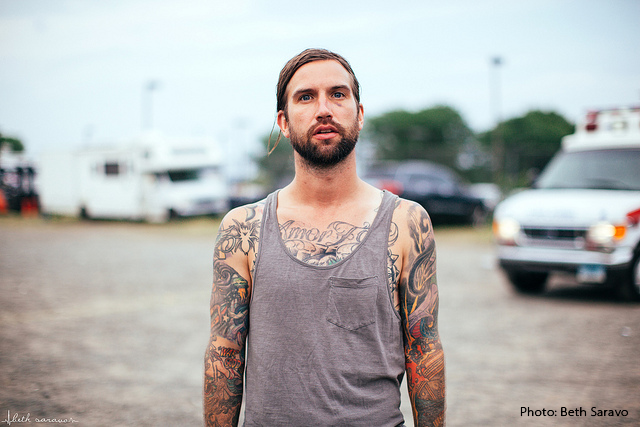 The APMAs are almost upon us, and we're here to make sure you have all the info you need for the event of the year. Ash Costello from New Years Day and Keith Buckley from Every Time I Die are your official red carpet hosts this year, giving you an exclusive glimpse into the celebrations. In case you missed it, read up on Ash Costello here, or continue reading to find out all about Keith Buckley to make sure you're the most prepared fan out there!
If you make it out to Quicken Loans Arena in Cleveland, Ohio, look out for the vocalist of metalcore band Every Time I Die, Keith Buckley. Hailing from Buffalo, New York, Keith and his brother Jordan Buckley have been making music with Every Time I Die for seventeen years.
Keith might be most known for his introspective and biting lyrics with Every Time I Die, but you'll be able to find his writing in a new format this winter–a novel. He's penned a semi-autobiographical story of Ray Goldman in Scale, who will "out-drink you, out-party you and, unfortunately for him, probably outlive you. As a hopeless and struggling indie rock musician, Ray's best chance of discovering any beauty and purpose in his dysfunctional life will come only when he ceases to struggle against life itself." The book will be published with Rare Bird Publishing in Los Angeles and is recommended for fans of Charles Bukowski's Ham on Rye.
Novels and lyrics aren't Keith's only writing gigs either. This summer, Keith helped out with a Father's Day sketch for Comedy Central. Along with Rob Fee and Brandon Dermer, Keith cranked out this gem that's sure to make you chuckle.
Every Time I Die just released their seventh studio album From Parts Unknown last summer and the record is nominated for Album of the Year at the APMAs. Covering personal experiences like Keith quitting smoking and keeping the same brutally honest lyrics Every Time I Die are known for, the recent album is a strong contender for the award. Keith told Loudwire:
"I feel like this recording process was a lot more like just throwing caution to the wind and trying different things that maybe we haven't tried before. I feel like for a little while there starting with 'Gutter Phenomenon' our sound was getting more refined. It felt a little less dynamic, but I think 'Ex Lives' kind of brought that energy back and I think that now with 'From Parts Unknown,' I think that we're fully back to all of these different tempos; more chaotic but it's also like we know how to control the chaos now."
The chaos doesn't stop after the album. Keith and the band have been non-stop touring all year, and will kick off their headlining Common Vision tour with Real Friends and Counterparts on July 23rd, running through late August. Be sure to catch an upcoming show, and look for Keith's new book out this winter! Keep up with Every Time I Die on Facebook and Twitter.
Voting for the APMAs has closed, but tickets to the award show are still available here. Or, you can tune into all the fun on AXS Television on July 22nd to see a live broadcast.
Tags:
Alternative Press Music Awards
,
APMAS
,
ASH COSTELLO
,
Counterparts
,
Every Time I Die
,
keith buckley
,
New Years Day
,
Real Friends