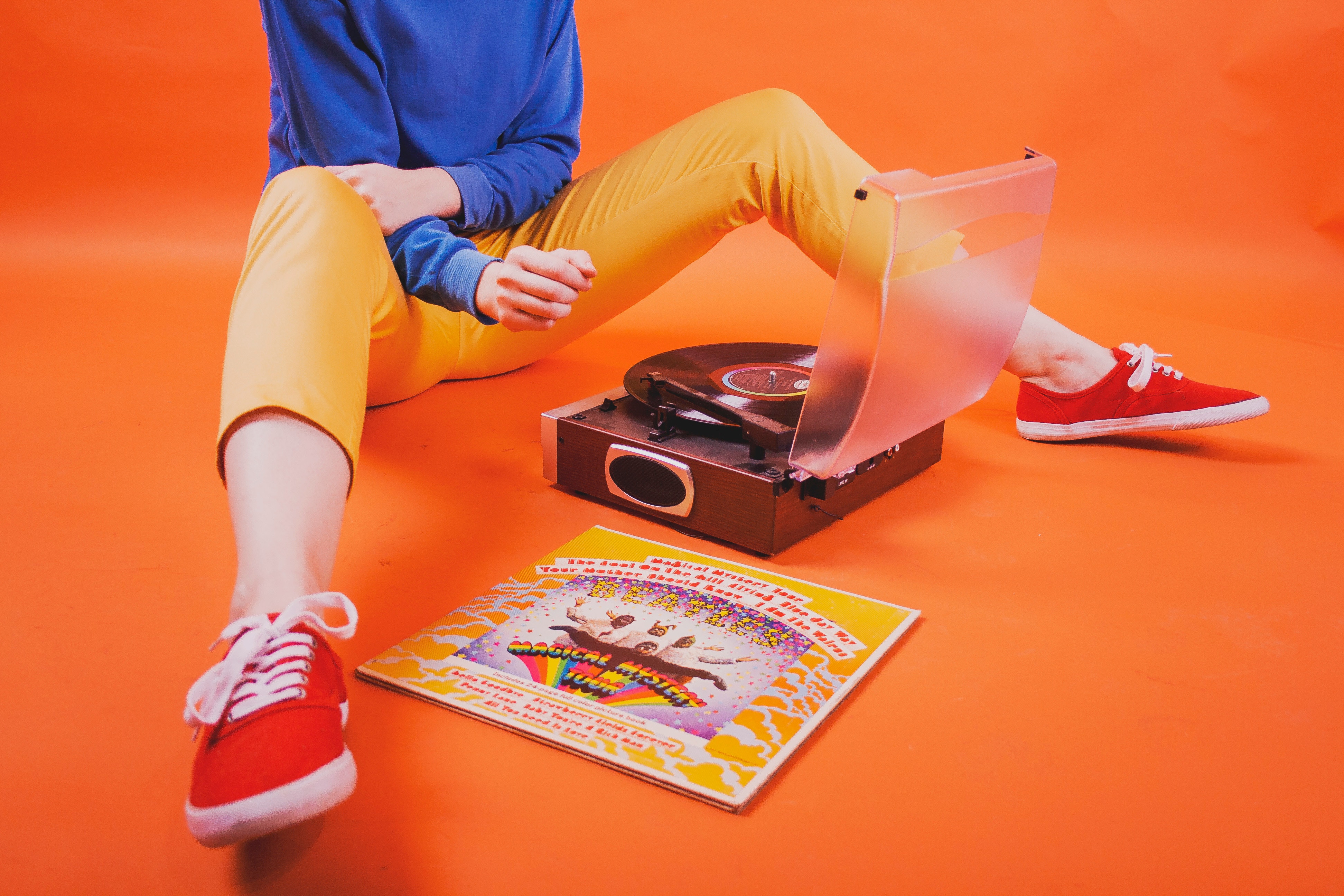 What better way to kick off a weekend than with new music? Fridays are always chock full of the latest songs and albums ready to be the soundtrack to everyone's antics, and here you'll find some of the week's standout releases. Whether you're ready to spin an anticipated song from a favorite artist or just taking a look at what's out there, there's a whole lot of tunes to dive right into. Who knows—maybe you'll find your next obsession.
Owl City – Cinematic Reel 1
The first of Owl City's three "album reels" (EPs, basically) is here for consumption. Though his new album, Cinematic, isn't out until June these reels over the next few months should help hold us over. Along with the previously released single "All My Friends" reel one features "Fiji Water", an upbeat Owl City classic with lyrics calling back to his first big break as an artist. "The 5th of July" throws it back even further—the somber slow-burn cut talks about the day frontman Adam Young was born. It's a solid round-up of new Owl City music with a little history included to sweeten the deal.
Louis Tomlinson – "Miss You"
Despite the name of the song, and the oddly familiar smiley face that Louis Tomlinson has seemingly made part of his brand, his new single "Miss You" has no relation to Blink-182. It does, however, shoot Tomlinson ahead of his 1D pals as the clear frontrunner for best solo career thus far. Unlike Liam Payne, whose genre is a healthy mix of pop and R&B, Tomlinson's been unapologetically pop from the get-go. "Miss You" is yet another cut showcasing his ability as a popstar and deserves to be a hit.
Various Artists – Spotify Singles
A slew of some of the biggest artists band together to put their own spin on our favorite Christmas songs in an intimate live session setting. Between Sam Smith's rendition of Joni Mitchell's "River" and Miley Cyrus' go at "Rockin' Around the Christmas Tree," there's just about something for everyone here. Did we mention that DMX covers "Rudolph The Red Nosed Reindeer"? Because that's something that definitely happened, and it's glorious.
Glassjaw – Material Control
It's hard enough waiting the typical two to three years for your favorite act to drop a new album, but Glassjaw fans feel a different pain—they've been waiting a good 15 years. The post-hardcore legends last blessed us with an LP in 2002 with Worship and Tribute and even though they've released music between then and now, Material Control proves that patience is ultimately a virtue. Vocalist Daryl Palumbo delivers a thunderous performance throughout the 12 tracks as the band mixes their brand of hardcore with something more melodic.
Senses Fail – "Double Cross"
Taking a page out of poet Charles Bukowski's book, Senses Fail pays homage to the writer by naming their upcoming album, If There Is Light, It Will Find You. The line is taken from the poem "The Harder You Try"; Senses Fail follows the message by just being themselves as life rolls along. First single "Double Cross" plays into that, too. It's an optimistic riff with a poppy chorus and a couple screams thrown in—showing that the band aren't afraid to head back in time with their sound even after 15 years as a band.
Ed Sheeran – "Perfect" (feat. Beyoncé)
What can't Beyoncé do?! Queen Bey and crooner Ed Sheeran get together for a new version of his track "Perfect"—starting the weekend off right with a perfect dose of ear candy. Between Beyoncé's collabs with Eminem and Luis Fonsi this year, it looks like she's got all genres covered but this one may be the strongest of the bunch.
N.E.R.D & Future – "1000"
N.E.R.D's latest taste off their upcoming comeback album is a frantic number featuring rapper Future and the song's bubbly DNA will have you craving for more. With a tempo set into high gear, the production is sleek while Future's rapid fire verses give the track a jolt of personality.
Andy Grammer – The Good Parts
When it comes to Andy Grammer's new album, The Good Parts, the good parts of it are…well…all of it. Grammer perfects his pop-rock sound on his third, and most focused, record to date. With hit single "Fresh Eyes" and collab with LunchMoney Lewis in "Give Love", the record also boasts his strongest singles, too.
The Dear Hunter – All Is As All Should Be
We're lucky to have a songwriter like Casey Crescenzo in the scene. Over the past decade or so his musical output has been nothing short of remarkable with his alt-rock project in The Dear Hunter. Seven full-lengths under his belt and more EPs than you could count, Crescenzo adds another EP to the list with All Is As All Should Be. Silky smooth vocals weave in and out of the fiery musicianship, solidifying Crescenzo's spot as one of the most exciting musicians in the genre.
G-Eazy & Halsey – "Him & I"
G-Eazy is the king of collaborations and Halsey is the queen of hooks…so, when the two get together, you pretty much know the result. Featured on G-Eazy's upcoming record, "Him & I" is a firecracker of a track with a dark and brooding sound but Halsey's mesmerizing pipes help lighten things up without a problem.
Other new releases:
Too Close To Touch – "Before I Cave In"
Black Veil Brides – "Rebel Yell" / Rebels
Django Django – "In Your Beat"
Prettymuch – "No More"
Five Finger Death Punch – A Decade of Destruction
Lolawolf – "Baby I'm Dyin'"
The Fratellis – "Stand Up Tragedy"
BRAVES – "California"
Miguel – War & Leisure
U2 – "Love Is Bigger Than Anything In Its Way" / Songs of Experience
Martin Garrix – "So Far Away"
The Vamps – "Personal" (Acoustic)
Logic & Rag'n'Bone Man – "Broken People"
blackbear – "Top Priority (with Ne-Yo)"
Kiesza & SKYGGE – "Hello Shadow"
The Brinks – EP2
Juicy J – "Kamasutra (feat. Cardi B)"
Pell – "golden (feat. VÉRITÉ)"
Robbie Williams – Under the Radar Vol 2
Pia Mia – "Off My Feet"
Luke Bryan – "Out of Nowhere Girl"
Baby Ariel – "Aww"
Jessie Reyez – "Cotton Candy"
Tags:
Andy Grammer
,
Beyonce
,
Ed Sheeran
,
Fresh Pressed
,
Future
,
G-Eazy
,
Glassjaw
,
Halsey
,
Lous Tomlinson
,
N.E.R.D.
,
new music
,
New Music Friday
,
Owl City
,
Senses Fail
,
The Dear Hunter