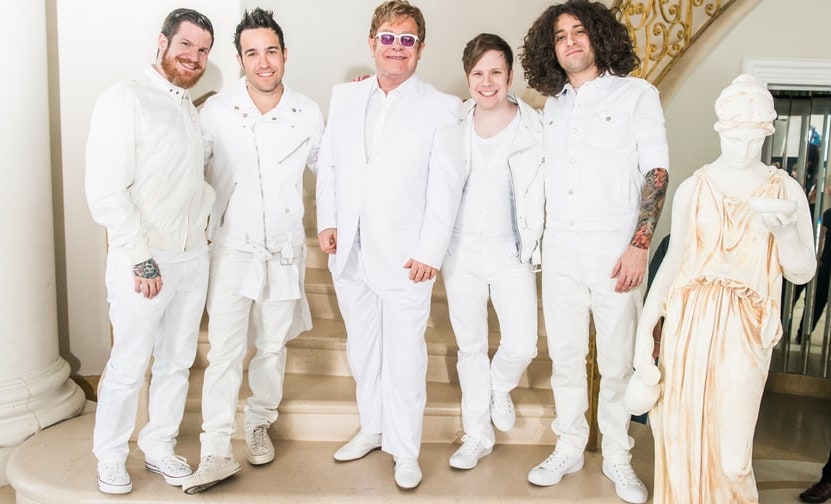 For something that gives us such pleasure, music sure can be weird sometimes. Whether a pop star is heading to an awards show decked out in a meat dress, or a rock band has an outburst and destroys all of their instruments live on stage, the industry is full of surprises—especially when it comes to the actual music itself. Collaborations in pop-rock/punk over the years has allowed for some of the strangest partnerships. The best part? They're all pretty awesome. 
Set Your Goals and Paramore's Hayley Williams
– "The Few That Remain"
Paramore's Hayley Williams has quite the guest-spot resume. With contributions to songs from the likes of New Found Glory, Say Anything, B.o.B, and more, there isn't much we haven't heard from the songstress when it comes to guest appearances. You'll have to flashback almost a decade ago to 2009 for her strangest, because that's when Williams and pop-punk outfit Set Your Goals linked up for "The Few That Remain." A breakneck track at heart, Williams hits the mic to drop an incredibly epic rap verse right in the middle of the song, and Set Your Goals have struggled to release anything as legendary as that since.
—
Neck Deep and Dashboard Confessional's
Chris Carrabba – "December"
Neck Deep's Life's Not Out To Get You was one of the best pop-punk records in recent memory, and the band was able to make the most out of one of its stand out tracks, "December." The album version had "December" in a super melodramatic acoustic setting (it is a pop-punk ballad, after all), but a couple of remixes gave it new life. Blink-182's Mark Hoppus provided vox to a full-band reimagining of it, while Dashboard Confessional's Chris Carrabba really stole the show. He made the unorthodox collab memorable with soft vocals in the bridge that turned into something much more explosive.
—
Transit and Fall Out Boy's Patrick Stump – "All Your Heart"
Imagine this: the wounds are still open from Fall Out Boy's hiatus announcement, and in 2011, frontman Patrick Stump is gearing up to release his 80's-inspired solo record. But then, seemingly out of nowhere, he shows up on a song with a little known pop-punk band by the name of Transit. Cue the waterworks. Stump's guest appearance on Transit's "All Your Heart" was short and sweet, and in a time where nobody was ever quite sure if Fall Out Boy would be back again, hearing those pipes in that band setting was special to say the least.
—
Owl City and Jake Owen – "Back Home"
Known for crafting the sugariest of pop songs, Owl City went out of his element a bit with his record, Mobile Orchestra. Featuring hits like "Verge" and "Unbelievable," a hidden gem was buried there in the country-tinged "Back Home" featuring Jake Owen. Ok, so maybe country is pretty pop in general anyway, but the chemistry between Adam Young and Owen was unmatched. It was a risk that was definitely worth taking and shows exactly why Young is one of the best songwriters out there in the pop genre.
—
Simple Plan and Nelly – "I Don't Wanna Go To Bed"
Simple Plan sure has come a long way since songs like "Addicted." With nearly twenty years of experience under their belts and five full-lengths released, they still somehow find a way to keep things interesting when it comes to their music. On their most recently released record, Taking One for the Team, the band headed into new territory once again on the summer smash, "I Don't Wanna Go To Bed" featuring legendary rapper Nelly. The announcement of the collab certainly turned some heads, but once the track was out, it was obvious why it happened. Shout out to Simple Plan for sending everyone down a Nelly memory lane.
—
Fall Out Boy and Elton John – "Save Rock and Roll"
Let's be honest—you could say that any of Fall Out Boy's collaborations over the years are weird. From John Mayer… to Jay Z… to Lil Wayne… to Courtney Love… the list kind of just goes on and on. But their weirdest, and arguably greatest moment in their career, goes to Save Rock and Roll's title track and closer—their duet with Elton John. If you ask the guys in Fall Out Boy, they'll probably still find it hard to believe they ever recorded with him. According to singer Patrick Stump, he just jokingly suggested it and John agreed. Moral of the story: Don't let dreams be dreams.
—
Panic! At The Disco and Fun. – "C'mon"
In hindsight, the collaboration between Panic! At The Disco and Fun. should have been a lot more appreciated than it was back in 2011. To celebrate their joint tour, the two dished out "C'mon," and if you had to think up what a song between these guys would sound like, this was basically it. It was delightfully quirky—Fun.'s theatric instrumentation mixed with Brendon Urie of Panic!'s ear-candy vocals with ease, and if there's one wish for 2017, it's that somehow, someway, they get together to put out a sequel.
—
Forever the Sickest Kids and Selena Gomez
– "Whoa Oh! (Me vs Everyone)"
After winning over the hearts of teens (and their instant messenger away messages) with tracks like "She's A Lady" and "Believe Me, I'm Lying," Forever the Sickest Kids had to smash it out of the park with their debut full-length. Equipped with major label backing and the perfect single, "Whoa Oh! (Me vs Everyone)," the record didn't really sell like it should have, but it did snag the attention of Disney star Selena Gomez. The band ended up reworking the track to feature guest vocals from Gomez, and it's worth a listen if only for her version of the "Ew, don't touch me" line right before the chorus.
—
New Found Glory and Lisa Loeb – "Stay (I Missed You)"
New Found Glory are the pop-punk gods of cover songs, and their rendition of Lisa Loeb's classic, "Stay (I Missed You)," solidified that fact. It's one thing to do a song justice—something the band does regularly with their covers—but to get the actual artist to come on board over ten years after the original song's release? That's Russell Westbrook levels of efficiency. The cover was naturally perfect and Loeb sounded better than ever. Fun fact: NFG's Chad Gilbert actually produced one of Loeb's albums, No Fairy Tale, back in 2013.
Tags:
Chris Carrabba
,
Collaborations
,
Dashboard Confessional
,
Elton John
,
Fall Out Boy
,
FOB
,
Forever The Sickest Kids
,
FTSK
,
Fun.
,
Hayley Williams
,
Jake Owen
,
Lisa Loeb
,
Neck Deep
,
Nelly
,
New Found Glory
,
NFG
,
Owl City
,
Panic! At The Disco
,
Paramore
,
Patrick Stump
,
Selena Gomez
,
Set Your Goals
,
Simple Plan
,
SYG
,
Transit