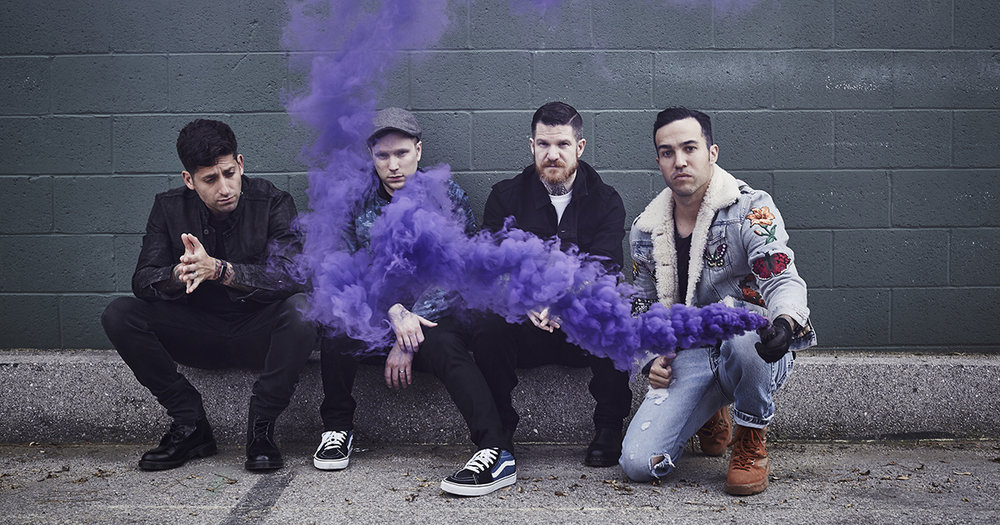 Photo credit: Pamela Littky
For a band as popular as Fall Out Boy, they sure are shrouded in mystery. We never quite know what the next move will be from the rock powerhouse, but perhaps that's why our eyes are glued to every tweet and Instagram post they make. They aren't ones to send out plain boring press releases when they've got something to unveil—you'll always get some clues that'll wrack the brain, and more importantly, build the hype. It's been a wild decade and then some of Fall Out Fun, and here are some of the best moments when Fall Out Boy decided to go super cryptic on us and whip out some major surprises.
Fall Out Boy On The Big Screen
You normally wouldn't head to a random address that a stranger gives you but when it's Fall Out Boy, you already have the GPS coordinates set in place. In early promotion of their latest album, Mania, the band asked everyone to "please silence their cellphones" as they directed patrons to movie theaters in Chicago. During the screening of a film, attendees caught a glimpse of a Mania teaser trailer that hyped the release date of April 28th, 2017—the eventual unveiling of the LP's lead single, "Young and Menace."
FALL OUT BOY 4.28.17 pic.twitter.com/cSHiUSdotF

— ash (@folie_a_deux_me) April 21, 2017
—
Fall Out Boy Drops A Mixtape
Fall Out Boy were the kings of viral campaigns before it became cool. Back in 2008, the band staged a fake website hacking which set events into motion that would ultimately lead to the announcement of their fourth album, Folie á Deux. Hacked by the organization "Citizens For Our Betterment," the Decaydance Records site was taken offline with clues emerging daily as everyone wondered just what the heck was going on. The end product? A mixtape featuring Fueled By Ramen/Decaydance bands with new songs from Fall Out Boy, Panic! At The Disco, and more—plus a Ludacris interlude for good measure.
—
—
Fall Out Boy Returns To Their Roots
2013 saw the comeback of Fall Out Boy after a painful hiatus, and their Save Rock and Roll LP was something the genre sorely needed. Later that summer, the band had some downtime, so they headed to Ryan Adams' studio to lay down some tracks. Of course, we didn't really know this yet—the only thing we got was a vague Instagram post from Pete Wentz that showed the guys and Adams hanging out in a studio. It wasn't until a few months later when PAX AM Days was released—a nine track EP with punk rock stylings. Clocking in at only 13 minutes, the breakneck speed of these songs harkened back to the days when Fall Out Boy were newbies in Chicago's hardcore scene before becoming the mainstream veterans that they are today.
—
Fall Out Boy Goes Down In History
Fall Out Boy's weirdest album to date might be 2015's American Beauty/American Psycho, and it all started with a cryptic video to promote its lead single, "Centuries." In a five second video featuring nothing but a black screen and some beeps, the Internet blew up with speculation. Sleuths quickly figured out the beeps were actually a message in morse code spelling out "centuries," and days later, the band's radio-rock track debuted. "Centuries" was an immensely popular song for the quartet as it became their fourth top 10 Billboard hit.
—
Fall Out Boy vs. The Leak
Nothing dampens an album rollout quite like having the record leak early—especially when you're Fall Out Boy and the album in question is the follow-up to your big major label debut. 2007's Infinity on High leaked onto the Web nearly two weeks before its release date, but the band wasn't going to let that kill their vibe. To entice more people to buy it, Fall Out Boy pulled off a musical magic trick when they announced that they'd be including a surprise live-EP—aptly titled Leaked In London—as part of the record for those who buy it. It ended up working out decently: Infinity on High became the band's first number one album, selling 260,000 copies in its first week.
—
Fall Out Boy's Surprise Collaborations
Sometimes the best surprises are ones that come without any hype or lead up at all—Fall Out Boy are naturally the masters of this tactic, too. When it comes to collaborations, the band has a massive resume of some huge guest features, but the more recent ones have made an impact by dropping seemingly out of nowhere. For their American Beauty/American Psycho single, "Irresistible," Fall Out Boy enlisted pop star Demi Lovato for a feature, while their Mania track "Champion" got some assistance from BTS frontman RM. Just when you think Fall Out Boy are letting off the gas a bit, they go full-throttle to keep themselves in the minds of fans, the public, and of course, the charts.
SURPRISE! New RM Champion remix out everywhere Friday at midnight ????@BTS_twt #RMxFallOutBoy ???? pic.twitter.com/nzsxss5kr9

— Fall Out Boy (@falloutboy) December 14, 2017
—
Stick around on idobi.com for more Fanuary love from us to you,
all about your favorite bands!
Tags:
Decaydance
,
Demi Lovato
,
Fall Out Boy
,
Fanuary
,
FOB
,
Fueled By Ramen
,
Joe DeAndrea
,
Ludacris
,
Panic! At The Disco
,
ryan adams