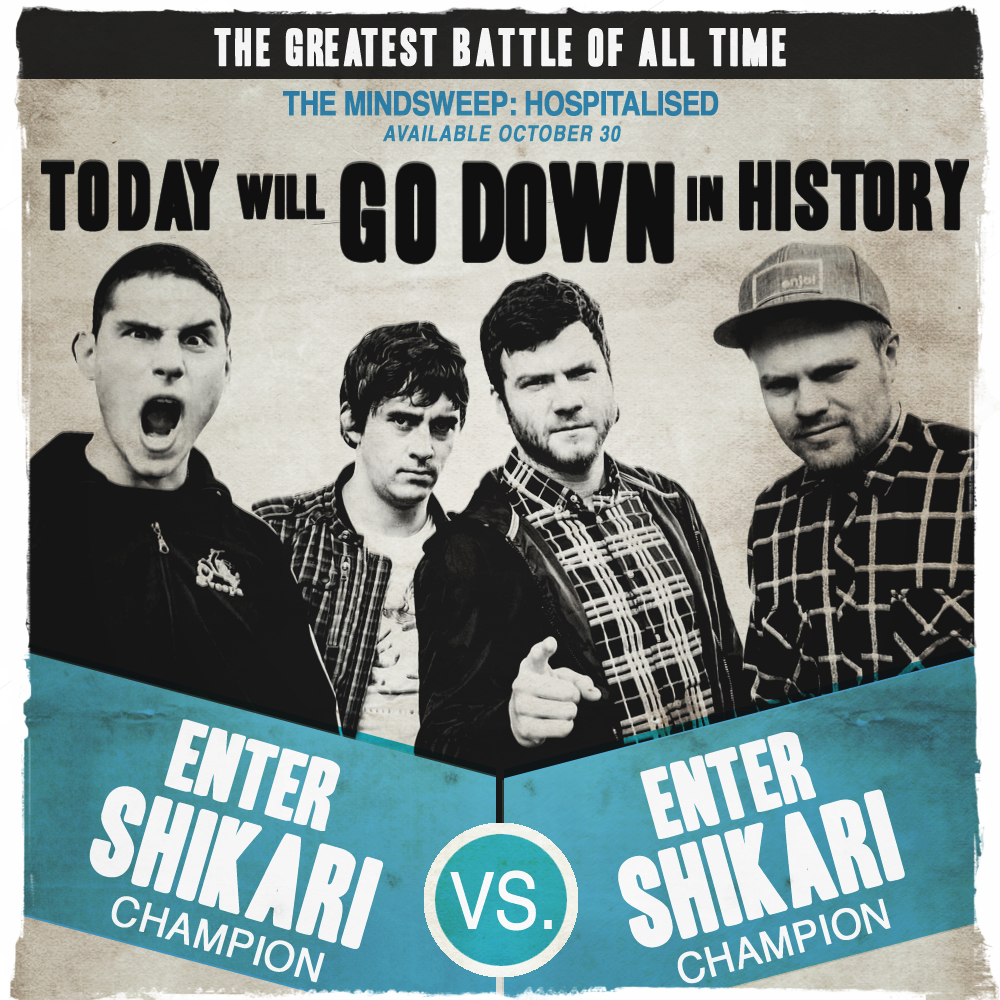 Ladies and gentlemen show your appreciation for: the ultimate face off between UK legends Enter Shikari and… Enter Shikari. No, this isn't some kind of Inception/Parent Trap-style stunt, this is a musical experiment. To prove that against all odds, not only does a band like Enter Shikari exist, but they kick more proverbial ass than Chuck Norris himself. Anything can happen in the next six paragraphs so read on for just a handful of the ways this band from St. Albans are a paradox wrapped up in an enigma, and how that really isn't a bad thing. Let this battle commence…
Music vs. Lyrics
They may have started out singing about quasar (laser tag to all you Americans), but Enter Shikari have developed into one of the most politically outspoken voices in music. They're using their platform and reach to spread socio-political messages they feel should be addressed for the growth of humanity. Reynolds himself stated that "it's what this music is for. If you take out the social commentary, it's not punk, it's just noisy pop." Some of their lyrics can get quite deep and critical of the state of society, making you really stop for a minute and reflect, which is rare achievement for a band these days. They're getting fans to think about the outside world and talk about difficult issues, and what's even more of an achievement is that they do this through upbeat, energetic, overly-caffeinated, I'm-getting-out-of-breath-just-thinking-about-it, anthems to absolutely lose your shit to. At a time when dancefloor anthems are stereotypically considered to be repetitive and devoid of meaning, Enter Shikari are turning that notion on its head–much like they turned the social hierarchy model on its head on the cover of their album A Flash Flood of Colour.
Dance vs. Rock
We're going to leave it up to the wonderful, know-it-all, homework-doing folks at Wikipedia for this one. Here are all the genres listed that Enter Shikari's sound incorporates:
Post-hardcore, electronicore, alternative rock, experimental rock, electronic rock, post-rock, metalcore, punk rock, hardcore punk, drum and bass, dubstep, techno, electronica and trance.
Bet you're as amazed (and a little scared) as us at the length of that list. You name a genre, they've covered it at some point. We hadn't even heard of half of these until Enter Shikari brought them to our ears. But somehow it works, and somehow every time they manage to make it sound unmistakably, and brilliantly, Enter Shikari.
Rock Show vs. EDM Lights
Look up "insanity" in the dictionary, and you'll find Enter Shikari's live show as the definition. Screw barriers and safety regulations–they'll come play in the crowd, which is basically one huge mosh pit, where it's not uncommon to see kids (or the band themselves) climbing the walls. It's exactly what you'd expect from a true punk rock show, but these guys take it to a whole other level with their light show. Better than any EDM setup you've ever seen, there are lasers galore, strobe light breakdowns, and a total sensory overload at all times to make you feel like you're tripping something major. Seeing them live isn't just to hear their music, it's for a whole otherworldly experience–and to do the Shikari Shuffle, of course.
Game of Thrones vs. No Doubt?
Let's face it, Enter Shikari are a talented bunch. We've already pointed out just how many genres they eat for breakfast like they were Cheerios*, so it only makes sense that when they try their hands at covers, awesomeness would ensue. This can manifest in planned out sessions like the BBC Radio One cover of the Game of Thrones theme, which features gorgeous intricate melodies almost as complicated as the plot of the show itself. And then there are the more…impromptu covers. Enter Shikari are known for their schoolboy style shenanigans, and this cover of No Doubt's "Don't Speak" has to be our favorite, showing off the boys' fun side…and Rob. Filmed in one of the lads' back yards, this acoustic rendition of the 90s classic still has us in fits despite the fact we've seen it so many times we probably account for 80% of the YouTube views. We think they deserve a gold star for effort, and some brownie points for somehow managing to incorporate a cowbell.
Enter Shikari vs. Shikari Sound System
Because one Enter Shikari simply wasn't enough, the Rock God said let there be two. Created in 2013, Shikari Sound System is made up of Enter Shikari… remixing Enter Shikari. The band have always drawn influences from drum & bass, and the project taps into the more electronic side of their music. This alone is proof that when you pit Enter Shikari against themselves, only good things will come out of it. Plus, you basically get two versions of almost every song–what's not to love?
Enter Shikari vs. The World
Enter Shikari has announced The Mindsweep: Hospitalised, a remix album of their January release The Mindsweep. They've brought in some of the most respected and cutting edge drum & bass artists including Metrik, S.P.Y, and London Elektricity to reimagine their songs, and the end result is a whole new way to enjoy an incredible album seemingly for the first time all over again. Just like the band's discography, the remixes cover every aspect of the drum & bass spectrum and more, while still keeping that distinctive Enter Shikari sound and tenacious energy shining through–as if that could ever be taken away.
–
Well folks, it's been a rollercoaster of a journey, but the time has come to say Adieu and announce that sorry, we're all winners here. Quelle Surprise.
The Mindsweep: Hospitalised will be released on October 30th via Hospital Records in the UK, and Hopeless Records in the US.
* P.S. Rob, we still really miss the Cheerios shirt.
Tags:
Enter Shikari