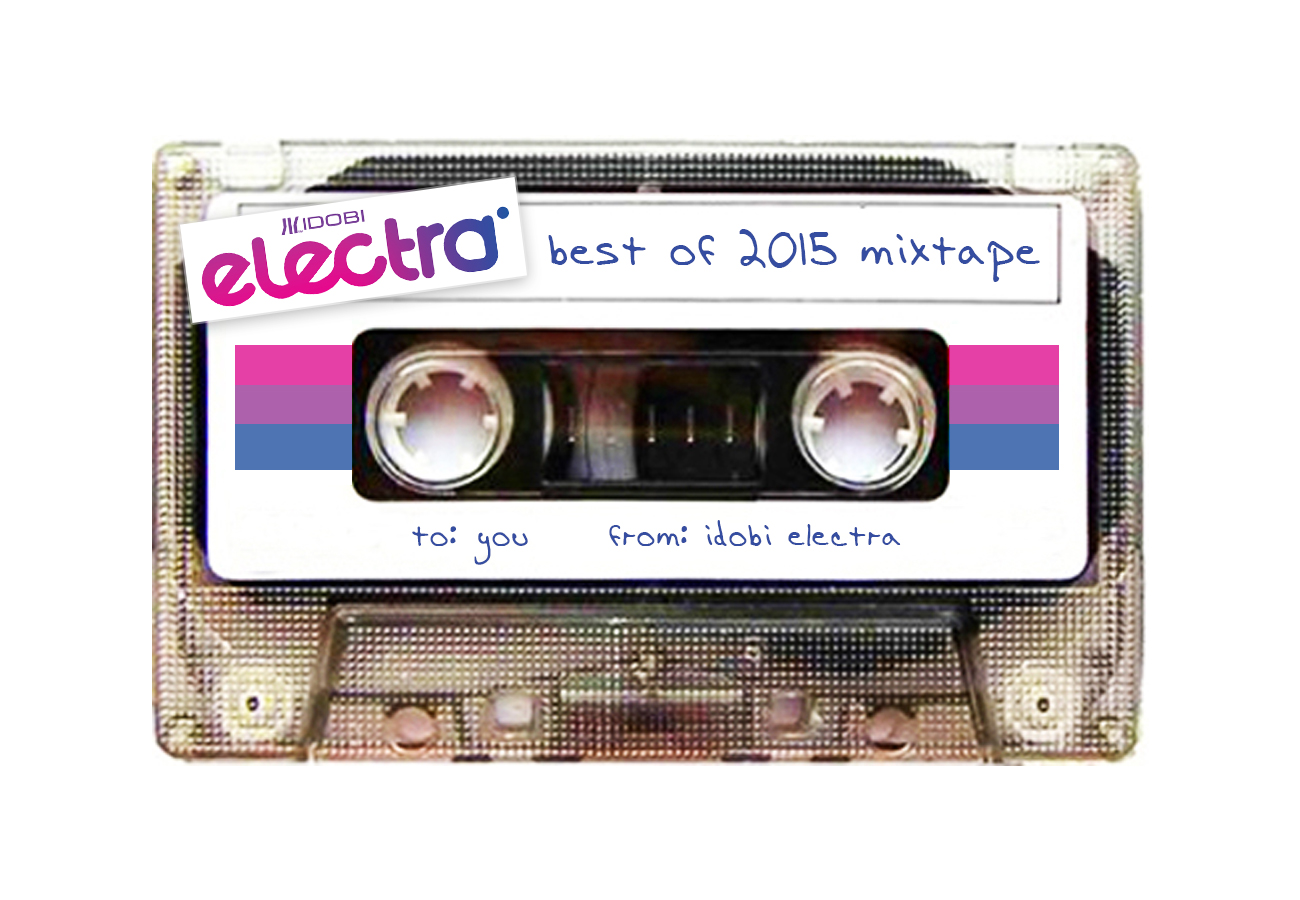 Depending on how hard you hit the town, you may still be recovering from NYE. But the party ain't over 'til we call it, and we're turning up the beats just in time for the weekend. Live and Direct host Kraddy has crafted the ultimate EDM playlist from 2015 to get you celebrating what a year it was for music, and stoked for what's to come in 2016. Because this year, we're launching something special–idobi Electra, our all-new electronic music station packed full of EDM bangers, DJ mixes, and programming to keep the BPMs soaring. So crank up your speakers, turn your bedroom into a dancefloor, and get a taste of the future with the 2015 Electra mixtape:
Jack U – Where Are You Now (Infuze Re-Flex)
I love the original track but I think Infuze went above and beyond on this re-flex. The drop at
1:19
feels so right. It gives me chills every time. Infuze has some serious heat; check out his other tracks.
the ZiBBZ – World Keeps Turning
You've probably never heard of the is brother/sister Swiss duo but you should have. They have a super unique sound. It's poppy without being obnoxious and I love the production. I love the way this song develops and I think the chorus is as hooky as it gets.
Doja Cat – So High (B.R.E.E.D. Flip)
B.R.E.E.D. is a husband/wife duo making some amazing tracks. I love their style and the variety in their production. This is a great remix with a great drop.
Herobust – Dirty Work
This ain't your grandma's trap music. Herobust is taking all the trap rules and throwing them out the window. I love the synth sounds he chooses and his production is like chrome. "Dirty Work" is one of many of his originals that works on headphones or on the dance floor.
Major Lazer & DJ Snake – Lean On (feat MO)
If you haven't heard this one you must live in a cave. The song of the summer that still has life. It's fresh EDM but smooth enough that my mom could enjoy it. Diplo and crew keep upping the ante and I hope they keep going.
ETC!ETC! x Bro Safari – Devils Lettuce feat. Sanjin
ETC!ETC! has really carved out a style all his own. His sets and music range all over the place but they're always consistent in their ability to make bootys shake. He teams up with trap master Bro Safari on this one for a real banger.
Bluford Duck – Shoulder To Cry On
I love Bluford Duck's smooth production and bittersweet melodies. If this isn't baby-makin' music then I don't know what is.
Kolombo, Sammy W & Alex E – Play ur Chick
I love when deep house samples hip hop–especially when they sample Biggie. This should move any dance floor. I also love playing it for my friends who say they don't like house music. It makes a believer out of each one.
Mansions On The Moon – Boots Of Spanish Leather
This is a cover of a Bob Dylan song–an amazing cover of a Bob Dylan song. This song has been covered many times but I've never heard it done better. It's sad, etherial and poignant. I can listen to it on loop and it never gets old.
Maroon 5 – She Will Be Loved (Matt DiMona Remix)
The way Matt DiMona reworks this song is brilliant. I'm not a huge fan of the original but I think this remix brings out all the best that is in this song. It holds the line between happy and bittersweet. Every time I hear it I imagine pretty girls getting ready to go out. Any track that can do that for me is a keeper.
Busdriver – Worse (Produced by Kenny Segal)
Busdriver and Kenny Segal have a relationship that goes back for years. They're both masters of their craft and I think it all comes through in this track.   Essentially a cover of Drake's "Worst Behavior", this track really brings new life to a track you may be burnt out on. The production is ace and Busdriver is in "clown mode" on the mic, letting it all hang out.
Justin Bieber – What Do You Mean? (Alison Wonderland Remix)
Up-and-comer Alison Wonderland really nails it on this remix. The drop is killer and it turns a song you probably want to turn off into a song you want to turn up.
FKA Twigs – Two Weeks
Play this for the girl you have a crush on. Works every time. SRSLY.
Juicy J – Low ft. Nicki Minaj
I LOVE the beat of this track. It's next level. And Juicy J flows over it perfectly. Nicki brings it too. This is some dirty dark room-ish.
Dej Loaf – Back Up ft. Big Sean
Another beat that really captured my attention. Smooth and bouncy, this track is hard and sexy at the same time. Dej Loaf is killing it and I can't want to hear her new music.
Post Malone – White Iverson
Smooth like butter but still street as f#ck. Another late night make out jam. This track makes you want to get gold teeth.
ZHU – Faded (ODESZA Remix)
Odesza do a great job handling this remix. They make it a bit heaver and it feels like exactly what the track needed.
Keys and Krates – Are We Faded
Another song about being faded. K&K really bring it on this one. There's not a low energy point in the track. It keeps you moving and it has a beautiful melody.
Tech N9ne – Hood Go Crazy (feat. 2 Chainz & B.o.B)
Tech N9ne is probably the most under-rated hip hop artist out there. The guy has been doing it for years and has never let up. This track is about as booty as a track can be.
Demo Taped – Game On
I randomly found this track on Soundcloud and I was blown away. Everything about it is cool and interesting.
Jackal – Chinchilla (Woolymammoth Remix)
I love what Woolymammoth is doing these days. It feels like the new version of chopped and screwed. It's slow and thick like cold honey.
Keep an eye out for idobi Electra, hitting the airwaves real soon…
Podcast: Play in new window | Download
Subscribe: RSS
Tags:
2 Chainz
,
2015
,
Alex E
,
Alison Wonderland
,
B.o.B
,
B.R.E.E.D.
,
Biggie
,
Bluford Duck
,
Busdriver
,
Dej Loaf
,
Demo Taped
,
Diplo
,
Doja Cat
,
Drake
,
Electra
,
ETC!ETC! x Bro Safari
,
FKA Twigs
,
Herobust
,
idobi Electra
,
Infuze
,
Jack U
,
Jackal
,
Juicy J
,
Justin Bieber
,
Kenny Segal
,
Keys and Krates
,
Kolombo
,
Major Lazer & DJ Snake
,
Mansions On The Moon
,
Maroon 5
,
Matt DiMona
,
Mixtape
,
MO
,
Nicki Minaj
,
Post Malone
,
Sammy W
,
Sanjin
,
Tech N9ne
,
the ZiBBZ
,
Woolymammoth
,
ZHU