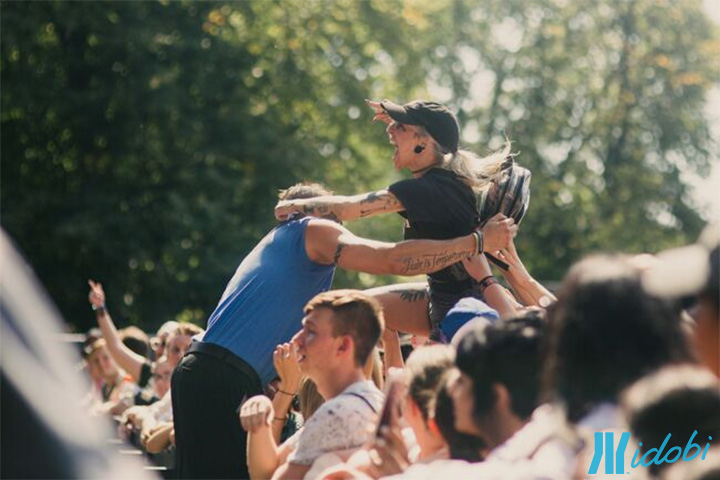 A sun drenched weekend in Chicago surrounded by live music and spirited company would sound too good to be true if we didn't have proof that Riot Fest 2017 was exactly that. Douglas Park was transformed into a carnival world that was both nostalgic and enticing, an open invitation to embrace the same reckless abandon we knew as children when the world was much simpler. In this way Riot Fest was a welcomed break from jobs or school, the constant inundation of news and social media (mostly because at least I didn't have service), and the overall routines we tend to get stuck in. Hopefully it served as a reminder that music and art is worth taking the time to celebrate. There's beauty in how it allows us to all come together, unified by the same passions despite being from all different walks of life.
—

Friday: A (Riot Fest First) Day To Remember
Even though it was the earliest set of the day, plenty of people got to the fest early to watch Grayscale fully embrace their first festival performance. The crowd's anticipation was particularly palpable as the band began to play their latest hit "Atlantic". The line "my eyes are tired, blood pumped with caffeine / this place feels more and more like nowhere to me," sung out in unison like a shared understanding.
It felt significant to have the weekend start on The Heather Owen Stage. Heather devotes her life to saving animals and is the executive director of the rescue group One Tail At A Time. It's small details like honoring activists, the auction with Riot Fest official charity partner The Chicago Coalition for the Homeless, the local artists and the companies at the Riot Mall, and more that make Riot Fest a supportive community that extends well after the three days come to an end. Every time I made small talk with a Chicago native, whether my taxi driver or a fellow attendee, they talked about the festival with pride and admiration. It was the first time I can recall seeing how a music event could positively impact its city in so many way. So I started the weekend knowing I was getting to witness something I could believe it.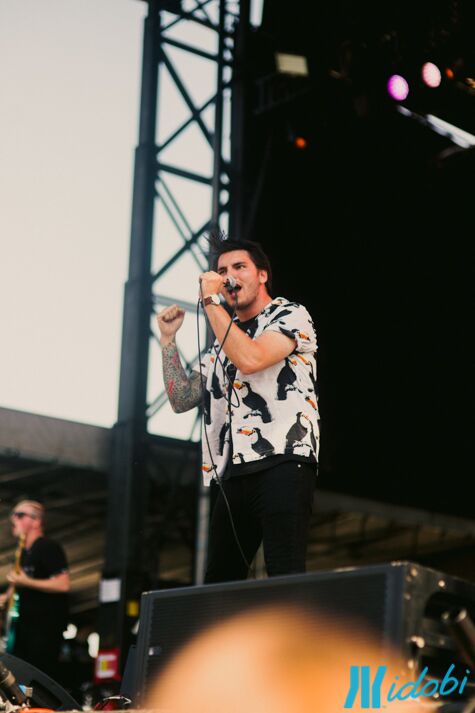 —
Sleep On It's hometown set was a highlight of the entire weekend. It was a full circle moment for the band and many of their fans who have watched them grow since playing previous years. "I actually met [bandmate] Jake Marquis at Riot Fest in 2012," recalled Teddy Horansky, also expressing what an honor it is to play one of their own favorite festivals. There's a few playful comments about Zech's choice of tukan shirt, a shout out to the band's friend being a mom but still going harder than anyone else, and the appearance of El Mercho Loco man throwing out shirts. Watching Sleep On It have me the same sort of good spirited ease I get from watching The Office reruns. Sentimental moments aside, it was a non-stop energetic set closing out with a half serious wall of death to the band's popular track "Unspoken".
The Radicals Stage turned into pop punk heaven as lively sets from Four Year Strong, State Champs, and The Story So Far gave fans of the genre an opportunity to hear an incredible mix of new and old from each artist. As the sun started to set and lights from carnival rides twinkled against an orange sky, a sort of magic happened as Mayday Parade started to play their album A Lesson In Romantics. The stage featured the picturesque album artwork that could've been a reflection. A single keyboard and hundreds of voices brought "Miserable At Best" to life; it was truly a blissful moment among a hectic weekend. As day turned to night, A Day To Remember put on a performance that was an open invitation to party. Streamers, lights, toilet paper, and confetti kept everyone from the front to the back amused. The lyric "I sold my soul to the open road" from the band's closer track "Downfall of Us All" hung in the air like a mantra: We have come to find that home isn't just a place but a feeling. A feeling that we find all over the world when surrounded by the right people and music. For at least a moment, I hope everyone felt as at home as I did.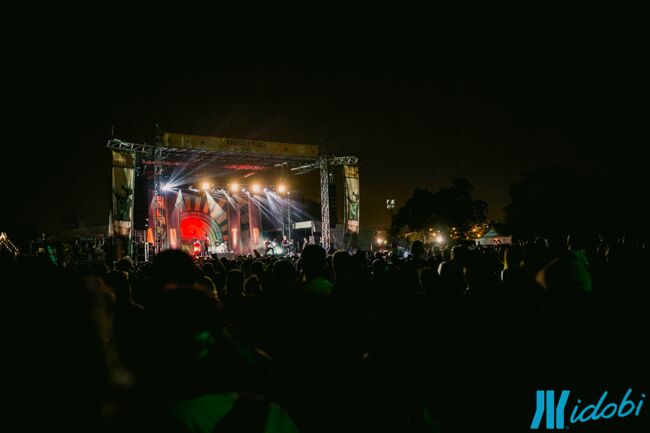 —
Saturday: Everything Is More Than Copacetic
On Saturday festival goers trickled in later but those who didn't miss Knuckle Puck's 2 p.m. set sure should be glad they didn't hit the snooze button 11 times. Obviously excited about their upcoming release, the band opened proudly with the single "Gone" as water bottles went flying and the crowd pushed closer. Dan Lambton of Real Friends joined the band during "Evergreen", a symbolic moment of how the Chicago music scene has supported each other and grown together over the years.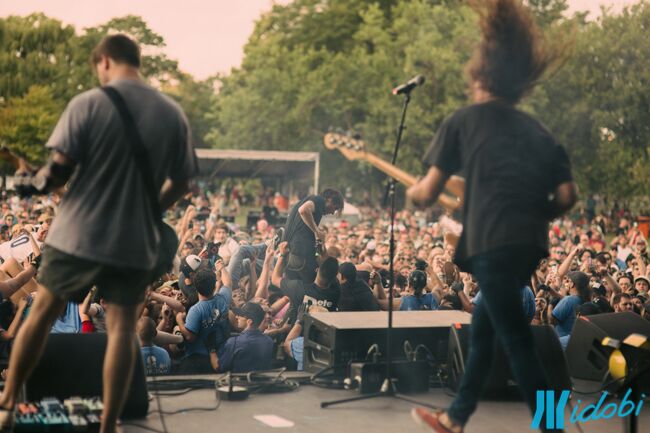 Since most headliners didn't play until night, attendees were exposed to new music like the youthful but socially-aware group The Regrettes. Their infectious doo wop pop sound and charged punk songwriting captivated the crowd. It felt like a scene from an indie movie being back in the shade of the woods as the ferris wheel spun behind the stage. Back to back sets from New Found Glory and Taking Back Sunday closed out the Rise Stage, both bands working their way through now deep discographies to keep the crowd energized. Staying awake was important if you wanted to make your way over to Riot Fest, a pop up restaurant in Wicker Park, for a State Champs DJ set. It felt a lot like Emo Night…but in a creepy carnival setting with the occasional Shania Twain hit. It can be hard to enjoy your friends company or even find your friends at a large festival so this late night event was the perfect chance to just hang out.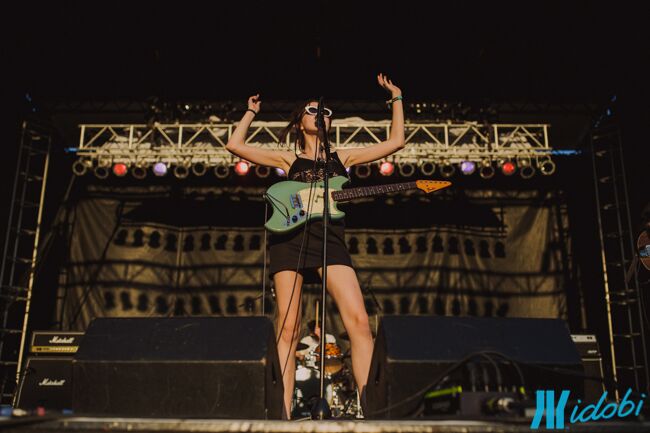 —
Sunday: Rose Colored
As I walked around the festival grounds on Sunday, I spotted Adam Lazzara (lead singer of Taking Back Sunday) chatting by the corn dog stand. In the same minute I see the cute leashed pig wearing orange sunglasses, a sort of Riot Fest star himself. I find a sense of comfort and deeper meaning in this seemingly silly moment. The people playing the festival, the people or even pigs attending it, and the people working it were all co-existing amongst each without any sense of power hierarchy. The entire atmosphere of the festival was one of acceptance, belonging, and equality. An absence of egos makes it easier to feel connected to the music being played and there's power in that accessibility. I'm grateful I got to see what that looked and felt like, it gave me something to strive to try to bring to other similar spaces in music.
Throughout the weekend many of the artists mentioned which friends they were excited to catch up with or bands they were stoked to watch. Maybe it's something about festivals in particular that puts the music industry in a humbling perspective, but there was definitely a shared sense that we were all just lucky to be there in any capacity.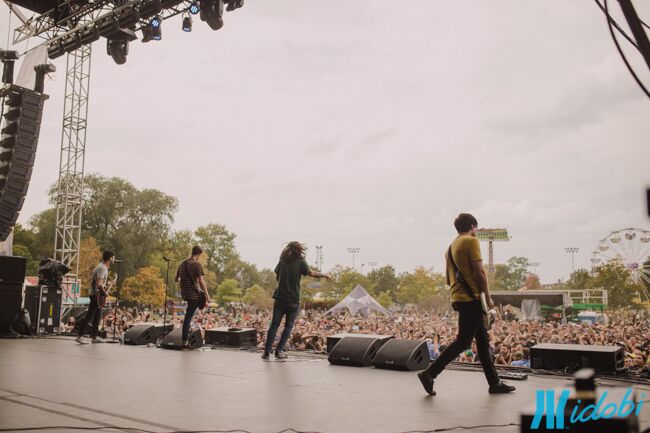 This grateful mentality felt infused into Real Friends' performance; songs I had heard hundreds of times suddenly sounded different. As I sang the lyrics, "If you never break / you never know how to put yourself back together" with others it felt nothing like a cliche and everything like a rallying cry charged with hope. I'll admit it being the last day of Riot Fest had me more emotional than I expected. I watched incredible sets from Culture Abuse, Say Anything, and The Menzingers but it's only right I focus on telling you about the most memorable set of the weekend.
For me and I'm sure many others, it feels like we have grown up with Paramore. From the MySpace, scene phase, pop culture days of Riot!; the confusing teenage exploration on brand new eyes; up to the matured reality of embracing change and making sense of loss and love on the latest release After Laughter. No one should have to go through life alone but there's definitely times we have all felt that way and in those moments I hope others turned to Paramore the way I did. Right before the band was about to take the stage I stared at the centered light fixture, a circle, and realized how full circle my life had come. Standing there with my best friend from another state who I met because of music, working in an industry that I once thought was inaccessible, seeing a band that had been soundtracking my journey of finding myself and realizing I now am at least happy with where I am on that. Pardon the personal remark but the point is it felt like each person in that crowd was having their own uniquely important experience to Paramore just like me.
The band really owned the night to the point it was almost impossible to hear the rest of the festival, especially as throwbacks like "Misery Business" had everyone singing at the top of their lungs.  Lead singer Hayley Williams made sure to give us all permission to dance to their sonically electric but lyrically somber new tracks such as "Fake Happy" and "Caught In The Middle." It was a relief to see the band bouncing around in technicolor after an album that was unexpectedly dark and heavy in subject matter. I have to say I felt just a bit lighter after the set was over. Paramore had used their music as a cathartic release and for an hour anyone watching could chose to do the same. So yes, growing up can be complicated and terrifying, but it's beautifully human and you're never ever alone in it.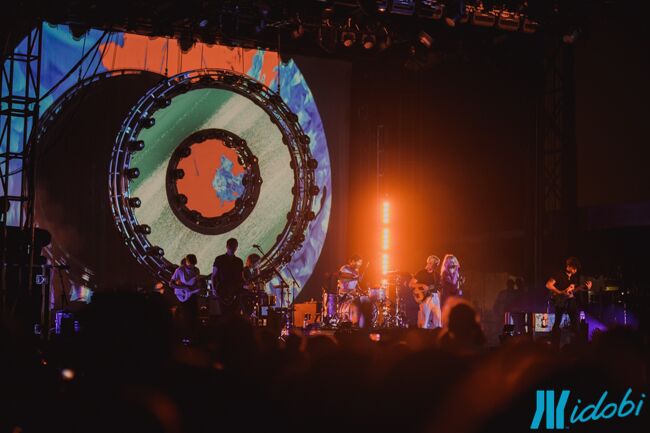 Riot Fest might be over for the year but the passion behind it and the community that brings it together continues on. Even if you weren't able to attend this particular event, you can still be a part of something much bigger than yourself just by choosing to contribute to the music community where you live or even online. Being a fan of music is incredible, but the weekend at Riot Fest reminded me of the magic that happens when you truly get involved, keep an open mind, and connect with others.
Tags:
A Day To Remember
,
ADTR
,
Culture Abuse
,
Four Year Strong
,
Knuckle Puck
,
Mayday Parade
,
New Found Glory
,
Paramore
,
Real Friends
,
Riot Fest
,
Say Anything
,
Sleep On It
,
State Champs
,
Taking Back Sunday
,
The Menzingers
,
The Regrettes
,
The Story So Far